Known for their excellent products, L'Oreal Professional hair care products are exclusively used in salons by the leading hair stylists. The popular brand offers wide variety of hair care products and ranges that cater to one's individual hair issues. To make the hair look salon perfect, one can try their products at home too. From wide variety of shampoos, conditioner and hair styling products, the brand has a lot to offer. Wondering about the best L'Oreal Professional hair care and styling products? In this article, we are sharing this list, wherein you'll find the top rated products from L'Oreal Professional.
Best L'Oreal Professional Hair Care Products in India
1. L'Oreal Professionnel Paris Serie Absolut Repair shampoo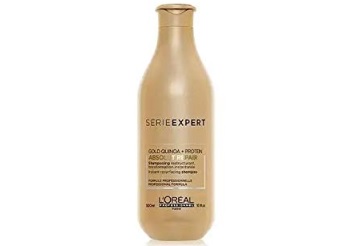 This L'Oreal professional shampoo is rich with Gold Quinoa and protein. It has a cleansing effect on your hair that leaves the hair smoother and silky. The product is infused with two most effectively nourishing products that replenish the damaged hair, so while the shampoo is absolutely perfect for everyday use, its formula is also to get credit for which is gentle and mild. It is suitable for extremely damaged hair. Hair damage can be due to numerous factors like UV exposure, heat styling, chemical treatment and more.
2. L'Oreal Paris Professional Series Expert Liss Unlimited Smoothing Shampoo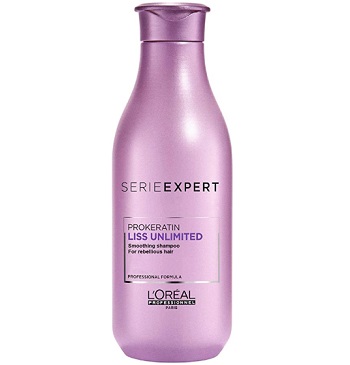 The Unlimited Smoothening shampoo is for the very rough, dry and rebellious hair. It protects your hair from the everyday sun damage, leaving the hair silky and smooth. When you are really struggling to ward off the dryness and hair damage, the product has amazing abilities to add protective shield over the hair cuticle. This is why, the shampoo is yet another amazing product which brings back the lost radiance and also maintains glossiness of the damaged hair.
3. L'Oreal Professionnel XTenso Care Hair Straightening Shampoo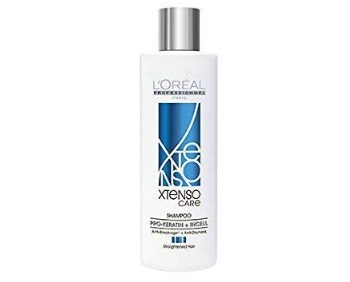 It's a hair straightening shampoo loaded with the ProKeratin. Therefore, women and men dealing with the extremely dry and frizzy hair type must try it to tame and calm down the hair. This would definitely allow you to make the desired hairstyle. It works on the hair lipids and gives the boost to the hair smoothness. The shampoo is perfect for chemically treated hair and colored locks. The prokaryotic formula fights the roughness, making the hair straight and smooth. It is also rich in Botanical extracts that work on the hair cuticle and moisturizer them effectively. Wanting perfectly straight long hair! The L'Oreal Professional shampoo gives you long straight hair and makes them really manageable. Try and See!
4. L'Oreal Professional Serie Expert Liss Unlimited Primrose Oil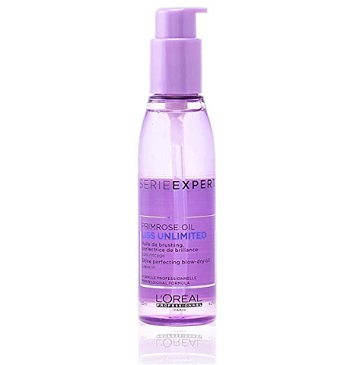 The Primrose oil is the key ingredient in this L'Oreal Professional product. It doesn't have a greasy or sticky formula but has that serum like velvety silky formula that make the hair smooth to touch. The L'Oreal Professional product has smoothening agents to get the long-lasting and anti-humidity shield on the hair. It keeps the hair frizz-free and with the light water soluble formula, the product envelops the hair, giving them fabulous shine and controlled smoothness. The product is one of the best leave-in-serums for frizzy and unruly hair. Apply it on your hair length and hair ends after the shampoo. Though, it definitely works the best on towel dried hair.
5. L'OrealProfessionnel Vitamino Color A-OX Color Radiance Shampoo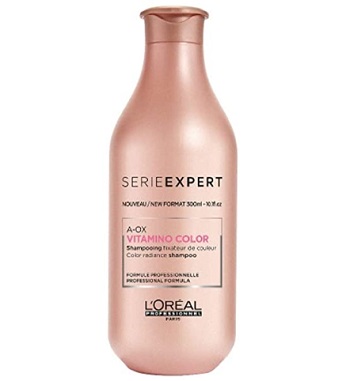 L'Oreal Professionnel Vitamino Color Radiance shampoo is especially made to make your hair color last longer. The salon shampoo mildly removes the impurities, product built up and sebum and does not strip the hair color. Made especially for the colored hair, it's one of the best shampoos for colored hair and dyed hair. Even, women with bleached hair can use it. To give the extra moisture, the product is really good. L'Oreal Professional Vitamino color shampoo has dye-resist technology that locks in moisture and color in your hair. It does not make your hair rough or dry, rather the technology of this L'Oreal Professional  shampoo enhances the hair color and makes it look vibrant for long time.
6. L'Oreal Professionnel Serie Expert Pure Resource Shampoo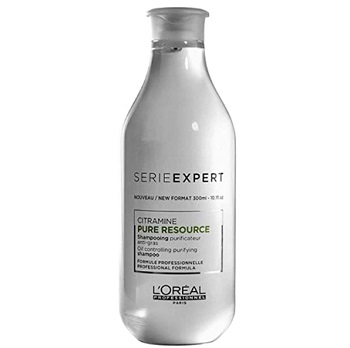 It is one of the best seller products from L'Oreal Professional hair care range. It is specially formulated for oil controlling and purifying the sebum loaded scalp. During summers, when the scalp gets filled up with oils and dust which gets attracted to this oil, a shampoo like this can help. It has a purifying Aqua crystal formula, incorporated with Vitamin E. Therefore, the product lifts off the sebum and dust residue and product built up effectively. It even works well with the hard water. This is why, this is one of the best rated shampoos for oily hair and for the hard water.
7. L'Oreal Professionnel Volumetry Shampoo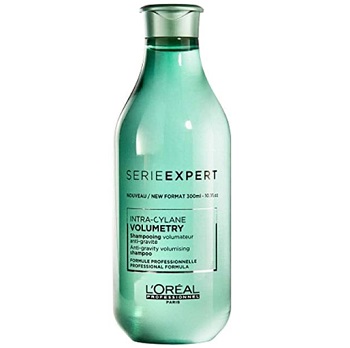 L'Oreal Professionnel volumetry shampoo is for making your hair look bouncer and thicker. It's a shampoo, perfectly made to improve the density and body of your fine and limp hair. It revives the flat looking hair. It gives them body and bounce, so that they appear thicker and a lot heavier. It's one of the best rated and best selling products from L'Oreal professional Salon Hair Care range.
8. L'Oreal Professionnel Detoxifying Shampoo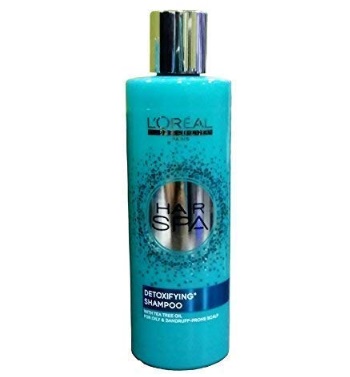 The detoxifying shampoo is used to get rid of the product built up, impurities and even the sebum residue that are hard to get rid of while using your regular shampoos. Tea tree oil and cooling menthol makes its formula effective. In fact, the product clarifies the scalp and leaves it squeaky clean. The best part is its fragrance which is nice and refreshing. It gives good enough lathers to make your scalp appear clear and clean. It also adds shine to the hair because it does not leave the scalp dry after the wash.
9. L'Oreal Paris Absolut Repair Lipidium Lactic Acid Serum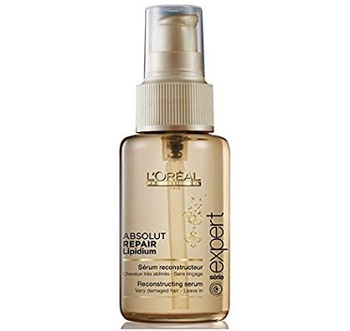 The L'Oreal Paris Absolut Repair serum is a non-greasy hair serum, made for very damaged and dry hair. it makes your hair feel instantly soft and smooth to touch. As it is rich with oils, lipidium and ceramides, it's known to give that extra protection to your dry hair. It provides the heat protection and seals the hair ends in a protective layer. So, even if you're using too much of heat styling treatments, applying this product prior to the blast of heat products on your hair, would surely reduce the damage to a great extent. Apply it in a small amount to your towel dried hair and spread evenly through the mid length to the ends.
10. L'Oreal Professionnel Serie Expert Inforcer B6 Biotin Strengthening Anti-Breakage Masque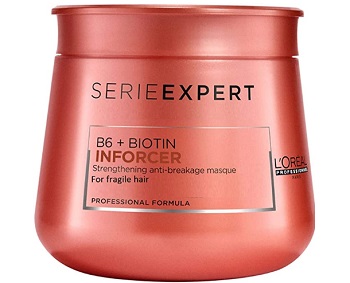 The L'Oreal professional hair mask has Vitamin B6 and biotin. It is a strengthening and anti breakage hair mask, formulated for the very fragile and rough hair. When hair gets weak and lifeless, they tend to break more and even hair issues like split ends and extra dryness can come up. Gradually, all these problems, can lead to hair fall and hair breakage. Therefore, this hair mask helps to make the hair soft and shiny. Whenever you use this deep conditioning hair mask after the shampoo, it makes your hair smooth to the touch and reduces the tangles in the hair. So that they break less and split ends are also minimized.
11. L'Oreal Paris Professional Mythic Oil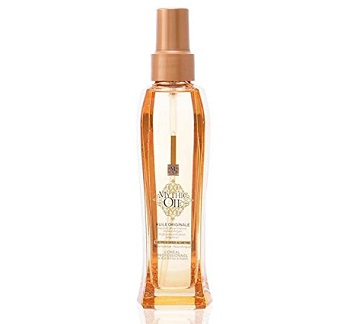 L'Oreal Paris Professionnel mythic oil contains the high concentration of Argan oil. If you've ever used Argan oil, you would surely know that the oil is immensely beneficial for your skin and hair. The lightweight product helps to smoothen the hair and let them shine with health. The product is packaged in a very attractive looking bottle that can be kept in your bag or purse. After the years of bleaching and heating styling, it can boost new life to the lifeless and rough hair. Using it regularly make the hair texture smoother and cuticles softer.
These are the best L'Oreal professional hair care products available in the Indian market that you can try to keep your hair in good condition and to enjoy beautiful looking hair. When you are looking for the best professional hair care products, which are used specifically in a salon, than L'Oreal professional hair products are the best to use.