Mild shampoos are considered perfect for dry and damaged hair. Such hair care products are formulated with conditioning agents, which impart the required moisture by sealing the cuticle and deeply nourishing. Every time one does chemical treatments or spends too much time under the UV rays, this can surely take a toll and eventually, hair gets dry. So, everyday use shampoos for dry hair types are essential to combat all that's tress and pollution ill-effects on your mane. This counts for both men and women. Here's a list of the best mild shampoos for dry damaged hair in India which are safe for daily sue and color treated hair as well.
Mild shampoos contain weaker surfactants, which are responsible to cleanse the scalp off the dirt, debris, pollutant build up, and even sebum. Dryness and roughness makes hair prone to get break easily by tangling of hair. Even split ends problem is a common issue with dry hair ends. Milder shampoos are good and effective choice when the hair is rough, dry, brittle, hair loss and fine.
List of Top 10 Best Mild shampoos for Dry Hair with Split Ends in India (2022)
These gentle cleansing shampoos can remove the oil and dirt, without damaging your hair.
1. Herbal Essences Argan Oil of Morocco Shampoo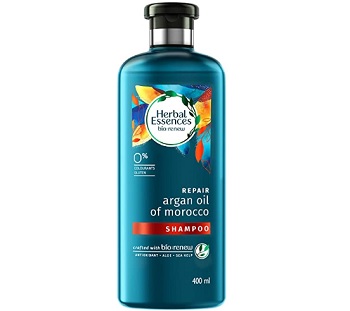 It's a mild shampoo that does not contain any paraben, artificial colorants which can irritate the natural pH of the hair. With a natural formula, it has certified organic ingredients which are safe for sensitive skin too. It's a cruelty-free brand and a mild shampoo for dry and damaged hair, rich in Argan oil, Aloe and Sea Kelp. Argan oil is known to give life to the lifeless and limp brittle hair. These natural ingredients make it a safe colour safe product for even for the dry and damaged hair.
2. NutriGlow Daily Use Dry and Damage Repair Shampoo
The daily use shampoo for dry and damaged hair actually repairs the hair cuticle and the damage. It is made with pure essential oils of 10 organic Herbs, keratin, amino proteins and Moroccan Argan oil. So while using the shampoo on day-to-day basis, it reverses the damage and has a formula which has moisture lock technology. So there are no harsh chemicals in the shampoo therefore it helps with frizzy hair and is also suitable for all hair types.
3. WOW Coconut Milk Shampoo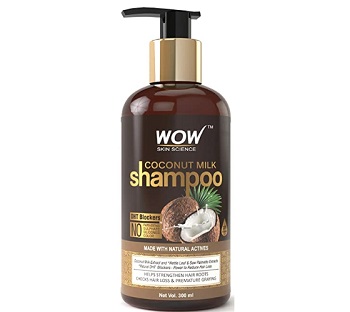 Wow shampoos are the best shampoos in India for different hair types. It does not contain any paraben, sulphates, minerals or anything that can ruin the pH or harm the hair in the long run. This is why it is a mild shampoo for dry and damaged hair. Coconut milk in anyways is known to reverse the damage and secure the moisture for a longer time. It helps to add strength, elasticity and hydration for healthy hair. It gives deep moisture and nourished. This is one of the best coconut milk shampoos for dry and damaged hair with mild formula.
4. The EnQ Onion Milk Protein Shampoo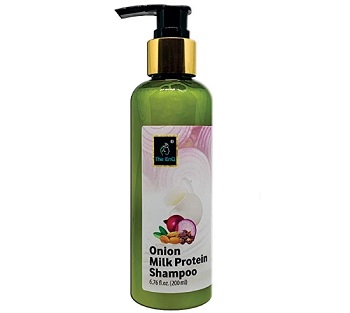 The Online milk protein shampoos are made for dry and damaged hair with hair fall issues. As it's loaded with antioxidants and sulphur, that is known to boost the blood circulation in the scalp, this shampoo also encourages hair growth. Milk proteins on the other hand promote hair growth and ads rebalance to your life cycle of hair and gives stronger and healthy hair. So it is a blend of essential oils along with onion and milk proteins.  It's the best mild shampoo for dry hair and hair fall control for daily use.
5. Dabur Almond Shampoo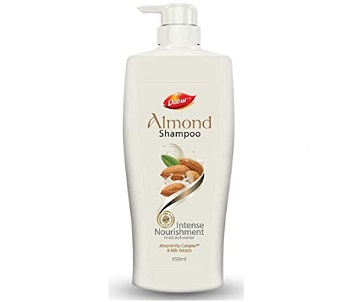 With goodness of almonds, this shampoo is rich in vitamin E, Milk extracts and Vitamin E together makes it an intense nourishing formula for dull, dry and weak hair strands. It helps to strengthen the hair fibres and leave the hair healthy and software looking. The shampoo helps the hair growth and promotes the strength of hair strands. Milk proteins are rich in lipids and fatty acids that make the hair softer. It is essential for hair growth and proper shine.
6. Godrej Professional Honey Moisture Shampoo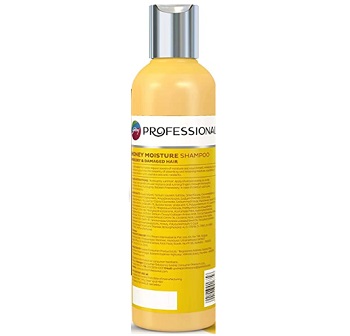 The moisture lock shampoo is made for dry and rough hair and the hair that breaks easily. As it is enriched with honey, it's known to absorb and retain the moisture. The shampoo also contains natural oils to boost the gloss and moisturisation. It enriches the hair with vitamins and antioxidants that improve the hair texture and shine. The shampoo is especially created for Indian hair and has three other variants available. The keratin rich variant from this range is also good for dry and damaged hair.
7. Mamaearth Argan & Apple Cider Vinegar Shampoo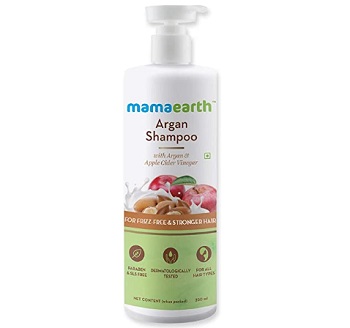 When your hair is dry and frizzy, this is one of the best shampoos to control the dryness and to eliminate frizz. While keeping the hair strands moisturized for long time, it gives you manageable hair which can be styled in anyways. It also has apple cider vinegar that is known to reduce the dryness, while treating the split ends. This shampoo also contains vitamin E, Moroccan Argan oil and glycerine, which are known to repair the dryness and roughness issues. The product is free of harmful chemicals and is a mild cleanser with no SLS. The shampoo is free of paraben and is safe for all hair types, this is one of the best shampoos for all the hair types, especially when the hair is damaged.
8. Himalayan Organics Coconut Milk Shampoo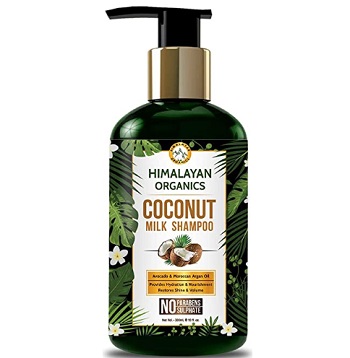 This is one of the best paraben and Sulphate free coconut milk natural shampoo which is perfect for all the hair types. It soothes the dryness and split ends hence, the shampoo can be tried on daily basis. It is a mild formula that contains the organic essential oils and coconut extracts. The shampoo protects hair from heat and natural environment damage that we experience on day-to-day basis. It can be used by men and women both. It also contains avocado and Moroccan argan oil. So while giving you hydration and total nourishment, it adds volume and vibrancy.
These are the best mild shampoos for dry and damaged hair in India. These shampoos can be used everyday and most of these are paraben and sulphate free. This is why using them daily will not make the hair dry rather aids in reversing the dryness.