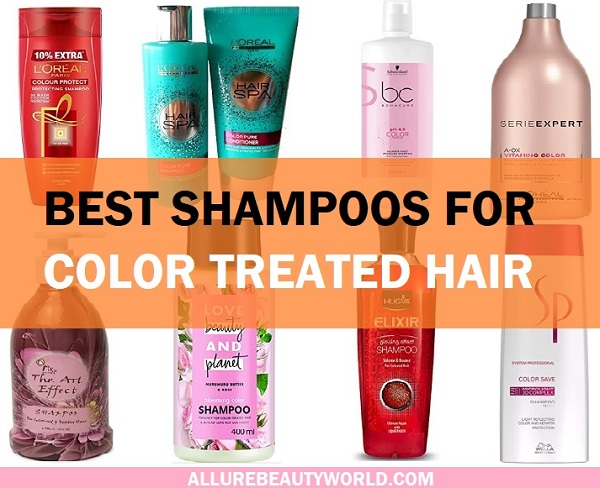 Are looking for the best shampoo for your color treated hair? If yes then your regular shampoos doesn't work to maintain and preserve the vibrancy of your hair color. This is why, the concept of color preserving shampoos came into effect. Because, when your hair is chemically treated or colored then that requires some special formula that can protect the hair color to stay longer and vibrant.  First of all, if you are thinking why does your hair color fade, let's know the real reason.
Why the Hair Color fades?
Whenever you wash your hair, hair color is lost a bit and the hair strands also get dry over the time. Due to that your hair color can fade as soon as you wash your hair. To prevent your hair color from fading, you can go for certain specially made shampoos.
How can you protect hair color from fading?
This is true that whenever you wash your hair, some amount of hair color will be stripped or faded. While we can't stop washing the hair, use of dry shampoo instead can be a solution. Right? But that is practically not possible. We can't rely only on the dry shampoos. That's why to reduce the amount of fading or hair color stripping, you must use specially formulated hair color hair care products that works to slow down the fading process.
How does a shampoo for colored hair work?
These color protect shampoos are designed to get rid of the dirt and dust just like any other regular shampoo, but  also have special ingredients to reduce the stripping of amount of hair dye or color with every wash. These hair color protecting shampoos also have less concentration of surfactants that are known to clean the hair. These shampoo products to preserve your hair color also contains conditioning agent that coats the hair surface to reduce or prevent the hair color molecules from leaving the hair strands. That's how, you not only preserve your color for chemically treated hair but also shields the hair from future damage.
List of Best and Popular Color Treating Shampoos in India (2022)
Here we've compiled this list of the best shampoos for colored hair available in India for your colored and chemically treated hair. Moreover, these products would help to serve as a UV rays shield to dull and lifeless soon. So they add brightness to your hair color and this is how you can pick the good hair color protecting shampoo for yourself.
1. L'Oreal Paris Color Protect Shampoo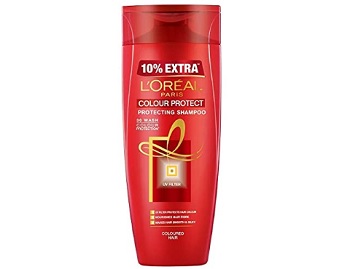 This shampoo is an affordable product from the house of L'Oreal Paris. It protects your hair color for up to 28 washes. It also makes the hair smooth and silky so even if you have dry and damaged hair because of the color, this shampoo can be quite beneficial for you. Sulphate free color protecting shampoo nourishes the hare and the color gets radiant. It is the best color protect shampoo that is available at reasonable prices in India.
2. L'Oreal Hair Spa Color Pure Combo Shampoo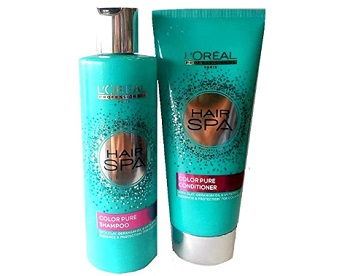 This colored hair shampoo and conditioner range comes from L'Oreal Professionnel. It makes the roots and hair fresh and clean. While hydrating the hair, it ensures your hair color remains as vibrant as it was and the hair becomes moisturised. It is infused with clay, geranium oil and UV filters. The product is specially formulated to give a protection for your colored hair. Apply it on the scalp and hair and lather. Gently massage and rinse off the shampoo.
3. Schwarzkopf Professional Bonacure pH4.5 Color Freeze Shampoo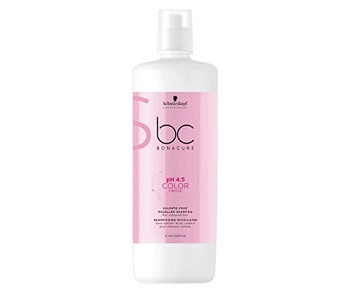 With pH 4.5 this is a sulphate free shampoo made for colored hair. The shampoo makes the color vibrant and glossy. The product gently and effectively cleanses your colored hair, while giving the color pigment frozen inside the hair. Apply the shampoo on your hair and lather it up. Add a little more water and work it again. Keep it for 1-2 minutes then wash off. Use it daily if required. It's the best color protection shampoos in the market.           
4. Fixderma The Art Effect Shampoo For Colored and Treated Hair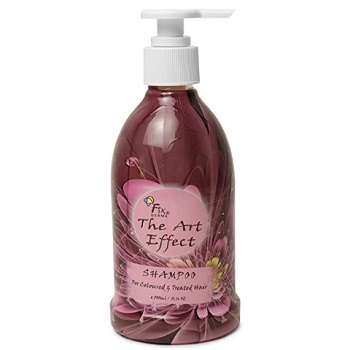 Made for color treated hair, this is a shampoo and conditioner combo. The shampoo has ingredients like linseed oil, sea buckthorn oil that helps to maintain the hair's glossiness and shine. It maintains the natural intensity of hair color and keeps it protected for long time. The product is SLS, SLES and paraben free. Therefore, it is safe to be applied even on the daily basis. The basic idea of this shampoo is to ensure that your color does not become faded or less intense.
5. Love Beauty & Planet Blooming Color Shampoo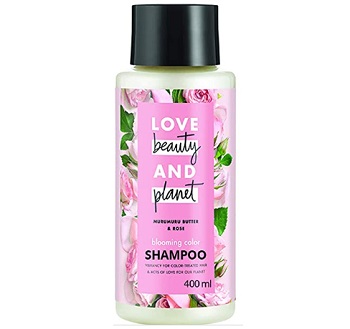 Enriched  with murumuru butter and Rose extract. It enhances vibrancy to your color treated hair and adds life to the hair that looks dull and rough. The shampoo is good for colored or permed hair because it has a formula that helps to detangle hair. As it is infused with organic coconut oil, the shampoo also helps in maintaining the frizzy hair. The product is free of parabens and sulphates.
6. Hugva Elixir Shampoo For Colored Hair Protection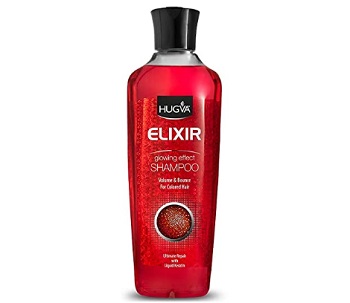 It is rich in liquid keratin that helps to repair the damage caused by sun rays and to add a natural volume and shine to your color treated hair. The shampoo protects the early fading of the hair color and gives them a glossy life. The product is 100% organic formula which is loaded with natural ingredients with no harmful chemicals like SLS, paraben, or mineral oil.
7. Revlon Outrageous Color Protection Shampoo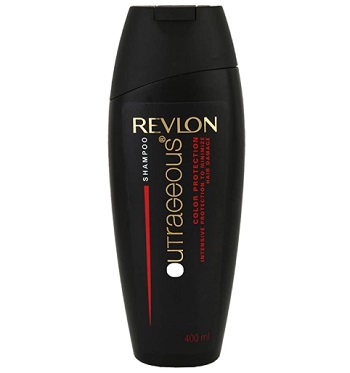 Revlon Outrageous Color Protection Shampoo is also a specially made shampoo with color protect formula. The shampoo enhances the hair color while restoring the moisture. Both men and women can use this best hair color protecting shampoo in India. With mild scent, the shampoo adds volume and softness to the hair.
8. SP Color Save Shampoo for Colored Hair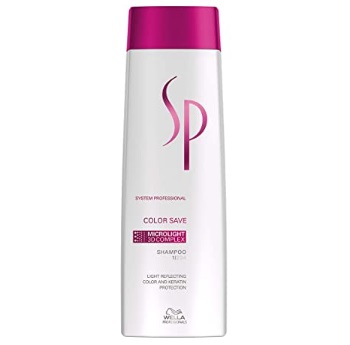 To shield your hair color from getting faded, this is a gentle cleansing product that can be applied on daily basis. It has a UV protect formula that not just protects the hair from ultraviolet rays which can strip off moisture and hair color pigment. It has a light reflecting color and keratin protection formula. With microlight 3D Complex formula, the shampoo is a special made product to balance your colored hair. It offers long-term shine and intense volume. This product is also rich with beeswax, UV filters, Olive leaf extract.
9. L'Oreal Paris Serie Expert Vitamino Color Shampoo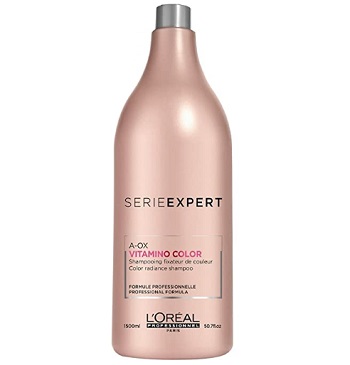 It's a professional series hair color protection shampoo. After few washes, even your expensive hair color tends to get dull and eroded. With the help of this professional expert vitamino color shampoo, you can expect to have your hair color last longer and stay as vibrant as it was. It removes the residue and product built up along with the dust and dirt. The shampoo comes with creamy formula that cleanses the residue and promote the hair growth as well. This product has in cell hybrid technology that locks the moisture in your hair color.
10. Indus Valley Color Protective Shampoo With Conditioner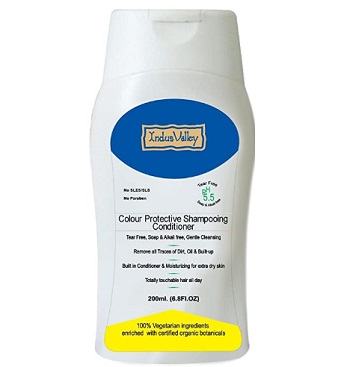 Keeping the hair color shiny and vibrant is not difficult when you have the right product to color protect your hair. It's a formula that is paraben free with the pH of 5.5. The shampoo removes all the traces of oils, dirt and built up. The built-in conditioner and moisturizer, is suitable for extra dry skin. The  100% vegetarian product is certified and cures problems like dryness, split ends and dullness.
11. TIGI Bed Head Color Goddess Oil Infused Shampoo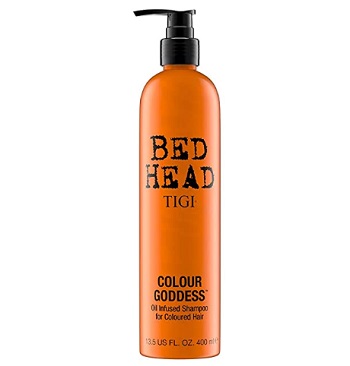 The professional series hair color oil infused shampoo is a professional hair care range that is used in salons. It is a great product for colored hair. Rich in coconut oil, it's it is also written fatty acids that are known to penetrate the hair shaft and two condition and smooth and them of the time. The shampoo is also loaded with sweet almond oil, keratin natural hair proteins and Vitamin A. Therefore, it's powerful formula with essential nutrients and antioxidants that are known to reduce the formulation of free radicals. With sweet toffee fragrance, it is one of the best shampoos for your colored hair in the market.
12. Schwarzkopf Gliss Hair Repair Shampoo Color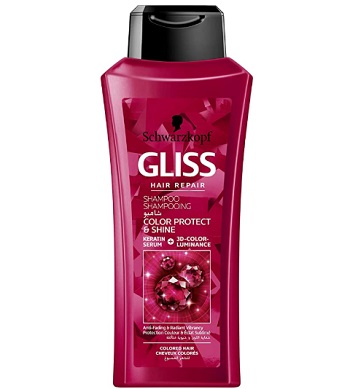 This hair color protecting shampoo is made to add loads of shine to hair and is one of the best choices of anti color fade shampoos that one can make. It repairs and manages the weak hair to give a vibrancy and volume to hair strands. Its effective formula with the repair serum and UV filters keeps color intense and fresh. It is an optimum color sealing products that comes with 3D color luminance. This is the best shampoo for your colored, tinted or even on the highlighted hair.
13. Oriflame Love Nature Shampoo for Colored Hair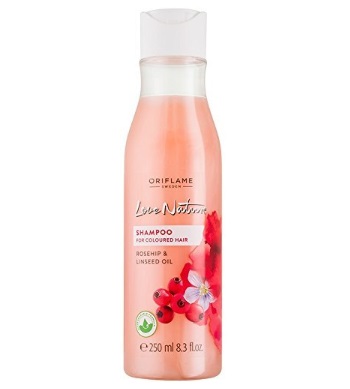 The shampoo is made for colored hair with rose hip and linseed oil. The shampoo is able to gently cleanse and condition the hair right from the first wash. It leaves the hair feeling soft and nurtured. While giving your hair fresh feel with no dandruff or dryness, this shampoo is made for especially chemically treated hair. It purifies your scalp and with a mild scent.
14. Naturigin Organic Beauty Color Care Hair Wash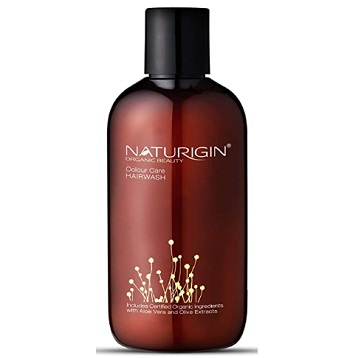 Specially made color care shampoo wash product is made with certified organic ingredients such as aloe vera and Olive extracts. For natural and color treated hair dye shampoo contains the natural oils that does not disturb the pH balance. The product is suitable for everyday use and does not have any Chemicals like parabens, sulphate which are known to make the hair rough and dry over the time.
15. Brillare Color Protect Sulphate Free Shampoo & Conditioner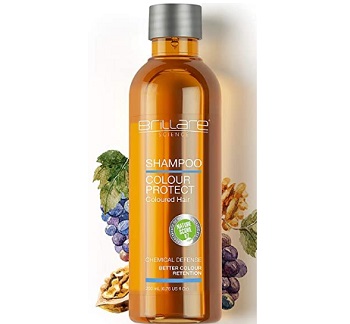 This color protecting shampoo comes with conditioner as well. It contains a good amount of natural ingredients that gives a better color retention. The shampoo is a gel based products that is rich with the natural antioxidants of grape seed and a color locking active walnut fruit extract. It helps the color last longer and stay vibrant. Formulated with natural and mild ingredient it is a hypoallergenic and sulphate free cleansing formula.
These are the best color protecting shampoos available in India. You can use these shampoos on daily basis wherever mention or at least 2-3 times in a week. So by using these shampoo you can also make sure that you can cure your color treated hair and to keep the color treated hair shiny and stronger.