Shampoos for men are essential hair acre item. Men too need different shampoos for their hair type. At times using the Unisex shampoos may not be effective for your scalp, this why using the best men's shampoo shall work in your favour. Deep cleansing the scalp from the everyday pollutants, dirt and dust particles, a good shampoo also takes care of the commonly faced hair care issues.
So, if you are not aware about the top shampoos for men available in the market, this list of the best men's shampoos in India would definitely help you in choosing an efficient shampoo that can address your hair problems according to the hair type.
How to Choose the Right Shampoo for Men as Per the Hair Type
A lot of men wonder about the criteria to choose a good shampoo for yourself. As, there are lots of different shampoos for men like the regulation shampoos, everyday shampoos and even the hair cleansers made to target specific issue or problem. Here're some pointers that can guide you decide, about how to pick shampoo for your hair type.
Dry and Damaged Hair: A lot of men can experience dry and damaged hair, because many men would have active outdoor lifestyle which can make the hair dry and dull. Using the shampoo which are moisturising in the formula and ingredients that can moisturizer the scalp and hair would be best for dry hair. So in such situation your dry hair and frizzy hair would need a shampoo with conditioning ingredients to tame the frizzy hair. This way, men can pick the best shampoo for dry hair.
Oily and Greasy Scalp: Men with oily scalp should use shampoos with volumizing and oil clear formula.  Such hair cleansers help to add volume by getting rid of the excessive grease and sebum off the hair and scalp. Going for the daily clarifying or hydrating shampoos would not be helpful for you. Therefore, shampoos known to boost the natural volume and bounce are better.
Look for the shampoo containing ingredients such as Beer, Caffeine, Apple Cider Vinegar and Tea Tree oil etc. This is how guys can pick the best men's shampoo for greasy hair. Using the hair conditioner good for thin hair will also help but for greasy hair conditioners can be skipped.
Mild Shampoos: If you are someone, who wash their hair everyday must try to use a gentle and mild formula. Even when hair fall is the major concern, choosing best hair shampoo for men in India or everyday shampoos with a gentle formula is considered better.
Men too experience hair fall and hair receding hairline issues. To put a stop or at least to minimize the condition, try using an anti hair fall shampoo.
Such shampoos are rich in ingredients like Onion, Amla, Biotin, Hibiscus, Rosemary, kalonji seed etc. These special ingredients are known to reduce the falling hair. Men also get to see hair fall due to the DHT hormone. For that, pick the shampoos that specifically mention, the ingredients present are able to fight DHT hormone related hair fall.
Best Men's Shampoos in India (2022)
Let's take a list of the most popular shampoos made for men, available in India. These are the best men's shampoo available in India. These shampoos are specialized and made for particular hair type and to remove sebum, pollutants, dirt and dust effectively. Choose any good shampoo from these men's shampoo brands in India.
1. Beardhood Onion Hair Fall Control Shampoo With Caffeine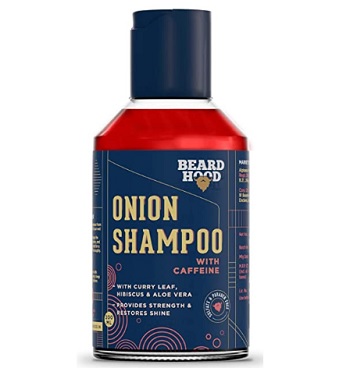 This onion shampoo for men is exclusively made for men's hair loss control. This shampoo contains active ingredients such as curry leaf, aloe vera, onion extracts along with caffeine. All these ingredients provide strength to the weekly roots and restores hair volume.
Caffeine helps in hair growth from the roots and also minimises the hair loss caused by DHT hormone. Hibiscus and onions are known to revitalize the scalp and improve scalp's blood circulation as a result hair loss is controlled and eruption of new hair follicles is also seen. This natural shampoo for men's hair is a sulphate and paraben free shampoo for men, which is available at reasonable prices. Moreover, the shampoo is also free of mineral oils and dyes. This shampoo for men's hair loss can be used 2-3 times in a week.
2. Beardo Hair Fall Control Shampoo for Men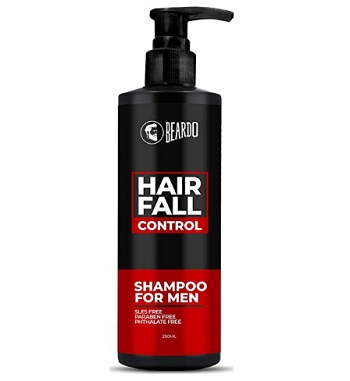 Beardo is one of the most popular beauty products brand for men. The best anti hair fall shampoo for men's in India is made to control the hair fall. It's also a Sulphate, Paraben and Phthalates free shampoo for men's hair. The shampoo prevents hair fall with no damage or side effects to the hair. It stimulates the hair follicles by improving the blood circulation. It ensures that after every wash the hair stays oil-free.
This shampoo is known to fight hair fall quickly with ingredients like Brahmi, camphor oil, aloe vera, Amla, Lemon and Rosemary oil. Oone can expect the shampoo to repair the damaged hair and give a renewed look. Beard men's shampoo is the best hair fall shampoo for men in India
3. Man Arden Activated Charcoal Shampoo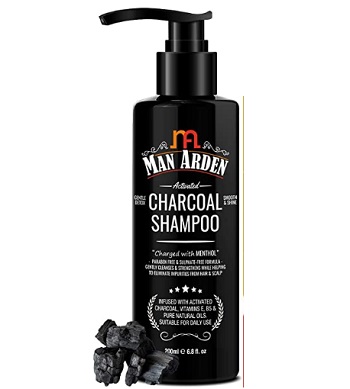 The activated charcoal shampoo for men contains Argan oil. The shampoo is infused with vitamins like A, B, E and essential oils. With gentle and effective formula, it's a shampoo for men for everyday use. The shampoo is also charged with menthol to give you cooling, during the summer season. The gentle detoxifying shampoo gets rid of all day desert, dust and pollutants,  settled on the scalp surface. The charcoal shampoo is perfect for men even with oily and thin hair.
4. The Real Man Caffeine Coffee Smooth & Shine Shampoo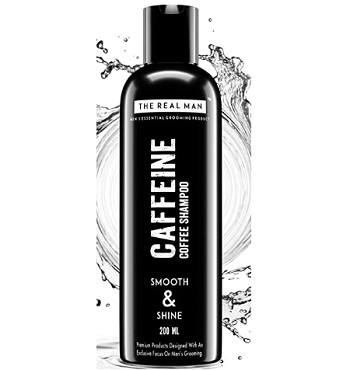 The men's caffeine shampoo is primarily used for getting smooth and shiny hair. It's a premium product that does not contain harmful and hair damaging chemicals or sulphates. The paraben free men's shampoo base has active herbal extracts of natural ingredients such as Reetha, shikakai, amla,  Tulsi, Henna, and lemon extracts. The gentle hair product for guys is also good for curly and color treated hair as well. It's designed for the modern man who wants a shampoo to be used on daily basis and to get rid of oils that and pollutants.
5. Ustraa Anti Dandruff Hair Shampoo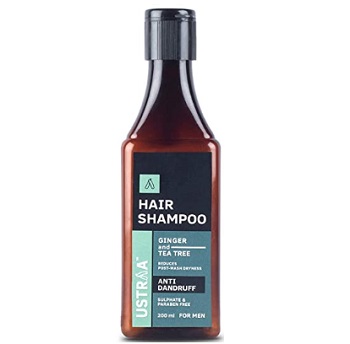 Dandruff can create havoc on your hair. This anti dandruff shampoo from Ustraa would help from hair fall due to oils and dandruff effectively. While fighting the dandruff, shampoos containing tea tree oil are always fast acting. Tea tree is a popular antibacterial and antifungal ingredient, known to clarify the scalp of the flakes, right from the first use. It also contains Ginger that reduces possible dryness after the wash. In fact, Ginger is also known to cure the hair loss because of dandruff on the scalp. The best thing is that the shampoo is sulphate and paraben-free shampoo for men available at very affordable pocket friendly prices. Ustraa products are exclusively available online and at good prices. It's the best natural shampoo for men's hair.
6. The Man Company Apple Cider Vinegar Anti Dandruff shampoo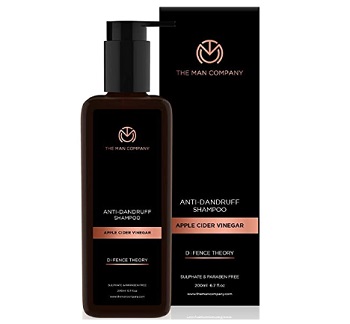 The Man Company Shampoo for dandruff is rich in Apple Cider Vinegar. Not just for curing dandruff and itching, Apple Cider Vinegar loaded shampoos are considered quite helpful for men with oily hair. During summer and humid weather, when the scalp gets extremely oily with sebum and dirt,  Apple Cider Vinegar shampoos deeply cleanses the impurities and gives a lift to flat hair. The sulphate free shampoo for men retains the natural sine and bounce. It's one of the best shampoos for men for summer season when your scalp is oily.
7. Brylcreem 3 in1 Conditioning Shampoo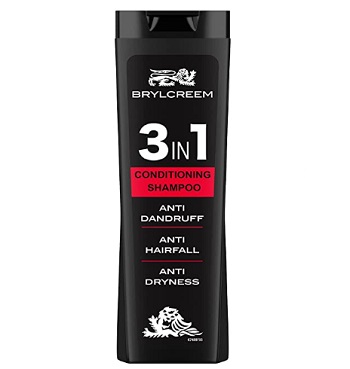 Men with dry hair and dandruff with extreme hair fall issues, shall consider a deep conditioning shampoo to combat the issue fast. Dryness also leads to tangles and hair falling due to breakage. The shampoo increases the scalp's natural resistance and strengthens the hair from roots to tips. So while reinforcing the strength in your weak hair roots, this shampoo also helps to minimise the hair loss. It's the best shampoo for men's dry hair, can be bought online at cheap prices.
8. Park Avenue Damage Free Hair Beer Shampoo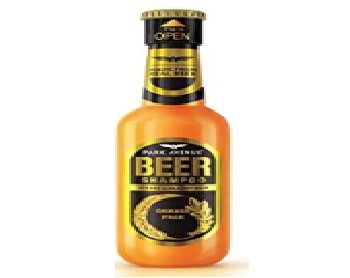 When the volume of hair is low, a beer shampoo can really help. The five in one conditioning shampoo for men gives you more conditioned hair with natural bounce and shine. With proteins and bioactives of Barley and Herbs, this is a natural protein shampoo that also contains vitamin B complex. The natural amino acids (proteins) in this beer shampoo for men repairs the damaged strands to enhance the lustre and shine. The best advantage of using a hair thickening shampoo is, when your hair gets oily and sticky, like maybe after the gym workout, such products can lift the hair roots and infuse thickness and body. It's suitable for everyday use and is the best shampoo for men with oily hair.
9. Head & Shoulders Lemon Fresh Anti Dandruff Shampoo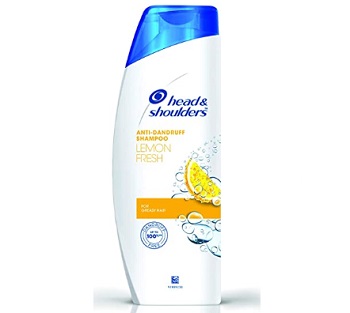 Dandruff is not just seen when the season is dry and cold but even during summers, some men can experience dandruff. Head & Shoulders is a name associated for the best dandruff shampoos in India. Head & Shoulders men's shampoo removes the visible flakes with regular use and is perfect for normal hair.
Majority lot of shampoos for dandruff cure would dry out the hair, but this ensures hair does not get dry or brittle post wash. The lemon fresh shampoo is amongst the best men's shampoos in India, perfect for everyday use because of its gentle and pH balanced formula. Even for coloured and chemically treated hair, it's effective. It treats oily hair and oily scalp and gives you a vibrantly beautiful mane. This dandruff cleansing product is the best dandruff shampoo for men in India.
10. Dove Men+Care 2 in 1 Shampoo and Conditioner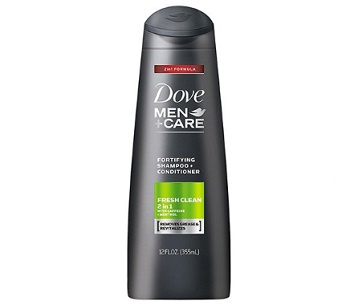 Dove has this special men's hair care range and this is a shampoo plus conditioner product. The two in one product gives gentle care and condition. It deeply cleanses and invigorates the hair with the removal of the dirt and pollution particles. The shampoo is enriched with caffeine and menthol and is suitable for daily use with no side effects.
As it's the made specifically for men, it keeps the scalp refreshed with the cooling menthol and removes the dirt and grease effectively. Caffeine rich hair cleansers are effective in DHT hormone related hair loss in men. The shampoo is also good for men's hair fall. Dove men shampoo product is the best shampoo and conditioner for men's hair in India.
So this was the case of which shampoo to use and which men's shampoo to avoid however , you must try to stay away from shampoos with SLS, paraben, sulphates and harsh chemicals that can disrupt the natural pH balance and damage the hair in the long run.
These are the various shampoo brands in India for men. Now that you have enough choices to choose the best men's shampoo available in Indian market, let's go ahead and know, how men should use shampoo to wash their hair.
How To Wash the Hair the Right way?
This is such a simple procedure; however, most of us will not pay enough attention.
Washing the hair incorrectly can be pretty damaging and results can be seen in long run. In fact, it can also disrupt the natural pH balance that can lead to more damage to the hair cuticle. This is why to get the best possible results from the regular hair cleanser, it's better to stick to the good shampoo and the correct way to shampoo your hair.
Before applying the shampoo, always wet your hair with normal water.

Always use lukewarm to normal water and avoid very cold to very hot water to wash the hair.

Extreme temperature can dry the hair cuticle, leaving the hair lifeless.

After that, take some amount of shampoo depending on your hair length.

Apply the shampoo on your scalp first, and then massage using finger tips. Cover the hair strands with the shampoo lathers/foam generated.

Try to shampoo hair with gentle fingertip massaging for at least 1-2 minutes.

Rinse the hair with regular or lukewarm water.

Make sure there is no product residue left on the scalp or hair.

Keep rinsing until clear water flows down.
Conditioning the Hair
When you have very dry hair, apply a conditioner suitable. Never apply hair conditioner directly on the scalp, rather apply the conditioning product only on the hair ends. Leave the conditioner for a minute and rinse thoroughly with water.
This is the procedure that men must follow to keep their hair in good condition and to enjoy the best possible hair health.
Hair Care Tips For Men
Apart from using the best shampoo and the proper procedure to wash your hair, it's also important you must know some worth knowing and effective tips to keep hair healthy and long. Here are some advanced hair care tips that man can follow.
Men who have this strong urge to wash their hair everyday must use a mild and gentle shampoo.
Such mild formulas are made for daily use, which is why, they will not damage the hair in fact they would repair the everyday wear and tear.
Applying lot of hair styling products can damage the hair in the long term. Loads of stuff over the hair can damage the cuticle and hair frizzy. Avoid or at least minimise the use of chemical loaded hair gels, wax, pomade etc.
When you are in a habit of using such hair styling products on day-to-day basis, then try using hair clarifying shampoo use at least 1-2 times in a month to get rid of the product built up.
Regularly trims and haircut helps in removing the dry and damaged hair ends.
When you work outdoors for long hours, it's always good to cover the hair with a cap, to safegaurd the hair from damage caused for UV rays.
Once in awhile hot oil massaging also make the hair grow faster. This hair care treatment also minimises the damage and deeply condition hair naturally.
Some Queries
Wondering if, men can use women shampoos? Yes, you can use! As there is no such thing, that a particular shampoo is made only for women or men. But there are shampoos which are made exclusively for men considering the lifestyle and problems faced.
Women's shampoo can have pleasant scent, which may not be liked by a lot of men. If you're using a woman shampoo, make sure the shampoo is not too scented or have that highly conditioning formula that can make your hair on volume.
Many men have this habit of using the shampoo everyday for their hair. Which is why a lot of people wonder how often men should use shampoos? Men who like to wash hair daily must use gentle shampoos for daily cleansing. However, on an average, men can shampoo 2 to 3 times in a week. Your lifestyle and further activities are also to be noted before deciding the hair washing schedule.
Coming to the next query, that how much shampoo a man should take? It depends on the type of hair and length. Half a teaspoon for short and about a teaspoonful for shoulder length hair should be sufficient.
When you've oily and greasy hair, then it's always better to think about how to shampoo for oily hair. You should shampoo oily and greasy hair by sticking to the gentle massage in for at least 2 minutes. This would remove sebum and oil traces that are responsible for making the hair flat.
In this whole process, please note that rinsing out the shampoo properly from the scalp is also important, otherwise the traces of shampoos can irritate the scalp and would further make the hair dry and hair fall. It's always better to keep pouring water, till you get clear water running down the drain.