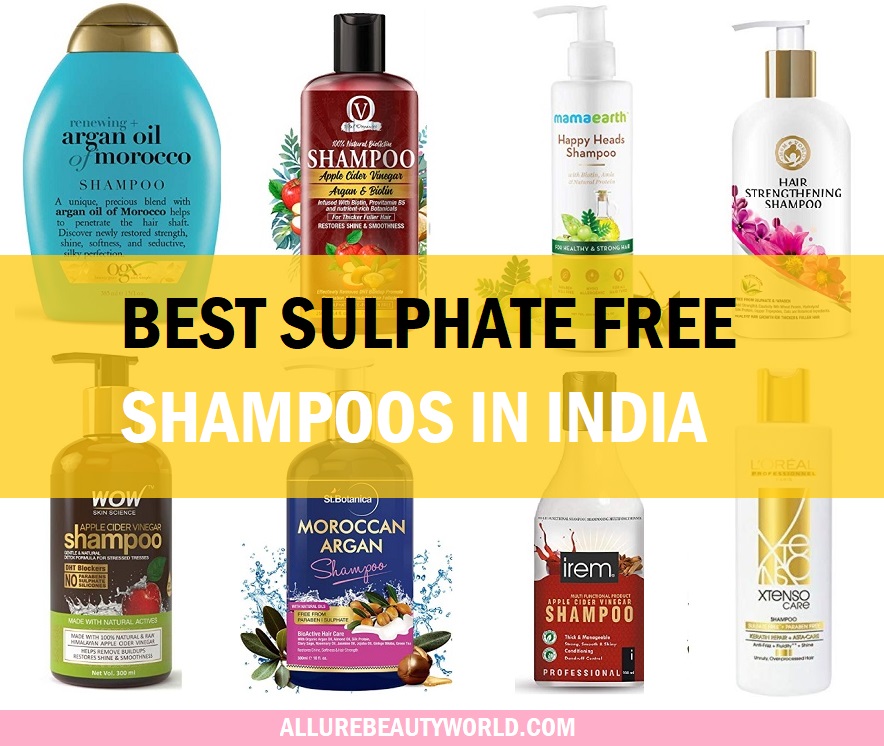 Sulphate free shampoos have become the most looked for hair care products, ever since people know about the damages of parabens and sulphates. Currently, beauty industry is stormed with the chemical free shampoos. Their growing popularity is the reason why a lot of brands are coming up with formulas that have zero sulphates in it. So as compared to the regular sulphate loaded shampoos, using shampoo without sulphates is better.
Sulphate free products are good for your hair as they do not harm your hair or scalp in the long run. However, you might also know the point why SLS or Sodium Lauryl Sulphates are used in the shampoos. The reason is pretty simple, because sulphates tend to give rich foaming lathers. Find out all you need about the SLS free shampoo and the best sulphate free shampoos available in the Indian market currently.
What are sulphates and why they are used?
Sulphates or chemicals are used as cleansing agents and they are mainly found in the household cleansers, detergents, soap bars and even shampoos. There are two main types of sulphates which are commonly used in the shampoos like Sodium Lauryl Sulphate and Sodium Laureth Sulfate. These products are included in the shampoo used to create rich lathering foam that removes oil and dirt from your hair. It sounds really good, isn't it that sulphate loaded shampoos can pull out oils and pollutants effectively from the scalp, however sulphate are perceived to be cancer causing. This is why now lot more people are going towards the sulphate free shampoos. Especially when you have sensitive scalp, then use of sulphates should be minimised. Other than that, when you have chemically treated hair sulphate can ruin your look and can strip of the color too fast. Gradually, sulphates can also irritate the scalp and can lead to certain scalp and skin related problems. So even though the sulphate free shampoos may not lather as richly as the regular shampoos, but undoubtedly, ability to clean the oil, dirt and dust is superb.
Why you should use Sulphate free shampoo?
Now you must be wondering, why you should use organic shampoos? We have just given you the answer that sulphate can strip off the natural oils that lubricate the scalp and also can damage the hair in the long run. The can also make your hair dry and frizzy and moreover they can have allergic reactions for your skin, eyes and hair. If you are wondering, why your hair color is stripping too fast or why it isn't as luxurious as it used to be, sulphate loaded shampoos are to be blamed for. This is why, no sulphate shampoos would give you better results in keeping the scalp clean and healthy. In anyways, sulphate free and paraben free shampoo is good for coloured and chemically treated hair.
Since, SLS shampoos can cause skin rashes, inflammation, itching and redness, it's time to switch on to the sulphate free shampoo without any side effects.
Top Rated and Best Sulphate Free Shampoos in India (2023)
Now let's take a look at the 15 popular and best sulphate free shampoos in India. Wondering which are the best zero sulphate shampoos available in the market? We've compiled this list where you will find the best rated and trending sulphate less shampoos. These are available in the stores and online stores. If you buy it online then it would be better because you can fetch some good discounts. 
1. OGX Moroccan Argan Oil Shampoo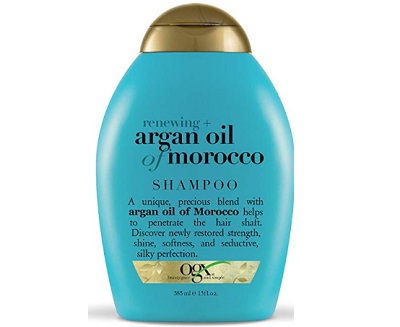 The shampoo is rich in Argan oil that helps to prevent the dryness especially during summer season. The shampoo is a paraben and Sulfate free hair care product that helps to restore the natural shine and softness. It can be even used daily, because of its gentle and non-harmful formula. In fact, the organic bottles are Eco friendly and biodegradable. It improves the hair's cell structure and relieves the hair fall. Certainly, it's the best sulphate free shampoo in India for dry hair.
2. WOW Apple Cider Vinegar Sulphate Free Shampoo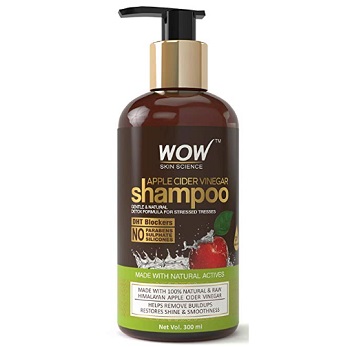 Apple cider vinegar shampoos are perfect for all hair types and when you've oily and greasy scalp ACV shampoo would be wonderful for you. It is a formula for stressed hair strands. It is made with 100% natural Himalayan apple cider vinegar that helps to remove the product built-up. If you are someone, who uses a lot of hair styling products and sprays, dry shampoos and hair straightening creams, the shampoo would be the perfect clarifying shampoo for you. It has to eliminate dryness and dandruff from the scalp for conditioned and smooth hair. It's the best natural, paraben free nd zero sulphate shampoo for oily scalp.
3. Vital Organics Sulphate Free Shampoo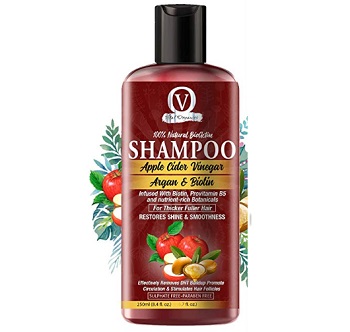 This shampoo is one of the best rated shampoos for people struggling with lifeless hair. It is infused with biotin, provitamin B5 and natural botanicals along with the apple cider vinegar. Suitable for all hair types, it removes the DHT built up and promotes the better blood circulation. The shampoo also stimulates hair follicles and makes hair smooth and softer. The best thing about this product is it's capable enough to produce good lathers to cleanse and take away the dirt and dust off the scalp and hair. It's super effective to get rid of all the residue and sebum on your scalp. It's in fact, is one of the best sulphate free hair growth shampoos in the market.
4. StBotanica Moroccan Argan Hair Shampoo With Organic Argan Oil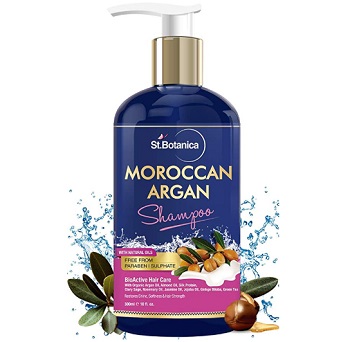 Made with Moroccan Argan oil, this is a shampoo perfect for restoring shine and softness for the dry hair. Additionally, it contains Clary sage, Rosemary oil, Jasmine oil, Ginkgo Bilbao, Green tea, Silk protein and Almond oil that work miraculously to increase the shine and smoothness of the dry and rough hair strands. By using this, you can surely increase the manageability of rough hair strands so that you can make any hairstyle that you wish. It is recommended for both men and women and the best thing is, its damage repairing and healing properties which heals the effects of blow drying and sun damage. It's the best no sulphate organic shampoo in India.
5. Mamaearth Happy Heads Natural Protein Hair Shampoo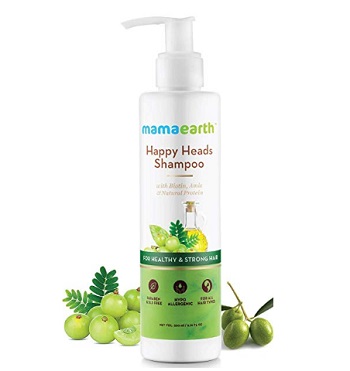 Mama Earth protein hair shampoo is the best protein shampoo with sulphate free formula. The SLS free shampoo is loaded with biotin, horse chestnut, bring raj and Amla. With parabens free herbal formula, it's suitable for all hair types. Even when you are not experiencing any problems with your hair strands, then too you can try this shampoo. It gently cleanses the damaged hair follicles and with every wash it moisturizes the scalp as well as hair. It reduces hair thinning and breakage that can lead to low volume on your head. It also increases the elasticity of the hair so that they break lesser.
6. Irem Sulfate Free Shampoo With With Apple Cider Vinegar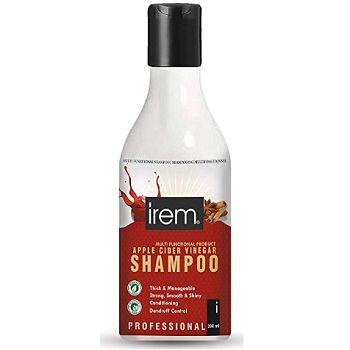 The sulphate free shampoo is not from a very popular brand but the chemical free shampoo product in short span of time, has received pretty high user ratings. You too just check the ratings and would know, how effective this formula is. It gives you thick and manageable stronger hair. By deeply conditioning the hair, the shampoo without Sodium Lauryl Sulfate also controls the dandruff. It's key ingredient, apple cider vinegar is wonderful for dandruff and oily hair cure. Removing the product built up and giving full and thicker hair, it is a wonderful shampoo for greasy scalp and dry hair ends. It removes the dead skin cells and dirt along with the pollutants from the scalp so that you get to enjoy smooth and voluminous locks day by day. Other another good thing is the price which is very affordable and reasonable.
7. L'Oreal Paris Xtenso Sulfate-free Hair Shampoo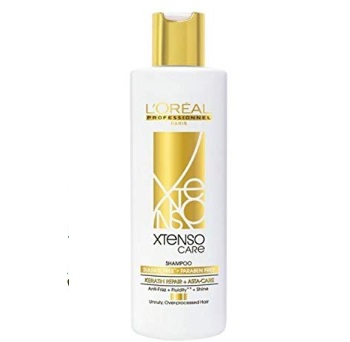 L'Oreal Paris Xtenso sulfate-free shampoo is for all hair types and with the nutrifortifying Technology, it restores the strength and flexibility of the dry and damaged hair strands. It protects hair from damage and even the hard water bad effects.  The sulphate and paraben free cleansing formula is amazing that cleanses the hair and scalp. The shampoo is able to get rid of the scalp built-up effectively. It can be used to 2 to 3 times in a week for better looking frizz free hair. The Loral sulphate free shampoo is also reasonably priced.
8. Mom & World Hair Strengthening Shampoo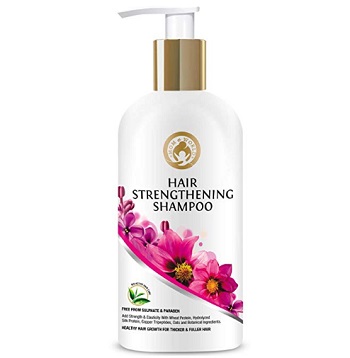 If your hair is thin and the roots are not strong enough, this hair strengthening shampoo with proteins would do the job for you. It is rich in protein, hydrolyzed Silk protein, oats and few other Botanical ingredients. A powerhouse of natural products, this sulphate free natural keratin shampoo is perfect for curly, colour treated, keratin treated and natural hair. Rich with the Moroccan Argan oil, Rosemary oil, castor oil, the shampoo promotes the shine and hair growth. The protein infused SLS and chemical free shampoo also protects the hair strands and makes them thick and stronger. So you can restore the strength of weak hair roots by using the shampoo every day. When you have dry hair, coconut milk is a wonderful ingredient, even for the curly hair.
9. Himalayan Organics Coconut Milk Shampoo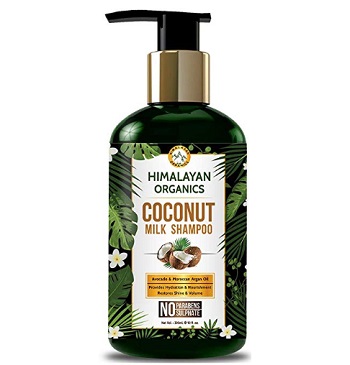 Himalayan organic coconut milk shampoo contains avocado and Moroccan Argan oil along with coconut extracts. With the goodness of these natural ingredients, it's one of the best paraben and sulphate free shampoos for dry and damaged hair strands. When hair gets damaged because of over use of chemicals, heat styling products and sun exposure a shampoo like this helps. It can be applied to two three times in a week to maintain smooth and manageable hair. It's also the best SLS free shampoo in India.
10. WishCare Coconut

Creme

Shampoo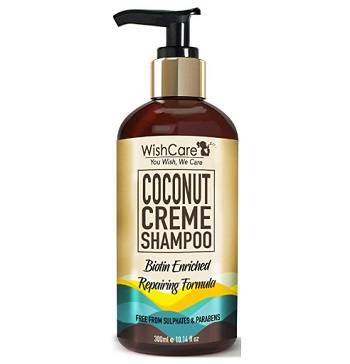 This is one of the best sulphate-less shampoos for dry hair. Enriched with biotin and extra repairing formula, this coconut cream shampoo is devoid of any sulphate, SLS and parabens. It is also a cruelty-free and color safe product. Men and women both can try this product. It has coconut oil, coconut milk, sea buckthorn oil, shea butter and macadamia oil. The powerhouse shampoo is perfect dose for your undernourished and dry damaged hair.