Wow hair products are free of parabens, chemicals and harmful ingredients that can disturb the scalp's pH balance or even lead to hair loss. This why the brand has rising to a new level of popularity because of its natural ingredients which are certified and vegan. Moreover, these wow products are sulphate and paraben free. In fact, they are one of the best parabens free beauty product brands in India currently. These products are available at affordable prices and are easy to buy from online shopping sites. So here we are going to talk about the best Wow Hair care products available in India.
List of Best Wow Hair Products in India
1. WOW Skin Science Onion Black Seed Hair Oil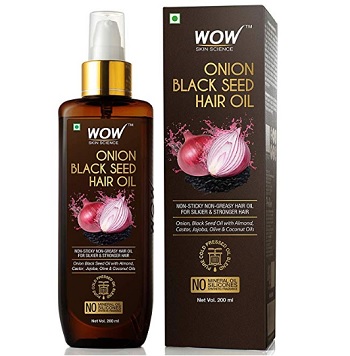 Onion oil is rich in sulfur because of which it has proven effective against hair loss battle and to get you back your lost volume. Wow onion and black seed hair oil contains the goodness of black seeds along with onion. It is a non-sticky and non-greasy hair oil that gives you silky and stronger hair. The strong smell of onion is not that much in this oil as it also contains other essential oils like Jojoba oil, olive oil, castor oil, almond oil and coconut oil. It's formulated with 100% cold pressed and premium essential oils, it helps to increase the shine of the hair. Suitable for all hair types, it's the best Wow oil for hair growth. It can be used for curly, straight, textured and even the color treated hair. It is one of the best onion shampoos in India.
2. WOW Coconut Milk Conditioner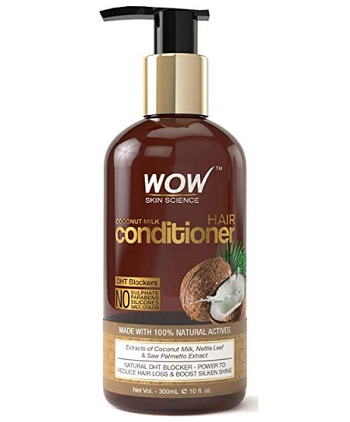 Wow organic virgin coconut milk hair conditioner is a wonderful conditioner for all hair types but it works the best for free frizzy and dry hair. It works superbly on split ends, breakage, flyways and even frizzy hair. It deals with all these common hair issues and gives you smooth and shiny hair. This hair conditioner is blended with certified bio active ingredients like wheat protein, avocado oil, sweet almond oil, virgin coconut oil, castor oil, and Argan oil. With so many different oils, this gives smoothness and hydration to all hair types. It is one of the best wow hair conditioner for dry hair in India which is available at affordable prices online.
3. WOW 10 in 1 Miracle Hair Oil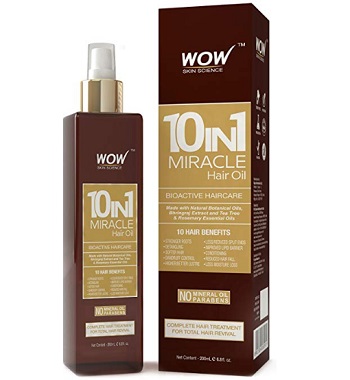 Wow 10 in 1 miracle hair oil is everyday use hair oil that fights the ten common hair problems. It controls the dandruff while conditioning the hair. It improvises the lipid barrier because of which your hair becomes moisturized. Additionally, it also reduces the split ends and makes your roots strong which is why the hair fall is reduced and tangling gets eliminated in the first place. The oil is lightweight and is one of the best parabens-free hair oil for both men and women. It also contains botanical oils and is totally free of mineral oils, petroleum, liquid paraffin and parabens. This hair growth oil also contains the bio active ingredients such as cold pressed extra virgin olive oil, almond oil, argan oil, oil, grapeseed oil along with Bhringraj extracts, vitamin A, Rosemary and tea tree Essential oil.
4. Wow Skin Science Coconut Milk Shampoo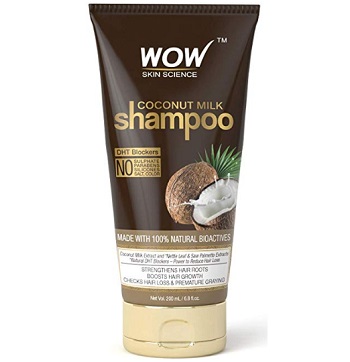 Wow coconut milk shampoo is as effective as the coconut milk conditioner. It is a best seller in this category and best shampoo for dry hair at an affordable and light on pocket prices. We can also called as the best paraben free shampoo for dry and damaged hair fall. It's also safe for color treated hair and works for the DHT related hair loss as well. It's free of sulphates parabens, silicone, colorants etc and  it is made with 100% natural active. With extracts of coconut milk, nettle leaf extracts, it is a natural DHT blocker that has the power to reduce the hair loss and increases the hair growth. So while it keeps hair loss in check and premature graying, it is a wonderful shampoo to cure the hair loss for both men and women.
5. WOW Skin Science Red Onion Black Seed Oil Shampoo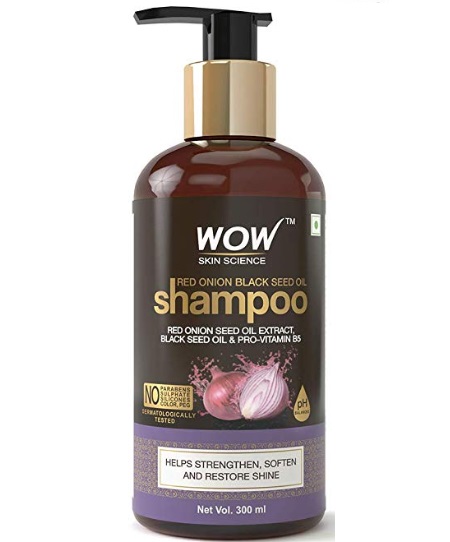 If you have excessive hair loss or would like to boost the hair growth, onions can play a part. Other than the onion hair oil, Wow also formulates this red onion black seed shampoo.  It's the best Wow shampoo for hair loss. The shampoo is infused with black seed oil, red onions oil and provides Provitamin B5. It restores the hair health and softens your hair while restoring the shine. It also makes the hair smoother so that they break less and less tangles are there. Use this shampoo to improve the hair texture and strength. It is also the best paraben and Sulfate free shampoo in India at reasonable prices.
6. WOW 100% Pure Castor Oil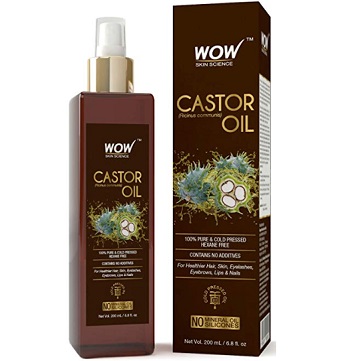 Wow pure castor oil is cold pressed and natural castor oil without the use of any parabens or additives. It is hexane free and contains no additives that can damage the quality of the castor oil. It can be used for so many beauty purpose like for healthy hair, healthy skin, growing the eyelashes and eyebrows hair while also working as a nail strengthener or a makeup remover. Castor oil can be used in so many different Do It Yourself recipes that keeping a bottle at home is worth having.
7. WOW Total Radiance Shampoo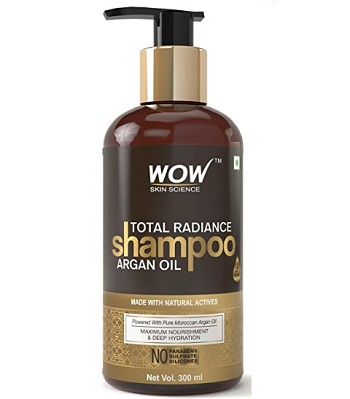 Wow Total Radiance shampoo has natural certified active ingredients without the use of parabens and sulphates. It is powered with pure Moroccan argan oil that gives maximum nourishment and deep hydration. So, basically it is a shampoo for dry and rough hair. It has omega 6 essential fatty acids plus vitamin A and E to improve the hair's moisture balance. It's the best Wow shampoo for dry hair.
8. WOW Skin Science Moroccan Argan Oil Shampoo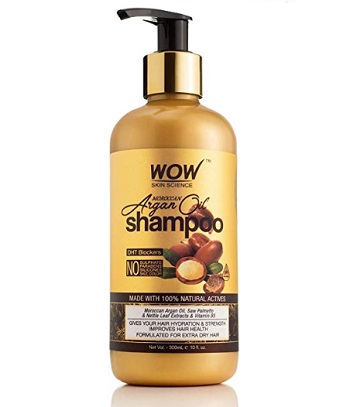 To get the benefits of argan oil, you can also use argan oil shampoo and conditioner. Wow argan oil hair conditioner is one such product that restores the hair's moisture balance and fight against dryness. Formulated for extra dry hair, it heals the dryness and creates a coating on the hair cuticle which makes them smoother and acts as a barrier for moisture loss. It boosts the hydration and revives the silkiness of excessively dry hair. Clearly, it is the best paraben free shampoo for extra dry hair in India.
9. WOW Apple Cider Vinegar Shampoo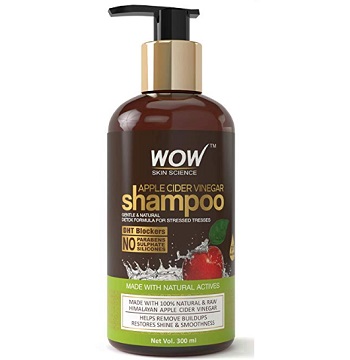 If you have oily scalp and dandruff and hair loss when wow activated shampoo is for you. It has a gentle and natural formula that works really well for DHT related hair loss. It is a natural DHT blocker and best Wow shampoo for oily and flaky scalp. It's made with 100% natural and raw Himalayan apple cider vinegar. It also helps to remove the product built up and restore the Shine and smoothness. So if you are someone who likes to use a lot of hair styling products like gels, creams, pomades or hair wax then removing them actively is important to maintain the hair health. For doing that, this Wow apple cider vinegar shampoo can be your best mate. It is one of the best Apple Cider Vinegar shampoos in India.
10. WOW Skin Science Charcoal & Keratin Shampoo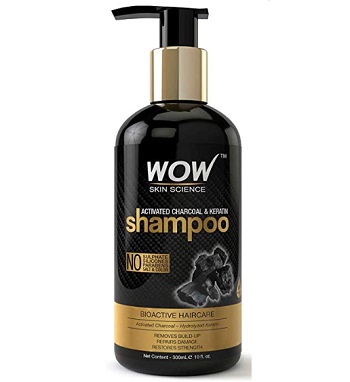 Wow charcoal and keratin shampoo is activated charcoal along with hydrolyzed keratin. It removes the product built up and repairs damage while restoring strength. It is yet another best paraben and Sulfate free shampoo with activated charcoal. Surely, it helps to remove the dandruff, impurities and Debris seated product built up that can make your hair life less and dull. So, if you are using chemical loaded styling products then this activated charcoal shampoo would be able to give you squeaky clean scalp and hair. It repairs the hair shaft and restores the strength. In fact, for excessive oily scalp and hair as well this is the best shampoo to try. It's the best Wow shampoo for oily hair.
These are the best wow hair products available in India. Using wow hair care products would make a difference in the way your hair feels. You just have to pick the product based on your hair concern or your hair type. And we are sure your hair would become extremely healthy and better than before.