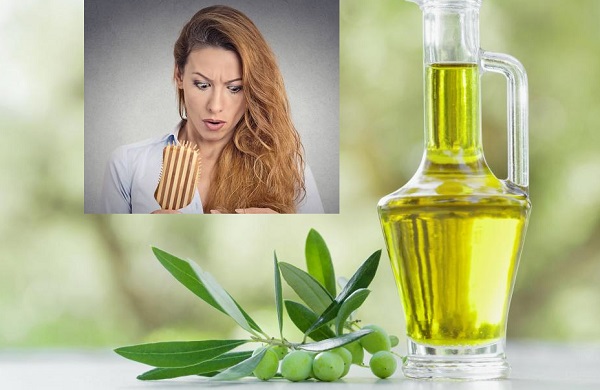 Olive oil is a complete hair revitalizing treatment. The extremely beneficial oil helps your hair to get stronger thicker and grow longer. In the article, I am going to let you know about the best ways to apply olive oil on your hair to increase the hair growth and to minimize the hair fall.  Other than that, olive oil is incredibly beneficial in treating the dry hair and dandruff.
Genetic or due to hereditary problems, you may start losing hair even at an early age. Not just that due to pollution and excessive use of hair styling products like hair colors, irons, curlers and unhealthy lifestyle your hair growth retards.
Here's, how applying olive oil for hair growth is the best treatment for your hair. Olive oil is light and healthy for skin. It nourishes the scalp deeply and repairs the damage to the hair and cuticle.
Olive oil contains emollients like oleic acid, squalene, palmitic acid. These elements are natural softening agents. These give your hair a luxurious treatment. Your hair gets softer, smoother and a lot silkier when you apply olive oil regularly.
Benefits of Olive Oil for Hair
1. Dandruff Removal
Dandruff is a scalp condition, where your upper most layer of the scalp becomes dry and flaky. Olive oil helps to cure dandruff and leaves the flakes on scalp. Prepare a mixture of two spoons of olive oil and 2 spoons of lemon juice. Apply it on the scalp and massage. Leave it on the scalp overnight. This dandruff eliminating treatment gives you shiny and smooth hair. Lemon is one of the best treatments to remove dandruff from your scalp and olive oil hydrates the scalp to reduce the brightness.
2. Improve hair growth 
The highly conditioning properties of olive oil, makes it one of the best ways to increase hair growth and to bring the moisture back to your hair roots. The treatments using olive oil, helps to make hair shiny. Mix one fourth cup of olive oil with 3-4 spoons of pure almond oil. Apply on your scalp. Keep massaging for at least 10 minutes. This helps to protect your hair keratin. It also removes the dead skin, sebum, product built up from your scalp which also blocks the follicle and prevent hair growth. Therefore, this treatment will help you get new hair.
3. Close split ends
Olive oil is a highly moisturizing oil that helps to reduce the phrase and flyways. The moisturizing properties of this oil, hydrates the hair. It helps in the treatment of split ends. You can take two spoons of olive oil and mix one spoon of coconut oil. Apply this on the hair and make a bun. Next day, wash it with mild shampoo. While going in the sun, you can also apply this treatment lightly on the hair ends to help prevent the split ends, when you are under the harsh weather conditions.
4. Strengthen the roots
Olive oil remedies not just improve the manageability of your hair, but this oil also helps to strengthen your hair. It is also believed that application of olive oil regularly make the hair roots stronger and more resilient towards breakage. You can also use extra virgin olive oil for your hair thrice in a week.
5. Treat dry hair ends
When you hair is dry and damaged, olive oil is one of the best remedies you can try. It is known that olive oil has high emollient properties and good fatty acids that make your hair smooth and beautiful. Apply olive oil along the dry ends. Olive oil can also be mixed with some Vitamin E oil to minimize dryness and prevent split ends.
How to use Olive Oil For Hair Growth
You can use olive oil in different ways with many ingredients mixed with it. Here are few recipes which will help you to treat dry hair.
Check these home remedies with olive oil for hair growth.
6. Egg and Olive Oil For hair Growth
Ingredients:
2 egg yolks

2 spoons olive oil
Procedure: 
Mix both the ingredients well.

Beat the egg in a bowl with a spoon.

You can add water to maintain a proper consistency.

Apply it on all the hair with scalp.

Let the mask dry for 15 -20 minutes.

Wash hair with a mild shampoo.

Dry your hair well.

I prefer drying it in sunlight as it removes the smell of the eggs.

Wash with lukewarm water.
7. Olive oil with lemon juice and almond oil
The main 3 ingredients are:

1 small spoon lemon juice

2 Spoons of Almond oil

2 spoons olive oil
How to Apply?
Mix all the ingredients in a medium sized bowl.

Apply it on hair and scalp.

Lemon juice is acidic in nature and gets rid of the dandruff effectively.

Wash it after 30 minutes.

It is advised to do this 3-4 times a month.

You can surely gain the lost shine and moisture in hair.

It makes hair grow faster.
8. Honey and Olive Oil for Strong Hair
Ingredients
Application:
Mix both the ingredients in 1:1 ratio.

See how much your hair requires.

The quantity will depend on the length and volume of hair.

Apply it all over the hair and scalp like a hair mask.

If you feel that the consistency is thick you can add more olive oil.

After applying it, leave it for 40-50 minutes.

Now your hair is ready for hair wash.

Wash and dry it.

You can see your hair turning smooth and soft when done regularly. 
9. Banana and olive oil recipe
Ingredients
One banana

2-3 spoons olive oil

2-3 spoons milk
How to Prepare and apply? 
Mash the banana properly.

Or you can also blend it.

Mix all the above ingredients in a bowl.

Now apply it nicely on hair and scalp and let it be for 30 minutes.

Wash with cold water.

This strengthens the hair and makes them stronger.

Dry your hair well as banana residual can be seen at times.

Comb to get rid of that.
Applying Olive Oil For Hair Growth (Overnight Method)
These are the overnight methods using olive oil for getting hair growth 
10. Olive oil with Coconut Milk
Mix both the olive oil and coconut milk in same quantity.

Take enough quantity that will be sufficient for your hair.

Now rub the oil and massage it all over the hair and scalp.

Let it be for 8-9 hours, till you sleep.

8 hours is a long duration so I suggest you to apply it at night before you sleep.

And wash hair in the morning.

Do this twice a week until you see fine and smooth hair.

It stimulates hair growth with olive oil and coconut milk.

Olive Oil with Fenugreek Seeds

All you will require is a small bowl of curd.

Over night soak fenugreek seeds (1 spoon) and 2-3 spoons of olive oil.

Mix all the ingredients thoroughly.

You will just need to mash and mix it in the curd.

Now apply it all over and let it get dry for 1 hour.

Wash it using herbal shampoo

Dry the hair.

You can apply it once a week.

Doing this repetitively enhance hair growth and shine.
11. Best Olive oil Brands for Hair Growth
Now I will be telling you the best olive oil brands that are available in India for hair growth purpose.
12. Figaro Extra Virgin Olive Oil:
13. Morpheme Remedies Extra Virgin Cold Pressed Olive Oil: 
14. Leonardo Extra Virgin Olive Oil
So, this is how you can apply olive oil for hair growth and get instant results in the hair fall and thinning of the hair.