Shampoo based hair colors are getting popular because they are very easy to use and give you that natural looking dark or black hair within just couple of minutes. And not just for your hair, but even for your beard and other body parts, these shampoo based hair colors are highly useful. To use these shampoo hair dyes, we have to follow a process which is quick and simple. You just have to take the product in your palms and apply on the hair. Massage for 5 to 10 minutes or whatever the time is mentioned on the packet. Hair dye shampoos give you natural-looking dark hair that retains the shine and the color stays for as long as around 2 to 3 months, which is really good as compared to the regular hair colors. Looking for the best shampoo based hair dye brands in India, then let's take a look at the top best hair dye shampoo available in the market.
Your hair is the crown beauty of your overall personality and just by changing hair color, you can definitely alter the entire look of a person. There are different companies and brands that have come up with multiple products that are meant to color your hair and give complete grey hair coverage.
These shampoo based hair colors are not like the regular hair colors but are made from the plant derivatives and are permanent hair color. So let's take a look at the best hair dyes in India.
Best Shampoo Based Hair Color in India (2023)
1. Vip Hair Color Shampoo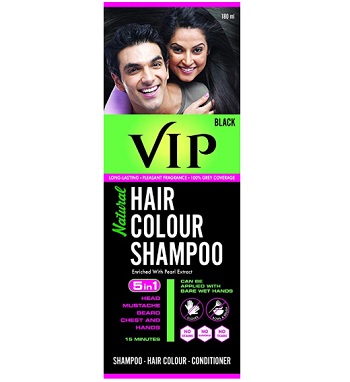 When it comes to shampoo based hair dyes, this brand tops the list. It's the hair color shampoo that is enriched with pearl extracts. It can be used for head, moustache, beard, chest and hands. Just applying it for 15 minutes gives you rich and dark looking color. It does not have any gloves or brush because you do not need any of these. There are no stains when you apply this. And it's a non Ammonia product with a pleasant fragrance. It's extremely easy to use and can be applied with bare hands. Just apply it liberally on your wet hair and keep it for 15 minutes then rinse off.
2. New Moon Noni Natural Black Hair Dye Color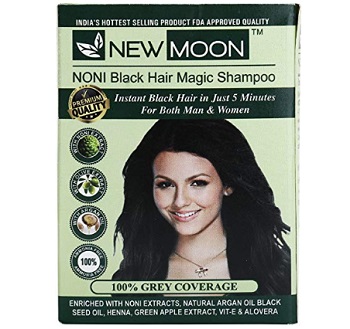 This hair magic shampoo based hair dye gives you instant black hair in just 5 minutes. It works for both men and women and ensures 100% the grey hair coverage. This product is enriched with Noni extracts, natural Argan oil, black seed oil or Kalonji Oil, Henna, Green Apple and Vitamin E along with aloe vera. It's an FDA approved quality product that is ammonia free and has ingredients that are meant to give you smooth and beautiful hair. For men, one pouch is enough. However, if you have long hair, then you can increase the amount depending on your hair length and thickness. It's the best shampoos for natural black hair and grey coverage.
3. Streax Shampoo Hair Color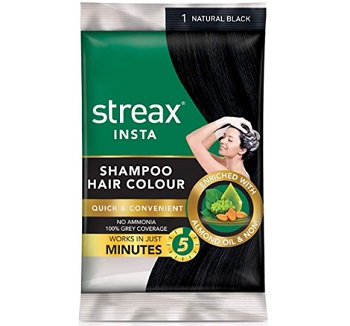 Streax is a very popular brand that comes with different herbal ingredients. This brand is known for its hair color products and hair serums. This shampoo hair color gives you quick and convenient 100% grey coverage and works within five minutes. It's enriched with almond oil and Noni extracts. This dye hair color is easy to apply and is very affordable. To smooth and lustrous hair and can be applied on the beard. Other body parts like hairs like hands, legs etc.  It gives good results and works fast but it doesn't last as longer according to some users.
4. Siso 5 Minute Magic Hair Color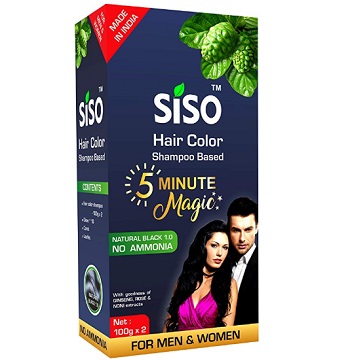 Siso hair color is a shampoo based product that is ammonia free and is rich in the goodness of ginseng and Noni extracts. Comb and gloves are included in the back. The product is safe and suitable for both men and women. You just have to wet your hair and apply it on the wet hair. It does not spill and results that last at least 2 months. The reasonable and affordable product is easily available online and is non-allergic and dermatologically tested.
5. SPEED Dexe Black Hair Color Shampoo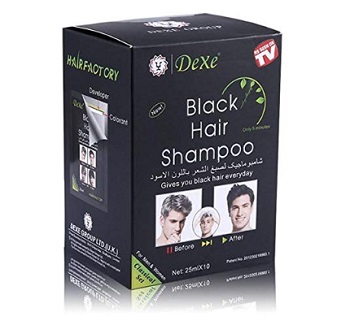 This is yet another effective hair dye shampoo that takes only few minutes to give you lustrous black hair that last up to 30 days. At the same time and it's also very affordable. The product does work fast and gloves are included in the packet itself. You apply the product on your wet hair. Leave the product and then wait for 5 minutes. It magically transform the hair and gives you 100% Grey or white hair coverage.
6. Swarzstar Hair Color Shampoo Black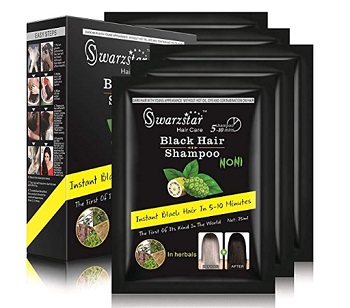 This is yet another popular brand when it comes to the best hair dyes. It also contains Noni extracts and other herbs that are meant to give you instant black hair in just 5 to 10 minutes. 1 sachet is suitable for men, if but if you have longer than use two to three packs. The best thing is that it's an Ammonia free hair color shampoo. The Hair care product is formulated with luxurious natural botanicals and herbs.
7. Looks21 Hair Color Shampoo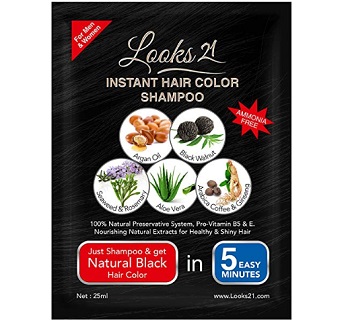 It's a very popular brand when it comes to hair dyes. It also contains Argan Oil, Black Walnut, Seaweed, Rosemary, Aloe Vera, Arabica coffee and Ginseng. The shampoo hair dye product gives you dark black hair in just 5 minutes. With Provitamin B5 and Vitamin E, it gives you healthy and shiny hair. The product is ammonia free, paraben and gluten-free. It gives you rich and lustrous color lasting for as long as 30-40 days.
These are the best shampoo based hair colors available in the market. You can choose any of these that you feel like. These are safe and most importantly are very affordable. While most of these may not be available offline or in the shops, they are available online. For that, we've given you the links too.
These are the shampoos that will darken your hair and will give you grey hair coverage without the chemicals and ammonia. So if you are wondering is there a shampoo that colors your grey hair, then get these as they are extremely easy to use and to get dark hair at home.