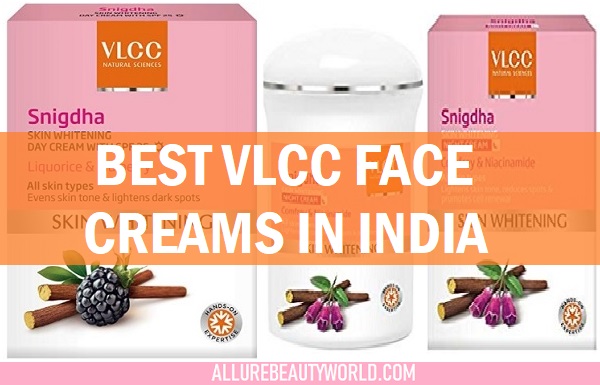 VLCC is a really popular brand that makes many organic and herbal products. In this article, I am going to talk about the best VLCC face creams. They formulate creams for different skin types, so you can pick up the one depending on your skin type and the issues that you are facing. Using a good brand make a lot of sense as they have dermatologist recognized which are tested and suitable for most of the skin types.
Top 10 Best VLCC Face Creams in India
Here are the best VLCC face creams for whitening, anti aging and to solve other skin issues.
1. VLCC Snighdha Skin Whitening Day Cream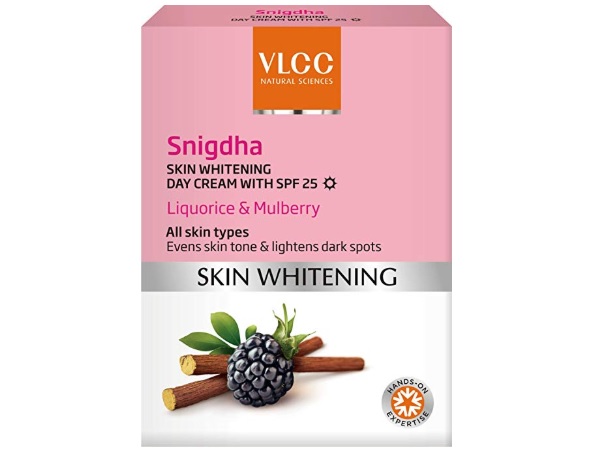 The skin whitening day cream contains licorice that is known to lighten the skin tone and improves the appearance of dark spots due to acne and earring. After the application, it blends nicely on the skin and does not leave white cast. The cream helps to improve the skin texture and also lighten the hard to get rid of sun tanning. It is one of the best affordable VLCC skin creams for fairness.
2. VLCC Ayurveda Youth Miracle Anti Ageing Cream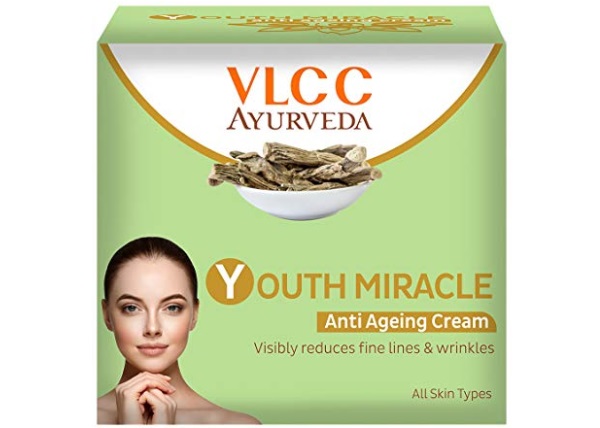 The VLCC cream is very affordable and is suitable for normal to dry skin. Blended with the evening Primrose, ashwagandha, wheatgerm and almond oil, it is bound to give you smooth skin. It does not have a very light weight formula, yet not recommended for oily and acne prone skin. However, for normal to dry skin, this can be used as an anti aging product. It does not have any SPF so you can use it as a day and night cream both.
3. VLCC Liquorice Cold Cream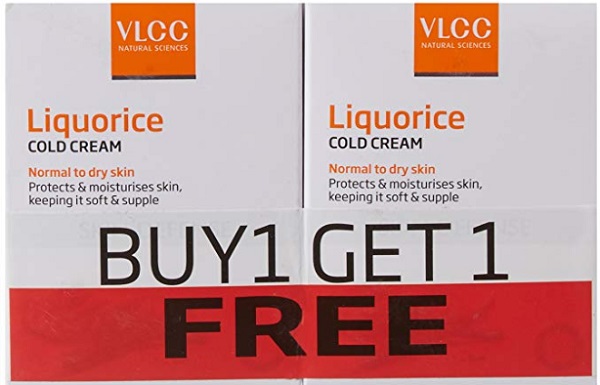 During winter season, we all use cold cream and the cream is suitable for normal to dry skin. It protects the skin and keeps it soft. The cream contains a licorice therefore, apart from giving hydration to your dry and dull skin, it also improves skin complexion. It is a cold cream that is rich in SPF 10 making it appropriate for day time. The product is slightly greasy for oily and acne prone skin, therefore, they can avoid it. It can also be used on your hands legs and other body parts. It's the best VLCC cream for winters.
4. VLCC Regenerist Micro-Sculpting Cream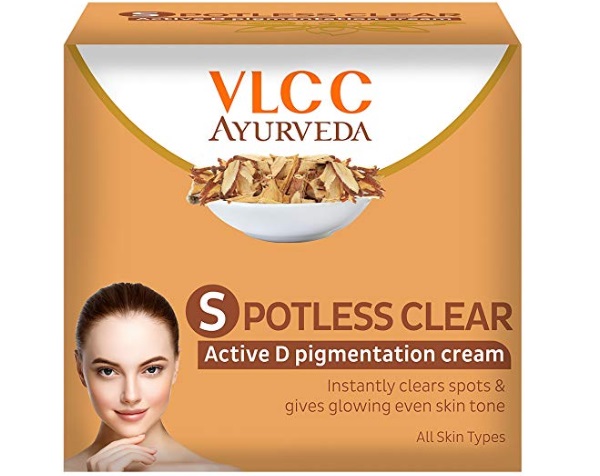 The micro sculpting day cream contains sandalwood. It is a de-pigmentation cream that instantly clears your dark spots and pigmentation. It is basically formulated to give you even skin tone. Suitable for all skin type, it can be used by everyone as it is blended with the Ayurvedic and herbal ingredients. Presence of antioxidants and vitamins, it secures your skin against the pollutants and skin darkening.
5. VLCC Pista Massage Cream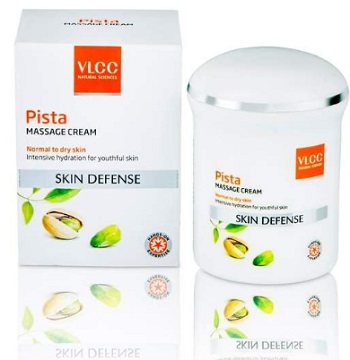 The VLCC Pista massage cream is suitable for normal to dry skin. Apply it on the face and massage for 5 to 10 minutes. Then, wipe it off using a damp cotton. It gives youthful and smooth skin tone. Presence of the Exotic ingredients in this cream, helps to improve texture and retains the skin moisture level. It is also safe for sensitive skin. Apart from that, it can fare as a cold cream during winters.
6. VLCC Hydrating Anti Ageing Night Cream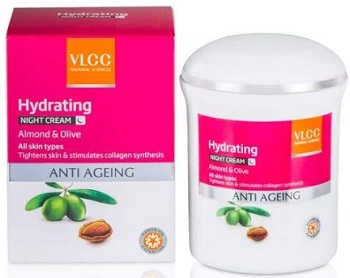 VLCC Hydrating Anti Aging Night Cream is rich in ingredients that stimulate the collagen synthesis. Collagen is a protein that is required to maintain the skin elasticity and to keep your skin firm and toned. With the power of Almonds and Omega 3 fatty acids, it gives your skin brightness and youthfulness. It is a natural skin care product which is safe for sensitive and dry skin. Using this every night helps repair skin and fights aging. As the texture is greasy and very creamy, I would recommend it only for normal to dry skin and not for combination and oily skin.
7. VLCC Snigdha Skin Whitening Night Cream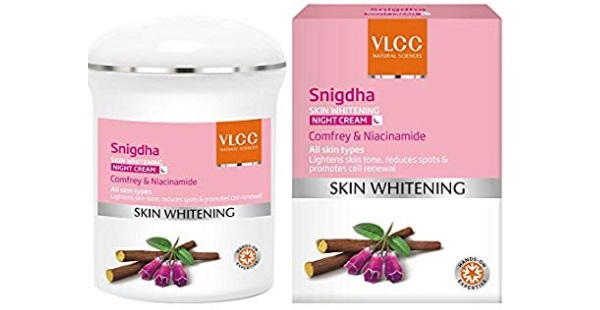 The night whitening skin cream uses the benefits of comfrey and crowberry. Both of these ingredients light in your skin tone and regulate the melanin production. It's the pigment that leads to darkness and dullness of your skin complexion. It gives you healthy looking natural fairness and glow. It has oils which are non-comedogenic and gives you spotless skin. On regular application the cream also refreshes dull skin. It is also noticed that it reduces the pigmentation and dark circles. It's the best VLCC cream for tan removal and lightening skin.
8. VLCC Anti Aging Day Cream SPF 25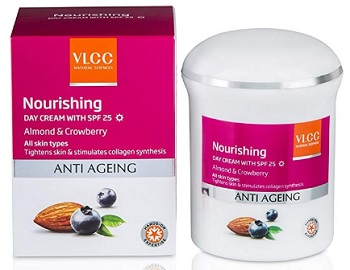 VLCC Anti Aging Day Cream contains SPF 25 with the powerful elements. Almonds are known as the richest source of vitamin E that stimulates the production of elastin and collagen protein. This cream protects your skin from photo damage and premature aging. It benefits in smoothing the lines and wrinkles on your face like around the eyes, forehead and under the jaw-line. It smells mild and pleasant and is not greasy though is not matte fully. It is suitable skin cream for normal to combination skin.
9. VLCC Total Nourishment Fruit Cream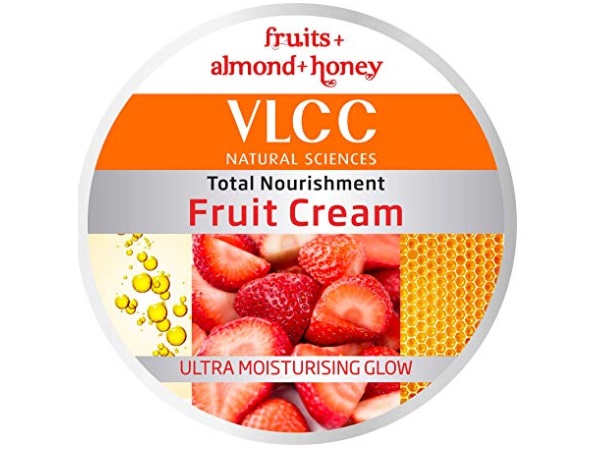 VLCC Total Nourishment Fruit Cream is rich in fruit extracts and Alpha Hydroxy Acids. It has fruit extracts like strawberry, Honey, almond oil that revitalizes dull and sagging skin. Application of fruit rich massage creams also enhances the glow on the skin. During winters, it can be used as a massage cream and everyday use cream. Strawberry extract in this cream brightens the tanned skin complexion and lock the moisture for a longer duration. It also double up as a winter cream due to its extremely hydrating formula. Money saving, you see! You can skip it, if you have oily and acne prone skin as it can be very sticky for such skin types. It's the best VLCC body butter cream.
10. VLCC De-Pigmentation Night Cream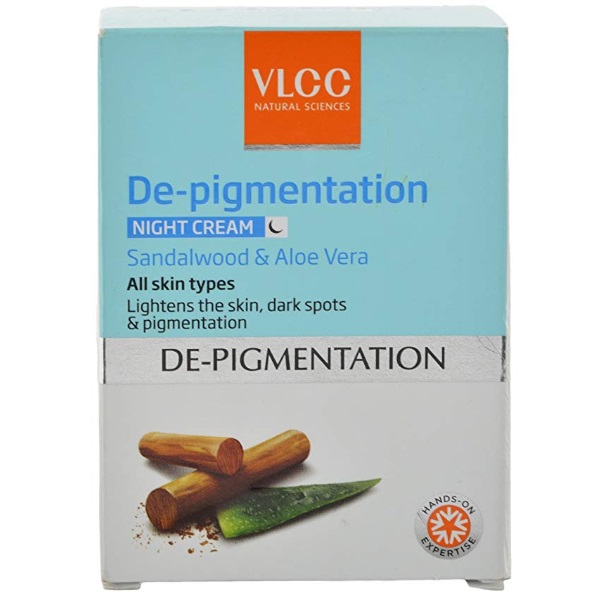 VLCC de-pigmentation night cream is made using Sandalwood and aloe vera. It says that it is a cream suitable for all skin types but for acne prone skin, one can find it being heavy and greasy. It lightens the skin and improves the appearance of your spots and pigmentation. After using this product, it ensures black marks and pigmentation gets lighter. Other than that, I would suggest you to exfoliate your skin for better results as its also improve the skin complexion better. 
These are the best VLCC face creams in India, pick the ones that suits your budget, skin issues and skin type.