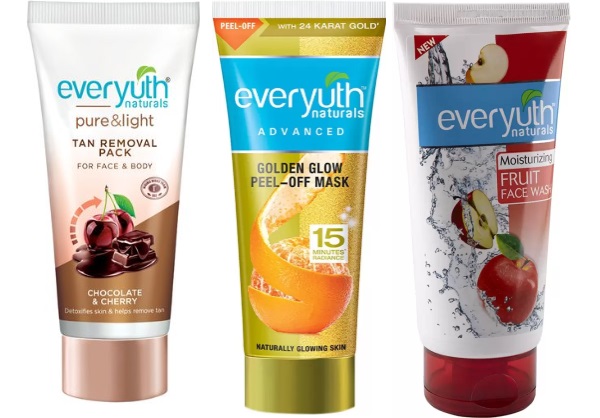 Everyuth products are very well known brand in India that makes different types of skin products. In this article, I am going to share the best everyuth products, which I have tried so far. These products are available in shops and online. I really recommend using Everyuth scrubs and peel off mask as well. So let's check out, which are those products that you can try from this brand.
List of Best Everyuth Products in India
1. Everyuth Naturals Exfoliating Walnut Scrub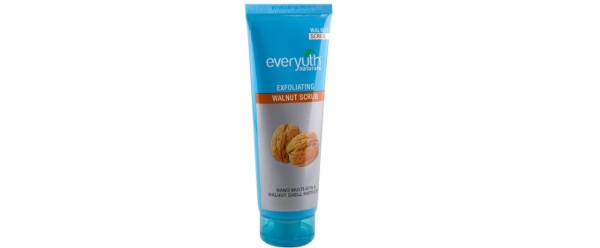 The natural apricot scrub contains walnut exfoliating particles. It helps to remove nose blackheads and dead skin cells from your skin that makes skin greasy and lifeless. Especially, for college students and people who stay outdoors for a lot longer. Dead skin cells and blackheads can make your skin appear dull and glorious. It provides nourishment to your skin and keeps it visibly fresh. You can squeeze some amount of this product and apply it on your face. Massage gently to uproot the blackheads. Such exfoliating walnut scrub can be used twice in a week for beautiful glowing skin.
2. Everyuth Naturals Advanced Hydrating and Exfoliating Walnut Apricot Scrub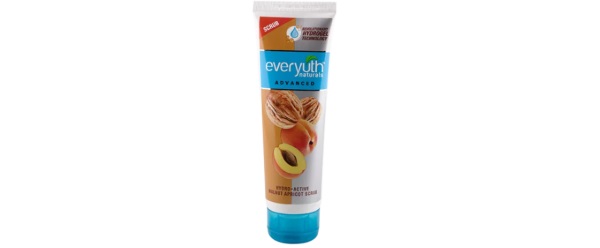 Dehydrating walnut apricot scrub contains the goodness of 18 extracts and Apricot granules. It is suitable for sensitive skin and dry skin. The product contains apricot kernel oil, it helps to give you total nourishment.
It unclogs the pores and deep cleanses your skin. Walnut shell particle exfoliates and uproots the black is and dead skin cells effectively. The hydrogel technology is an innovative concept that gives your skin look elasticity and extreme moisture. This is one of the best facial scrubs for sensitive and dry face.
How to use: Take some scrub on your face and massage. Focus on the areas where the dead skin accumulates more like your nose and cheeks. Use it twice a week for best results.
3. Everyuth Naturals Chocolate and Cherry Tan Removal Scrub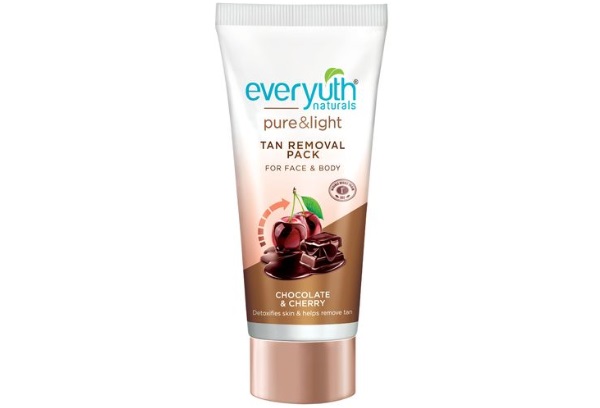 It is a new launch from Everyuth Naturals. It is a tan removal face scrub that can think the goodness of chocolate and cherry. It is a perfect combination of skin brightening cherries and detoxifying chocolate. Cherries are rich in vitamins that make your skin bright and glowing whereas chocolate is known to moisturize the skin and detoxifies it effectively. The exfoliating walnut shell granules help to keep your skin glowing and smooth by getting rid of the dead skin cells.
How to use: Splash some water on your face. Apply the scrub and gently massage the skin with light circular movements for around 1 to 2 minutes. Wash your face with lukewarm water. Use it twice a week for good results. It is one of the best facial scrubs to get rid of the tanning and both men and women can try it.
4. Everyuth Golden Glow Peel-off Mask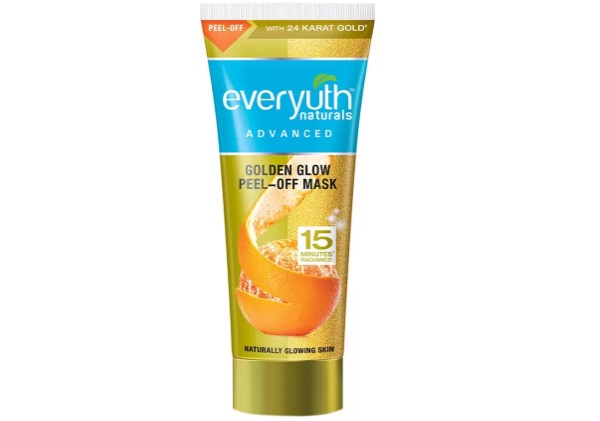 This is one of the best products from Everyuth. It gives a golden glow to your skin after the application. It is a peel off face mask that works on the skin to make it bright and fresh. It is a home facial product that can be used before going to an event for party. It contains 24 carat gold particles and orange peel extracts that are considered wonderful for oily and acne prone skin. It gets rid of the excessive oils and  shrinks the skin pores. The peel off mask also tightens your skin to make it firm and fair.
How to use: Wash your face with clear water and pat dry. Take some mask on the fingertips and apply it evenly on your face. Allow it to get completely dry and peel it off from top to bottom. Rinse your face with lukewarm water. Apply a light toner. This is how you apply this golden glow peel off mask.
5. Everyuth Naturals Purifying and Exfoliating Neem Papaya Scrub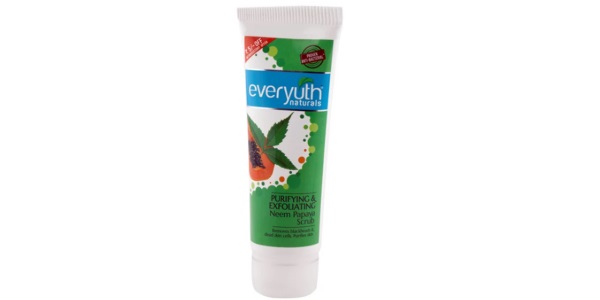 When your skin is oily, a purifying Neem Scrub can do wonders. As people have got oily skin gets more prone to acne and pimples. The scrub gently gets rid of the embedded impurities in your skin layers. And this makes your skin free of the problems. It heals bacterial infections like pimples and blackheads. The Neem Scrub also contains papaya extract which are known to lighten your skin complexion and to get rid of the dark spots from the skin.
How to use: Take scrub on your face on your finger tips and apply it on the face. Massage gently and Scrub for 1-2 minutes. Then clear your face using regular tepid water.
6. Everyuth Naturals Moisturizing Fruit Face Wash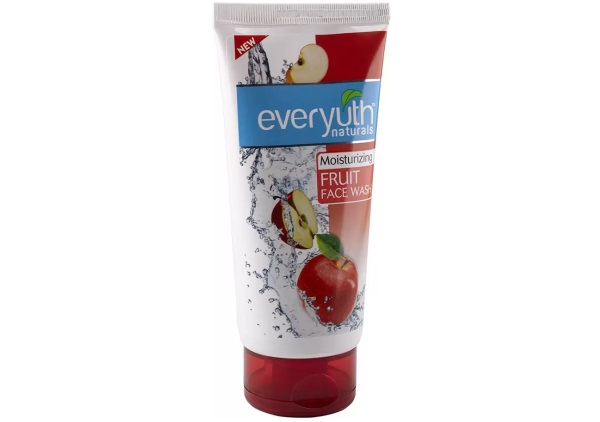 Fruit face washes are amazing, when you would like to keep your skin clear and glowing. Fruits are rich in Alpha Hydroxy Acids, which are known to smoothen and polish the uppermost skin layers. This face wash contains apple fruit extracts that moisturize and revitalize your skin. It is suitable for dry skin to keep it simple and healthy looking.
7. Everyuth Naturals Chocolate and Cherry Tan Removal Face Pack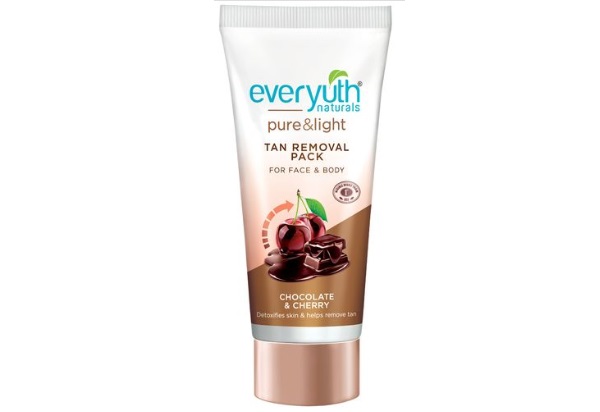 The tan removal chocolate and Cherry face pack is a part of the pure and light range. I have already mentioned the tan removal face Scrub containing chocolate and Cherry and this is the face pack. During the vacation on a beach or even staying out for different purposes your skin can get tanned. The face pack is one of the best products from ever youth that detoxifies your skin and makes it bright. Cherry helps to get back your skin glow.
8. Everyuth Naturals Oil Clear Lemon Face Wash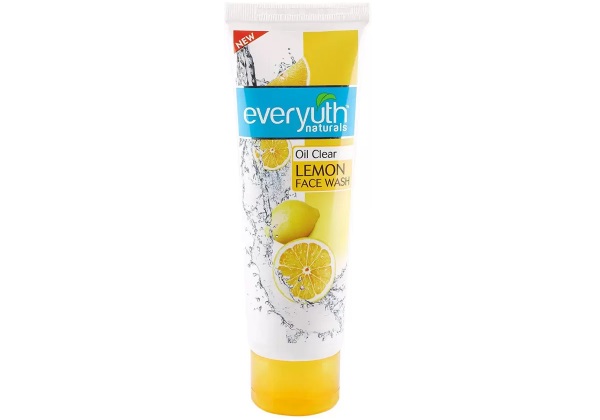 This oil clear lemon face wash is the best product from Everyuth, that has received a positive response from the customers. It clear oils and dirt from your skin effectively and shrinks the pores with the lemon essence. This face wash can be tried twice a day to keep your skin oil-free and glowing. It is one of the best face wash for oily and acne prone skin. It clears the skin without leaving it dry.
9. Everyuth Naturals Tulsi Turmeric Face Wash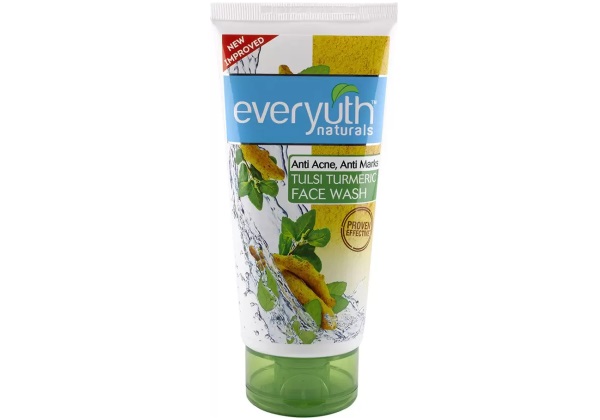 The face wash is rich in Tulsi and turmeric. Holy Basil and turmeric both are antibacterial and antiseptic products which help to remove the acne and their marks. The face wash is one of the best cure for acne and pimples on your skin. It is suitable for all skin types to. The mild gel face wash works by creating forms effectively. It clarifies the skin and makes the face glowing.
So, these are the best Everyuth products available in India that you can try. The list included various products like face wash, face pack and scrub. Honestly their face wash and scrubs are the best. I really like that tan removal face scrub which you can use. Also try the chocolate and cherry face pack that is also really effective to make the skin glowing and get rid of the sun tanning.