Facial cleansers help to make skin glowing and free of dirt and debris. But using the face washes organic in nature, like which includes the organic ingredients and plant botanicals are the best. Such products actually make the skin fresh with no side effects and harm. So, here are the latest and best Ayurvedic face washes available in Indian market.
List of the Ayurvedic Face Wash For Glowing Face in India
1. Greenberry Organics Detox Charcoal Face Wash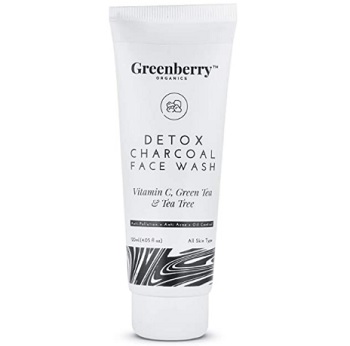 Cleaning the skin deeply is not a tough task, when you have charcoal face wash. This facial cleanser is rich with Vitamin C, Green tea and other natural ingredients which helps to cleanse the skin thoroughly and properly. The presence of Vitamin C and Green tea it also helps in reducing the inflammation of the pimples and redness. It also contains tea tree that helps to get rid of the acne causing bacteria and microbes.  This is made for every skin type and all age groups. It is a safe formula that is free of the chemicals and contains only the certified ingredients. It is one of the best Ayurvedic facial cleansers for glowing skin and to reduce the acne and pimples on the skin.
2. Khadi Natural Ayurvedic Neem and Tulsi Face Wash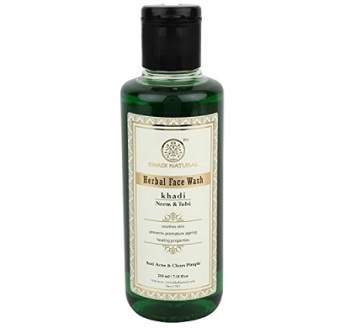 The Khadi face wash contains the goodness of both anti-septic ingredients like Neem and Tulsi which are excellent anti-bacterial and anti-fungal products. Made with the gel formula, it cleanses the skin and does not strip the natural balance of oils. It does not make the skin dry or sticky after washing the face. Apply this cleanser on the wet face and massage gently for 1 minute.
3. Mamaearth Ubtan Natural Face Wash for Dry Skin with Turmeric & Saffron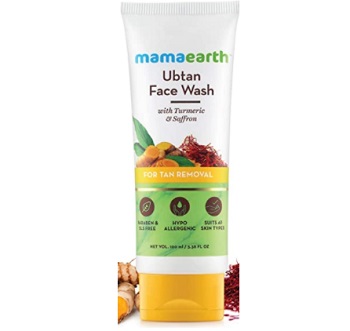 This Ubtan face wash is made for all skin types. It has hypoallergenic and paraben free gentle formula blended with the does Tulsi turmeric and Saffron. This fairness inducing face cleanser is one of the best face washes for tan removal from the skin. In fact, it is also a good summer season face wash which is paraben and sulphate free. The herbal face wash comes in an ideal tube packaging and has pretty affordable price.
4. Natural Vibes Ayurvedic Activated Charcoal & Tea Tree Face Wash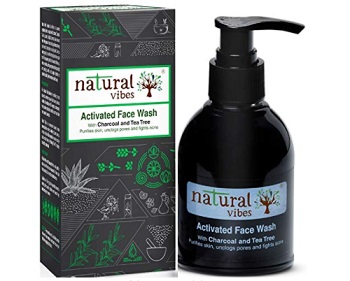 The Ayurvedic formula of this facial cleanser is loaded with charcoal and tea tree. It is one of the best facial cleanser for oily and acne prone skin. The ability of this face wash to purify the skin and to unlock the process helps to make it fight the acne effectively and efficiently. It is a paraben and sulphate free face wash that is made with the certified ingredient which are mainly Ayurvedic. Even though, it's suitable for all skin types and the presence of antibacterial ingredients makes it best for oily acne prone skin.
5. Fair & Lovely Ayurvedic Care Face Wash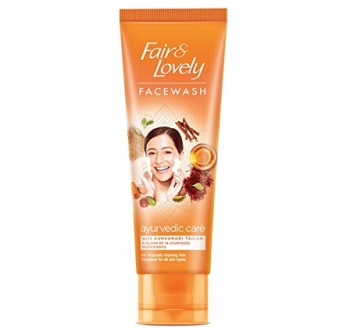 Fair and Lovely Ayurvedic face wash is made with ingredients like Manjistha, Kesar and Chandan. Along with the total of 14 other natural ingredients, this is also loaded with the goodness of kumkumadi tailam and turmeric. Even though the product is designed for all skin types, it's not very effective for oily skin. The Ayurvedic face wash for glowing skin works really well for summers for dry skin.
6. Khadi Global Nimbadi Ayurvedic Formulation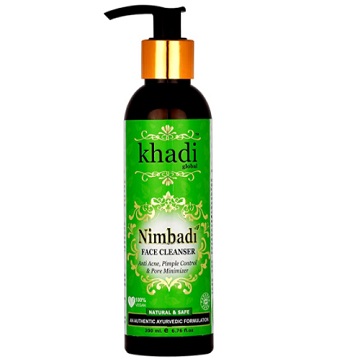 It is a popular brand and this nimbadi Ayurvedic face wash is loaded with Neem and Basil. It's an anti acne and pimple control face wash that men and women both can try. It helps in curing acne and inflammation. So if you have acne problems in teenage, then also this facial cleanser can be tried. It does not make your skin dry and clears the dirt and impurities effectively. Unclogging the skin pores, it also keeps the skin blemish-free and acne-free. Putting a stop on the breakouts on your skin, this face cleanser gives you brighter looking skin. The face wash has calming and soothing effects on the skin. It also shrinks the open pores and therefore, is the best anti acne face wash for men at very friendly price.
7. Morpheme Remedies Neem, Tea Tree & Basil Face Wash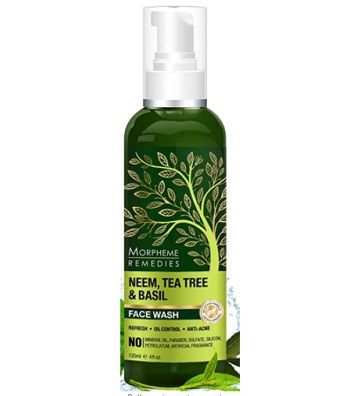 The facial cleanser is free of chemicals, paraben and is rich in Tea tree, Basil and Neem. It's yet another excellent face cleanser for all the season for oily and acne prone skin. For irritated and troubled skin, this works extremely well. Use it twice in a day to explore clear and glowing skin.
8. Khadi Global Vitamin C Face Cleanser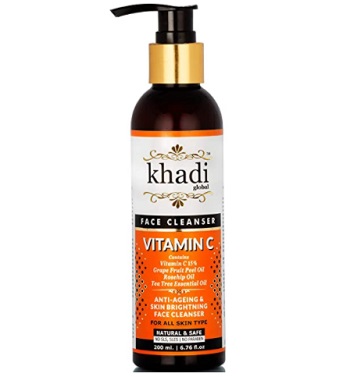 This is another Khadi face wash which has Grape fruit peel oil, Tea tree, Rosehip oil and Vitamin C 15%. This is yet another best anti acne and anti aging face wash. Moreover, it's also a good fairness face wash that makes the skin beautifully glowing and even toned. Because it has Vitamin C in 15% along with grapefruit oil, it works on the pigmentation and uneven skin tone. Being a powerhouse of natural antioxidants, this face wash not just eliminates the dirt and dust from the skin, rather it also enhances collagen synthesis and restores the brightness. By shrinking and reducing the pore sixxe, this cleanser also decreases the size of the open pores.
9. Medimix Ayurvedic Anti Pimple Face Wash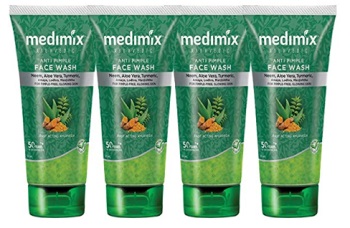 Medimix Ayurvedic anti pimple face wash is a gel based foaming cleanser, which is excellent for oily and acne prone skin. Loaded with antibacterial and anti-inflammatory ingredients, this works really well on extremely oily skin.
10. Bella Vita Organic Vitamin C Face Wash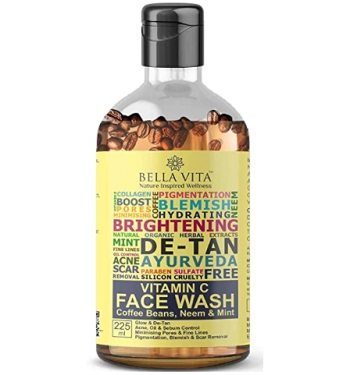 This foaming cleanser has Vitamin C as the key ingredient. It's an oil control and skin brightening facial cleanser that also works as a pore cleanser and anti-tanning products. It also works on the pigmentation and blemishes. Being suitable for sensitive skin, this is an all rounder facial cleanser for all skin types. Most importantly, the product is sulphate and paraben-free cleanser with Vitamin C, coffee beans, Neem and mint.
11. Mom & World Radiant Boost Brightening Vitamins Face Wash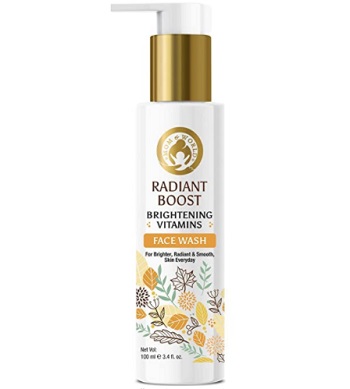 The radient boosting brightening vitamin face wash contains Vitamin B3, Turmeric and aloe vera. The sulfate-free and chemical free facial cleanser works nicely to eradicate the pimples, wrinkles and fine lines. With the presence of licorice and saffron, this also lightens the skin complexion and increases the glow of the skin. Free of parabens and chemicals, this is a non-toxic face wash suitable for all skin types.
12. Blue Nectar Ayurvedic Pimple Clear Face Wash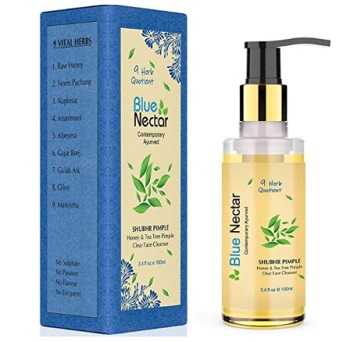 The herbal face cleanser is an pimple clearing face wash with the presence of honey and tea tree. This comes in a pump dispenser packaging. The pleasant smell in face wash clarifies the pimples and he was the existing ones. With strong antimicrobial and antifungal properties this is a perfect solution to keep the pimples away. The Ayurvedic face wash also makes the skin glowing and better than the before.
13. Divine India Ayurevda India Neem Face Wash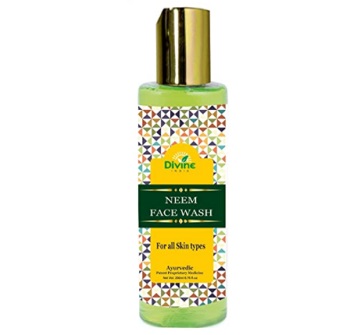 For a good herbal neem face wash then this Ayurvedic facial cleanser contains name as the primary ingredient. It is a disinfecting facial cleanser for Acne prone skin. With no sulphates and chemicals in this product, the paraben free face wash for oily skin is worth the price. Massage it gently on the wet face and wash after sometime. It was really effective to remove the microbes and the bacteria that are responsible for causing acne and pimples on the skin.
14. Organic Harvest Face Wash For Oil Control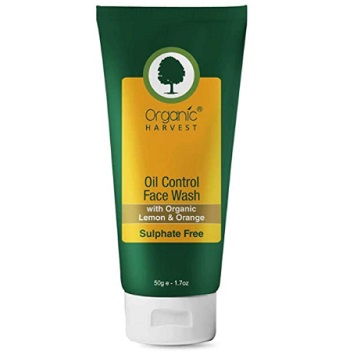 The organic harvest face wash is an oil control product that contains lemon and orange. The organic and natural sulphate free face wash is suitable for oily acne prone and combination skin. Even if you have sensitive and acne prone skin, the cleanser is safe. It is the best cleanser for oily skin that can be used on daily basis. It gives you refreshed and glowing skin and you do not have to worry about the dirt and grime clogging the pores. Lemon in this face wash is a natural astringent which shrink the large pores and keeps the oils away.
15. Oriental Botanics Activated Charcoal Bright Glow Face Wash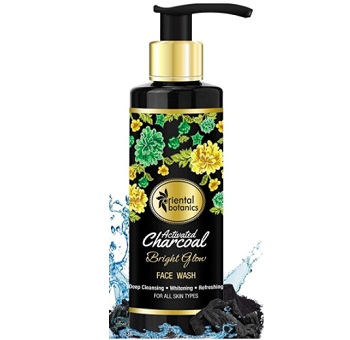 With charcoal present in this cleanser, it soaks up the dust, dirt and bacteria excellently. The product is helpful for the oily-acne prone skin and is best suitable for all skin types, especially as a summer cleanser for acne prone facial skin. The chemical free charcoal face wash is ideal for reducing the pore size and to keep the pores dirt free.
These are the best facial cleansers made with the Ayurvedic recipe.