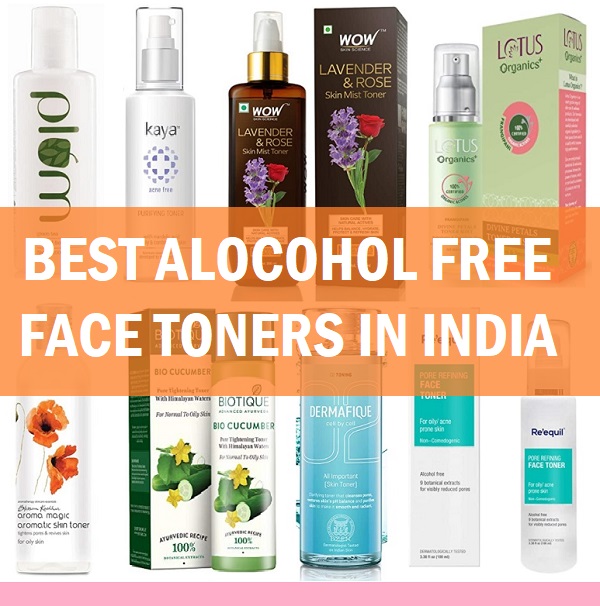 Gone are the days, when women used to think that toners are just an added step in the skin care routine. In fact, a face toner can magically do a lot for your skin. And is not just limited for the oily skin, but for the other skin types as well. So, even when your skin is dry or oily, acne prone combination or even sensitive, you can benefit your skin and keep it glowing and fresh by the regular application of a facial skin toner.
Now in this article, we are going to talk about the best alcohol free skin toner available in the market. Earlier, we have spoken about the list of the best toners for oily skin and dry skin respectively, but here are our focus is more towards the organic and herbal skin toners free from the paraben, alcohol, mineral oils and phthalates.
List of Best Alcohol-Free Toners in India
Facial toners are made with different formulations and that is keeping in mind the skin type. Like, the skin toners for oily and acne prone skin, would have the oil balancing and anti-bacterial ingredients. While the skin toners for sensitive and dry skin contains more moisturizing ingredients. The basic job of a skin toner, is to tone the skin after the face cleansing. This process actually helps to get rid of the oils, which is left even after washing the face.
Secondly, skin toner also shrinks the open pores and clears clogged pores. Therefore, you can just imagine how much skin toner can do for you when you apply it on regular basis. Clearly skin toner is not a replacement for your regular face washes, but they are surely acts as a second step that you must take before applying your skin creams and after washing your face. You can thank me later for the immense benefits that your skin will get using the skin toners regularly.
1. Plum Green Tea Alcohol Free Toner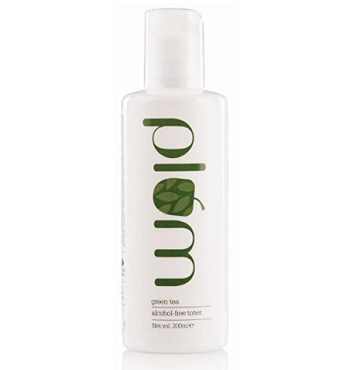 This Plum alcohol-free toner is specially formulated for oily and acne prone skin. The product contains the goodness of green tea that helps to soothe the inflammation and redness of the pimples. It makes your skin tight and smoother. Antioxidant-rich extract of this product helps to control the spots and blemishes while curing the acne and pimple breakouts. It also gives gentle exfoliation to slough dead skin cells from the skin. It's 100% alcohol-free face toner that does not dry out the skin and provides the nourishing antioxidants. It also contains glycolic acid it helps to keep the skin refreshed and renewed. This is a non-comedogenic toner which is perfect for everyday use. It's the best skin toner for oily and acne prone skin in India which is paraben free.
2. Aroma Magic Aromatic Skin Toner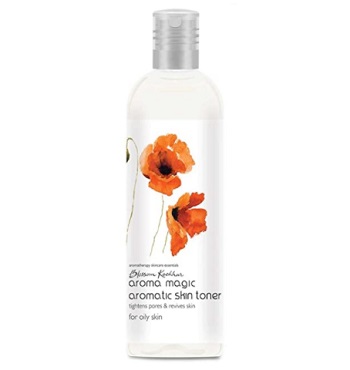 Aroma Magic skin toner contains Witch Hazel extracts and is made to tighten the open pores for oily skin. It prevents the moisture loss and with essential oils like Ylang Ylang and Rosemary, it also gives natural astringent properties to calm and balances the skin. While maintaining the vital nutrients and vitamins for the skin, with an effective formula, this makes the skin look healthy and well toned. This is 100% free of alcohol, petrochemicals paraben and sulphates, due to which, it's safe for oily sensitive skin as well. It also contains extracts of pomegranate, lavender and peppermint. During the summer season, it's a really good toner for all skin types apart from the greasy skin.
3. Biotique Bio Cucumber Pore Tightening Toner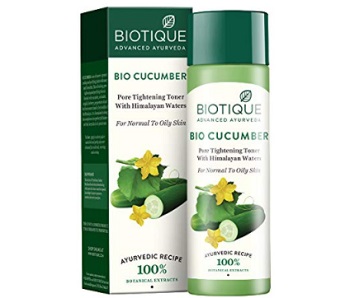 When your skin becomes too much sticky because of the open pores, this summer pore tightening toner can be of great help. The pore tightening facial skin toner is free of alcohols and other chemicals, likely to disturb the skin balance. Made for normal to oily skin, this contains other natural extracts that help to bring the even tone complexion and maintains the pH balance, while drinking the size of the open pores.
4. Kaya Clinic Acne Free Purifying Alcohol Free Toner For acne prone & oily skin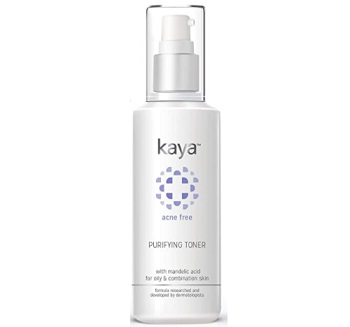 Alcohol free facial toner is a product perfectly suitable for oily and acne prone skin. The toner has oil-free formula that works really well for oily and combination skin. This skin toner for everyday use is made by the dermatologists with extensive research using the ingredients that helps to decrease excessive sebum. By tightening the facial skin and open pores, it also ensures the skin becomes less greasy even during the summer and humid season. Mandelic acid is also known to reduce the dark spots and oiliness.
5. Dermafique All Important Aqua Marine Skin Toner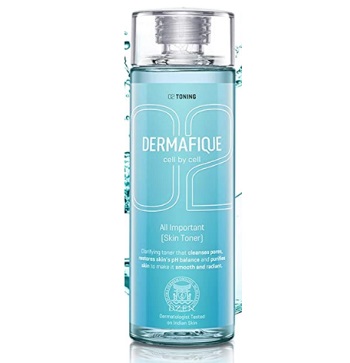 The dermatologically approved facial skin toner has a detoxifying formula that cleanses the skin pores thoroughly and restores the natural pH balance. As a result, you get smooth and radiant skin tone with no irritation or itchiness. It's a suitable facial skin toner for dry and combination skin. This reasonably priced alcohol-free and paraben-free skin toner, is rich with antioxidants that are known to prevent aging of the skin.
6. Re'equil Pore Refining Face Toner Alcohol Free Toner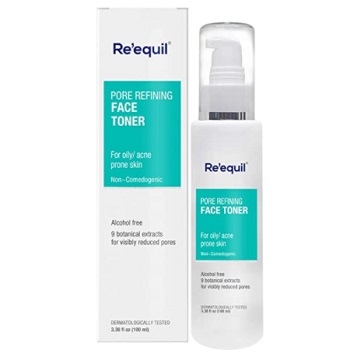 This is clearly the best facial skin toner for oily and sensitive skin including the acne prone skin type. The alcohol free facial toner is made with 9 Botanical extracts that help to visibly reduce the size of enlarged pores. It's a non-comedogenic skin toner that balances the facial skin oils. This pore refining face toner is an excellent alcohol-free formula that protects the skin from drying out and does not stop the skin from the natural moisture that keep the skin lubricated. It declogs the pore clogging residue and dirt that is often left behind by the cleansing and by the makeup residue. It's an excellent open pore toner and to reduce the chances of acne breakouts.
7. WOW Lavender & Rose Skin Mist Toner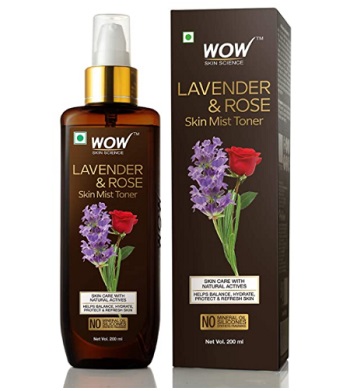 Made by blending the goodness of Lavender and Rose, this mist toner from Wow is a brilliant product. Including the key ingredients like pure Lavender, Rose, Witch Hazel, Green tea and Cucumber extract, this is a soothing product with a floral fragrance. By tightening the skin pores, it also restores the inner glow of the skin. The product is free of harmful chemicals, sulphates, paraben, mineral oils and even the alcohol that can dry out the skin. It's an excellent toner which is available at very reasonable price.
8. UrbanBotanics Rose Water Skin Toner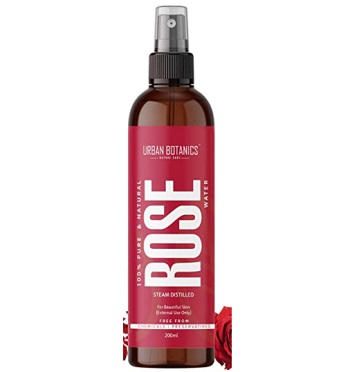 The rose water skin toner is suitable for all the skin types and is made from the steam distilled rose water. It's free from the chemicals and preservatives to give you beautifully glowing facial skin. Take some of this toner on a cotton pad and rub it on the face. It's chemical free and hence is suitable for dry, normal and oily sensitive skin. However, we would recommend this toner to dry to normal skin. It's a great toner to use before applying the makeup as well. By getting rid of the dirt and dust that are still left after the cleansing of face, it makes the skin fresh.
9. Lotus Organic+ Divine Petals Natural Toner Mist for Face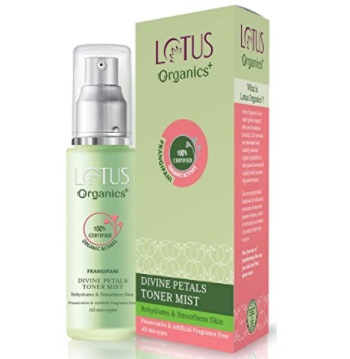 The organic and botanical infused toner is a mist that is made with 100% certified organic ingredients. The Lotus alcohol-free facial skin toner is to make your skin pure and glowing. It's packaged in a recyclable glass bottle and it safe to be used. It's an organic toner for oily skin that refreshes and hydrates the face. Even though, it's suitable for all skin types, including the sensitive skin. It also includes the extracts of Firangipaani flowers that makes the skin supple and smooth. It also tightens and restores the natural freshness.
10. Just Herbs Pomegranate Mandarian Face Toner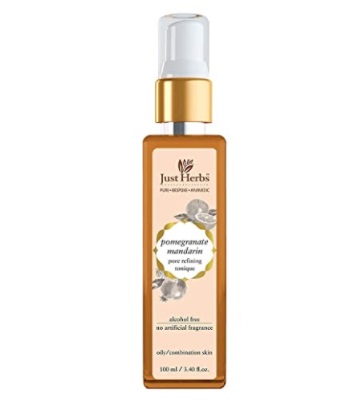 Just Herbs pomegranate skin toner is a light alcohol-free formula to make the skin glowing. The best thing about this toner is the presence of pomegranate extract, known to cure the dark spots and blemishes from the skin. Applying the toner is really easy and you can do so by using it two times in a day.
Now that you know what are the best skin toner which are alcohol-free, you must also take a look at how you should use a toner.
How to Use Skin Toner On face?
Application of skin toner is pretty easy and straightforward.
Take a cotton pad and pour few drops of the toner.
Swipe the cotton pad over your entire face, neck, cheeks and even some on the chest.
One should always use it after cleansing your skin with a good cleansing milk or face wash.
Toner shall be used before applying the moisturizer, creams or serums.
So, once you have swiped the cotton pad all over your face, you can give it a few minutes, before you move on to the next step of your skin care routine during the morning or at night.
These were the best alcohol free facial toners available in the Indian market, that you can try according to your skin type.