Aloe vera is a wonder product, which is used in different skin and hair care products. And one such skin care product that entices most of us, is "Aloe Vera face wash". While the beauty industry swears by this wonderful succulent plant, you too must be aware about its benefits. Right from reducing the sun tan and pigmentation to curing the wrinkles and pimples, aloe vera products have so much to offer. Aloe vera face cleansers are available with almost every top brand and they are formulated with different skin types and by mixing other botanical substances.
List of Best Aloe Vera Face Washes in India For All Skin Types
Let's check, the top rated facial cleansers with aloe vera in them.
1. Himalaya Moisturizing Aloe Vera Face Wash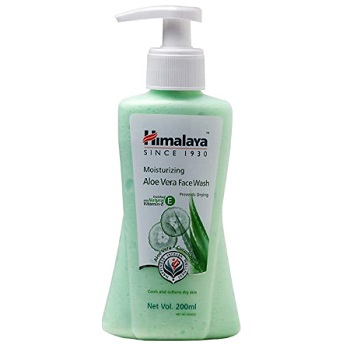 The moisturizing face wash with aloe vera and Vitamin E is from Himalaya. The face wash is one of the best products for dry and dehydrated skin. It has the hydrating and moisturizing properties to nourish the skin, special during the dry season. Rich in enzymes and polysaccharides, this product aids in making rough skin softer by cleansing the impurities.
2. Wow Aloe Vera Hydrating Gentle Face Wash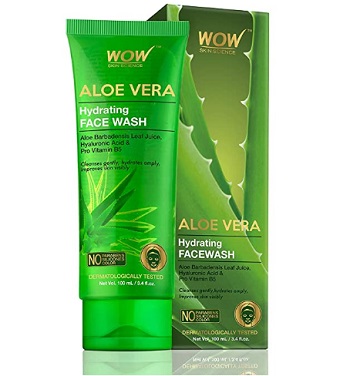 Made with Aloe Leaf juice along with Provitamin B5 and Hyaluronic acid, this gently cleanses and hydrates the skin. This face wash comes in a tube packaging and is effective face wash for all skin types. It firms up the skin and also improves the collagen production naturally for clear and brighter complexion. Provitamin B5 reduces the hyper pigmentation and cucumber extract in this face wash tones the skin. Even when you have open pores or enlarged pores on your skin, it will be helpful.
3. The Body Shop Foaming Aloe Vera Facial Wash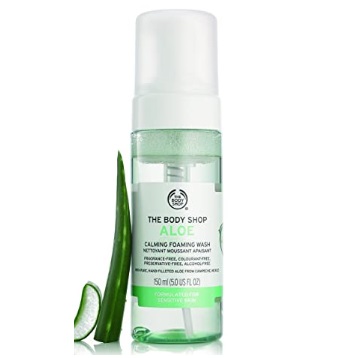 The Body Shop forming aloe vera face wash is a must try product, when you would like to have an alcohol, preservative, and chemical free product that has pure aloe vera extract. It comes in a foaming gel texture to remove every trace of skin harming impurities. It is also the best aloe vera face wash for sensitive skin and dry skin. So, even if you've oily skin, it was really good. In fact, it is one of the best The Body Shop products most of the skin type.
4. Khadi Pure Herbal Aloevera Face Wash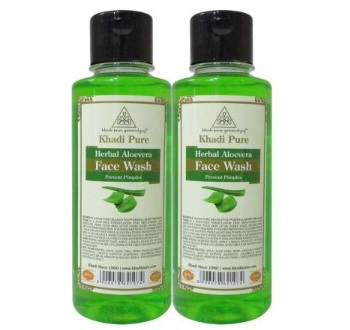 Now, if you want a pure aloe vera facial cleanser with just the Aloe Vera Gel goodness, then this is the best option to try. It is a soap free face wash that replenishes the lost moisture from your skin after every wash. This is yet another good facial cleanser with aloe vera extracts for dry and itchy skin. The product softens the skin and as it's blended with other natural and hydrating botanical ingredients, it leaves the skin glowing and fresh. It can be applied 2 times a day and is yet another very affordable chemical-free facial cleanser for sensitive dry face.
5. Emeveta Charcoal Aloe Vera Tea Tree Oil Herbal Face Wash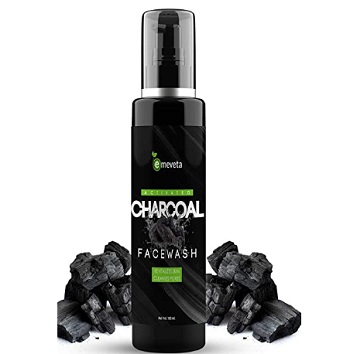 What about an aloe vera with charcoal face wash? If you would like to gain the benefits of aloe vera along with the extremely deep cleansing properties of charcoal, this is the best facial cleanser for you. With no harmful chemicals involved, it's a mild product that contains Botanical and organic ingredients such as activated charcoal, Tree oil, Vitamin E and peppermint oil. It would leave your face clean with no stretchy feel afterwards. The best thing about this product is that in spite of shrinking the enlarged pores, it will also deeply clean them. This is why, this is yet another best aloe vera charcoal face wash for oily skin in India.
6. Oriental Botanics Aloe Vera Face Wash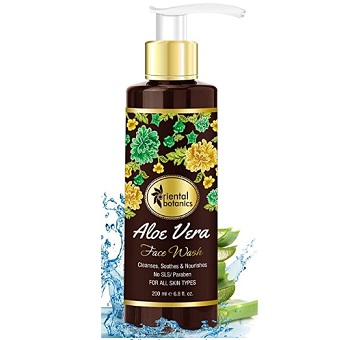 This facial skin cleanser comes in a very convenient to use pump packaging. With the superior and effective ingredients like aloe vera, wheat germ cold pressed oil and soy protein, it is a face wash for all skin types. The paraben and silicone free face wash is preservative-free and all natural. So it also controls the breakout on your skin along with vanishing acne scarring and even dryness. It doesn't matter, what skin type you have, you can still use this product to strengthen your skin's repair system and to give a boost of freshness every morning, when you apply this face wash.
7. Kazima Aloe Vera Face Wash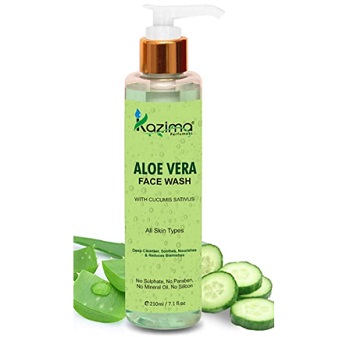 This is yet another pure aloe vera and cucumber eliminates scars, product residue and dullness. It tackles and counter-balances the free radicals that can cause mutilation of the skin cells. The aloe vera face wash works on the pimples and using it twice daily supports to reveal beautifully clean skin. It is suitable for men and women of all skin types. The aloe product has a gel formulation and aids really well to hydrate the skin.
8. Kaya Youth Hydro Replenish Gentle Face Wash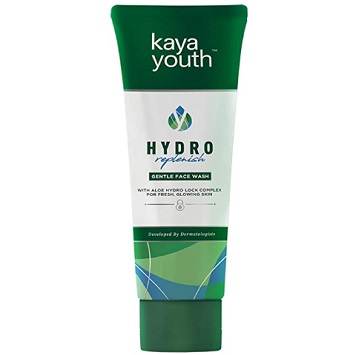 Developed by the Dermatologists, this pure Aloe Vera Gel face wash gently purifies the skin and to have luminous look. This product deeply cleanses the dirt and oils from the skin and breathes new life into the dull skin. It hydrates the dry skin and keeps it moist and supple for long. It's one of the best gel based aloe vera face cleansers for daily use.
9. Good Vibes Aloe Vera Skin Refining Foaming Face Wash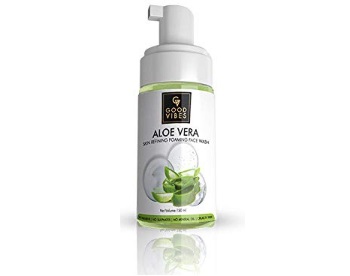 This skin reenergising product is for curing the acne and sunburn. It refines the pores by minimising the large pores and shrinking them in size. This product also halts the infection by acne causing bacteria and pore blockage. This is a product that keeps the skin moisturizing without clogging the pores, therefore this is one of the best face wash with aloe vera in it, even for the oily and acne prone skin.
10. Khadi Herbal Aloe Vera Face Wash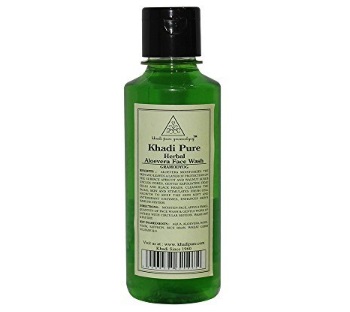 This Khadi face wash with aloe vera in it is an excellent product. It gets rid of the bacteria, germs, and the dirt embedded in the skin layers. It also inhibits the daily build-up of impurities and toxins underneath the skin layers and in the pores. This can be used twice in a day.
11. Patanjali Orange and Aloe Vera Face Wash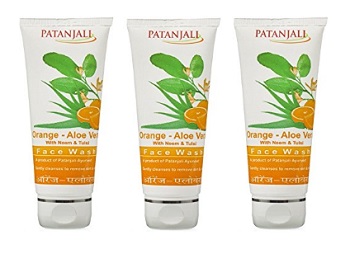 This very affordable product is coming from the house of Patanjali and has Orange along with aloe vera. This product is non-drying and works really well for all skin types. After the wash, skin feels fresh and better than before. Even though it calms the skin and deeply removes the impurities, it does not dry the face. It's one of the most affordable aloe vera facial cleansers in India.
12. O3+ Hydrating & Soothing Face Wash with Aloe Vera and Cucumber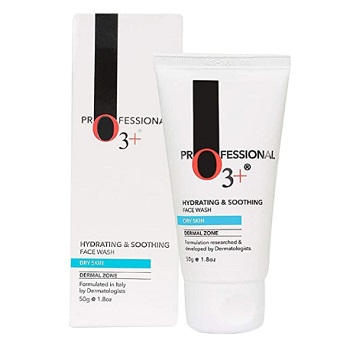 Cucumber and aloe vera extract, this is yet another good hydrating everyday use face wash in India for men and women with normal to dry skin. It's available at very affordable and reasonable prices. Apply the face wash two times in a day to keep your skin fully moisturized and soothing. While winter season, when your skin becomes rough and stretchy, using a hydrating face wash like this can deeply moisturize.
13. Joy Pure Aloe Anti Pollution Face Wash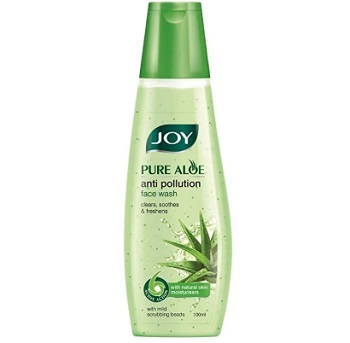 Joy anti pollution face wash has natural moisturizer with aloe vera. It has mild exfoliating beads to deeply cleanse the excess oils and sweat. So, it does not over dry your skin, even after using it two to three times in a day. Appropriate for all skin types, it fights the damaging effects of UV rays, pollution and dust. Even when you live in potemtially harmful polluted environment, this product will keep your skin fresh and glowing all day long.
14. Roop Mantra Herbal Aloe Vera Face Wash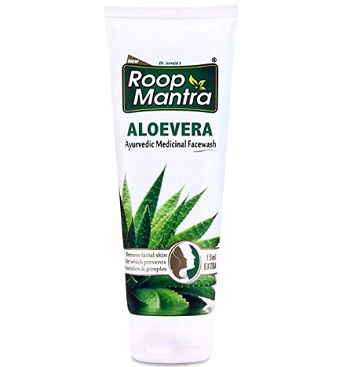 This aloe vera face wash is a medicine medicinal face wash that removes the facial skin dead skin cells and dirt. Therefore, it prevents the blemishes and pimples. The gel texture of this face wash smells pleasant and not like the cheap perfumes. Made with natural ingredients, this product is good in clearing out the impurities from the skin pores. Additionally the product is free of majority of the harmful chemicals. It's good to use 2 times in a day, when you have sensitive skin.
15. Pukhraj Aloe Aroma Morning Face Wash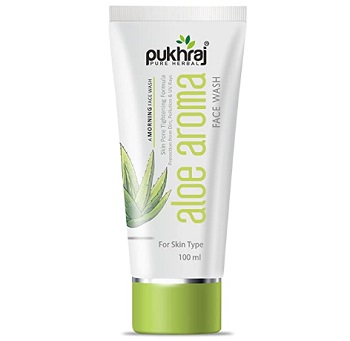 To get beautiful skin, a mild cleanser is essential. It can be even better when the cleanser is loaded with the goodness of aloe vera and botanical ingredients. This is a chemical free product which is safe for all skin types. It can be applied during all round the season and is a best product for maintaining healthy and better skin.
These are the best aloe vera facial cleansers available in India.