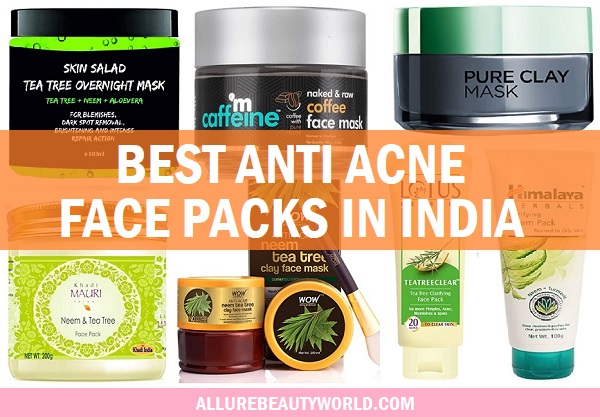 Acne and pimples on the skin is the most hated thing. We can say this from our personal experience. Acne, breakouts and pimples can make your skin look blemished and far from flawless. This is why a lot of different products are there in the market that treats the acne and scars. So we've compiled, a list of the best face packs and masks for curing acne. These facial packs for acne treatment are available at pretty affordable prices. If you've hard time deciding, which is the best face pack to clear acne and kill the acne causing bacteria to prevent the future breakouts, this post will surely help you.
Best Face Packs and Masks For Acne in India (2022)
Let's take a look at the best products to combat the acne and treat them effectively.
1. Mamaearth Neem Face Pack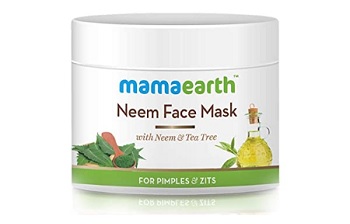 Neem is an excellent ingredient to treat the acne and acne causing bacteria. The powerful combination of tea tree oil and Neem oil, is used in this neem face mask. It helps to reduce not just acne but also cleanses the pores and minimizes the occurrence of acne and pimples. With aloe vera, it reduces the inflammation and redness around acne and pimples. It also ensures that infection doesn't spread and controls it. This toxin free acne face mask made for the suitable and safe ingredients. It is one of the best acne control pack for Acne prone oily skin. This product is completely free of sulphates.
2. Khadi Mauri Herbal Neem & Tea Tree Oil Face Pack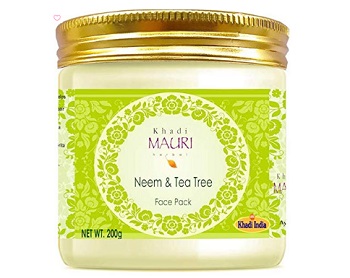 The herbal face mask contains Neem and tea tree oil and is a disinfecting face pack for Acne. It maintains the oil balance and repairs the skin. While maintaining the skin's natural glow and shine, this product helps to ensure that the bacteria causing acne are reduced and infection is controlled. It doesn't have SLS or Chemicals or any paraben. It is an organic face mask suitable for oily and acne prone skin. It's also the best face pack for clogged pores.
3. Biotique Bio Myristica Spot Correcting Anti Acne Face Pack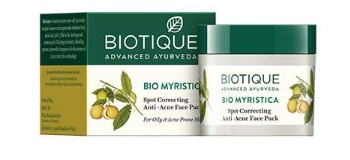 This is the spot correcting anti-acne face pack is for oily and pimple prone skin. It controls the bacteria that cause breakout and redness. While giving the skin irritation, it ensures that the skin stays beautiful and glowing. The best thing is that this face pack for pimples and blackheads does not give glow on the skin while controlling the breakouts. It contains ingredients like Tomato, Sandalwood, Nutmeg, Fullers Earth and other herbal ingredients. This is the best face pack for clear skin in India.
4. WOW Anti-Acne Neem & Tea Tree Clay Face Mask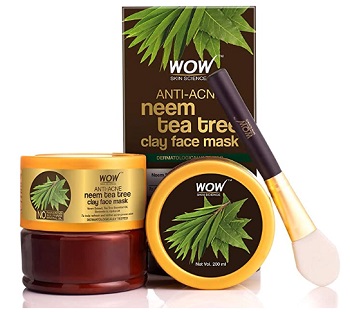 With a blend of neem and tea tree with clay, this is a refreshing face mask for acne prone skin. It refines the pores and helps to maintain smooth facial skin. This face pack for oily skin and pores is formulated with Neem extracts and includes Kaolin, Camanu oil and shea butter. It also contains vitamins that helps to repair the skin damage and also gives hydration to the skin. So while maintaining the oil and excessive sebum, it balances the pH balance. This is yet another highly trusted and rated face mask for oily skin.
5. Lotus Herbals Tea Tree Clarifying Face Pack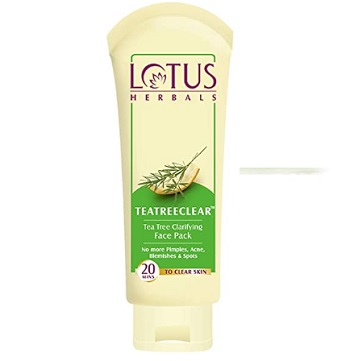 This is a tea tree clarifying face pack made for pimples and acne and blemish prone skin. It is packaged in a tube packaging that is easy to carry around and to travel with. With the ingredients like tea tree, pettit grain, bergamot and Juniper. It helps to decrease the redness and inflammation of the skin as well. It is useful for oily skin as well as sensitive skin. The product is very affordable and cheap. It's the best face pack for oily skin in summer and is easily available.
6. Himalaya Herbals Purifying Neem Pack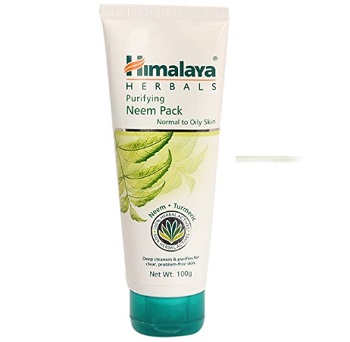 This is one of the most popular neem face packs to cure the acne and pimples. It is a product that contains neem and turmeric. Made for normal to oily skin, this product is also suitable for other skin types. Apply it on your wet face and wash it after 15 minutes. It can be tried 3 times in a week for better and Breakout free skin. This face pack is herbal enriched with antibacterial properties of neem and turmeric.
7. Skinsalad Tea Tree Overnight Face mask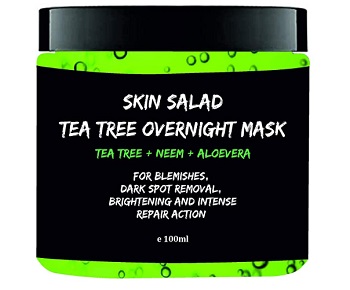 Made with tea tree, neem, aloe vera and calendula, this face mask is one of the best to remove the dark spots, blemishes and to reduce the acne from coming up on the skin. This product fights infection really well and gives number of benefits to the skin. Aloe vera helps to moisturize the skin and also reduces the irritation considerable. It is an overnight mask that means, you have to apply it before going to bed by massaging for few minutes and wash it off in the morning.
8. Jovees Ayurveda Tea Tree and Clove Anti Acne Antiseptic Face Pack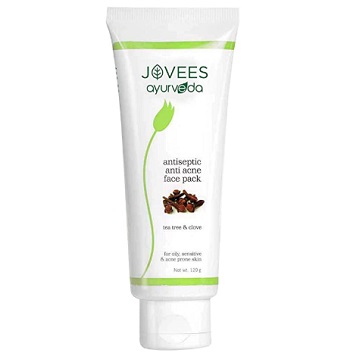 The clove and tea tree face mask is an antiseptic product that helps to deeply cleanse the skin. Known for its therapeutic uses, it clears the pimples by reducing them and to prevent them from occurring again. It balances the excessive sebum and also minimises the extra oil secretion and breakouts. Just apply on the clean face and 30 minutes. Wash with clean water. It can be used 2 times in a week. It is recommended for oily and sensitive skin.
9. Oshea Neempure Anti Acne & Pimple Face Pack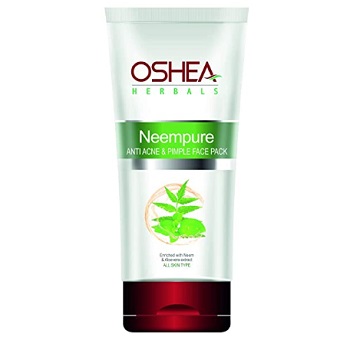 Herbal Neem and aloe vera facial pack is from Oshea Herbals.  It comes in a tube packaging and is very effective in absorbing the excessive oil secretion and clogged pores. It reduces the acne causing germs and by doing so it also clears the complexion of the skin. The very effective antibacterial product works quickly within just few days. Apply this two times in a week.
10. The EnQ Myristica Organic Anti Acne Face Pack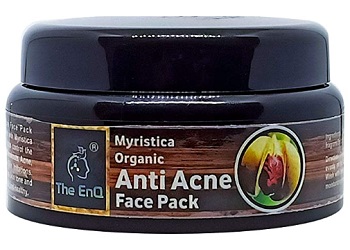 The organic face pack for acne prone skin contains sandalwood to calm and cure skin. With the most effective ingredients it works to make visibly fairer skin. This product works the best to fight against acne and pollutants to make the skin brighter. The herbal face pack is suitable enough to treat the acne within a couple of days. Take a generous amount of this mask and keep for 15 to 20 minutes. Rinse off with cold water and pat dry the skin.
11. Plum Green Tea Clear Face Mask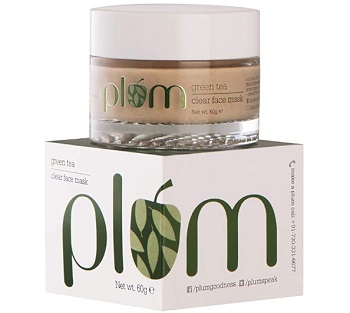 The affordable green tea face mask is one of the best for the acne prone skin and pimples. It has ingredients like green tea that absorbs excessive oils and slows down the oxidation of sebum. This is also one of the reasons of acne formation. It has glycolic acid that promotes the cell renewal and smoothens the acne scars. It is designed for acne prone skin and oily skin. The best thing is, Plum products are PETA certified. They do not have Parabens, SLS, SLES, phthalates or mineral oils.
12. Auravedic Anti Blemish Clear Neem and Tea Tree Skin Mask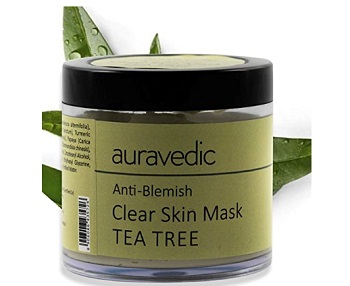 The Auravedic anti tree face mask is an easy to get and affordably priced product. This also cures acne and lightens your scars, while removing the excessive oil and prevents the pimples. The super ingredients effectively control the acne and breakouts. It's also safe to be applied twice in a week.  This one of the most effective face pack for oily skin in India.
13. mCaffeine Naked & Raw Coffee Face Mask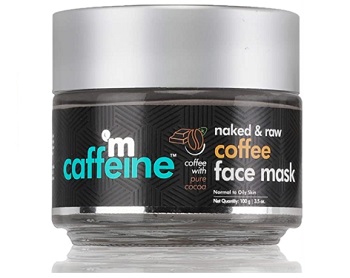 This anti acne face mask contains vitamin E and coffee that removes the future acne and heals the existing ones. If you're wondering, which is the ideal face pack for removing dark circles, tan and acne, you can try it. It also prevents frequent breakouts, and as it's a clay based mask that remove the extra sebum, it also controls the oils. The face pack is paraben-free and free of the harsh chemicals. It has FDA approved ingredients and does not disturb the skin's natural pH. It's also a good face pack for blemishes.
14. L'Oreal Paris Pure Clay Face Mask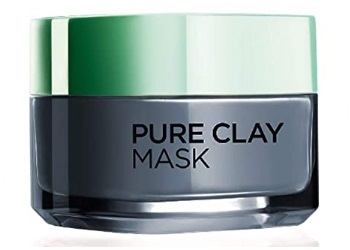 Clay is wonderful for unblocking the pores and treating the acne. It's a detoxifying mask for the dull and tired looking skin with occasional breakouts. The clay pore purifying face mask has three types of green clay with Red Algae. Because the face mark works really well, it controls sebum and draws out the pollutants, dust, and bacteria. Therefore, it cleanses the pores and removes the deep impurities like oil and pollution. These can be the biggest reason for majority of skin problems and zits.
15. Dot & Key Pollution + Acne Defense Green Clay Mask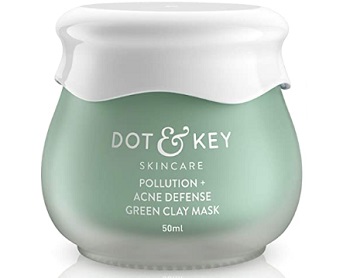 The pollution and acne defense green clay mask is highly rated and reviewed product, which is available at reasonable price. Anti pimple product helps to deeply cleanse the skin and get glow. The facial pack naturally makes the skin pure and natural. Skin looks fresh and clean and the product also acts as a natural product for blackhead removal and breakout control. It contains Matcha green tea and tea tree oil.
16. Earth Therapy Anti Acne and Pimple Face Pack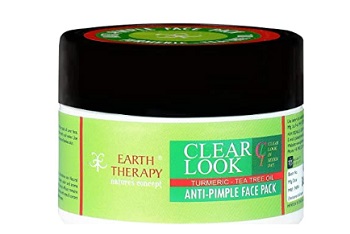 This acne clearing face pack is wonderful for getting gorgeous and soft clear skin. It has turmeric and tea tree and with their excellent properties, it controls the blemishes and pimples. Amalgamated with Kaolin Clay, Clove oil, Lemon oil and turmeric, the herbal face pack for oily acne prone skin exfoliates skin deeply. Enriched with the natural oils, the face pack uproots blackheads, whiteheads and heals acne redness.
17. Skin Elements Turmeric (Haldi) & Multani Mitti Face Mask Pack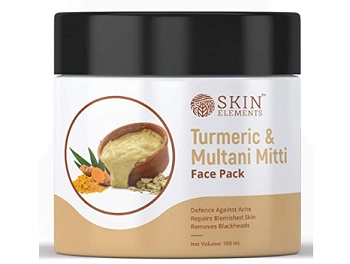 With the multani mitti and haldi in it, the product helps against acne and blemishes. The product is suitable for all skin types and exfoliates the skin deeply. It cleanses the pores and sucks sebum and dirt trapped in the skin pores. Therefore, it makes the skin look glowing and clear. This facial mask product also repairs the skin damage done by pollution and turmeric helps to cure the reducing the blemishes on the skin.
18. The Moms Co. Natural Clay Face Mask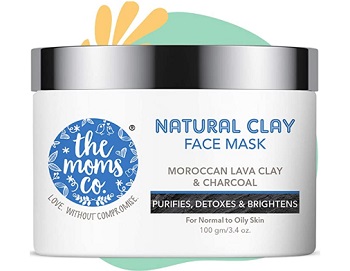 With Moroccan Lava clay and Kaolin clay face pack product, it also contains charcoal and it is specially made for normal to oily skin. It exfoliates the skin and unclogs the blocked pores. The pack also shrinks the pores and cures the hot inflamed red acne with witch Hazel extract. This natural clay also works as a natural astringent for the skin to tighten the pores and minimise their appearance. This product is safe for sensitive skin and does not have parabens, sulphate or chemicals.
19. Bella Vita Organic Face Pack For Acne Pimples Scars & Marks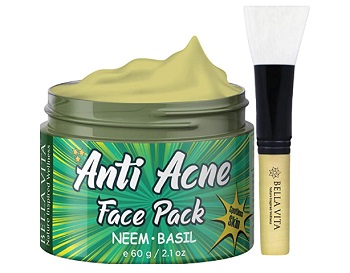 This mild and natural anti-acne face pack is made for all skin types. It is one of the most effective products that effectively reduce acne, pimples, breakouts and blemishes. The product helps to shrink the enlarged pores and creates smoothness. The facial mask reduces the oil secretion. The key ingredients in this face pack have Neem powder, sandalwood powder, bentonite clay, almond oil, vitamin C, aloe vera, olive oil and zinc oxide.
20. Greenberry Organics Brazilian Rainforest Green Clay Mask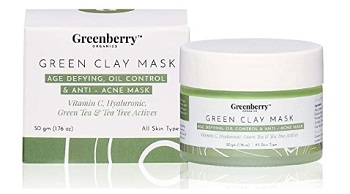 This clay mask contains Kaolin, French Green Clay and Brazilian Green Clay. It also has goodness of Vitamin C (5%) & Hyaluronic Acid (2.5%). It enhances the natural skin tone and fights acne on the skin. This product supercharges the skin to make it brighter and visibly clearer with every application. The precious bioactives help to enhance the natural skin texture and gives a boost to the natural glow of the skin. Apply it evenly on a clean face and neck. Then wait for 15 to 20 minutes and wash it off gently with lukewarm water. It's also the best face pack for pollution in India.
These are the best anti acne face packs in India. You must try these packs at least 2-3 times in a week. Most importantly, always keep the skin clean and wash with good face wash. You must also steam your face weekly to further unblock the pores. Use of a good anti-pimple cream will also help.