Facials improve the skin tone and texture. This is why many people would like to go for a facial before a big event, party or a function. Facial focuses on improving the skin texture and when it comes to anti aging facial, the process targets increasing elasticity of tired sagging skin to reduce the signs of aging and to make dehydrated skin look plump. It's not that people who are over 40 years of age would go for the anti-aging facials, rather people who're in their 20s.
If you're searching for the best anti aging facial kits available in India, then you have reached the right spot. We have compiled this list of the best anti aging home facial kits in the market.
Most of these facial kits comprises of ingredients which are loaded with antioxidants and are rich in the acids, acid and even retinol. So, with effective anti-aging herbal ingredients your skin elasticity is improved and skin looks better than before.
Dermatologists and skincare experts recommend that people can have an anti aging facial once in every 3 to 4 weeks. This treatment would help skin to regenerate at a better rate and increase the natural collagen and elastin protein synthesis. These age control facials deeply rehydrate the skin and do exfoliation which increases the blood circulation and encourages the skin to become plump on its own to decrease fine lines and wrinkles. In addition, you can also apply collagen rich face creams or even retinol face creams everyday to help rebuild the collagen in your facial skin layers.
Best Anti Aging Facial Kit in India
Look at the best anti aging facial kit available in the market.
1. Lotus Herbals Radiant Platinum Cellular Anti-Ageing Facial Kit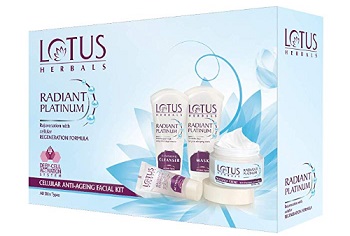 Comprising of four steps of home facial, this deep cell activation system cellular anti aging facial kit. It helps the rejuvenation of skin cells with a cellular regeneration formula. It is a Platinum facial kit which is known to draw the toxins, chemicals and impurities seated deeply in the skin layers. So while the facial boost the production of collagen, it also hydrates and nourishes dull looking skin. It is suitable for people over 25 years of age and once in 2 weeks use of this facial kit helps accelerates the skin elasticity.
This facial kit also comprises of passion fruit extract that visibility decrease is the signs of aging. Facial are:
Radiant Platinum Exfoliating Cleanser
Radiant Platinum Activator
Radiant Platinum Massage Cream
Radium Platinum Mask
2. VLCC Specifix Professional Age Defying Gold Kit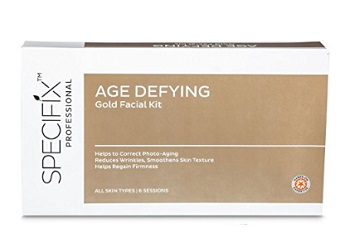 The professional Salon specific facial kit is an age defying gold facial kit. It is made to help your skin correct photo aging and reduce the wrinkles by smoothening the skin texture. It is suitable for all skin types and people over 25 years of age can use it. It comprises of 6 sessions. With pure gold extracts blended with special anti wrinkle agents, natural extracts it helps in reversing the damage caused by sun and aging. Even the pollution related damage can be cured using this professional facial kit in India for mature skin.  It can be used once in a month.
3. Glamveda Red Wine Advance Anti Ageing Facial Kit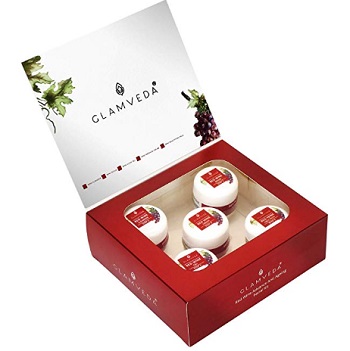 Glamveda red wine anti aging facial kit has 5 steps of facial in this kit you get a Red Wine Cleanser, Wine Scrub, Red Wine Cream, Red Wine Gel and Red Wine Face Pack. The kit comes in a nice packet which is easy to use. With antioxidants, vitamins and essential oil, this is one of the best facial kits for dry skin to fight aging and to diminish the fine lines using this facial at home skin looks glowing and radiant. Even though, it's for all skin types, its creamy products are perfect for deep hydration to the dry to normal skin type. Promoting skin cell renewal, it stops the skin cell degeneration and premature skin ageing. Because of that even, if you're in your twenties you can try this facial kit.
4. Khadi Natural Chocolate Anti -Aging Mini Facial Kit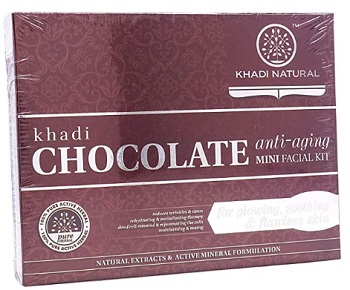 Chocolates are rich in lactic acid and fatty acids that reduce wrinkles and photo-damage. This extremely hydrating facial kit is a revitalizing therapy for your mature and tired skin. With dead cells removal, it revives the skin and moisturizes deeply. It is an anti aging facial kit that has chocolate as the main component. With natural extracts and active mineral formula, it gives you glowing, soft and flawless skin. This affordable anti ageing chocolate kit gives fresh and blemish free complexion and is one of the best facial for dry to normal skin. This facial kit has:
Chocolate Cleanser
Chocolate Butter Scrub
Chocolate Massage Cream
Chocolate Facial Gel
Chocolate Facial Pack
5. Shahnaz Husain Anti-Ageing Treatment 7 Step Facial Kit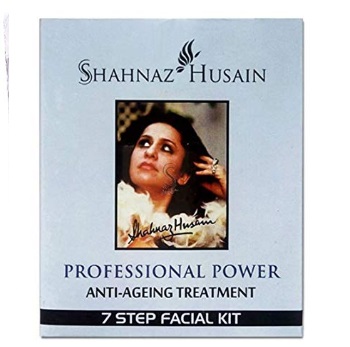 Anti aging facial kit from Shahnaz Husain involves 7 steps of facial that are easy to do at your home. The very affordable facial kit with elaborate facial steps would ensure that your skin looks younger and it also prevents the photo aging and damage. It is very hydrating and revitalizing and is suitable for people over 30 years of age and people who have dry to normal skin. Even for the winter season if you would like to try and anti aging treatment at your home, this facial kit can be tried. It is a professional facial kit with these steps:
Professional Power Bi Hydrating Cleanser
Exfoliating Scrub
Professional Power Nourishing Cream
Professional Power Skin Tonic
Anti Aging Serum,
Anti Aging Mask
Covering Cream
6. VLCC Skin Tightening Facial Kit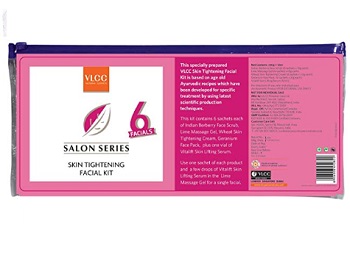 The skin tightening facial kit involves active botanicals which are known to contain glycolic acid, Alpha hydroxy acid and other natural compounds which help the skin to get plump and tight on its own by regulating the collagen synthesis. This VLCC skin tightening facial kit is the best anti aging facial kit for  home facial for mature and aging skin. In fact, as a preventive measure people in their early twenties can also try it. This kit would give you 5 steps of facial like:
Indian Bare Berry Face Scrub
Lime Massage Gel
Skin Tightening Cream
Geranium Face Pack
Skin Lifting Serum
This skin firming facial kit is safe to be used once in 3 weeks. This is suitable for people with all skin types.
7. Raaga Professional Anti Aging Facial Kit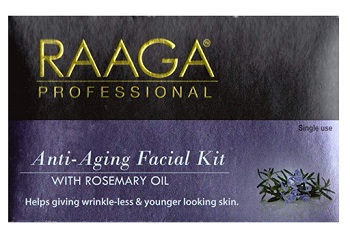 If you would like to have the power of professional anti aging facial kits, Raaga anti aging facial is perfect. Blended with Rosemary oil, it targets the wrinkles and lines on your skin. This facial skin and rejuvenates in just 7 simple steps. With Calendula, Evening Primrose and Sunflower oils, it targets the fine lines, crow's feet and also acts as a perfect anti aging kit for your aging skin. The facial kit comes with an anti aging cleanser, anti aging exfoliator, anti aging massage cream, anti aging serum, anti aging day cream and anti aging peel off mask. This home facial shall be tried once in a month to keep your skin tight and renewed.
8. Jovees Anti Ageing Kit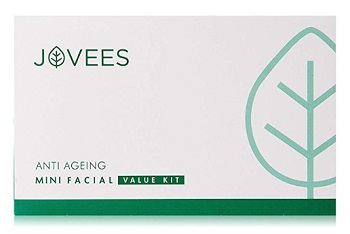 Jovees anti aging facial kit has Wheatgerm, Vitamin E, Citrus fruits, Blackberries, sandal, Saffron and honey. These all are very hydrating for the dull rough skin and have excellent anti aging properties. Perfect for normal to dry skin, this anti aging cream helps to maintain or increase elasticity that loses once you reach a particular age. So due to the loss of collagen, the skin starts to sag, use of this facial kit regularly helps to rebuild the collagen in your facial skin so, that it looks plump and younger. In this anti aging facial kit, you would receive 5 products:
Citrus And Blackberry Cleanser
Black Plum And Curcuma De-Pigmentation Scrub
Wheat Germ And Vitamin E Face Massage Cream
Nutmeg and Rosemary Anti Pigmentation Blemish Face Mask
Essence Of Saffron Anti Pigmentation Blemish Cream
With high quality botanicals, the facial kit when performed regularly would help mitigate fine lines and wrinkles so that you can enjoy beautiful flawless healthy skin for a long time.
9. Vaadi Herbals Lavender Anti Ageing Spa Facial Kit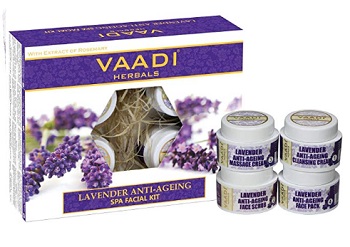 Lavender is a extremely skin soothing ingredients which is used exclusively in the products formulated for sensitive and aging skin. The power to boost the cell turnover and increase the collagen production in the skin layers, makes lavender as one of the most rated product.
Lavender oil helps to decrease the wrinkles and regenerate new cells in the skin. Vaadi Herbals lavender anti ageing Spa facial kit contains 4 steps of facial, which are easy to perform yourself. It has products like:
Lavender Cleansing Cream
Lavender Anti Aging Face Scrub
Lavender Anti Ageing Massage Cream
Lavender Anti Aging Face Pack
Doing facial regularly like it further helps to moisturize skin and protects the skin cells from UV damage. In addition, the facial process helps to boost the production of elastin and collagen to promote cellular regeneration naturally. As a result, it decreases or delays wrinkling and sagging of the skin. It is suitable for combination to dry to normal skin and for people after 25 years of age.
These are the best anti aging facial kits in India. This home facial kits are very easy to perform at your home you just have to follow the guidelines and these would definitely help you get beautiful skin.
Other than that, you must also take care that you are eating enough of the antioxidant rich food items. Foods rich in vitamin C, Omega 3 fatty acids, Omega 6 fatty acids, vitamin as food high in antioxidants. Antioxidants are known to find the free radical damage because of that your skin cells,  does not age as quickly as they would.