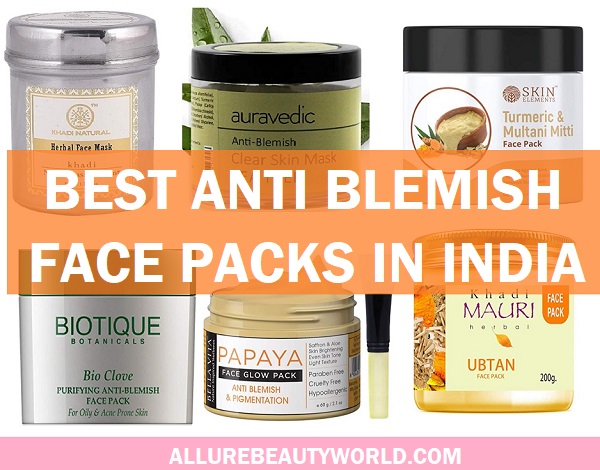 Blemishes can make your skin look dull and tired. This why a lot of women deal with the blemishes and blotchiness that can be as a result of acne scars, pregnancy, blotchy skin, aging and even discoloration. Home remedies can work and this is why there are so many face packs that help remove the blemishes. When you do not have time to prepare the homemade recipes, it is best to go with the readymade anti blemish face pack to get rid of the blemishes from your skin. So, we have compiled this list of blemish clearing face packs or solutions available in the market. Hopefully, while going through them you would be able to pick the best anti blemish face pack for you.
List of Best Anti Blemish Face Packs in India (2022)
1. Khadi Natural Neem, Basil and Mint Anti Acne Face Mask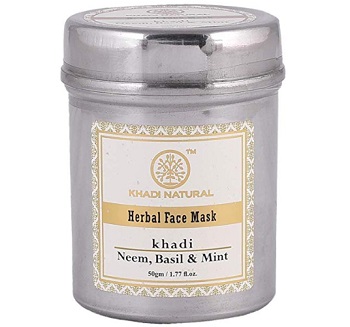 Khadi natural face pack is loaded with Tulsi, Neem, Mint, Kaolin clay and Fullers Earth. It is one of the best face packs for acne prone and oily skin. It minimizes the pore size and makes your skin beautiful by decreasing the oil secretion. It is an anti acne face pack that, when applied regularly decreases the pores size and use acne healing faster. Using this face pack is extremely simple you just have to apply it on your clean skin twice in a week and wash it off after 20 minutes. It is one of the best products for acne scars and blemish control. In fact, the best blemish control face pack.
2. Biotique Bio Clove Purifying Anti Blemish Face Pack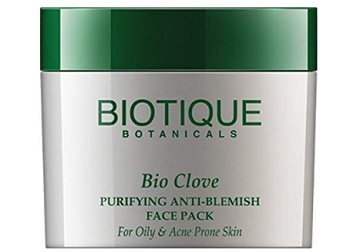 Biotique bio Clove purifying anti blemish face pack is a specially made for oily and acne prone skin. So if the blemishes, scars and pimple marks are your problem then surely this product can give you some relief. Apply the face pack on your face and leave it for 20 minutes. Wash it off after few minutes. The purifying anti blemish pack is blended with pure Clove extracts and wild turmeric. Naturally with its effective antibacterial ingredients, this face pack is bound to absorb the excessive oil from your skin and to give you acne free skin. This anti blemish face pack can be used three times in a week until your face gets clear. To maintain the blemish free skin, make sure that you are using it once in a week, even after the acne and blemishes gets treated. This is one of the best anti acne face pack for both men and women. Young boys and girls would surely like this face pack because it is also very affordable too. It's the best anti acne face pack in India.
3. Bella Vita Organic Pigmentation Blemish Removal Face Pack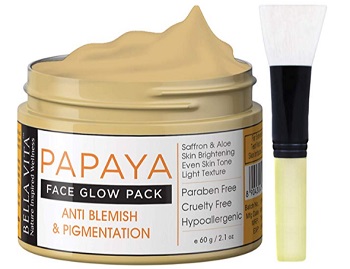 This face pack from Bella vita is an organic product which is paraben free, cruelty-free and hypoallergenic. By for this is the best papaya anti blemish and pigmentation control face pack available in the Indian market. It also contains Saffron, aloe vera to brighten the skin tone other than lightening the blemishes. Suitable for all skin types, it is perfect to get rid of acne, pimple scars, blemishes, dark spots and even the age spots. During summer season, when you need a face pack that can reduce the oiliness and give you fresh bright skin, this is one of the best blemish removal face packs in India. Apply it in a thin layer on your face and neck. Leave it for 10 to 15 minutes. Wipe it off using a wet cloth or rinse it. It is perfect to be used twice or thrice in a week. It is the best face masks for blemishes and dark spots.
4. Auravedic Anti Blemish Clear Skin Mask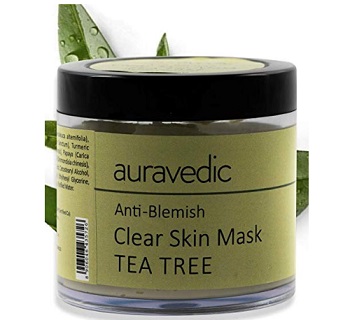 Auravedic anti blemish clear skin mask is made to remove the blemishes from your skin and to give you a flawless complexion. Applying the face mask is pretty easy. You just have to apply it on your clean face and leave it for 15 minutes. Wash after water. It can be used daily till the time the blemishes get clear. It contains Neem and tea tree extracts which are excellent in controlling not just the excessive oils but blemishes and pimples as well. It also has brightens the complexion by reducing the pore size.
5. Jovees Anti Blemish Pack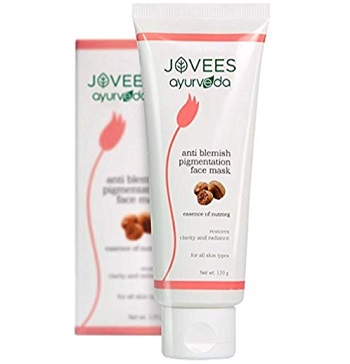 Jovees anti blemish and pigmentation face pack contains the essence of nutmeg. So if you are into DIY beauty recipes, then you would know that nutmeg is wonderful in curing the blemishes and pigmentation from your skin. This pack can be used to treatment in a week to maintain the skin and to mitigate and remove the blemishes and acne scars from the skin. It is suitable for all skin types and men and women both can try this product.
6. Luster Papaya Anti – Blemish & Pigmentation Face Pack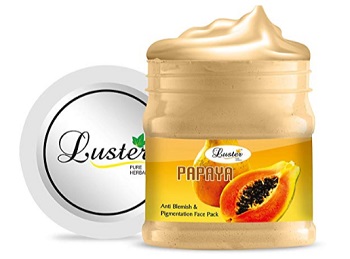 Luster papaya anti blemish and pigmentation face pack is made with a paraben free and sulphate free formula. It is suitable for daily use and it makes dull skin bright and clear. With the goodness of papaya and its enzyme, it deeply penetrates the skin and removes the blemishes and pigmentation effectively. It protects the skin's natural balance and does not dry out your skin post application. It can be applied 3 times in a week for better results. It is yet another best Ayurvedic pigmentation and blemish removal face pack in India.
7. Nature's Essence Papaya Pack for Blemishes and Pigmentation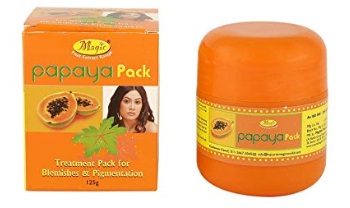 Nature's Essence papaya pack is yet another papaya product for blemishes and pigmentation lightening. Papaya is used a lot in such products because it is a wonderful skin healing product. It's rich in Alpha hydroxy acids and the enzyme Papain. This product is enriched in the goodness of papaya that helps to remove the dead skin cells, pigmentation, dark patches and dark complexion. It can be used once or twice in a week. For dry skin as well, it has proven to be a wonderful face glow pack that can be used three times in a week.
8. Skin Elements Turmeric and Multani Mitti Face Mask Pack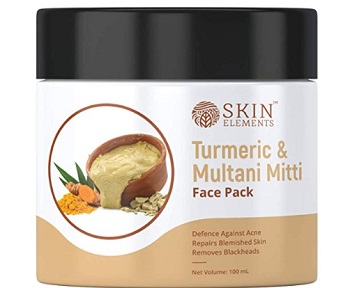 Skin Elements turmeric and multani mitti face pack is Ubton pack which is free of the Chemicals and parabens but has pure extracts of natural ingredients. It is basically for the blemished skin and to remove the blackheads. So it acts as a defense system against the acne and pimples for your skin. It can be used two times in a week and is best for people with oily and acne prone skin. It is yet another natural face pack for blemishes and pigmentation.
9. Vedicline Papaya Face Pack For Blemish Free Skin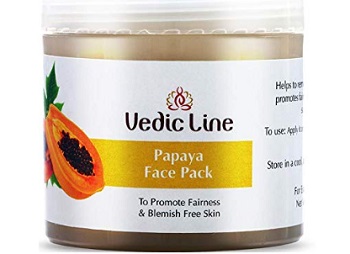 Vedic line papaya face pack promotes fairness and gives you blemish free skin. The pack comes in a tub packaging and is known to promote the fairness of your skin. It clarifies your skin tone and your complexion gets lighter with regular application of this one of the best papaya face packs in India. On application, it reduces the blotchiness, blemishes and pigmentation that make your skin complexion blotchy. It rejuvenates the skin while exfoliating dead skin cells away. As a result you get healthy and pimple free skin that looks clear and right.
10. Khadi Mauri Herbal Ubtan Pack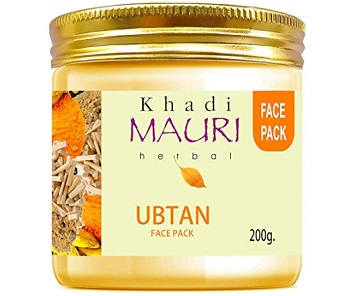 Khadi Herbals ubtan pack is basically is a natural powder pack that can be used by people of all skin types. Just that, you have to how to mix it with the right medium. For example, if your skin is normal to oily, mixing it with rose water is better, however for dry skin mixing it with milk cream or regular milk and honey would give you best results. It is yet another best anti blemish herbal pack available in India in the readymade formula. It is free of any harmful chemicals are parabens. Containing just the natural goodness of turmeric and Sandalwood, it helps in removing tan and pigmentation.
11. Oshea Herbals Papayaclean, Anti Blemish Face Pack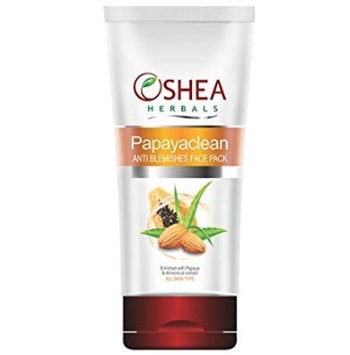 Oshea papaya clean anti blemish face pack is yet another good blemish control face pack in India. It is suitable for oily and acne prone skin and is a dermatologically tested product. It makes your complexion light and brighter while fighting the pigmentation and blemishes along with the dark spots. With active ingredients such as papaya fruit extract and liquorice extract, this face pack does help to clear out your complexion. This shall be tried twice in a week for good results.
12. Lotus Herbals Teatreeclear Tea Tree Clarifying Face Pack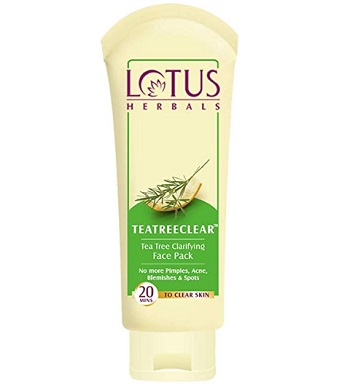 If your skin type is acne prone and you are looking for a good clarifying face pack for your marks and spots, then Lotus Herbals tea tree clear clarifying face pack is the best face pack for blemish control. The affordable face pack is easily available in the market and with the key ingredient as tea tree oil it treats the acne and pimples. It also contains Juniper and bergamot that are equally effective antibacterial ingredients to ward away any bacterial infection. It minimizes the blemishes and pores effectively.
So now that you have got enough of the options for the best anti blemish face packs in India you can choose these face packs to fight pigmentation on the skin. Blemishes and pigmentation can make your skin look blotchy and uneven. When you fight these effectively than you get bright and fresh looking skin no matter what skin complexion you have.