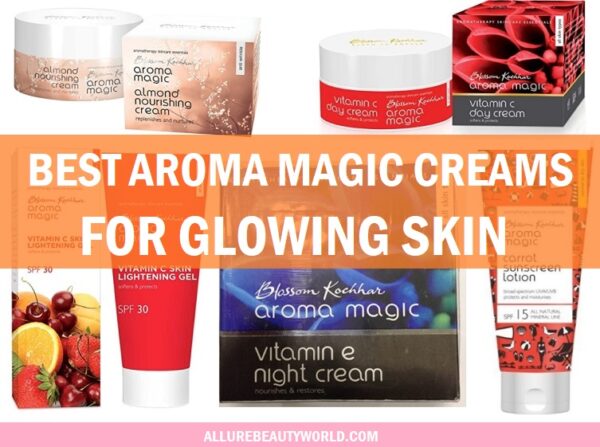 Aroma Magic skin creams are among those which made with paraben free formula that soothe the skin and makes it bright and fresh. Skin creams has a vital role to play in repairing the skin and protecting the facial skin from the environmental stress, pollution induced external damage and more.
In this article, we've compiled this list of the best Aroma Magic Creams which imparts glow and keeps the skin super healthy. These organic every day use skin creams provide the skin with a relaxing effect and reverse any potential damage to the skin because of dust, pollutants and over sun exposure. Let's get to know about the features and benefits of these Aroma Magic skin creams.
Best Aroma Magic Creams For Glowing Skin in India
If you are looking for budget friendly and effective face cream for your skin, which should be herbal and natural, then do check this list of the popular Aroma Magic creams in India and choose the best one for you. The choice of using a good branded cream like Aroma Magic skin creams helps to revive and rejuvenate the skin.
1. Aroma Magic Almond Nourishing Cream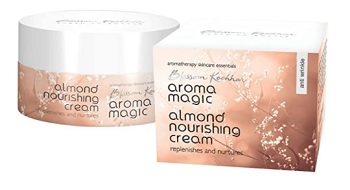 Aroma Magic almond cream is one of the best nourishing anti wrinkle cream for dry to normal skin. When the dry skin starts to get flaky and peeling more wrinkles are formed. This is why, the anti wrinkle cream is loaded with the goodness of almond extract along with Vitamin E, A and B complex. It helps to restore the cellular tissues and slows down the aging process. With the regular application of this hydrating facial skin cream with light handed massaging, it restores the skin's natural elasticity making the skin to becomes firm and tight. The product also contains Honey, Carrot seed oil, Almond oil, Jasmine oil and Neroli oil.
2. Aroma Magic Passion Flower Massage Cream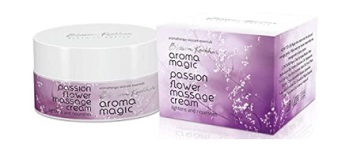 Aroma Magic passion flower massage cream is yet another wonderful massage cream for all skin types, however it's best for normal to dry skin. It relaxes and relives the muscle tension and nourishes the skin. By lightening and brightening the skin, the product also makes the skin smooth to touch and supple. If you want massage cream that helps in restoring the moisture and also acts as an age delaying product, then this is one of the best products to try. It is a multi-purpose beneficial product. When the facial massage cream is packed with the natural goodness of provitamin B5, Avocado oil and Passion flower seed oil is bound to get soft skin. Being rich in Phosphorus, Calcium and other Minerals and vitamins, it's a cream that relaxes the muscle tension of the face and deeply nourishes the facial skin. It also contains blend of Lily of the Valley and Lavender essential oil.
3. Aroma Magic Vitamin C Skin Lightening Gel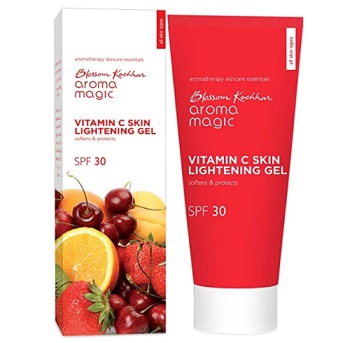 Aroma Magic Vitamin C skin lightening gel is a light-weight gel that is not just suitable for oily to combination skin, however it is for all skin types. Coming with the SPF 30, it ensure that you can use it during the daytime and it starts working by shielding the skin from the ultraviolet rays. As it is powered and backed by the herbal extracts of cherry and lemon, this is a Vitamin C loaded gel that gets inside the skin layers quickly. While applying the gel is not difficult, because it is a very lightweight.  Apply to jail on the skin and blend nicely. It can also be applied before makeup. While giving your skin light and subtle moisturisation, it keeps the skin lustrous all day long.  Right from pigmentation to dark spots, this Vitamin C gel is beneficial in multiple ways.
4. Aroma Magic Vitamin E Night Cream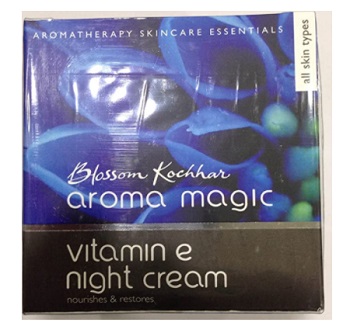 The vitamin E night cream from Aroma Magic is there best selling product for dry skin. It is 100% free of phthalates, mineral oil, paraben and petrochemicals which can irritate the skin by drying and making the skin red. It does not have any artificial fragrance or colorants. The cream being rich in vitamin C helps in the regeneration of the skin. It is suitable for both men and women. Being a nourishing product, it helps in toning and tightening the skin, which is sagging and extremely dry. It is both night cream and a massage cream for dry to normal sensitive skin. It comes with the natural goodness of oils like Sunflower Seed Oil, Peaches and Wheat Germ Oil. Vitamin E also makes your skin extremely smooth to touch and combats the dry and rough patches during the winter season.
5. Aroma Magic Carrot Sun Screen Lotion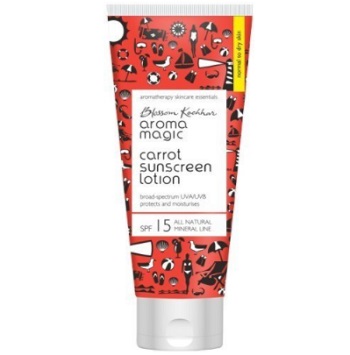 Aroma Magic Carrot Sunscreen lotion is a light lotion that comes with SPF 15. It is a mineral sunscreen lotion, which has physical sunscreen in it. It is suitable for normal to dry skin, because it not just shields the skin from harmful ultraviolet rays, but also helps to gives moisturization. Apart from providing the natural sun protection, it is rich in vitamin B5, C and A. It reduces the visible signs of skin aging. The product contains cucumber extract that cools and soothes the sun burnt skin. It is 100% free of harmful chemicals, paraben, alcohol and artificial fragrances. Apply the cream 15 minutes before going out in the sun on your face and body. It can also be applied before the makeup.
6. Aroma Magic Foot Cream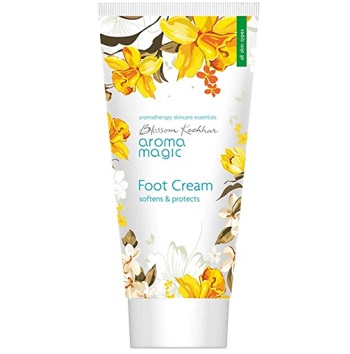 Aroma Magic Foot cream gives the softness and freshness to dry and cracked heels. It moisturises the dry and cracked heels and keeps them softer. While preventing the odour and protecting the roughness and cracks, it gives you smooth and softer feet. You can apply it every day after the shower and before going to the bed to keep your foot smooth and moisturized.
7. Aroma Magic Cocoa Butter & Vanilla Body Cream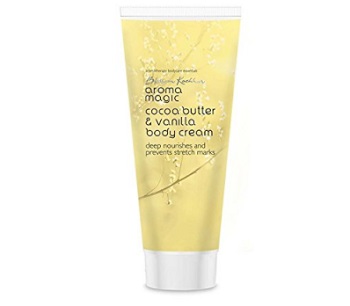 Aroma Magic Cocoa Butter and Vanilla Body cream is yet another highly selling product that is for very dry skin and for getting rid of the stretch marks. This is 100% free of paraben, phthalates, toxic ingredients, which can harm the skin. Being hypoallergenic, it's safe for pregnant ladies for stretch marks removal and prevention. The Ultra nourishing and rich formula has cocoa butter carrot seed oil wheat germ Oil and coconut oil to stop Vanilla makes it rich in antioxidants that leave a sweet fragrance on your body. It is also a blend of Vetiver and Frankincense Essential oil. Extracts of Vitamin C and Calendula oil work together to lighten the skin complexion and restores the skin health. The product is non-greasy and contains SPF 15, so it's a body cream with added sun protection.
8. Aroma Magic Under Eye Cream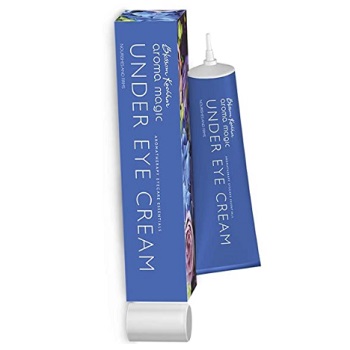 Aroma Magic Under Eye Cream another product that makes the under eye area brighter and also reduces the wrinkles. The safe for sensitive skin and organic eye cream reduces the appearance of crow's feet and wrinkles by repairing the skin. While it prevents the aging and sagging of the delicate under eye skin, it also lightens the dark circles and pigmentation under the eye area. This product is rich in Goji berry fruit extracts, Vitamin C, Olive Butter oil, Hibiscus, Sea buckthorn, Lavender and Rosemary extract. Apply it around the area and massage gently with a fingertip. Apply it every morning and night or as frequently when you need some extra care on your under eye skin. Under eye skin is comparatively thinner than the rest of the skin, this is why the wrinkles and lines are more likely to form under the eyes. So, take extra care!
9. Aroma Magic Vitamin C Day Cream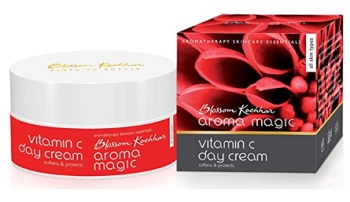 Aroma Magic Vitamin C day cream contains the powerful formula that is rich in vitamin C. It balances and moisturizes the skin and softens the skin in the process. The product is light and hydrates the skin by giving enough of the vitamin C goodness. It is the light and non-greasy day cream that people of all skin types can try. With the inclusion of Shea Butter and Aloe Vera gel, this is a power-house of nutrients. This Vitamin C cream can be applied to times in a day. Being rich with the extract of Orange, Apple, Lavender and some more essential oils along with avocado oil, it gives you optimum sun protection by leaving the skin smooth supple and bright. Vitamin C cream is also essential to improve your skin complexion and to keep the skin even tone. Even, if you have pigmentation issues, a Vitamin C cream can really help to combat that.
10. Aroma Magic Nourishing Hand Cream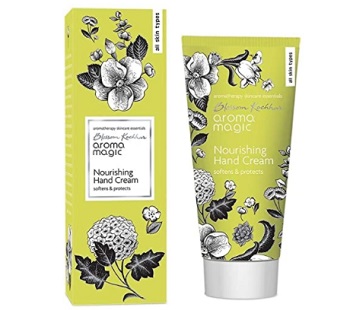 Is a rich blend of ingredients that are known to give smooth net and softness to the nails cuticles and hands. The easy to blend and non greasy product has mild herbal fragrance and very moisturizing properties. It is better than the other expensive moisturizing skin cream. The scent is really pleasant that you won't feel that it is overpowering. You can keep it in your bag and apply it whenever required.
These are the best Aroma magic skin creams available in India. Aroma Magic is a popular and well-known brand that does not need any recognition or introduction. In India, Aroma magic brings products which are free of artificial fragrances, parabens and the skin irritating chemicals. Aroma magic formulates and offers different skin care products like skin creams, face washes and more.