Aroma Magic is a brand by Blossom Kochhar, is one of the largest Indian beauty brand. This brand is known for their amazing chemical free and natural products that have received good ratings and reviews from the customers. Suitable for different skin types, Aroma Magic formulates hair care, skin care and other wellness products. Their skin care products are extremely good and if you are wondering, which are the best Aroma Magic face products, then in this article, we're going to talk about the best Aroma Magic skin acre products sensors available in the market. These are different products which have been rated high because of their efficiency, formula and benefits. And the best thing is that Aroma Magic products are also very affordable and come at a budget friendly price.
List of The Best Aroma Magic Products in India
1. Aroma Magic Mineral Glow Scrub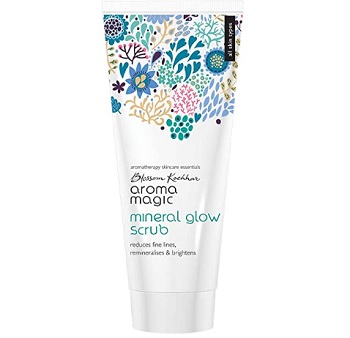 Aroma Magic Mineral Glow Scrub is one of the best face scrub for all the skin types. The exfoliating particles in this face scrub are so gentle and small that it does proper deep cleansing without being too abrasive on the skin. So, even when you have sensitive or delicate skin type, you can take this glow scrub to get the radiance on the skin. It refines the skin pores and also gets rid of the clogged skin pores. It is a natural homemade exfoliator that is made with almond grain and corn flour. It gently bugs away dry and dead skin cells and results in younger and healthy looking skin. It's also a blend of tea tree, rose and lavender essential oil that regulates the oil balance in the skin and protects the skin from the daily pollution and dirt.
How to use: Take some scrub on the palm and apply on the face and neck. Massage gently and then leave for 5 minutes, then rinse it off with clear water full.  Use it once or twice in a week.
2. Aroma Magic Beautiful Skin Oil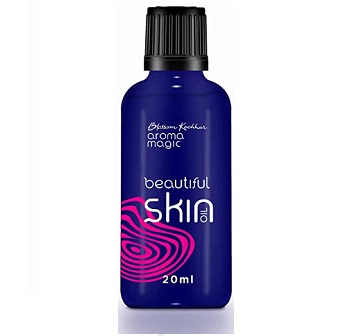 Magic beautiful skin oil is a blend of essential oils that manages the skin for youthful glow. Take 4-5 drops of this oil and apply on the face and neck every night and morning. If you have oily skin, then apply this oil only at night by taking only 2-3 drops. The essential oil blend of this product is one of the best face oils to fade the fine lines and to keep the wrinkles away.
3. Aroma Magic Vitamin E Night Cream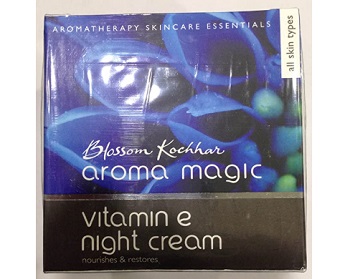 Aroma Magic Vitamin E Night cream is one of the best products from this brand and users have commented that this product has really nice and smooth texture that makes their skin smooth and supple the next morning. The lightweight cream is perfect for oily and even the dry skin. So even if you have extremely dry skin, it moisturizes the skin pretty well. For oily skin, take the cream in a little amount and massage the skin. It ensures that the skin remains youthful and looks supple and glowing. It is 100% free of petrochemicals, sulphates, artificial fragrance, toxic ingredients and colorants. It helps in skin regeneration and also works as an excellent massage cream.
4. Aroma Magic Vitamin C Lightening Facial Kit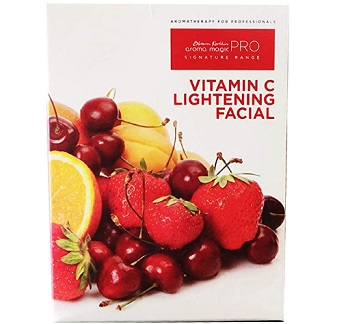 Vitamin C facial can definitely improve the glow on your skin and smoothens the texture, of course. This Vitamin C lightening facial kit is one of the most rated facial because of the fruit extracts rich in vitamin C and other vitamins. It is a skin care face treatment that helps to revive your skin and to promote the cell renewal. The facial procedure helps to keep the face softer and nourished. The best thing about this facial is that it can be applied for all the skin types and including the acne prone and sensitive skin. The multi-purpose facial treatment kit includes a face cleanser, exfoliating gel, face mask and a face cream and vitamin C ampoule. This can be used once in a month to encourage cell renewal and maintain the glow on the skin.
5. Aroma Magic Under Eye Cream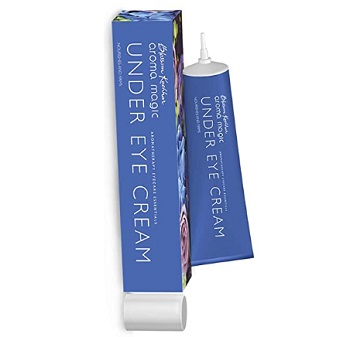 Under eye cream application regularly keeps the under eye areas remains dark circles and fine lines free. But using a good under eye dry cream can be difficult. This Vitamin E enriched under eye cream from Aroma Magic is the best thing that you can try. If repairs and firms the skin and prevents the under eye aging. It is 100% free of chemicals and petrochemicals like paraben, sulphates, phthalates and fragrances. It is a formula that is rich in goji berry fruit extracts, olive oil, butter oil and rice bran oil. So it's like anti aging product for under eye area that also has lavender, Rosemary and sea buckthorn that supports the new cell formation which keeps you under area bright and beautiful. It is for all skin types.
6. Aroma Magic Juniper Berry Oil Free Moisturiser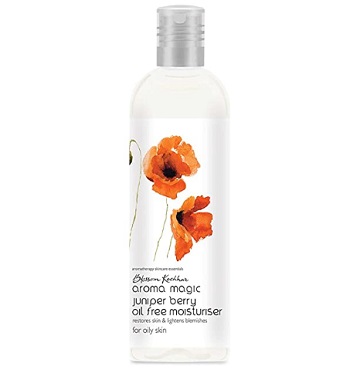 It's an oil free moisturizer that should be there in your daily skin care routine. This Aroma Magic Juniper Berry oil free moisturizer restores the skin clarity and lightens the blemishes. Made specifically for oily and acne prone skin, it's water based and protects the skin from dark spots, dullness, patches and the acne marks that makes your skin appear uneven. With SPF 15 this product is also free of paraben and chemicals. It is a blend of patchouli, lemon essential oil, aloe vera juice berry and cucumber extract that lighten the blemishes and leaves the skin non-greasy.
7. Aroma Magic Aloe Vera Sun Screen Gel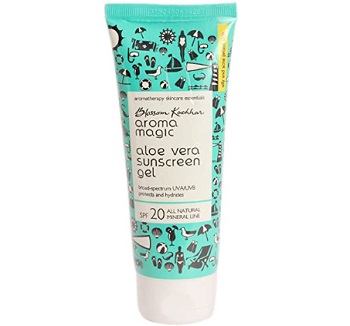 A sunscreen gel is suitable for most of the skin types, including the oily and acne prone skin. The gel formula is non-greasy and is perfect to be applied on oily skin. It is 100% free of paraben, harsh chemicals, alcohol and oxy-benzone. This provides natural safety against the sun rays. Rich in vitamin B5, C and Vitamin E, it visibly prevents the signs of aging and sun damage that can cause the premature aging of the skin, even when you are in your twenties. It has aloe vera as the key ingredient that hydrates and purifies the skin and provides smart sun protection. It can be applied by men and women both and is a suitable sunscreen gel for your face and neck with SPF 20 that is suitable for everyday use.
8. Aroma Magic Almond Moisturising Lotion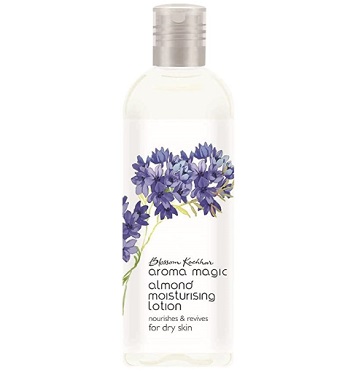 Almond moisturizing lotion from Aroma Magic, is one of the best nourishing and moisturizing lotion for dry and normal skin. During winter season because of the cold air, your skin tends to get dry and rough. So, to moisturize the skin, a highly hydrating formula is required. This nourishing formula has fruit extracts, Lotus leaf formula. It moisturises and imparts the instant relief to the sensitive and delicate skin. Gently massage the moisturizer on the skin and use it daily after cleansing the face. It can be applied at night as well like a night lotion. It has wheat germ oil along with Patchouli, Geranium and Rose oil.
9. Aroma Magic Vitamin C Day Cream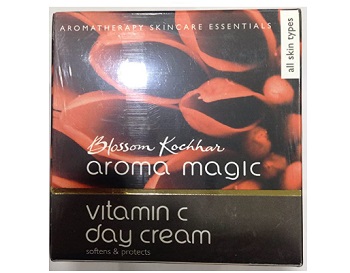 When the oily skin has blemishes, a Vitamin C day cream can work wonders. Free of petrochemicals, phthalates, toxic ingredients and artificial fragrances, this Vitamin C cream is for all skin types. If you have difficulty finding a good skin cream for your oily skin, then this is it. It is a light and non-greasy day cream with the power of SOF 15 to protect skin from the everyday wear and tear and sun damage. Apply it on your clean skin after using a toner on your face and neck, in circular gentle motions. It is one of the best day creams that lighten the skin colour naturally. It also contains aloe vera gel and shea butter that moisturizers the skin but does not make the skin greasy or sticky. It is a powerful blend of chamomile tea, lavender and helichrysum essential oil.
10. Aroma Magic Aromatic Skin Toner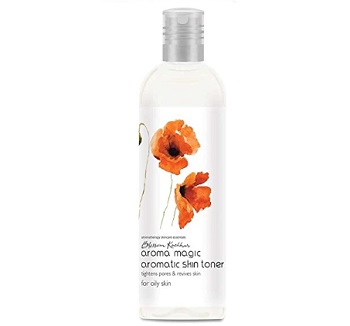 Aromatic skin toner from Aroma Magic is one of the best facial skin toners for oily skin to tighten the pores and to smoothen the skin. It is available in two different quantities. It is 100% free of alcohol, paraben, phthalates, colorant and fragrances. The special formula for oily skin cleanses the skin without drying it out. Made with the extracts of pomegranate and lavender with peppermint it heals and reduce the oiliness. By promoting the cell renewal rate and collagen synthesis, this is increases the skin's elasticity. It also has witch Hazel to tighten the skin pores and regulating the oil secretion. With essential oils like Rosemary, Ylang ylang, it is also a natural astringent for your irritated and inflamed skin. How to apply: Take a cotton pad and gently wipe it off the skin from face and neck.
11. Aroma Magic Sunscreen Sun Block Lotion SPF 30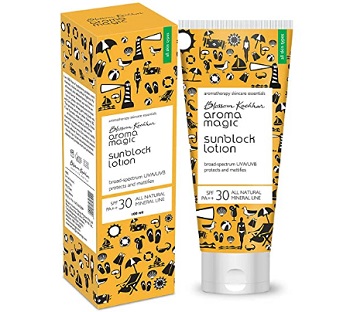 With SPF 30, this sunblock lotion has a broad spectrum to protect against UVA/UVB rays. It has a mattifying formula, yet it is mostly suitable for dry to normal skin. It can be used on your face and neck as well as on the body skin for natural safety against the sun rays. It has vitamin B5, Vitamin C and Vitamin E that protect from the sun damage. It also contains cucumber extract that cools and soothes the sunburn and makes the skin brighter. This is a non Nano-zinc oxide sunscreen that scatters the harmful sun rays. It also contains green tea extracts, carrot seed, jojoba oil and wheat germ to promote elasticity of the skin.
12. Aroma Magic Lavender Face Wash 
Aroma Magic lavender face wash is one of the best face wash for dry skin. It is in fact, a highly rated facial product for dry face. It cleanses, soothes and refreshes the skin with lavender extracts which are known to give the skin clarity and freshness. The antioxidant in oranges also gives you anti-aging benefits. Apply it on your face and neck and use two times in a day. It's a herbal face wash that buffs away impurities, makeup and pollutants. For moisturised and glowing skin, this is an ideal face wash for dry rough skin.
13. Aroma Magic Honey and Shea Butter Body Lotion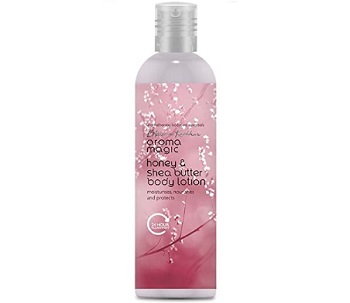 The body lotion is one of the best in India which is loaded with honey and shea butter. It moisturises and protects the skin with its 100% free of chemicals, petrochemicals and toxic ingredients. It has a triple action formula that pampers the skin and with unique blend of honey and shea butter it makes the skin highly moisturizing even during the winter season. It is rich with soil extracts, Patiala, England, almond Butter Honey and other ingredients that make the skin smooth and highly conditioned. Additional it is also comes with SPF 25 to protect from Sunburn and sun rays.
14. Aroma Magic Face Wash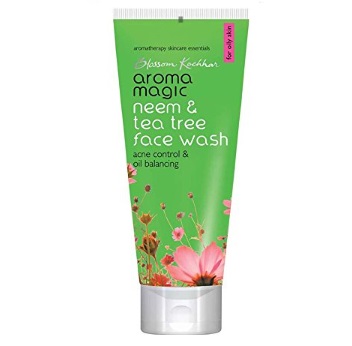 Aroma Magic neem face wash is made for oily skin. In fact, the face wash is one of the best considering that the product helps to calm the irritated skin. It's an acne control and oil balancing facial product, which is made for acne prone oily skin. It has Neem, comoros extracts, tea tree and other Botanical natural ingredients to lighten the scars, remove the dirt and dust and treats blemishes on the skin. Use it morning and evening to moisturize the skin and to combat the excessive oiliness.
15. Aroma Magic Activated Bamboo Charcoal Face Wash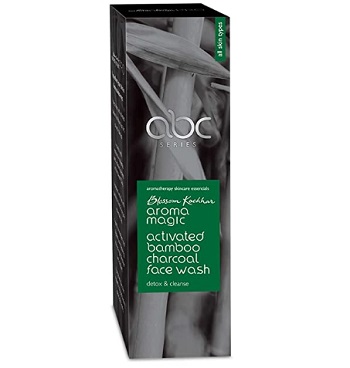 Magic activated bamboo charcoal face wash is a detoxifying and highly deep cleansing product. After a tiring day in the polluted environment, you need a product that can remove impurities, dust and pollution particles. The pollution particles of pm 2.5 tend to damage the skin and make the skin rough and even irritate the sensitive skin. Activated bamboo charcoal has this ability to draw out not just bacteria, dust and dirt but even the pollution particles. Therefore, this face wash leaves the skin thoroughly clear and fresh. The product in the long run also lightens and brightens the skin. It is a product that is suitable for all skin types.
These are the best Aroma Magic skin products available in the market at affordable and reasonable prices. You can also buy Aroma Magic products online because they are available at good discounts.