Currently, there is no dearth of men's skin and hair care products even though earlier a couple of years ago, there was only a handful of men's grooming products. But now, the scenario has been completely changed. In this article, we're going to talk about the best Beardhood products for men available in India. This brand offers men's grooming products like facial cleansers, face scrubs, beard oils, shampoos and more. In short, the men's grooming essential for head to toe. So if you are confused about the best Beardhood products available in the market, then take a look at this list below.
List of Top Best Beardhood Products in India For Men
1. Beardhood Onion Shampoo For Hair Growth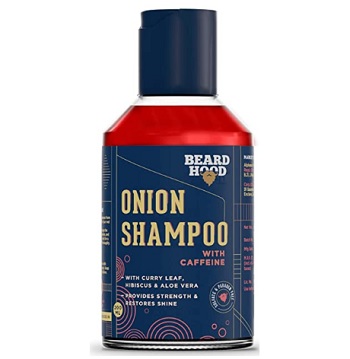 The Beardhood onion shampoo contains caffeine that is wonderful in encouraging the hair growth. The hair thickening shampoo is fortified with formula containing Curry leaf, Hibiscus and Aloe vera extract. By providing the strength, it restores the natural thickness. So, if by any means your hair is shedding fast and have become thinner, this growth boosting onion shampoo can definitely help.  It is one of the best selling Beardhood hair care products available in India at very reasonable and affordable price. It's ideal all hair types.
2. Beardhood Vitamin C Serum with Vitmain C 20%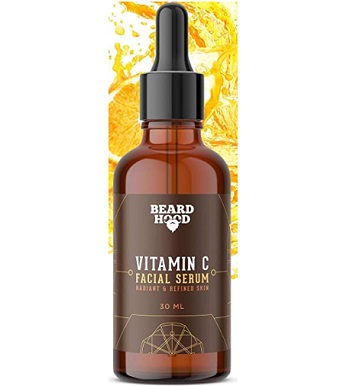 Vitamin C serum can boost the collagen synthesis for yoour skin as a result Vitamin C serums are perfect anti aging products for aging skin and to prevent the aging prematurely. The vitamin C facial serum from Beardhood comes in a dark-colored bottle with dropper cap. The product is really light-weight and does not clog the pores therefore is best for all skin types. It leaves your skin beautifully plump and adds a natural glow. You can apply the men's Vitamin C serum twice a day. However, during the night time such products work the best. It also contains Green tea, Hyaluronic acid and other ingredients which refines the skin texture and makes facial skin smoother. It also prevents the loss of elasticity which is one of the major reasons for skin getting wrinkled prematurely.
3. Beardhood Green Tea & Charcoal Body Wash For Men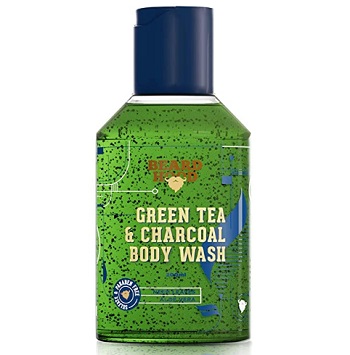 Refreshing a green tea and charcoal body wash works extremely well during all the season. Especially, for the summer season green tea infused activated charcoal body wash will lift away the impurities, dust and odor causing bacteria, responsible for dull skin. Even, while you stay for long hours under the sun your skin becomes dark. It helps in replenishing the skin and acts as a perfect daily skin cleanser. While removing the dead skin cells and the oils from your skin, this product makes skin glowing and smooth.
4. Beardhood Caffeine Face Wash For Men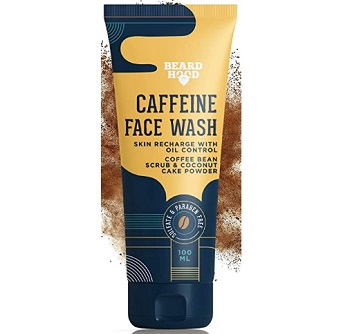 The caffeine face wash for men recharges your skin and gives you oil control benefits. It has mild scrubbing particles, which are from coffee beans extracts and coconut cake powder. So it's not a regular face wash, because, it contains the exfoliating particles. Unlike the regular facial cleansers, it eliminates the dead skin cells and the ore clogging dirt. This is yet another good product for men with oily and acne prone skin. While, it eliminates the chances of breakouts and acne from your skin, it maintains a natural pH balance as a result, the skin get free of breakouts and dullness. It is the best sulphate free face wash for men available at decent prices.
5. Beardhood Green Tea & Charcoal Face Wash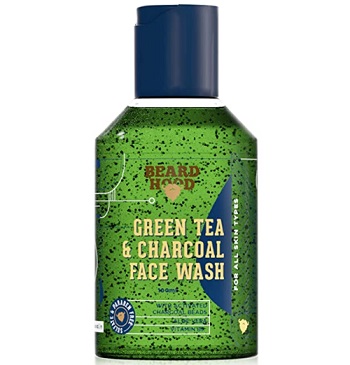 The green tea and charcoal face wash is the best selling face wash from Beardhood that suits all the skin types. Especially, when your skin is oily and acne prone, the charcoal loaded face wash clubbed with green tea works the best. It nourishes your skin and makes the skin fresh and clean. The best thing about the product is its texture, which makes it one of the best facial cleansers during the summer time. This is an anti-acne and oil-free skin cleanser which removes the dirt, bacteria and oil from your skin. It is also a paraben and sulphate free product with no dyes and phthalates.
6. Beardhood SPF 50 Sunscreen
Sunscreen lotion contains SPF 50, which is perfect for the daytime. It is a sweat-resistant and waterproof sunscreen lotion that gives you long protection. Free from the harmful chemicals, this prevents the skin darkening and premature ageing caused by the over exposure of ultraviolet rays on your skin. It gives you gorgeous skin and does not let the sun rays damage affect your skin. Apply the product generously on your face and body, before going out under the sun at least 20 minutes prior.
7. Beardhood Beard and Hair Growth Serum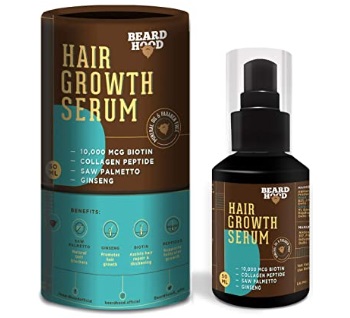 The Beardhood hair growth serum is made for the beard. It contains Biotin, Collagen Peptide, Ginseng & Saw Palmetto. The growth boosting ingredient in this beard serum enhances natural keratin production and hair growth. If you have a problem of thinning beard then it promotes the hair growth. So within a short span of time, you will get thicker looking beard however, make sure that you apply it daily twice a day. It's 100% free of sulphate and paraben. Include it in your regular beard care routine and get thicker and manageable beard. It is suitable for oily and sticky skin as well because of its lightweight formula. Gently pat the product on the beard and massage for 2 to 3 minutes.
8. Beardhood Mustache And Beard Wax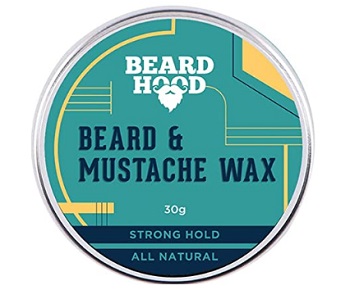 Natural moustache and beard wax is a perfect product to keep your beard hair in place. If you have a long beard than you can imagine how hard it can be to style it on daily basis. This beard styling wax can be your best mate, when you have long beard that you would like to style the way you desire. Most importantly, this product contains essential oils, beeswax, shea butter, avocado oil, coconut oil and Vitamin E. It also makes your beard smell really nice. The best thing is the product is paraben and sulphate free, therefore it does not cause any damage to your beard hair or skin underneath, even when you apply it on daily basis.
9. Beardhood Onion Oil with Redensyl for Hair Growth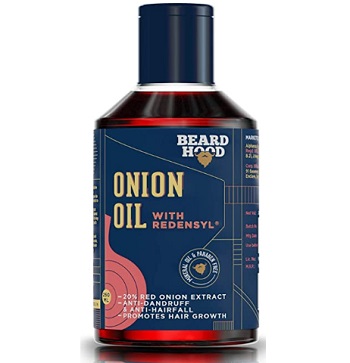 Beardhood onion oil is loaded with Redensyl. It is hair growth hair oil, which is amongst the best selling hair oils for men. The hair growth products for men contain 20% red onion extract along with Redensyl and some other herbal extracts. It promotes the hair growth and encourages the clearance of dandruff faster. It also contains keratin proteins, which are known to prevent the hair loss and strengthens the hair roots. Redensyl is a patented active ingredient, which has been developed to target the hair roots to favourable condition for hair growth. It also contains jojoba oil, argan oil and Vitamin E oil, grapeseed oil and even the natural herbs like Bhringraj, Hibiscus, Sandalwood oil and rose oil. It is like an All-in-One hair treatment therapy for men with different hair types. So even if you are fighting with dry and frizzy hair, you can try this product.
10. Beardhood Tan Removal Face Scrub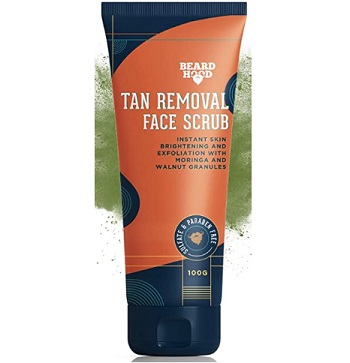 Last but not the least, Beardhood tan removal face scrub for all skin types. Combined with the power of moringa, walnut granules and almond oil, this is an SLS and paraben free face Scrub. With the powerful formula, it helps to fade the sun tanning and skin darkening from your face. When sun tanning makes your skin appear darker, it naturally clears the tanning.  To apply this face scrub for men, wet your face. Then, take some on your palm and scrub on the face for 2 to 3 minutes. Wash it off thoroughly with clean water and pat dry the skin. It is recommended that you try it at least two times in a week.
These are the best Beardhood products for men available in the market. Beardhood products as we have noticed are not as easily available in the shops. However you can buy them online. The best thing about buying these products online is there you can expect good discount. The discount can be around 20 to 30% that depends from product to product. So buying the Beardhood products from online would be a good choice if you like. We have given you the link which you can try to buy the products.