We all pamper ourselves at a beauty parlor and salon. The professional there use a lot of different products meant for various face treatments. If you too wish to get the benefits of professional skin care products that beauticians use, then this list of the best beauty parlor products in the market will surely help you. Most of these products are very affordable and in budget, even if you're on budget currently.
Using these beauty parlor products will also be helpful in getting gorgeous skin at the comfort of your house only. Using these is also extremely easy, it's just that you've to start using them and you too will become an expert in no time.
List of Best Best Beauty Parlor Products in India That professional Use
Let's take a look at the popular beauty and salon products that are used at majority of beauty parlors across the country.
1. Fem Fairness Naturals Saffron Bleach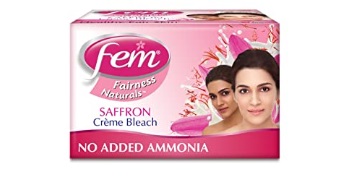 Fem is one of the most favourite and preferred bleaching cream brand for many customers, beauty parlors and professionals. Enriched with the goodness of milk, Vitamin E and Saffron, the fem bleach is a healthy way to get glowing and soft skin. It is formulated for fair and glowing skin. You can get a salon like glow on your face by using this product at home itself. It is very affordable and budget friendly product to lighten the unwanted facial hair.
2. Oxylife Natural Radiance 5 Creme Bleach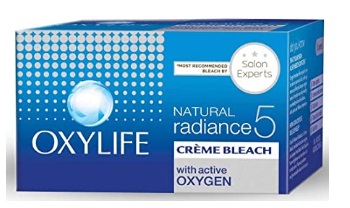 Oxylife natural cream bleach comes with the active oxygen that makes the skin tone fresh and bright. This is a bleach cream that helps fight sun tan, dullness, uneven skin tones, dead skin cells and dark spots. It is the most recommended bleach as lot of salon and professionals in beauty parlors would use it. Using it at home is also very easy.
How to apply:
Wash your face and pat dry with a towel. Spread the pre bleach cream on the face and let it get absorbed. Mix the cream bleach and powder activator in the ratio of 7:1. Apply the bleach mixture over the face using a spatula or clean fingers. After that rinse off the face with plain water and use the post bleach serum for radiant glow.
3. Nature's Essence Fruit Fun Fairness Bleach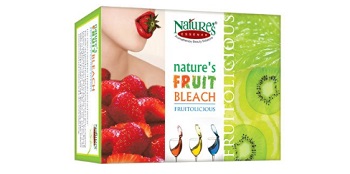 Fruit bleaches are also preferred a lot by the professionals because of the fact that fruit bleach are gentle and are effective for all the skin types, including the oily and acne prone skin in lightning the facial hair. The bleach brand is known for making natural and affordable skin care products which are exclusively used in the salons. The fruit bleach not just lightens the unwanted dark facial hair but also makes the skin tone brighter and glowing.
4. O3+ Meladerm Vitamin C Gel Bleach for Skin Whitening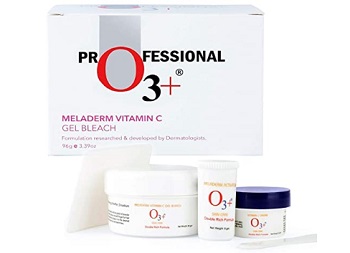 These days Vitamin C gel bleach creams are also used exclusively for the bridal packages. This O3+ Meladerm bleach cream is formulated and developed by the Dermatologists and is one of the most effective bleaching cream in removing the dirt and lightening the skin.  It also comes with the excellent properties of Vitamin C that improves the skin colour and regenerates the collagen. It lightens the pigmentation and brightens the skin tone. It soothes all the skin types, in making the skin fresh and radiant. It does not have Ammonia, however it is rich with ammonium persulfate.
5. Raaga Professional De Tan With Kojic And Milk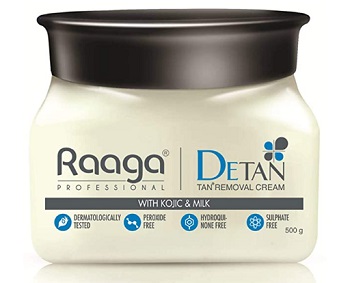 De tanning facial packs are exclusively used in the salons whenever a client reaches to get rid of the sun tanning. During summer season De tanning facial anti tanning face procedures are very common. Raaga De Tan Removal Cream is one of the best products to help get rid of the sun tanning and skin darkness. It is dermatologically tested and hydroquinone free product. Enriched with kojic acid and milk, it's one of the best tan removing products to inhabit the melanin inflammation and lightens the skin tone on regular basis. It can be applied on all the skin types including men and women.  Just apply the product and massage for 2 minutes, then leave it for 10 to 15 minutes and gently remove the cream with wet cotton and wash the face.
6. Lakme Gentle & Soft Deep Pore Cleanser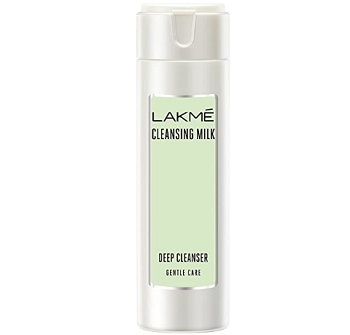 The cleansing milk is a must have product in any beauty parlor. So, whenever a face treatment starts cleansing is the first process. Lakme cleansing milk is the most favoured product which is affordable and you can also use it at your home. It contains vitamin E that is known for its antioxidant properties and skin nourishing features. It leaves the skin visibility clean and purified by cleansing the dirt and dust effectively and removes the makeup as well.
7. Lotus Herbals Lemonpure Turmeric and Lemon Cleansing Milk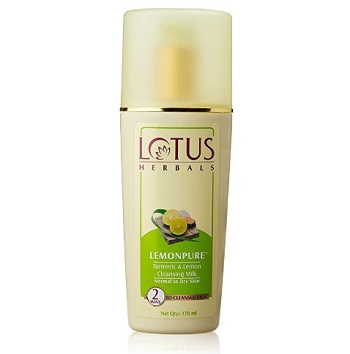 For oily skin, the turmeric and lemon cleansing milk is the best suitable thing. It is made for normal to dry skin that helps in revitalizing the skin. It is a natural source of vitamin C and acts as an antioxidant to cleanse the skin. The facial product is exclusively used for normal to dry skin to make the skin fresh so that the other steps of face treatment can work better.
8. VLCC Gold Facial Kit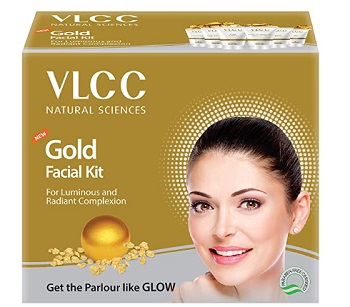 VLCC gold facial kit is one of the most favourite facial kit that is used in almost all the salons. VLCC gold facial kit contains 5 products like a Gold Cleanser, Gold Scrub Gold Cream, Gold Massage Gel, Gold Peel Off Mask. This is an easy to do facial kit that one can perform at home itself. It contains 24 Karat gold Ash that has amazing anti aging properties. The gold face mask works to smooth the skin and preserve the natural luminosity. This gold facial kit from VLCC also contains rose petal extracts, aloe vera and turmeric.
9. O3+ Bridal Facial Kit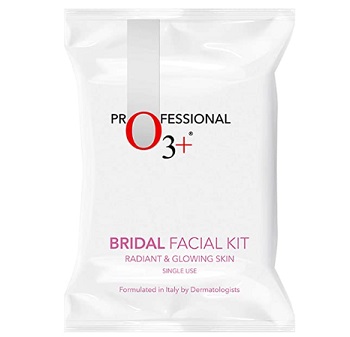 The bridal glowing facial kit is from O3 professional. It is an excellent facial kit that boosts the radiance, while solving multiple skin issues. It brightens the skin and purifies the stressed and tan skin layer. It is an excellent facial kit to remove the sun tanning dirt and dead skin cells for bright face before any wedding function of party. During the procedure, it removes all the pollutant particles from the face and gives a glow to the bride. This facial kit contains: Whitening Cleansing Foam, De Tan Pack, Whitening Tonic, Whitening Massage Cream, Skin Whitening Serum and Facial Power Mask Gel, Facial Power Mask Powder, Arbutin Serum, Arbutin Powder, Whitening Cream With SPF 30. It's a 10 step facial that you can perform at your home and the procedure is given on the pack itself.
10. BioCare Papaya Scrub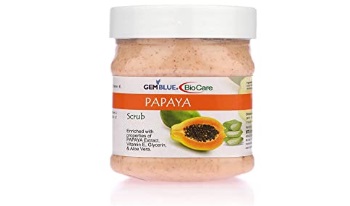 Scrubbing or skin exfoliation is the most important step that the beauticians would go before any facial massage procedure. This facial scrub product is the most popular beauty skin care product. It is loaded with the goodness of aloe vera, papaya, glycerine and vitamins that are rich with antioxidants. This face scrub works extremely well to remove the impurities and to get rid of the dirt and grime. It removes tan and skin damage due to extreme UV rays exposure, pollution and humidity. The papaya face scrub can really repair the skin quickly. So it's also effective for treating the concerns like pigmentation, tanning, acne and dark spots.
11. Everyuth Golden Glow Peel-Off Mask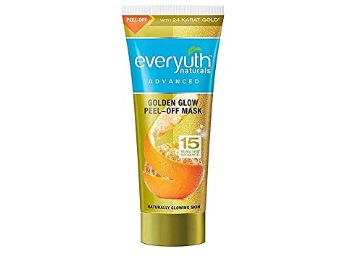 A golden glow peel off mask is the most favourite product of many teenagers, young adults and even for the salon guys. It is a peel off mask that you apply on your face and allow it to get completely dry. After 20 to 30 minutes, when the peel off mask gets dry, peel it off. It gives a golden glow on the skin and is one of the most popular peel off masks in India that gives natural fairness and glow. It is infused with 24 carat gold collagenin boosters and orange peel extract. It tightens the enlarged pores and stimulates the blood circulation and oxygen supply.
12. Dabur Gulabari Rose Water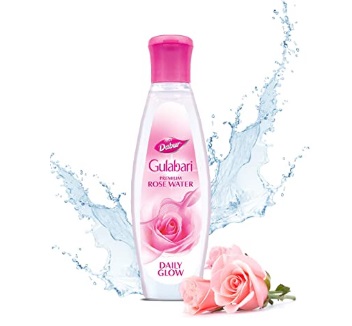 Rose water is an equally essential product. Whenever a beautician is cleaning the skin or would like to tone the skin then rose water is quite effective. Even while massaging the facial skin, to dilute the massaging cream, rose water can be used. It is 100% pure and natural rose water with no added preservatives. It acts as a cleanser toner and gentle moisturising agent to the skin. It is suitable for all skin types and helps to tighten the pores and get fresh glowing skin. You can put few drops of this rose water on a cotton ball and wipe it on the face and neck. It is very affordable product.
13. Biotique Bio Cucumber Pore Tightening Toner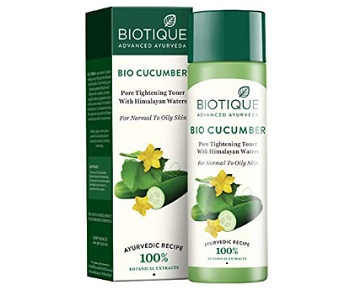 Biotique bio cucumber pore tightening toner is the best product for normal to oily skin because it shrinks the enlarged pores therefore, the sebum secretion in more than the required quantity is lso controlled. It is formulated to bring the perfect glow on the complexion with its perfect pH balanced formula. It includes the natural ingredients and helps to repair the skin from the harmful effects of UV rays and pollution.
14. Joy Skin Fruits Active Moisture Fruit Moisturizing Massage Cream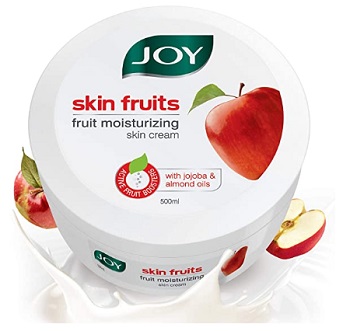 A fruit massage cream must be there n your skin care kit. The fruit massaging cream is rich with fruits and almond oil. Made with pure herbal extracts, it's one of the best facial massaging creams for dry to normal skin. It also has apple extracts and when massaged on the face regularly, it gives a soft and supple glow. The non-greasy product gives quick moisturization and does not have any side effects.
15. Biotique Bio Quince Seed Nourishing Face Massage Cream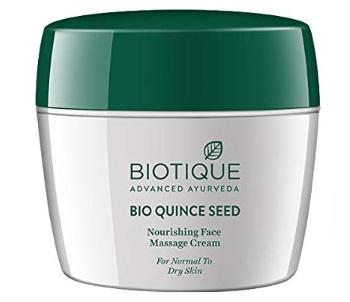 If you would like to massage of face with a suitable skin massaging cream, then this Quince seed nourishing face massage cream from Biotique is the best face cream for normal to dry skin. It is extremely hydrating and repairing cream with goodness of natural antioxidants and multiple vitamins. The rich moisturising skin firming cream is also blended with wheat germ, sunflower and almond oil.
16. VLCC Pista Massage Cream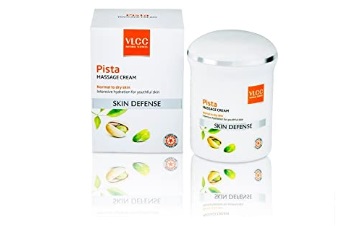 VLCC Pista massage cream is suitable for normal to dry skin. With the goodness of pista, this cream helps to protect environmental damage and UV rays. If your skin has become extremely dry and aging lines are also quite visible, then using a Pista massage cream twice in a week can help to fade them. It is a very affordable skin massaging cream, you can apply at your home as well after cleansing the face.
17. Nature's Essence Lacto Tan Clear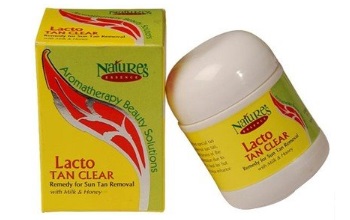 Nature's Essence lacto tan clear product is one of the best tan removal beauty products. It is rich with the goodness of geranium, milk and honey. Apply it on your face and keep it for 10 to 15 minutes, then massage and remove it with clear water. It restores the natural colour of the skin and makes the skin glowing. It is suitable for all the skin types and climate. The very affordable products can be used by men and women and is easy to apply. It also increases the facial glow by removing and lightening the sun tanning. This one is the most commonly used de-tan salon product.
18. VLCC Diamond Facial Kit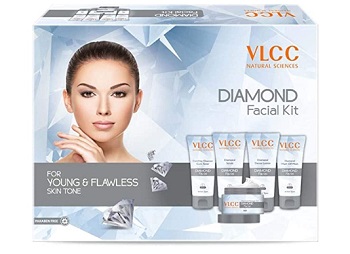 The Diamond facial kit helps to add glow on the skin. This is the most popular siamond facial kit in India and comes from the house of VLCC. It contains 5 products like a comfrey cleanser toner, Diamond face scrub, Diamond face cream and diamond face pack. Apply the facial kit once or twice in a month to make your skin extremely glowing and fresh.
19. Biocare Papaya Gel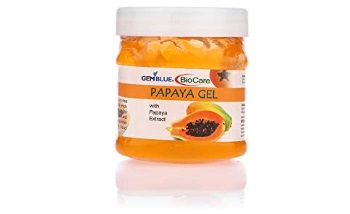 Biocare papaya gel is yet another most useful product that Salon and beauty parlors use. This helps in maintaining glow on the skin and with a lightweight formula. This product does not irritate the skin.
20. Khadi Mix Fruit Face & Body Massage Gel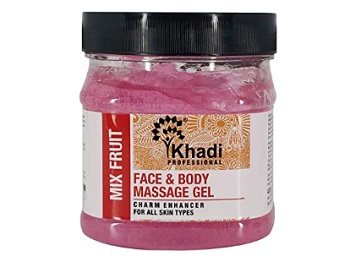 Khadi face and body massage gel is the most popular face gels that comes with the goodness of mixed fruits. And the best thing is that coming from the house of Khadi, that does not have parabens and sulphates in their beauty products. So if you are looking for a good gel to massage your oily and acne prone skin, this can be tried.
These are the best used skin care products in salons and parlors. You can try these products and make your skin gorgeous and glowing.
Beauty parlors and professional salons use these products a lot for client's facial treatments.  Get all the benefits of those products which are used at most of the beauty parlors across the country. This product can be face scrubs, facial kits, bleaching creams and whatnot and the best thing is that these are very affordable and getting this product is also not a problem because there are easily available online. To get all the benefits and get the gorgeous glowing skin by pampering your skin with the best beauty parlor products.