Biotique products are really popular and very easily available on any online shopping sites. Biotique products are formulated with the potential blend of organic and Ayurvedic ingredients with the modern Swiss biotechnology. Utilising the 5000 year old Ayurvedic wisdom, these Biotique beauty and wellness products are made with Vegan and herbal substances. This is why, they are gentle and highly effective. The brand offers skin care, hair care and Wellness products which are equally organic in nature. So, if you are confused, which are those best Biotique products in India? then take a look at this article. Here we've put together this list of the best Biotique beauty products available in the market for your skin.
List of The Best Biotique Skin Care Products in India
Below are some of the best Biotique skin care products available in the market. The best thing about this brand is being their chemical free compositions and reasonable price. Not just for skin, Biotique offers hair care and our body care products as well. So in this article, we'll talk about the try-worthy beauty products from Biotique
1. Biotique Bio Neem Purifying Face Wash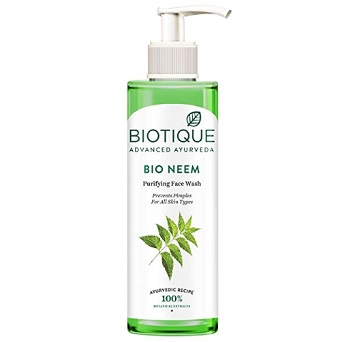 Neem face wash not just helps to kill the acne forming bacteria, but also combats the acne from forming. This neem enriched organic face wash is very effective and is a 100% Ayurvedic product. It removes impurities and also prevents the pimples and heat rashes by purifying the skin complexion. Undoubtedly, It's the best face wash for acne and pimple prone skin in India with very affordable price.
2. Biotique Bio Cucumber Pore Tightening Toner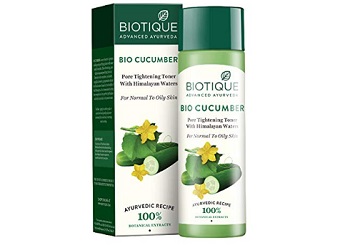 Enlarged pores secrete more sebum that our skin requires on daily basis, making the skin sticky and oily. Therefore, regular application of a pore minimising toner not just makes your face look less oily but also surely put a stop on the chances of breakouts and acne. This bio cucumber pore tightening toner has the goodness of cucumber and Himalayan water. The pore shrinking skin toner is especially composed for normal to oily skin with a 100% Ayurvedic recipe. It is one of the most used face toner for oily face in India, which is priced at very economical and pocket friendly prices. It's the best Biotique product for oily skin with large pores.
3. Biotique Morning Nectar Flawless Skin Lotion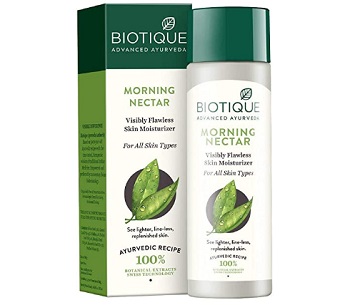 It's suitable for the much needed moisture to keep your skin soft in all seasons. Its formula is rich with Botanical extracts and Swiss Technology. Biotique morning nectar is the best selling product from Biotique. Being lightweight in texture, it gives enough of the moisture and also acts as a makeup base. By getting absorbed in the skin layers quickly, it prevents moisture loss from the dehydrated skin. However, we feel, for the summer season, this lotion can be somewhat greasy. Apply it on the face and neck 2 times in a day. Even as a night moisturizer this product works really well.
4. Biotique Bio Papaya Revitalizing Tan Removal Scrub

To get rid of tanning, this is one of the best tan removal facial scrubs in Indian market at economical price. This is created with papaya extract and walnut particles that dissolves the dead skin cells and unclogs the pores by eliminating the pore clogging dirt and dust. By reducing the impurities and dullness from your skin, the product also encourages glow and softness. Other than papaya, it also contains Dates, Banana, Beeswax Himalayan Water, Mango Seed, Peanut and Turmeric. Trying it 2-3 times a week, especially during summers keeps the sun tanning at bay and shine smoother. With its amazing tan removing properties, this is also the best scrub for college students and youngsters, who get tanned easily by spending considerable time in the sun.
5. Biotique Bio Fruit Whitening and Depigmentation & Tan Removal Face Pack

Just like the tan lightening face scrub, an anti tan face pack is equally beneficial to keeping skin fresh and fair. This is a tan removal as well as de-pigmentation facial pack at pocket friendly prices. Apply it on the face and neck and wash after 15 minutes. This is a luxurious product blended with multiple fruit juices. It has pineapple, tomato, lemon and papaya fruit juices helping in lightening the tanned and dull skin complexion. Consistent use also cures and halts the dark spots and pigmentation.
6. Biotique Bio Coconut Whitening And Brightening Cream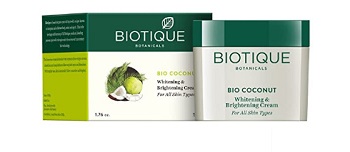 For people who wish to use a good herbal skin lightening and brightening cream, this coconut skin cream is the best option. The product contains coconut extract and it's really lightweight. It is very good for dry skin, but for oily and acne prone skin, its marginally sticky. Therefore, if you have normal to dry skin, then go ahead with this whitening cream. It'll definitely make your complexion smoother and brighter. It can also be applied at night time to get spotless skin.
7. Biotique Bio Apricot Refreshing Body Wash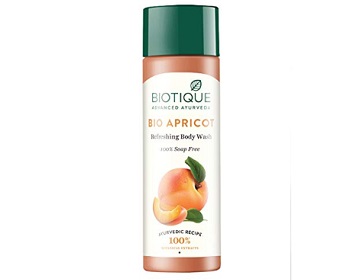 The Apricot infused body wash is soap free and is based with 100% Ayurvedic recipe. It contains Apricot Kernel Oil, Wild Turmeric and Soapnut. As it does not have any soapy content, it's tauted as one of the best soap-free gel body washes in India. It removes impurities and every trace of dirt from the skin to let you enjoy clear and refreshed skin. Apricot is rich in multiple vitamins that also help to revitalize the skin.
8. Biotique Bio Wheat Germ Firming Face and Body Night Cream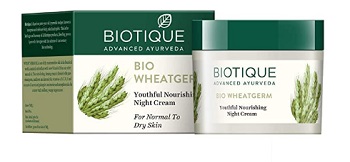 Biotique wheat germ face and body cream is one of the best highly nourishing cream for normal to extremely dry skin. The moisture loaded product is rich in Wheat Germ Oil ,Almond Oil, Kalonji, Sunflower Oil and more to make the skin super hydrated. It can be used as a day and night cream both. Blended with numerous botanical ingredients, the product is 100% free of chemicals and gives the antioxidant boost to the skin. It's the best Biotique product for dry skin.
9. Biotique Bio Fruit Whitening Lip Balm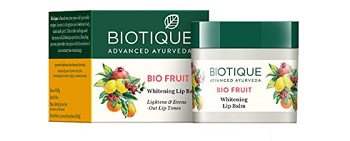 For dark and pigmented lips, the bio fruit whitening lip balm is an effective lip balm for dark lips. It's created with Grapes Liquorice, Almond, Sunflower and Sesame Oil extracts to lighten the lips and get rid of the pigmentation. It is a De-pigmentation lip balm that visibly lightens the lips. Even for smokers struggling with pigmented lips, this is the best lip lightening balm in India.
10. Biotique Bio Morning Nectar Sunscreen Ultra Soothing Face Lotion SPF 30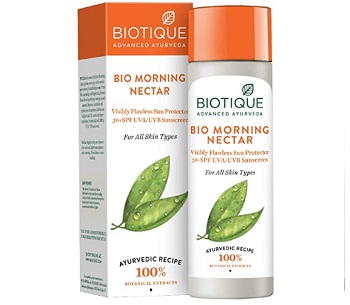 The Ultra moisturizing soothing sunscreen lotion has SPF 30. Composed with 100% Ayurvedic and Botanical extracts , it's safe for the skin without having any side effects. So it's like a moisturizer for your skin for daily use with added sunscreen. This product can be applied on its own because it is a multi-purpose product. Blended with wheat germ, Seaweed and honey, it replaces the natural oils and lost moisture from your skin.
11. Biotique Bio Dandelion Visibly Ageless Serum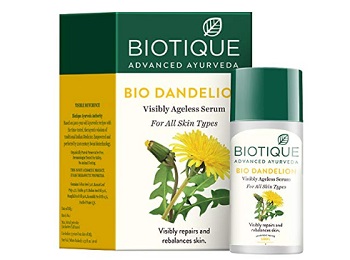 Biotique Dandelion visibly ageless serum is one of the best face serums for oily skin as well the best Biotique product. The serum is very lightweight and without any greasiness. The quick to absorb lightening serum is made with the rare combination of pure Dandelion and Nutmeg oil, which are known to brighten the skin. By sinking deeper in the skin layers, it's not just moisturizes but leaves the skin fresh and glowing. Regular use of this product aids in lightening the skin color by fading the dark spots and easing away the wrinkles for a spotless complexion. It can be applied at day and night.
12. Biotique Bio Milk Protein Whitening and Rejuvenating Face Pack

The milk protein whitening face pack is for dull, dehydrated and scarred skin. It is made with Milk Proteins, Almond Oil, Honey, Wheat Germ and Seaweed. The Biotique skin care product rejuvenates skin complexion and gets rid of the dark skin cells as a result of the excessive melanin production, sun tanning and pigmentation With the milk proteins, it makes the skin extremely glowing and gleaming. It is one of the best fairness face packs in India at very nominal prices.
13. Biotique Bio Wild Grass A Soothing After Shave Gel For Men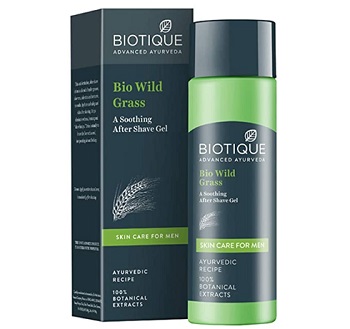 The after shave gel is best seller in this category, because many men who've tried it have rated it s an excellent product. The men's grooming essential helps to eliminate the redness and bumps after the shaving. It is 100% natural and organic product that has a gel formulation, which is very easy to apply. It ensures there is no burning, itching or redness. Even when you have sensitive, oily skin the product does not clog the pores or causes any itching.
14. Biotique Bio Anti Tan Facial Kit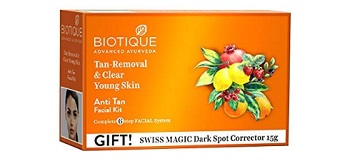 Biotique anti tan facial kit is a good and affordably priced home facial kit for all skin types. This kit has 6 steps of facial. It comes with the Honey Gel Cleanser that you have to apply on the skin and wash after 3 minutes of massaging. The second step is Papaya scrub, which is a papaya and walnut Scrub that gently exfoliates the skin. Apply on the skin and leave it for a few minutes , the massage in circular motions. This product exfoliates the dark dead skin cells.
Then apply the dandelion face serum and massage for few minutes. Fourth step is the Morning Nectar Lotion. This lotion is extremely beneficial for restoring the skin glow and lustre. Massage the face for 20 minutes using this lotion to increase the micro blood circulation in the skin layers. Step 5 is the fruit face pack. This complexion enhancing face pack is easy to apply and leaves the skin super glossy and fair. Apply it evenly and wash after 20 minutes. Lastly, apply the Swiss Magic Dark Spot Corrector. This helps in keeping the skin spotless and dark spot free.
15. Biotique Bio Cado Avocado Stress Relief Body Massage Oil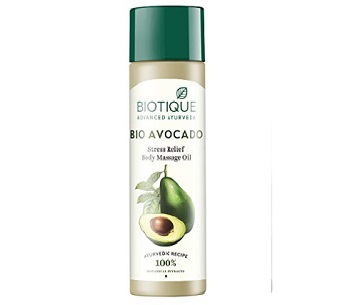 Avocado stress relief body massage oil helps to relax and refresh your skin. So after a tiring day or in any ways, you can use it to massage your skin. Or you can add it to your bath water for relaxing and de-stresseing the body.
These are the best Biotique skin care products available in the market. Always choose and buy the products depending on your skin type. Because if you use the wrong product on your skin type that may not be helpful for you. Especially when your skin is oily and acne prone, it can cause breakouts and pimples.