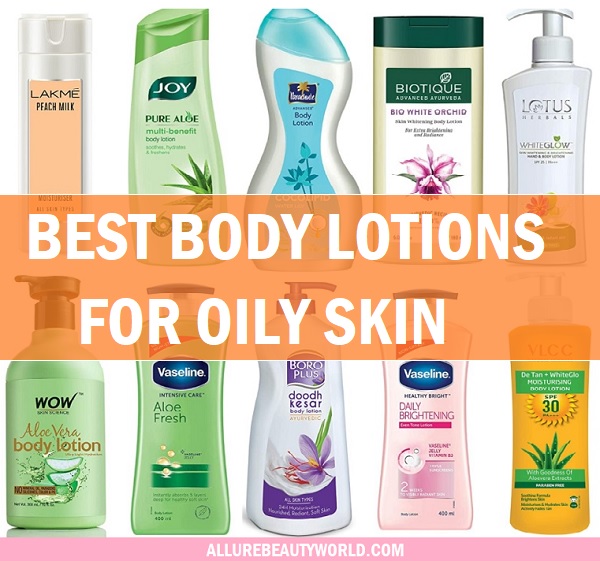 Do you feel that your skin become really sweaty and greasy after applying body lotions during the summer season? If that is a big yes, then obviously you have got oily skin that  become really sticky and slimy after using the body lotion especially during the hot, humid weather and monsoons. This why, in sunny season, when your skin is more likely to sweat and the season is also very hot, using light-weight body lotion would be best suitable for you. A good body lotion should be hydrating enough but not too much in the hydration department. So, here we are sharing the best body lotions for oily skin available in the Indian market.
List of The Best Body Lotion For Oily Skin In India (2022)
These body lotions are lightweight and don't have extremely moisturizing ingredients to give sticky finish to the skin. So, let's take a look at the lightweight body lotions in the Indian market.
1. Lakme Moisturizer Peach Milk Body Lotion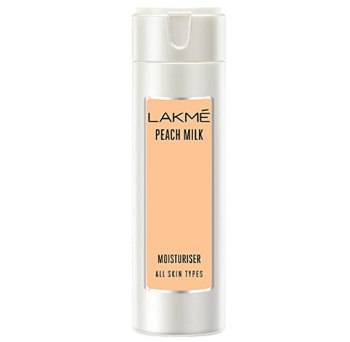 Lakme peach milk body lotion contains the goodness of peach extracts. Peaches are rich in antioxidants and antibiotic properties that help to make the skin beautifully glowing and even tone. This product is very moisturizing, but yet does not give too much of greasiness. One can apply this lightweight body lotion after the shower and it keeps the skin well hydrated the whole day. The best part about this product is that it gets inside the skin layers without leaving behind a sticky and slimy layer.
2. WOW Aloe Vera Body Lotion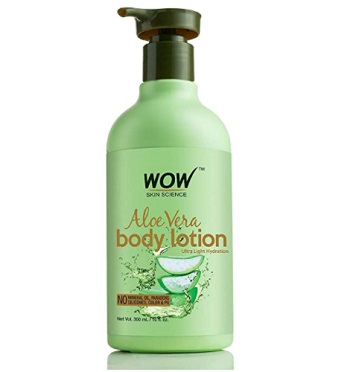 Wow aloe vera body lotion is the best rated product. The goodness of aloe vera in this lightweight and non-greasy body lotion is perfect for oily skin. The paraben and sulphate free formula of this body lotion product is safe for all the skin types. Even when you have very sensitive and Eczema prone skin, this paraben free organic body lotion is safe to be applied daily. It's the best body lotion for summer season that keeps the skin hydrated and fresh. So even when you sweat a lot or profusely during the daytime, it does not make the skin go all greasy and sticky to touch.
3. Vaseline Intensive Care Aloe Fresh Body Lotion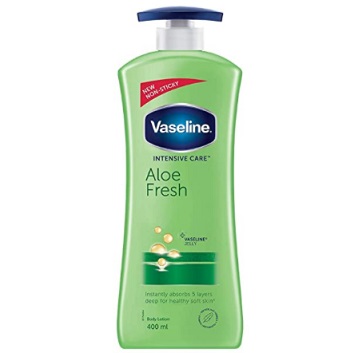 The goodness of aloe vera in this body lotion has feather light formula and silky touch feel. Vaseline aloe vera fresh body lotion comes in an attractive green colour looking packaging. This is also a suitable lotion for all skin types and for the oily skin.
4. Boroplus Doodh Kesar Body Lotion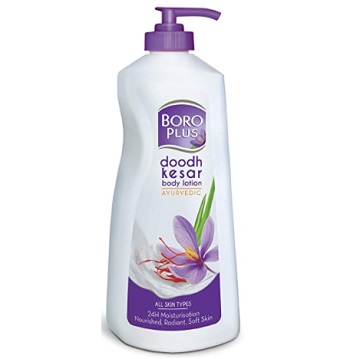 What can you expect from your body lotion, when it contains Saffron and milk. That is correct that this body lotion gives you fair and glowing looking skin. With no harmful chemicals or a sticky layer, it's a body lotion for the summers. So, if your skin is not very dry, this will give you adequate moisture with no added greasy sticky feel.
5. Vaseline Healthy Bright Daily Brightening Body Lotion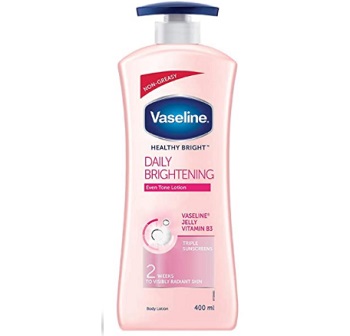 Vaseline healthy and bright body lotion is a skin whitening body lotion that is appropriate for people who have the problem of sun tanning during summers. It safeguards the skin from getting tanned and in getting sun burns. This is a suitable body lotion for tropical areas, where the sun exposure can make the skin dry and dark.
6. VLCC De Tan Plus White Glow Moisturising Body Lotion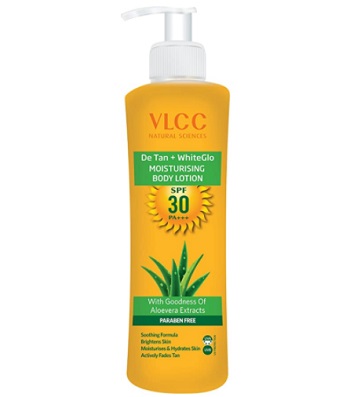 The de-tanning whitening glow body lotion is for all skin types and with the light and easy to absorb formula, this lightens the excessive sun tan. The anti tanning body lotion gets absorbed in the skin nicely and there is no sticky feeling once it gets absorbed. This body lotion is perfect for all the skin types.
7. Lotus Herbals Skin Whitening and Brightening SPF-25 Hand and Body Lotion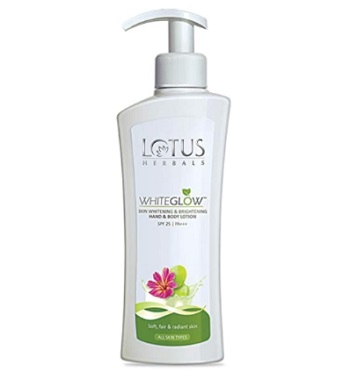 The whitening and brightening body lotion contains SPF 25. It is the best body lotion that contains sunscreen in IT hence you can safely worn during summer season when you go out best of the best part is, it's non sticky, light and gives a glow on the skin. Regular application of this Lotus whitening body lotion makes skin fair and bright. In fact, it also gets rid of the sun tanning, because it contains the effective ingredients which brighten the skin.
8. Parachute Advansed Cocolipid & Water Lily Body Lotion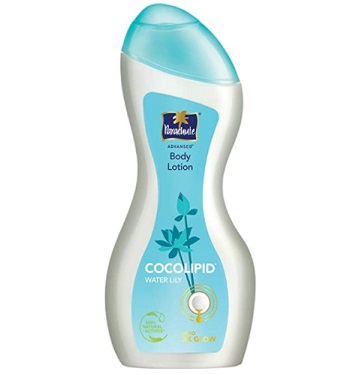 Cocolipid and Water Lily extract, this is a lightweight body lotion for oily skin and other skin types. When it gets inside the skin layers, it gives immense moisture without the overdose of greasy texture. The lotion has a very pleasant smell and comes in a sturdy packaging.
9. Biotique Bio White Orchid Skin Whitening Body Lotion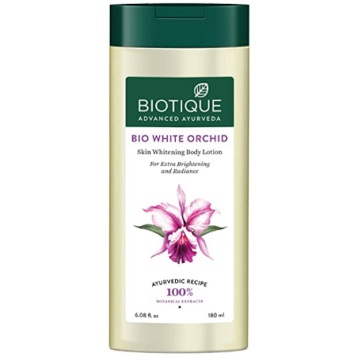 With the goodness of White Orchid, this skin whitening body lotion comes from Biotique. The brand is known for their Herbal and Ayurvedic formulation of products. This organic body lotion contains the natural ingredients that make the skin bright and glowing. The best part is that it is light and non-greasy. The thick texture of the lotion adds a shield on the skin that prevents the sun darkening and damage of the skin.
10. Joy Pure Aloe Multi-Benefit Body Lotion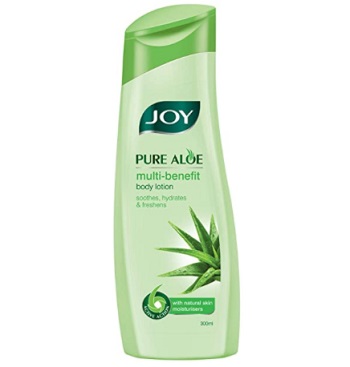 With the natural goodness of aloe vera, this is yet another good body moisturizer for oily skin. For the summer season and hot weather, this lotion calms and soothes the skin. So, even if you have rashes on your skin, this body lotion will calm and soothe the skin and the irritation. Apply it soon after the shower and enjoy healthy and glowing skin all through today.
11. Vaseline Ice Cool Hydration Lotion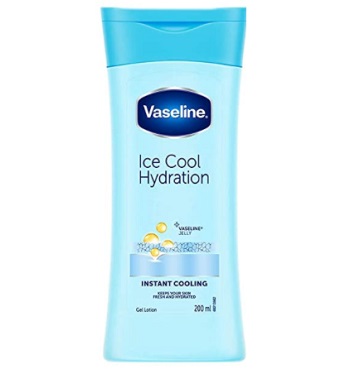 Vaseline Icy cool hydration lotion is specifically made for the summer season. With a formula that has a cool feeling. It's the best product for sunburnt prone kind of skin. When it gets applied, you instantly feel cooling and soothing sensation. So, this lotion not just gives hydration, but also calms the inflammation and irritation of the skin. For people getting sunburns quite easily, this is the best body lotion.
12. Enchanteur Perfumed Body Lotion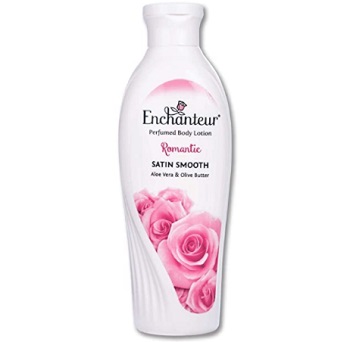 The body moisturising lotion is a good perfumed body lotion that comes with Aloe Vera and Olive butter. Even though it is very moisturizing, it adding a shielding layer on your body skin. With a pleasant smell this is the bodybuilder price body lotion that smells nice. Apply it after the shower and you can feel this pleasant  fragrance even after hours.
13. VLCC Active Fruits Damage Repair Body Lotion With SPF 30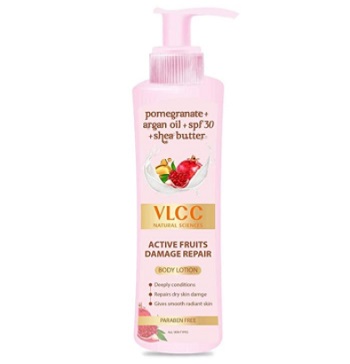 The body lotion from VLCC is a damage repair body lotion that also contains SPF 30. The formula of this lotion is quite thick and does not leave sticky layer. The presence of active fruit extracts and enzymes, this repairs the damage and safeguards the skin from the day-to-day environmental stresses and pollution.
14. Biotique Bio Carrot Face & Body Sun Lotion SPF 40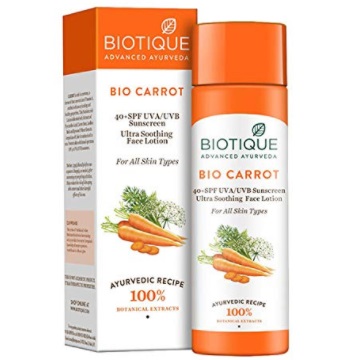 Biotique bio carrot body lotion is more like a sunscreen lotion for your body and face. The product gives you relief from sunburn and also adds hydration on the skin which protects the delicate skin from the darkening and damage. You can apply this product on your skin and it makes the skin healthier and glowing.
15. Himalaya Clear Complexion Brightening Body Lotion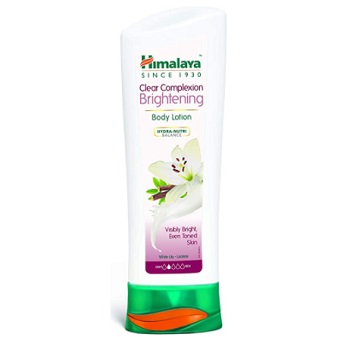 Himalaya clear complexion whitening body lotion is rich with liquorice and white lily. The body lotion is perfect for getting a visibly brighter skin and glow. With the presence of liquorice, it also makes the skin complexion bright and fresh. It is the light lotion from Himalaya, suitable for oily skin and for the other skin types. It is yet another good skin whitening summer body lotion for all skin types.
These are the best body lotions for oily skin available in the market. You can pick any of these but please remember to choose accordingly. For example, if skin brightening is your major feature and then try the body lotion that contains the brightening and whitening properties, because that body lotions make the skin fair and brighter. On the other hand if your skin gets really greasy during the summer season because of Sun, then using the body lotions with ingredients such as aloe vera would be the best for you.