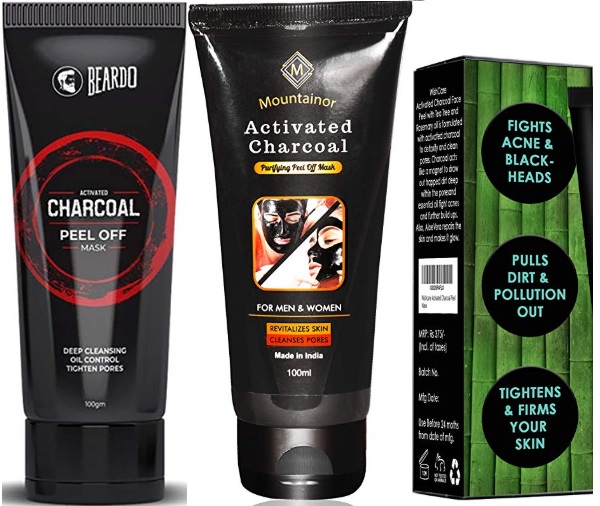 Charcoal face mask has amazing ability to draw bacteria, sebum, oils, pollutant and what not. These charcoal benefit helps to keep your skin free of common problems like blackheads, acne, scars and blemishes. A good charcoal face mask helps to give you clear and flawless skin. We have listed the best charcoal face mask available in the market. These masks will help you to get glowing skin. But just a word of caution, charcoal products can be extremely drying due to high adsorbing features, so you should make sure to apply them once or twice in a week not more than that. Let's check the top best charcoal face masks in India.
List of the Best Charcoal Face Masks in India (2021)
Here goes the list of the best black charcoal face masks for oily skin in India suitable for men and women. These charcoal face mask price is affordable and costs in the range of 199-599 rupees.
1. The Body Shop Himalayan Charcoal Purifying Glow Mask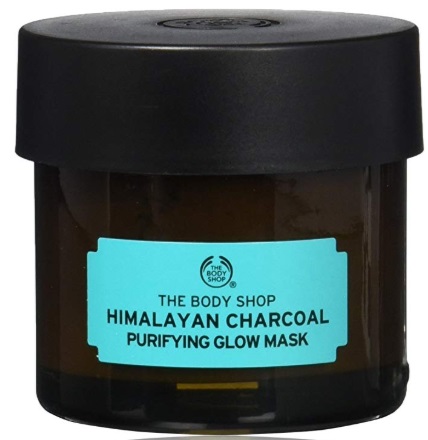 This is one of the best charcoal face masks. The clay mask is infused with bamboo charcoal, green tea leaves and organic tea tree oil. It's formulated without the parabens, silicone, paraffin or mineral oil. The Body Shop charcoal face mask helps to remove impurities and refines the appearance of pores for healthy looking poreless skin.
2. Good Vibes Charcoal Peel Off Mask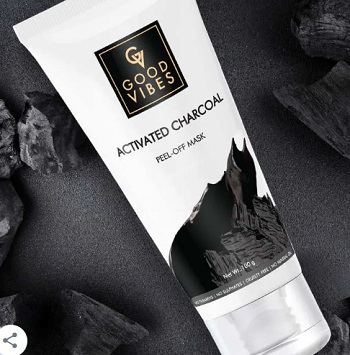 Good Vibes Charcoal Peel Off Mask is a solution for deep cleansing your skin, leaving it naturally glowing. It helps in clarifying the accumulated dirt in the pores by exfoliating dead skin cells. The mask is also a great remedy for effectively removing blackheads, acne and tightening skin pores. It leaves your skin brighter, lighter and detoxed. Besides, the charcoal mask is suitable for all skin types.
3. Inatur Charcoal Face Mask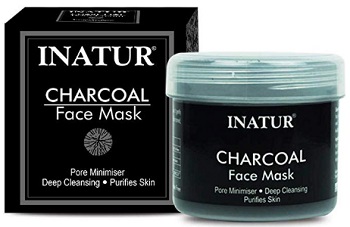 When blackheads on your chin, nose, or cheeks is your main problem, then you can apply a product with activated charcoal in it. It eliminates the whiteheads and blackheads to give you clear skin. It is rich in essential oils like lemon oil that helps to improve the skin tone and tighten the skin. The mask also contains calendula which is a fantastic moisturizer and shrinks enlarged pores. It's beneficial in tan removal too.
4. L'Oreal Paris Pure Clay Charcoal Mask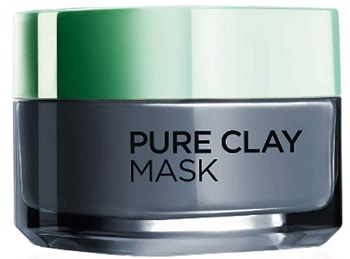 This is one of the top most face masks with the goodness of activated charcoal. L'Oreal Charcoal mask is suitable for all skin types (mainly oily to acne prone) and is a triple beneficial product. It's a mask, scrub, cleanser product to detoxify dull and tanned skin. It mildly exfoliates the skin to remove the blemishes.
How to use: Apply the mask in a layer on your face and neck. Wait till, it gets semi dry. Then taking little water on your palms, gently massage with 2 to 3 minutes. Wash it off completely and use two times in a week.
5. UrbanGabru Charcoal Peel Off Mask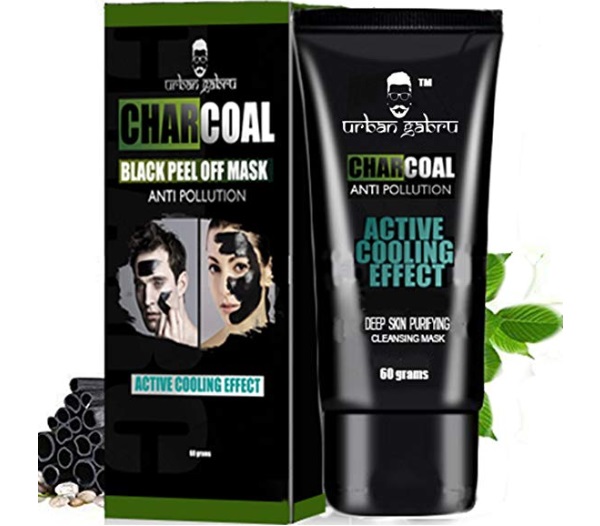 Urban Gabru is one of the best charcoal peel-off mask for men in India for all age groups who would like to remove blackheads and acne scars.  The product comes in an easy to use tube packaging and is free of parabens. It has mild cooling effect. Once you peel it off, it whitens your skin and leaves it smooth. It is 100% safe product that removes the four o'clock in that and sebum.
How to use: Apply a layer on your skin evenly. When the mask gets dry, peel it off from the top to bottom. Be gentle while peeling.
6. WOW Activated Charcoal Face Mask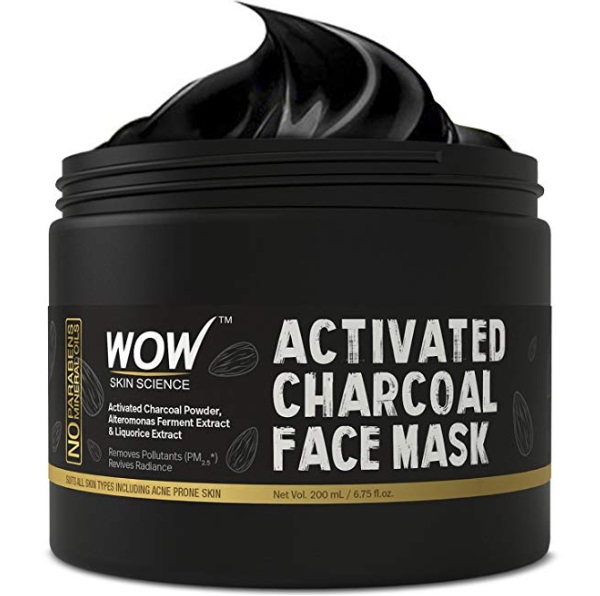 This WOW activated charcoal product helps to get rid of the blackheads and toxins from the skin layers. It combats the pollution effect like the tan, dullness and skin aging. Upon application, this activated charcoal mask also exfoliates to make your skin look better. It's the best charcoal blackhead removal mask. The same product is available as Wow charcoal peel off mask.
How to use: Apply a layer of this mask on your skin. Allow it to get dry. Wash it with lukewarm water.
7. Mamaearth Charcoal, Coffee and Clay Face Mask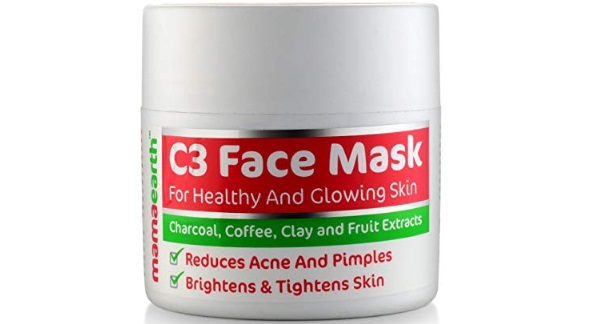 For those looking for a charcoal face mask with clay and fruit extracts, must consider this option. It reduces acne and pimples and whitens the face. The Mamaearth charcoal mask also decreases the pigmentation and acne scars on the face. Mamaearth charcoal face mask is a clinically tested product. It's an organic ingredients and a fragrance free formula. Coffee seed extract in this exfoliates your skin.
8. Khadi Charcoal Face Mask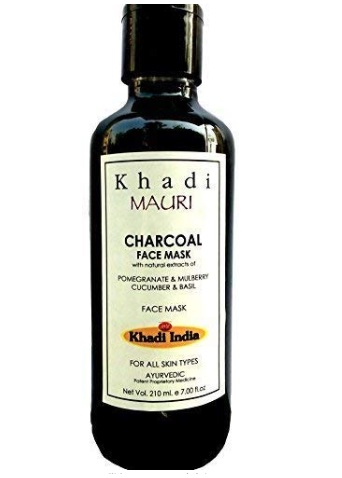 It's the high rated peel off mask with charcoal for enlarged pores. It gently exfoliates your skin to eliminate all the impurities that can make your skin dull and lifeless. The charcoal product eliminates dirt and sebum. The charcoal mask gives you smooth and clear skin. Additionally, it also by brightens your skin tone with the help you mulberry, pomegranate, basil and cucumber.
9. VLCC 7X Ultra Whitening and Brightening Charcoal Peel Off Mask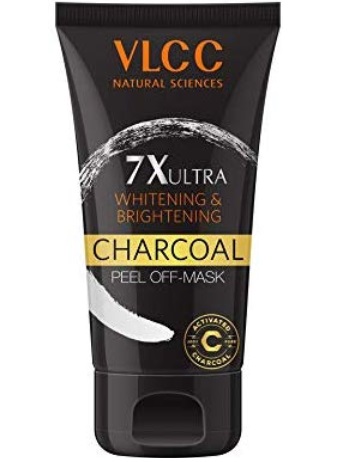 The herbal activated charcoal peel off mask gives you blackheads and whiteheads free skin. It's an excellent anti-aging mask that contains powerful charcoal extracts. It can be easily remove pore clogging dirt and bacteria. It contains mulberry extracts, turmeric oil and vitamin C for brighter skin tone. Vitamin C is a skin brightening ingredient which improves the appearance of pigmentation on your skin.
10. GEMBLUE BioCare Charcoal Peel Off Mask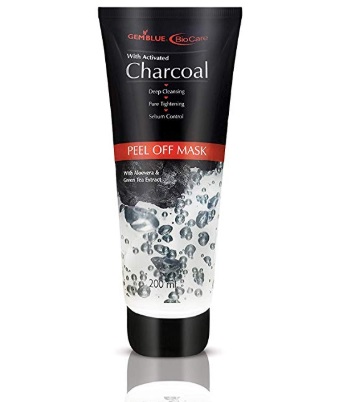 The peel-off mask is the best product for oily skin. It has high absorbing properties that take away purities and oils that can cause problems. This bamboo charcoal mask also eliminates grease and dead skin to keep your skin healthier and clear.
11. Beardhood Charcoal Peel-Off Mask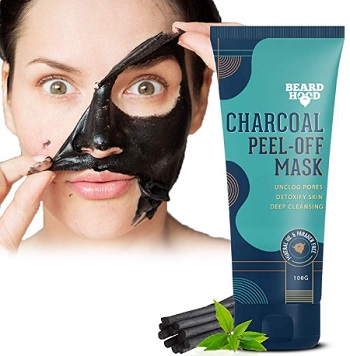 The product is loaded with tea tree oil, Rosemary oil and aloe vera extract along with the activated charcoal. You can use a hot towel to open your pores before applying this product. The mask also contains anti-aging and acne healing properties due to tea tree oil and Rosemary oil. When the pores are open, this will suck out the pollutants and toxins from the pores to give clear facial skin.
12. Jovees Activated Charcoal Detoxifying Face Masque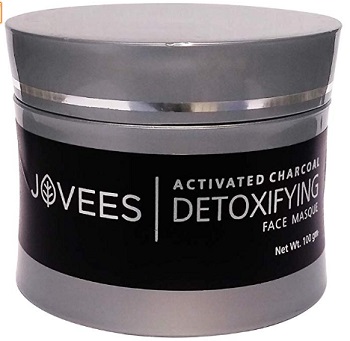 Jovees charcoal face mask is one of the best anti-pollution and purifying face mask that contains activated charcoal and tea tree. It's the best charcoal peel off face mask for blackheads in India for Acne prone and oily skin types. This is beneficial for tanned oily skin.
13. Healthvit Activated Charcoal Purifying Peel-Off Mask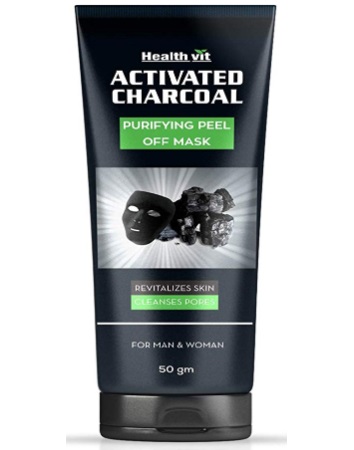 The product is one of the best charcoal facial mask and scrub. It is specially formulated with a double action that exfoliates your skin and purifies it. Healthvit charcoal face mask can be applied once in a week so that you get tight pores and smooth skin. It's perfect to unblock clogged pores by peeling blackheads, dirt and spot-causing bacteria away
How to apply:  Apply the activated charcoal mask all over your skin and wait for some time. Once it gets dry, wash it off with clear water.
14. BEARDO Activated Charcoal Peel Off Mask For Men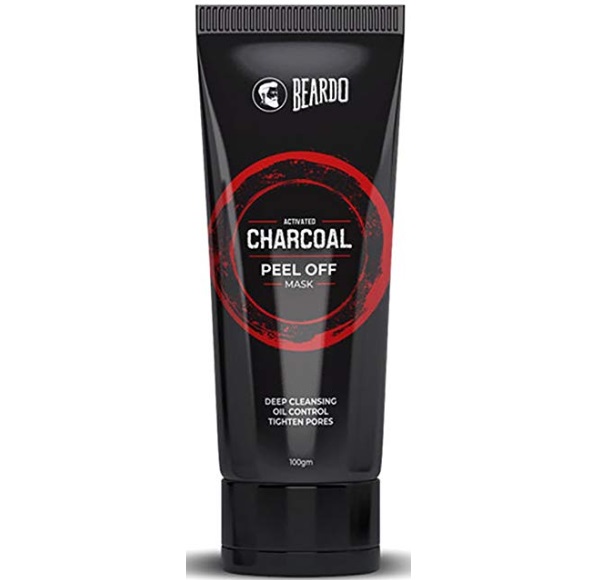 This is the best peel off mask for men who are fighting dead skin and blackheads. The black peel off mask has deep cleansing and oil control properties that also help you get tight skin. It can be applied two times in a week just like we mentioned above.
15. The Man Company Activated Charcoal Peel-Off Mask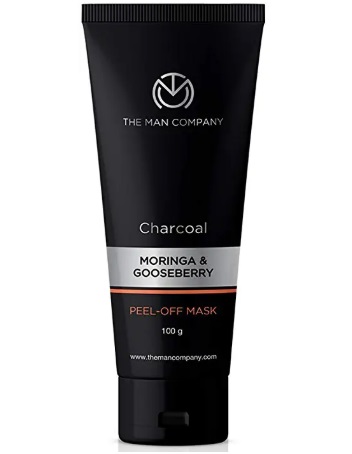 The peel off charcoal mask is rich with moringa and gooseberry extract. The mask purifies your pores and tightens them. The mask helps to uproot the blackheads and prevent them from re-occurring. It absorbs excessive oils and treats acne and scars with antibacterial formula. It also removes the effects of pollution on your skin which can make your skin look dull.
How to use: Apply a thick layer on clean face. Leave it for 10 to 15 minutes and remove the mask by peeling it off. It can be used two times in a week.
16. Oshea Charcoal Peel-Off Mask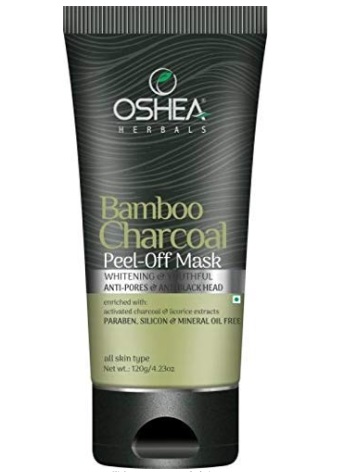 Made with the goodness activated charcoal and menthol for a refreshing feel. It detoxifies the toxins and dullness causing pollutants. While it also removes the excess oils, it's the best face mask for oily skin. To revitalizes your skin and to clarify the pores, this face mask is one of the best choices. It is an affordable charcoal face mask to get you glowing.
Hope, this list of the best charcoal face masks in India for men and women helped you in deciding the best option for you.