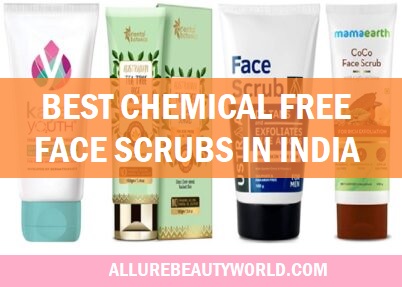 Face scrub is a great product that actually helps the skin and brings the inner glow. They are also a wonderful skin mate in every skin care routine, seriously! No matter what skin type one has. Take it like this way, facial exfoliators can be your one stop solution to remove the debris off the skin. On the other hand, if you have oily, combination and acne prone skin, then you can not overlook the immense benefits of face scrubs for your skin. Blocking of the pores is the major reason, why your skin gets occasional or even those regular breakouts. This is why face scrub are there for us, to remove the surface level sebum lingering with dirt and dust or everything like that, which can potentially block the skin pores. In fact, scrubbing is really good for your face as it helps to improve the blackheads and keeps the skin glowing and blemish free. Now, when it comes to using face scrubs, you must use chemical free facial scrubs because currently, there are so many brands which manufacture chemical free skin care and grooming products at reasonable prices. Also, these products are available very easily online. So let's take a look at the best chemical free face scrubs available in the market. Before that won't that be good to know how to apply face scrubs, you are a pro at it then, skip to the list part please.
Best Chemical Free Face Scrubs in India For Delicate Sensitive Skin
How To Apply Face Scrub
If you aren't sure how to apply a face scrubs, simply follow these steps.
First of all, take all your hair off your face.

Splash your face with some clear water.

Take a coin size amount of the scrub in your palm and apply it gently all over the face.

Now, using the finger pads and fingertips, massage the skin on your face and neck.

You must not ignore your neck as well during the process.

Scrub for at least a minute, if you have sensitive skin and at least for 2 minutes, for other skin types.

Focus on the areas where you are more likely to get blackheads, white heads and other problems.

Then, use clear water to rinse the face.
If you have sensitive skin, use face scrub once in a week and for all the other skin types, using it two to three times should be fine. Now, let's talk about the paraben and sulphate free face scrubs in India.
1. mCaffeine Naked Detox Green Tea Face Scrub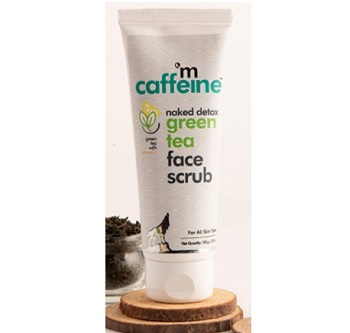 The chemical free face scrub contains green tea extracts. The organic scrub for oily skin gently exfoliates the skin and removes the dead skin tissues. In the process of dead skin cells removal, the product also makes the skin a lot smoother and softer to touch. It is one of the best chemical free face scrubs available in India for oily and sensitive skin.
2. Khadi Omorose Charcoal Scrub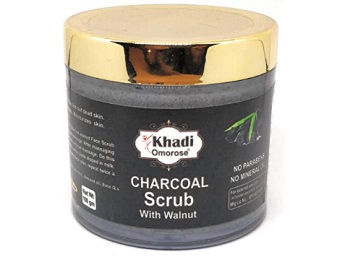 The paraben and sulphate free charcoal face scrub contains walnut shell extracts and almond oil. It is a face scrub that is suitable for all skin types. The best part about this face scrub is its texture, which is suitable for even the dry skin. Walnut shell particles play a main role and as a key and major ingredient the face scrub helps to exfoliate the skin and uproots the blockheads and keeps the skin softer. By removing the dead skin cells and toxins from the skin, it keeps the skin glowing and supple.
3. Fabeya Activated Charcoal Face and Body Scrub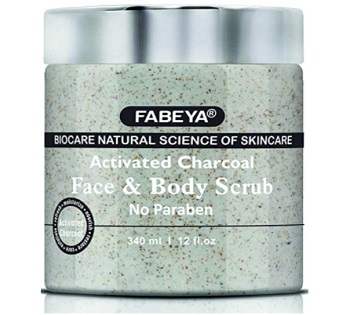 The activated charcoal rich face and body scrub is yet another paraben and sulphate free face scrub available in India for everyone. The smell is really good and so does the texture. The creamy face scrub is appropriate for face and body. Apply it on your body and face 2-3 times in a week. It increases the blood circulation and keeps the skins softer.
4. Kaya Youth Oxy-Infusion Face Scrub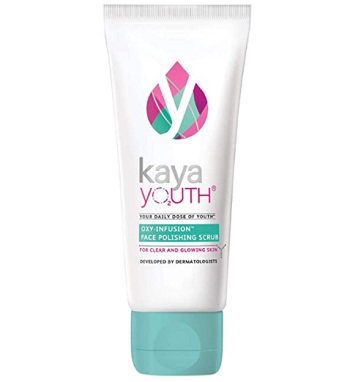 The face scrub is primarily made for dry and sensitive skin and boosts the oxygen infusion in the skin. It contains the micro-exfoliating particles that get rid of the surface layer dead skin cells, that also block the pores. This is yet another face scrub suitable for majority of the skin types. It is perfect to be applied once in a week for sensitive skin. With this, you can easily exfoliate your sensitive ad delicate skin at home hassle-freely.
5. Good Vibes Papaya Rejuvenating Face Scrub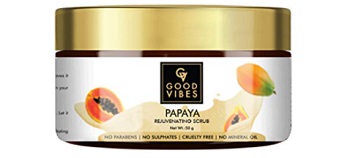 With the goodness of papaya, this paraben and sulphate free face scrub helps to reduce the skin and clears the skin complexion. Papaya also helps in the lightning of the dark spots and age spots. Using this place scrub regularly also has multiple benefits in lightening any form of skin pigmentation that you have on your cheeks, chin, jaw line and nose.
6. Organic Harvest Gold Face Scrub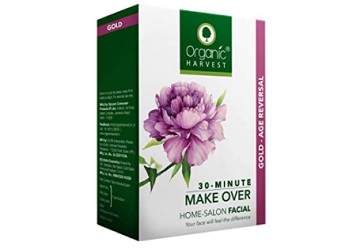 The face scrub from Organic Harvest keeps the skin soft and glowing. With creamy base and exfoliating particles suspended densely in the texture, it keeps the skin soft. By sloughing off the dead skin cells, it also improves the skin complexion. The chemical free facial scrub is also available at reasonable prices.
7. Oriental Botanics Australian Tea Tree Face Scrub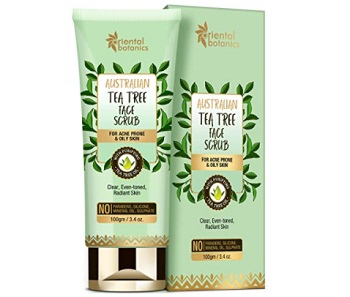 It's the best chemical free paraben free face scrub for oily and acne prone skin for all the Seasons. To be honest, especially during the summer season. With the presence of tea tree in it, the facial scrub helps to remove the dead tissue and dark skin cells. One thing is for sure, applying this product on regular basis also helps to remove the dullness dark spots and even pigmentation. The exfoliating particles are not very abrasive or damage the skin, however it exfoliates really well. The natural exfoliator product is reasonably priced and is available online easily.
8. Ustraa Face Scrub For Men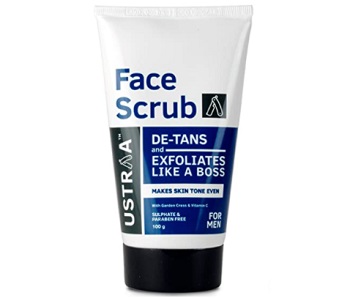 Ustraa face Scrub for men is one of the best men's paraben, sulfate and cruelty free face scrub. Using this face scrub twice can help men get beautifully glowing and smooth skin. In fact, this face scrub also aids in preventing ingrown hair. Yes, such scrub when applied on regular basis improves the skin complexion and the problem of inner hair growth. The chemical free men's grooming product is from a reliable and leading brand.
9. Mamaearth CoCo Face Scrub with Coffee & Cocoa
Mamaearth face scrub contains cocoa and coffee extract. The product is suitable for all skin types especially the dry and dull skin. You can apply this even during the summers and winters. The Scrub has to exfoliate the skin and after using it all you get is soft and glowing facial skin. Apply it on your wet skin and using the fingertips, massage the face in circular motions. The product has very pleasant smell of cocoa and coffee. Additionally, it does not dry out the skin after the use.
10. Beardhood Green Tea & Charcoal Gel Face Scrub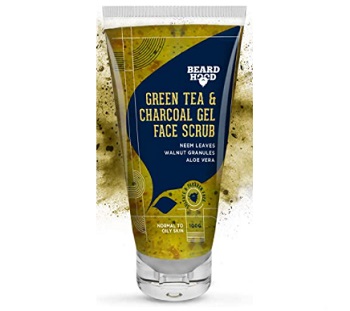 Made in a gel formulation, this paraben and chemical free facial Scrub for oily skin contains green tea and charcoal. As it has a gel texture in which charcoal and green tea particles are suspended, it helps in exfoliating the dead tissue and blackheads. The particles are not very abrasive are densely packed in the gel base, therefore you can use it even thrice in a week. The product is from the brand "Beardhood" that makes a men's grooming essentials and this Sulfate free product is not only made for men, in fact women can also try these. It is yet another good and affordable product available online.
11. Man Arden Caffeine De Tan Coffee Face Scrub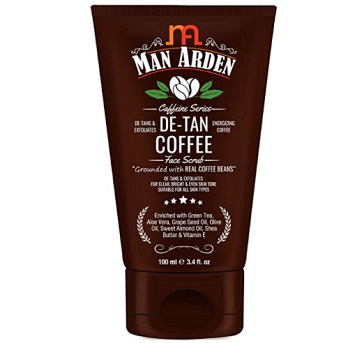 To improve your skin complexion and to get back the original color, by removing the surface level tanning, this coffee face scrub is worth. It is an excellent chemical free summer face scrub for both men and women. It contains caffeine and coffee extract that helps to detan and exfoliate the debris filled skin. By removing the darkness and dullness, it gives a brighter look to the skin. Using the face scrub is very easy. Just splash some clear water on the face and take a coin-size amount of this scrubber. Massager it gently for 2 minutes on the skin and then, wash with normal water. It can be applied 2 times in a week. This is yet another pocket friendly product from Man Arden for both men and women.
These are the best free of the chemical face scrubs available in India.