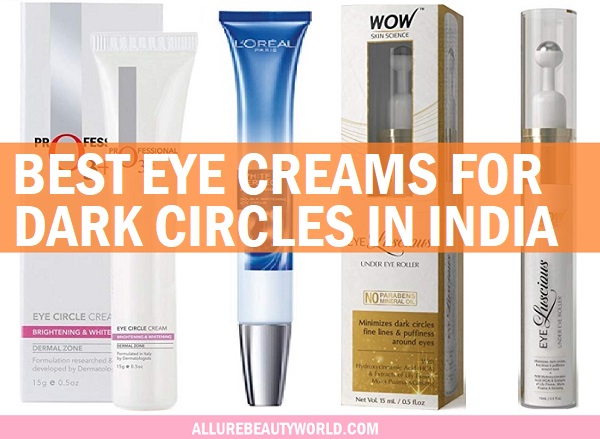 Dark circles and puffiness under the eyes can make you look older than you are. Not just that, it can also give you tired and dull look. Using the best cream for dark circles around eyes helps you a lot in looking your younger self. You can certainly cover your dark circles with makeup, but what about men and even women who don't wear that much makeup. We've made this list of the best products for dark circles in India. Out of the numerous under eye circles treatment products, we've picked up the best eye creams to lighten the dark circles effectively that can help you in fading the skin darkening. These are also safe for sensitive delicate area. 
What Causes Dark Circles?
Not taking enough sleep, for at least 8 hours in a day, can cause darkness. Excessive melanin from the melanocytes that can lead to Periorbital hyper-pigmentation. Aging is also a factor that can contribute to the darkening and circle. You can surely get rid of this by using the best dark circle removal creams and gels. Twice in a day, gentle massaging over the under eye area with light patting motions can also help you relieve from this problem.
Best Under Eyes Dark Circles Removal Creams in India (2022)
Here are the best eye creams for dark circles and puffiness in the market. 
1. VLCC Almond Under Eye Cream for Dark Circles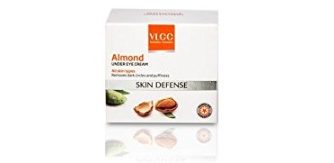 Rich in almonds, this is the best under eye brightening cream suitable for all skin types to recover the darkness. It gives you soothing and calm feeling under the delicate skin. Almonds are rich in vitamin E, that is known to fade the darkening of skin. It can be applied twice in a day after cleansing your skin with the suitable cleanser.
2. Lotus Herbals Nutraeye Rejuvenating And Correcting Eye Gel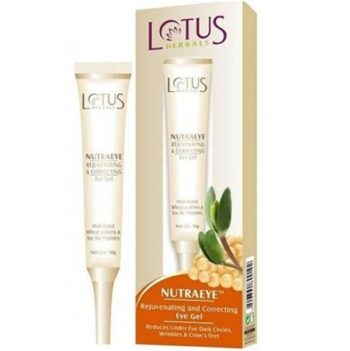 It's a light correcting gel that helps to diminish the lines and crow's feet along with the under eye dark circles. Otherwise, those tired eyes make you appear dull, like you haven't slept for ages. Surely, the product with consistent use makes skin look younger and smoother. Its formula is light and spreads nicely on the layers of the skin. You can use these two times in a day. For night time, this eye dark circle remover cream gives the best results. You can check the price below.
3. L'Oreal Paris White Perfect Magic White Eye Cream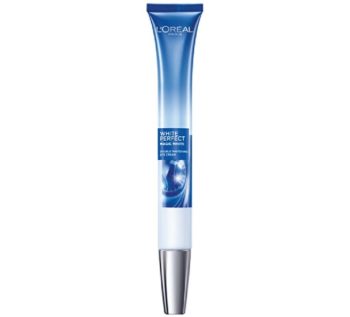 This product for dark circles under eyes is a part of L'Oreal Paris white perfect range that also includes a brightening day cream and a night cream. It has high concentration of melanin-vanish to accelerate the skin regeneration process.  So, all those of you, who are struggling to get rid of the dark skin, can apply this twice after washing the face with a mild cleanser.
4. Jovees Eye Contour Cream with Hazel & Almond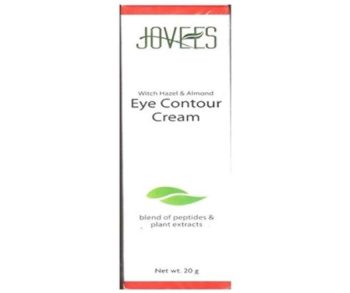 We've this next product which is the blend of peptides and plant extracts. It's an eye contour cream, rich in Witch Hazel and Almonds. To remove the dark circles effectively you can use this eye cream daily. If you've sensitive skin it's a good pick to get hydrated under eyes. It's the best everyday use under eye cream for dry to normal skin.
5. Just Herbs I'Brite Almond-Green Tea Nourishing Under Eye Night Cream

Just Herbs under eyes night cream helps you refresh the tired and puffy eyes. It'll lighten the dark circles and plumps the delicate skin around your eyes. The good thing is, this product is paraben and SLS-free. Price isn't in the affordable range, we feel but yes, it's one of the best eye creams for dark circles and fine lines.
6. StBotanica Pure Radiance Under Eye Cream
Rich in Hyaluronic acid along with multiple vitamins and silk proteins, it is perfect to remove your dark circles and wrinkles. The active ingredients in this natural eye cream help to whiten and brighten your skin. Daily application, will also help you in the appearance of puffiness, making you look dull. Jojoba oil helps to fight the on the delicate under eye area. This is one of the best paraben-free under eye circle removal cream in India which is the best seller in this category.
7. Biotique Bio Seaweed Revitalizing Anti Fatigue Eye Gel

The light gel is easy to blend and massage on your skin. It hydrates the dry area and decreases the dark circles within few weeks. It's also suitable for people who wear glasses on regular basis. It also soothes the tired eyes. You can use it twice in a day morning and evening, by gentle patting the eye area.
8. WOW Eye Luscious Under Eye Roller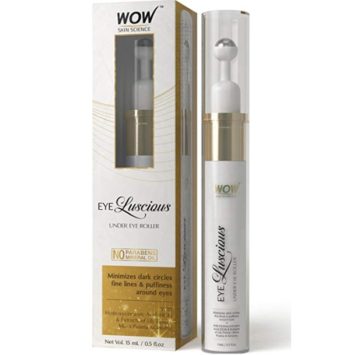 This product comes in a roll-on style of applicator. We feel that this is a very unique and easy to use product. It's the best under eye serum for dark circles paraben-free under eye creams that gives you freedom from the puffiness and dark circles. It's also a suitable and the aging cream to vanish the fine lines. It's powered with bio actives hydroxycinnamic acid (HCA) and extracts of lily flower and muira puama, ginseng and caffeine.
9. Biotique Bio Almond Soothing and Nourishing Eye Cream

It's amongst the top eye cream for dark circles. It's creamy formula hydrates the dry sagging skin and gives you beautiful bright eyes. It lightly vanishes the darkness under the eyes. The almond and vitamin E, formula gives you reduction in the puffiness and fine lines. The gentle pleasant smell is also good. This is one of the best Ayurvedic eye cream for dark circles in India.
10. O3+ Eye Circle Cream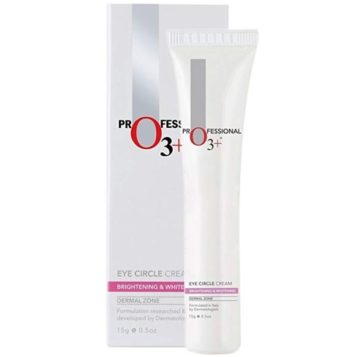 This cream is exclusively made to combat the dark circles and is safe for all skin types. Application of this product twice in a day, helps to decrease the dark circles, puffiness and smoothness. It can be used by both men and women and has clinically tested and dermatologist recommended formula. It's the best eye cream to remove dark circles and whiten the skin.
11. Bella Vita Organic Eye Lift Under Eyes Cream Gel 

When you have deep dark circles making you tired and dull, then this gel formula with botanicals helps to combat that effectively. First of all, it's a chemical and paraben-free best eye gel for dark circles. It's rich in cucumber, aloe vera, Tulsi, Almonds, jojoba extracts, to naturally revitalize under eye skin and shows results in the dark circles and puffiness.
How to use: Gently massage this in the delicate area beneath the eyes after proper cleansing. Pat lightly for few seconds. Use it twice daily and leave it overnight.
12. Wockhardt Depiwhite Eye Contour Gel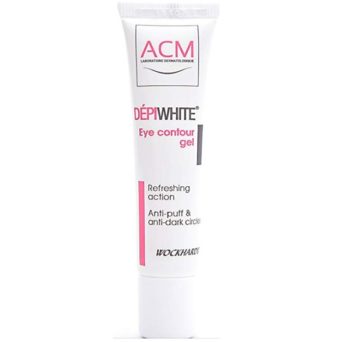 Wockhardt Depiwhite eye contour gel has the whitening action to remove the dark circles. It's an effective moisturizing cream that is enriched in the active technology that targets the darkness and sagging skin. It works to brighten your eyes and is amongst the best eye cream for sunken eyes
13. Inveda Under Eye Cream

The multipurpose under eye cream is not just heal circles under your eyes, but fine lines as well. This product is based on the Ayurvedic recipe including the botanical ingredients. It brightens and smoothens the eye area. It's suitable for all skin types and enriched with Ashwagandha and GotuKola extracts. 
How to use: You can apply it under the eyes and over the eyelids by light patting and dabbing.
14. Iraya Manjistha Eye Contour Gel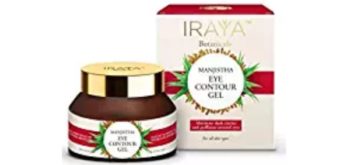 The cooling eye contour gel is a daily use product that hydrates the skin with its aloe vera and manjistha extracts. It tones and purifies the skin and is also ideal for acne prone skin. With the extracts of Indian madder and lavender essential oil, it helps cool the eye area, reduce puffiness and swelling. Regular use protects and brightens the eye area by minimizing the dark circles and fine lines.
15. Mamaearth Natural Under Eye Cream for Dark Circles & Wrinkles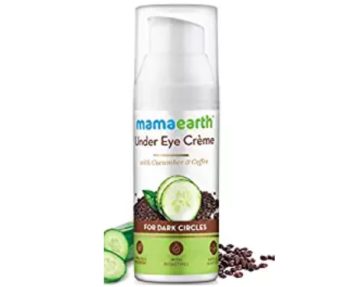 When you have dark circles and wrinkles, becoming your primary concern, this under eye cream targets dark circles and wrinkles. It effectively fades the pigmentation with a formula rich in coffee and cucumber. Coffee and cucumber both are well known to cure the darkness and to treat eye bags. The dermatologically tested product is paraben free.
These are the best under eye creams for removing the dark circles and puffy eye bags. During the daytime always use sunblock to further protect the eyes from UV rays.  These creams, can be applied with mild dabbing and massaging. Make sure, you never rub under eye area using the eye cream to get rid of dark circles. Hop the list helps you in buying the best eye cream for dark circles in India.