Summer is the season, when your skin is already very greasy and oily. Even when your skin is already dry you can feel that during the hot weather, the dryness isn't the same as it used to be during the autumn or winter season. Therefore, finding the right or suitable face cream for the summer season is important even when you have dry skin type. If you are confused choosing the right product for your dry and sensitive skin, this article is for you. Here, we're going to talk about this list of the best face cream for dry skin for summer season. Using a face cream gives you multiple benefits. Face cream helps to protect the skin from the dry or hot air, environmental pollutants, particles that can damage the skin and more. The cream also replenishes the lost moisture and makes the skin plump. Additionally applying the face cream improves the skin quality and texture. While slowing down the natural moisture loss, it prevents the skin dehydration and helps to keep the skin supple. Not just for moisturizing your face, but to keep the facial skin younger looking, use of a good face cream is must.
Best Face Creams For Dry Skin in Summer in India For Glow and Brightness
Let's go ahead and check the best face skin creams for dehydrated skin during the hot weather.
1. Nutramoist Skin Renewal Daily Moisturising Creme SPF-25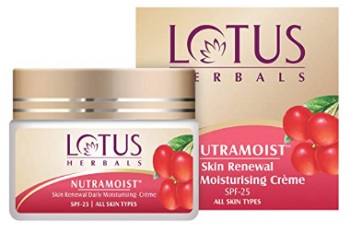 Lotus Herbals Nutramoist skin renewal daily moisturizing cream contains the power of natural ingredients such as grapes. Being rich in Alpha Hydroxy acids and fruit enzymes it's a powerhouse of natural antioxidant and antiseptic properties. While it protects the dry damaged skin from the everyday wear and tear, it also helps the skin with the enough of the moisturisation. Creating a natural barrier that helps the skin to stay protected from the pollution and toxins, this cream also helps to shield the facial delicate skin from ultraviolet rays. Being fortified with SPF 25, this product is really good for people with dry to normal skin. You can prevent the sun tanning and keep the skin smooth and silky. It's the best affordable day face cream for dry skin in summers.
2. Mamaearth Anti-Pollution Daily Face Cream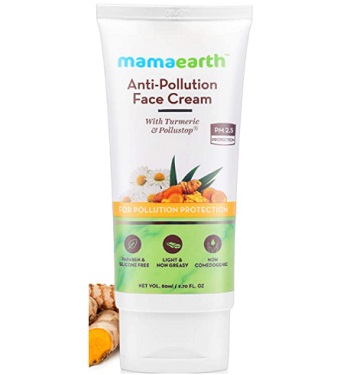 This daily face cream is made for all the skin types but its texture is such that it suits even the dry skin. Being oil-free, it does not feel greasy on the skin even for the dry face for the summer season. If you would like to put a stop on the pollution damage on your skin then this product is really a must-try. It is loaded with turmeric extracts along with aloe vera, daisy flower extract and carrot root extract. The product helps in preventing the hyper pigmentation and provides the essential antioxidants to the skin. Using the face cream regularly helps to give you brighter and fresh looking complexion. This Mamaearth face cream is a dermatologically tested product and the best paraben and sulfate free product for dry skin.
3. Khadi Natural Ayurvedic Sandal and Olive Face Nourishing Cream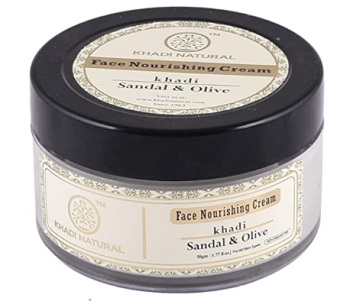 Khadi Naturals Ayurvedic Sandal and Olive cream is rich with shea butter. The product is quite nourishing and moisturizing. Looking at the texture and the hydrating properties, this is yet another good face cream for massaging the dry skin everyday or occasionally. It gives you all the required moisturization and nourishment. Even though it is quite hydrating and creamy in texture, it is light. With the pleasant smell of Sandalwood this gets applied on the skin layer real quick. It's the best face massage cream for dry face.
4. Mamaearth Anti Aging Face Serum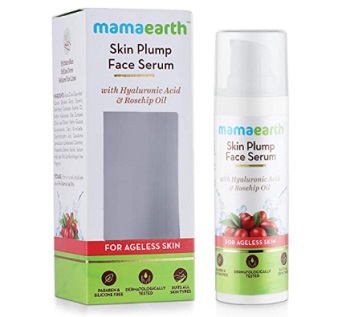 Mamaearth skin plumping face serum is an easy to absorb in the skin kind of a product that the dehydrated and dry skin will simply love. Being a hydrating face care product, it is rich in Hyaluronic acid and Vitamin A along with rose oil. By increasing the collagen synthesis, it certainly aids to moisturize the skin and smoothens the fine lines and wrinkles. You can use this face plumping serum after washing your skin and before applying a rich face cream. Such serums are also suitable to refine your skin pores and to reduce the fine lines and wrinkles. The advantage of using this serum is its sulphate, paraben and chemical-free formula. It is suitable for all skin types, but because of the presence of hydrating ingredients, it's more of a product for the dry and sensitive skin.
5. The Moms Co. Face Cream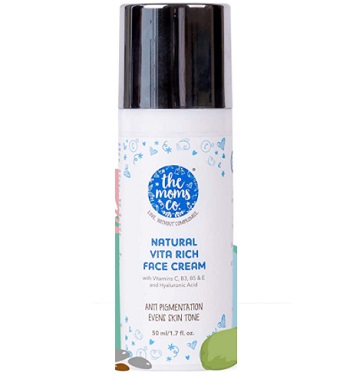 The face cream is a luxurious and creamy product which is primarily an anti pigmentation skin cream that even tones the skin. For dry skin that has patches and darkness on the skin, this cream can be quite helpful. It is rich in vitamins like C, B3, B5 along with Hyaluronic acid. Rich with hyaluronic acid, it's a replenishing skin cream to reduce the pigmentation, fine lines and the dryness. The product brightens the skin and reduces the skin discoloration. It also contains Arbutin and Chia seed extracts. While smoothing the wrinkles, the green tea extract in this product helps to revitalize the skin and safeguards against any inflammation and roughness. Procured and made from the world's richest source of natural vitamins, this product is also a natural antioxidant for your skin. Apply it twice in a day for getting best results. It is a good day cream for men and women for dry skin speciality but as the product does not have SPF, you need to wear an added sunscreen lotion over it. It's the besr face cream for the day time for summer for dry skin.
6. Nivea Soft and Light Moisturising Cream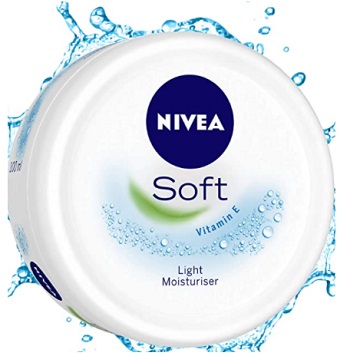 Nivea light moisturising cream is for men and women who have dry to normal skin during hot weather. The cream is loaded with Vitamin E and jojoba oil. Being made with ideal amount of emollients and skin replenishing ingredients, it's an effective product to melt quickly into your skin and to keep your skin healthy and fresh. Nivea Soft cream has a non-greasy formula that helps to improve the clarity. This cream does not do anything apart from giving moisture to your dry skin. So don't expect any anti aging skin, brightening or anti tanning kind of benefits from this product as this is purely made to give moisturization which it does effectively. On top of that, the Nivea dry skin product is also very reasonably priced.
7. Plum E-Luminence Deep Moisturizing Crème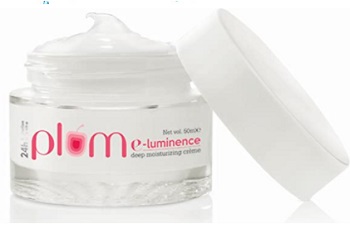 This product from Plum is the best selling products for dry and sensitive skin. The main problem of being a person with dry skin is that at times your dry skin can become really sensitive. This is not a product for oily and acne prone skin. The product is 100% Vegan and cruelty-free, which is safe for all the skin types. The product is 100% cruelty-free and vegan. This is also free from parabens, chemicals and ingredients, which are known to disturb the pH balance and irritate the skin.
8. Derma Essentia Ultra Hydrating Moisturiser Cream For Dry Skin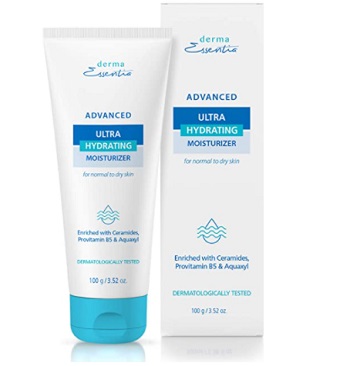 This product is an ultra hydrating moisturizer made for normal to dry skin. Being rich with ceramides and Provitamin B5, this product is highly beneficial, in case you have very dry skin. The involvement of the skin healing and dryness curing products make this one of the best products to get rid of the dry patches on the skin. Additionally, the product is also paraben and sulphate free and dermatologically tested. Not just for the dehydrated skin, it's also excellent for the sensitive skin types. Try it twice in a day and keep your skin soft and glowing.
9. Venusia Max Intensive Moisturizing Cream For Dry Skin To Very Dry Skin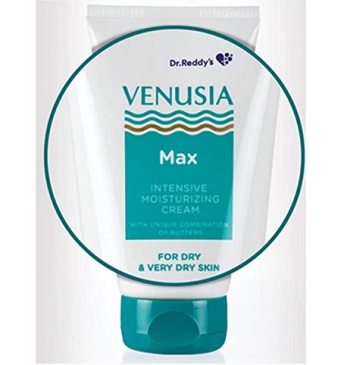 Formulated for dry to very dry skin, this is an intensively moisturizing and effective face cream. The face cream works in multiple ways, like hydrating your dry skin, moisturizing it and preventing the moisture loss. It is made with ingredients like glycerine, dimethicone and combination of four different kinds of butters. Glycerine is a known moisture retainer. Giving your skin, the deep hydration, this product also contains shea butter, Aloe butter, cocoa butter and mango butter. To cure your dry and flaky skin, this is yet another product that you can try during summers.
10. Lotus Whiteglow Whitening & Brightening Creme SPF 20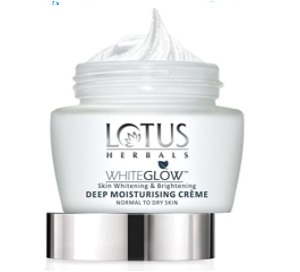 If during summers, your skin is not very dry but need that extra moisture and glow, then you can try Lotus skin whitening brightening gel cream. This is a deep moisturizing cream that contains SPF 20. While fighting the sun rays and ultraviolet rays, which can potentially darken your skin, this product helps to shield all of that. This product has deep moisturizing properties, because of which it is made for normal to dry skin. You get a fairness cream like benefits in a hydrating product. Take just a pea  size amount of this cream and apply it all over your face. It has milk enzymes and grape extract with Mulberry extract that reduces the melanin production and help penetrate the skin faster to give whitening effects.
11. Cheryl's Cosmeceuticals Sensi Moist Face Cream For Dry & Sensitive Skin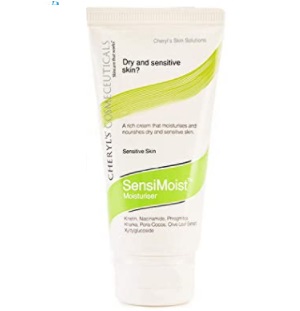 To cure your skin from the dryness and moisture loss, this is a rich creamy product that moisturizes the dry and sensitive skin. Made with Niacinamaide, Olive leaf extract and other products which are potential emollients, it helps to cure the dryness and keep the flakiness away. Apply the cream in a thin layer on your face, neck and leave it on. It does not give any allergies to the skin, even when it is sensitive. As the product strengthens, the skin's natural moisture loss barrier, it's a definite product to try.
12. Dove Rich Nourishment Cream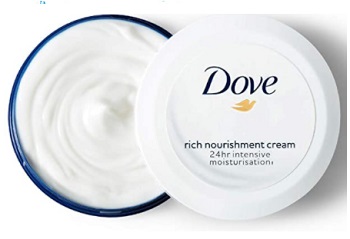 The rich moisture rising cream gives you 24 hours of moisturization. It is a body and face cream that gives your skin soft and smooth. While providing the long-term skin quality improvement, this is perfect for everyday use. The product has the involvement of rich ingredients and is suitable for dry to combination skin.
13. The Man Company Daily Moisturising Cream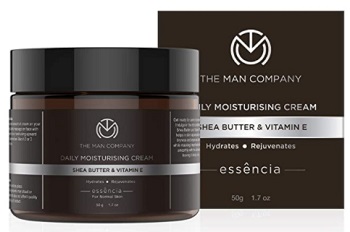 Men with extra dry skin shall try this buttery product from The Man Company. The everyday use moisturizing cream contains vitamin E and Shea butter. Both of these ingredients are known for their extremely moisturizing and hydration giving properties. So while it cures the dry and chapped skin with its creamy formula, it also restores the skin's elasticity and smoothness. The product is suitable for normal to dry and combinations can.
14. SoulTree Nourishing Cream Saffron & Almond oil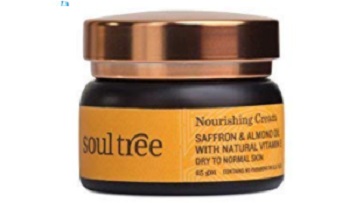 This product is one of the best natural products for dry skin. Containing the natural extracts of saffron, almond oil with Vitamin E, it's a nourishing skin cream, that creates a layer on the skin that potentially prevents the water loss. It also contains coconut almond oil aloe vera and olive oil. Saffron on the other hand improves skin complexion and keeps the skin radiant. The product is made from 100% vegetarian products and is not tested on animals.
15. Avene Rich Compensating Cream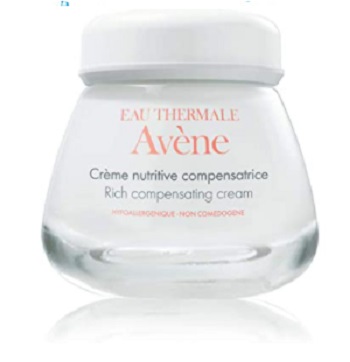 This is one of the best skin creams for dry and sensitive skin for all the seasons. It is a paraben free, gluten free and hypo allergenic face cream that boosts the hydration. Revitalizing the dull skin, it increases the hydration and apparently reduces the flakiness. The product is so effective that right from the first few uses, you would be able to see the effective and noticeable difference in your dry sensitive skin. While resulting in a strengthened moisture barrier, it puts a stop on the water loss from the skin. So while improving the skin condition, it also revitalizes the dull skin. It is one of the best products from Avene for dry skin types.
These are the best products for dry skin available in the Indian market. Choosing the best cream for dry skin for summers or any other season should not be a task, when you have the right options to choose from. You can use any of the products from this list mentioned above. These products can be bought from online at pretty good discounts.