A face cream for oily skin helps to create a layer on your skin and protects your skin from the daily wear and tear and the environmental damage also. Everyday our skin is prone to so much of dust particles, pollutants that they all can create havoc on the skin. It can snatch the natural smoothness and softness of the skin. Additionally, when the skin is sticky and oily, then these pollutants, dirt, sebum can clog the pores, resulting in blemishes and acne. Therefore,  finding a good daily-use face cream for oily skin can be really tricky task but not anymore as we have created this list posts below that takes you through the best face creams and lotions available for oily and greasy combination skin. A combination skin can have oily T-zone which is also quite common in case of teenagers.
Top Best Face Creams for Oily skin in India (2021)
Let's take a look at the best creams for acne prone oily facial skin in India.
1. UrbanBotanics Oil Free Moisturizer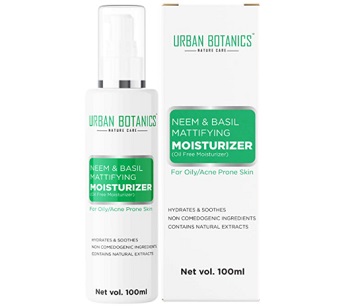 The lightweight moisturizer is oil-free and helps to give skin and non oily glow. The best thing about this product is the sheer formula that absorbs quickly into the skin and makes it plump and younger. The ingredients used in this mattifying moisturizer are anti-bacterial and anti-septic in nature like Neem and Basil. It is one of the best oily and acne prone skin moisturizers with non-comedogenic formula. You can apply it once or twice in a day.
2. Biotique Bio Coconut Whitening and Brightening Cream

Biotique Bio coconut whitening and brightening cream is a lightweight facial cream that can be tried by all the skin types, even when you have oily and sticky skin type. The product is rich with coconut extracts along with Dandelion and Manjistha. It blends in the skin nicely and does not make the skin sticky. It helps in fading the dark spots and blemishes. The product also minimises the melanin formation, because of which the skin appears smooth and fair. It is made with 100% natural and Ayurvedic ingredients and is suitable for all skin types as we mentioned.
3.

L'Oréal

Paris Skin Perfect 20+ Anti-Imperfections + Whitening Cream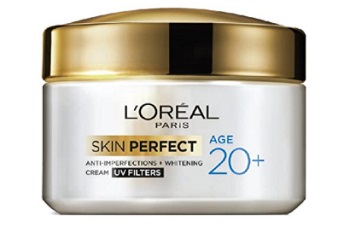 The product is a perfect face cream for oily skin for men and women above 20 years of age. It is a day cream that comes with ultraviolet filters that help to keep your skin protected from the sun damage like premature wrinkling of the skin and darkening. The product helps in minimising the fine lines and gives you skin brightening benefits. It contains pro-collagen that helps to fight fine lines and makes your skin younger and glowing. It is a dual purpose product that helps your skin with aging as well as skin brightening.
4. Lotus Whiteglow Skin Whitening & Brightening Gel Cream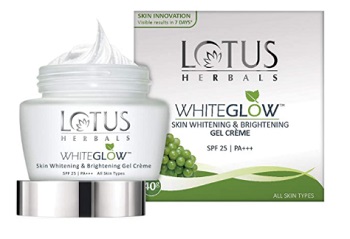 This is one of the best face creams for oily skin undoubtedly. The product is a skin whitening and brightening gel cream which comes with SPF 25. It is one of the best things to use for your oily and acne prone skin even for the hot humid summers. The lightweight texture and gel formula blends easily without being greasy on the skin surface. It is a concoction of multiple fruit extracts that makes the skin smoother and brighter. This is why, it is a perfect day cream for oily skin available in India for men and women.
5. Mamaearth Oil-Free Moisturizer For Acne Prone Skin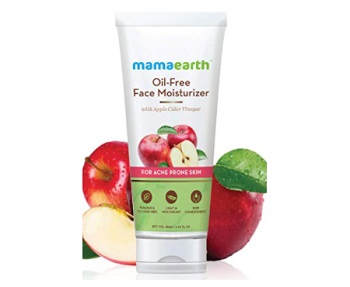 Mamaearth Apple cider vinegar oil-free moisturizer is the perfect face moisturizer for oily and acne prone skin. Especially being made for Acne prone skin, it is a dermatologically tested product that does not contains sulphates, paraben, artificial preservatives and colorants. When someone has sensitive skin, these harmful chemicals can potentially irritate the skin. Apple cider vinegar helps to moisturize your skin and fights the acne causing bacteria and keeping the breakouts and pimples away. It also heals the existing acne and pimples.
6. Pond's White Beauty Anti Spot Fairness SPF 15 Day Cream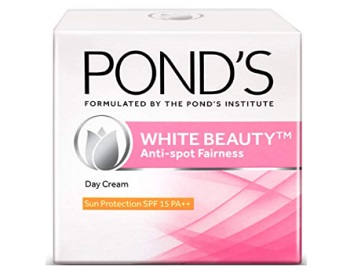 Pond's Anti spot fairness day cream contains SPF 15. For oily skin, this is also a good day cream that comes with dark spot control formula. If you have oily and greasy skin, this product is great for the teenagers. It keeps the skin moist, supple and makes it spotless. For teenagers, this is a good face cream that is also very pocket-friendly and in the budget.
7. Sebamed Clear Face Care Gel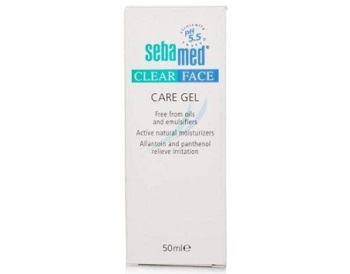 The face clear gel is free from the oils and emulsifiers that can block the pores or can get congested skin. It has allantoin and panthenol that relieves the irritation and helps to moisturize the skin. It is one of the best face care gels for acne prone oily skin. Being made with a non-comedogenic formula this helps to restore the moisture and keeps your facial skin beautifully glowing and protected against the bacteria.
8.

L'Oréal

Paris Revitalift Crystal Micro-Essence Cream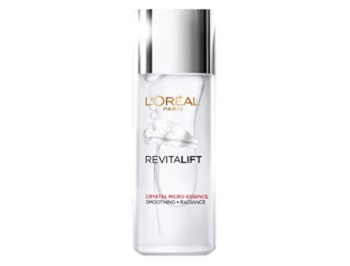 It is a micro-essence that helps in reviving the true beauty of your oily and acne prone skin. It is a water like texture that penetrates up to 10 layers deeper in the skin and absorbs quickly to get you brighter and clear looking skin. It also has brightening salicylic acid that helps to remove the dead skin cells and keeps the pores clear. It accelerates skin renewal and improves skin texture. The product gives brighter and clear skin by repairing and renewing it timely.
9. Blue Nectar Anti Ageing Flower Valley Face Cream for Oily Skin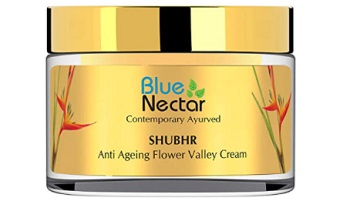 Blue Nectar anti aging cream is made for oily skin and does not contain any paraben, sulphate or preservatives. The product is rich with ingredients that work really well even with oily skin. So your skin becomes ageless and spotless. However, please do keep in mind that this face cream is for mature oily skin and not for the younger people as it can be tad sticker for you. It is best to be kept as a night cream.
10. Wow Aloe Vera Multi-Vitamin Face Cream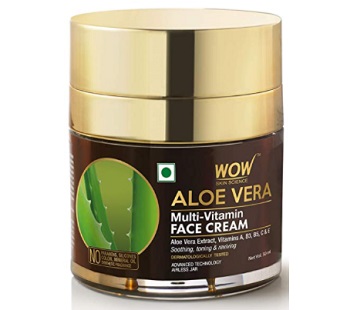 The multi-purpose aloe vera face cream is rich in vitamins like a B3, B5, C and E. It suits and tones the skin and makes it fair. With the active ingredients this product helps the dehydrated and dull skin. Even though it is suitable for all skin types, its lightweight formula makes it perfect for the oily skin as well.
11. Bella Vita Organic PapyBlem Pigmentation Blemish Cream Gel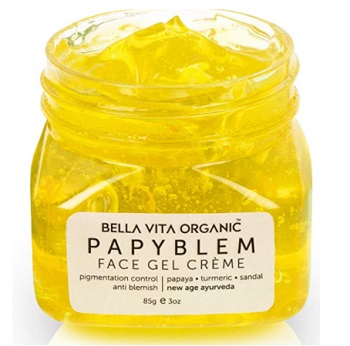 It is a face gel cream that contains Papaya, Saffron and Aloe as the key ingredients. The product has natural extracts with the lightweight texture that helps to promote the collagen and fights the blemishes. Regular use of this product helps in fighting and curing pigmentation, marks and scars and boosts the overall skin glow. It is so lightweight that gets deeply in the skin layer. Therefore, it is the best face gel for oily and acne prone skin for lightening and spot removal purpose.
12. Pond's Age Miracle Wrinkle Corrector SPF 18 PA++ Day Cream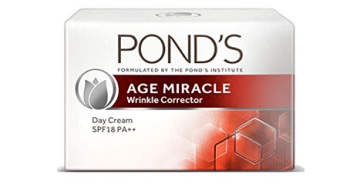 A lot of people with oily skin tend to confused while choosing a good anti aging or anti wrinkle cream. This Ponds Age miracle wrinkle corrector day cream is the best day cream for oily and acne prone skin also. It contains SPF-18 for protecting the facial skin from ultraviolet damage. It contains Retinol C Complex that works on your skin to keep it youthfully radiant. While caring and smoothening the existing fine lines and wrinkles on the skin, this day cream provides the daily protection to safeguard the skin from the new fine lines from forming on the skin. Vitamin B3 and Vitamin E adds protection and smoothness.
13. UrbanGabru Insta Glow Fairness Cream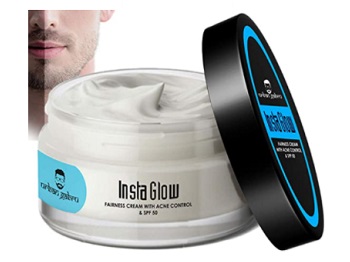 Urban Gabru fairness cream is for men with oily and acne prone skin type. This comes with SPF 50 and being an acne control product, it helps to slow down acne infection. It safeguards the skin from harmful sun rays and prevents the darkening of the skin. The product prevents acne and makes the skin pimple free and glowing. This is one of the best face creams for men with oily skin at affordable prices. This product can be procured from online discounts.
14. Neutrogena Oil-Free Facial Moisturiser SPF 15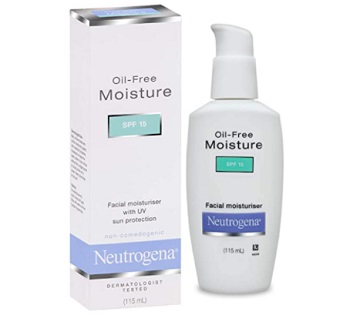 This Neutrogena facial moisturizer is the best oil free moisturizer for oily and acne prone skin. With the non-comedogenic formula, it has SPF 15. Giving long lasting fairness, this moisturizing product adds sun protection. You not just get younger looking skin but adequately hydrated skin. The lightweight product has a non-greasy lotion like formula that absorbs quickly into the skin and gives you smoothness. It is a dermatologically tested formula which is oil-free and non-comedogenic. So, apply it all over the neck and face daily. It is suitable for men and women with normal to oily skin.
15. Plum Green Tea Mattifying Moisturizer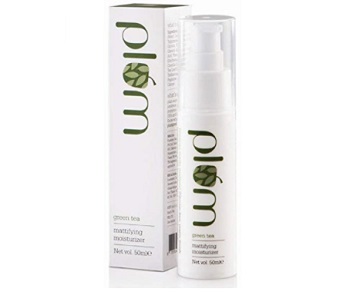 Plum green tea mattifying moisturizer is yet another best face cream/moisturizer for oily and acne prone skin. It is 100% silicone free and non-comedogenic product that nourishes and repairs the skin from within to get radiant glow. Being loaded with green tea extracts, this product is rich in antioxidants that prevent free radical and smoothen the face. Glycolic acid present in this product helps to prevent the built up of debris. This product is suitable for oily and combination skin types. It even suits acne prone skin. It is 100% vegetarian and cruelty free product.
16. Mamaearth Vitamin C Face Cream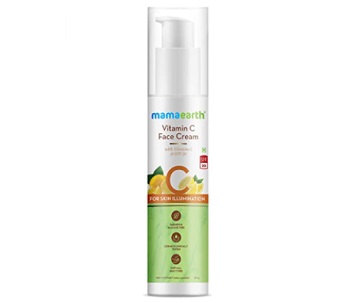 Mama Earth Vitamin C face cream with Vitamin C and SPF 20 is yet another good face cream for oily and acne prone skin for summers and winters. It is a paraben and silicone free product which is dermatologically tested and suits all skin type. Safeguarding the skin from ultraviolet potential damage, it also keeps the skin moisturized. It is anti-oxidant rich formula that neutralizes the oxidative damage caused by sun and free radicals. It speeds up the skin's natural regeneration process and leaves the skin healthy and glowing. It also contains Niacinamide, along with vitamin B3 that reduces enlarged pores and even tones the skin. 
17. Lakmé Absolute Skin Gloss Gel Cream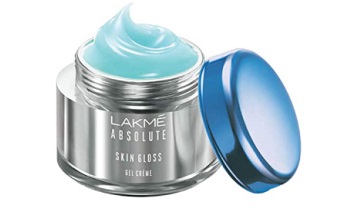 Lakme Absolute skin gloss gel cream is one of the best products that help to coat your skin the moisture without the oily feel. It is a gel cream that is not just suitable for winters but for the summers without making your skin look oily or greasy. It blends really nicely and is suitable to apply as a makeup base.
18. Pond's Men Ice Burst Cooling Non-Oily Soothing Face Gel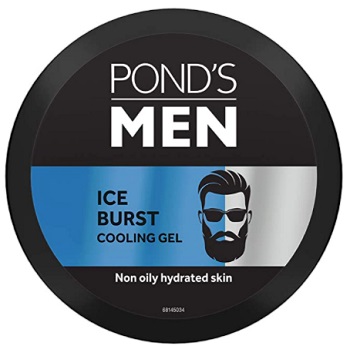 This non-oily fresh look product is a cooling gel that has light weight formula. Its hydrates the skin and comes with the goodness of Vitamin A. It is developed for men's oily skin. The pocket friendly and budget friendly product is suitable to be used by men of all skin types.
19. Garnier Light Complete White Speed Fairness Serum Cream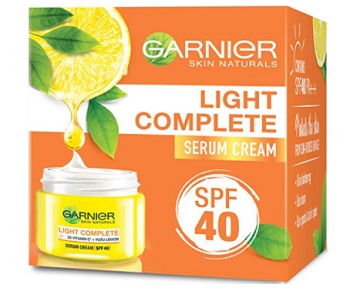 Garnier fairness serum cream contains SPF 40 which is suitable for everyday use. The formula of this product is light-weight and helps to protect the skin from further darkening. It protects the skin from harmful ultraviolet A and B rays. The long-lasting fairness can be achieved by regular application.
20. Wow Organic Apple Cider Vinegar Face Moisturizer
Wow apple cider vinegar face moisturizer is oil-free product that has organic certified Himalayan apple cider vinegar with Hyaluronic acid and beetroot extract. It is a paraben and sulphate free product that helps to prevent oiliness and hydrates the skin. Primarily made for the oily and acne prone skin, this is a product wonderful for the sensitive skin as well. The oil-free and quick absorbing formula creates a barrier on the skin without making it sticky. It can be used daily to help your skin stay oil free and clear.
These are the best face creams for oily skin in Indian market. Now, no more asking yourself, "which is the best creams to use for oily skin?" These products are very affordable and can be bought from online at good discounted price as well. Most of these products are also available in shops. Depending on your skin, you can try any of these best face creams for oily and acne prone skin.