Face mask for dry skin can come to your rescue, when your skin becomes rough, patchy and peeling. You have to apply lots of different products to get rid of dryness. But a good hydrating facial mask with some other skin care products to hydrate the skin would be enough. So if you are confused, which is the best facial mask for dry and rough skin, this article will help you choose the best skin care products and mask to ensure your skin stays fresh and hydrated for long time. Roughness is also seen, during the winter season. These ready-made dry skin packs and products make skin naturally glowing and supple.
List of Best Face Masks For Dry Skin in India For Glow
Let's take a look at the best face masks and peels for rough parched skin in the market.
1. Lotus Herbals White Glow Yogurt Skin Whitening and Brightening Masque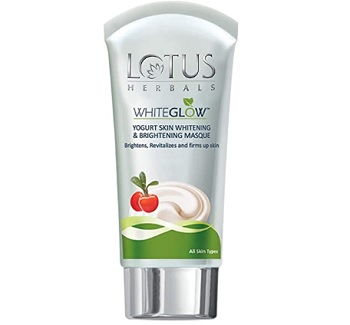 It's not just a face mask, but a brightening mask that makes the skin tone bright and fresh. It gives you total nourishment to the skin as stays moisturized and appear glowing. It includes the cherry and yoghurt extracts, which are known to contain the milk enzymes along with Alpha Hydroxy Acids. It is a rich formula that lightens the skin and makes the dry and dull skin smoother. The mask is very hydrating in nature and helps to regain the moisture. It effectively nourishes the skin and also eliminates the dead skin cells. When you have dry skin, you can apply this face mask for 1-2 times in a week to also get rid of the sun tanning.
2. Mamaearth Ubtan Face Pack Mask for Fairness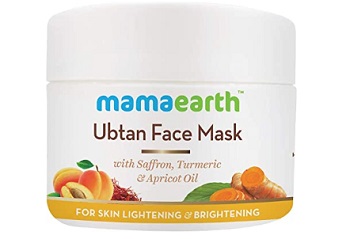 This facial mask for dry skin is made with turmeric, saffron and apricot oil. Apricot oil is a wonderful ingredient to heal the dry and rough skin. It gives the proper hydration that last longer. The powerful ingredients like Mulberry and cucumber gives you bright and rejuvenated look. Olive oil extracts are also included in this product, to reverse the effects of sun damage and darkening. It can be applied 2-3 times in a week. Ingredients like kokum butter and olive oil, this powerful formula will keep your skin soft and supple. Additionally, the product is organic and paraben, sulphate and Mineral oil free, therefore, it's totally hypoallergenic and natural face mask for dry skin, that can be used when you have sensitive skin as well.
3. WOW Aloe Vera with Green Tea Extract and Hyaluronic Acid Sleeping Pack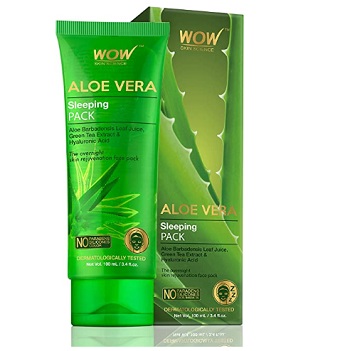 The sleeping face mask is made with aloe vera and green tea extract with hyaluronic acid. It is a natural and chemical free product that does not contain chemical or harsh stuff damaging the skin in the long run. It also contains witch hazel to shrink the enlarged pores and it reverses the damage because of the free radicals. The sleeping pack is one of the best products to get beautiful glowing skin. The facial mask helps to firm up the skin and increases the collagen synthesis.
4. Aroma Magic Hydrating Seaweed Pack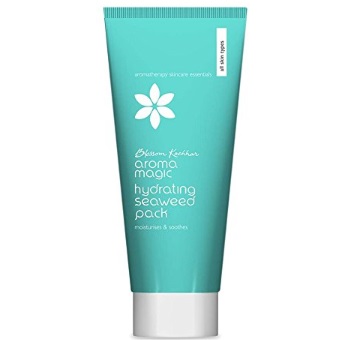 Aroma Magic hydrating Seaweed pack is one of the best facial masks for dehydrated and dull skin. This product is 100% free of Harsh Chemicals, alcohols, paraben and other chemicals. It is a rich blend of minerals and vitamins, which are found in seaweed and aloe vera extract. It's basically a detoxifying face pack for all skin types. But with its hydrating properties, it works really best for dry to normal skin. It has chamomile and calendula oil to get radiance and freshness to the skin.
5. mCaffeine Naked & Rich Choco Face Mask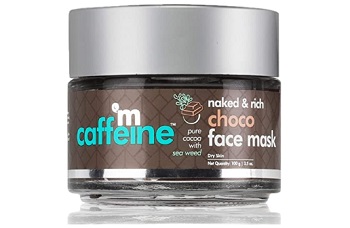 With pure cocoa and seaweed, this is a facial mask for dry skin. Chocolate is rich in fatty acids, which are extremely hydrating and moisturizing. So, you can revive your senses with rich chocolate Aroma with this face gel mask. It contains Seaweed extract and choco which are blended with minerals and vitamins. The same applies for aloe vera that is added in this face mask. It can be applied for all the seasons and is one of the best soothing and hydrating face masks for oily skin. This product is also free of Mineral oil, paraben, no animal tested face product for dry to normal skin for men and women. Apply it and wash it after 15 to 20 minutes.
6. Ustraa De-Tan Face Mask for Dry Skin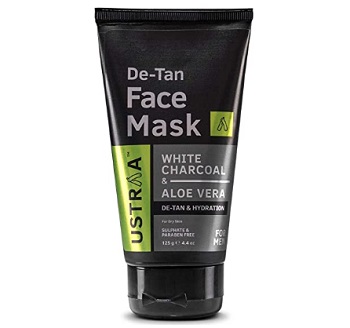 This is a de-tanning face mask for men with dry skin and acne, made for men exclusively. With white charcoal and aloe vera, this is the facial mask for men with dry and rough skin. It doesn't have sulphates, parabens and chemicals that can harm your skin in the long-term, however, it contains olive oil and Kaolin clay along with olive oil. It works to brighten the skin by removing the impurities and dust settled on the skin layers. It's the best face mask for men's dry skin that exfoliates and improves the skin texture. By eliminating the dead skin cells, it also leaves the skin bright and glowing. The product also contains glycolic acid, which is known to keep your skin pores clear.
7. Vanalaya Ubtan Face Mask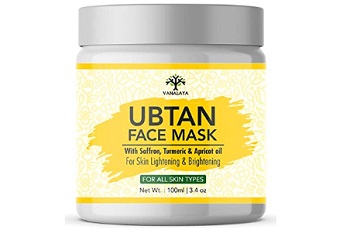 The Ayurvedic ubtan face mask for dry skin is made to get glowing and fresh fairness on your skin. It is for all skin types, however, for dry to normal and combination skin, this face mask works really well. It's a special blend of herbs like turmeric, apricot oil, saffron and organic ingredients, that are known to nourish for radiant and glowing shine. Even the standard and saffron improve skin complexion and works, effectively in lightning the sun tanning and skin darkening. It is 100% organic and chemical-free face mask for all skin types and with their handpicked ingredients of finest quality.
8. Garnier Hydra Bomb Face Serum Sheet Mask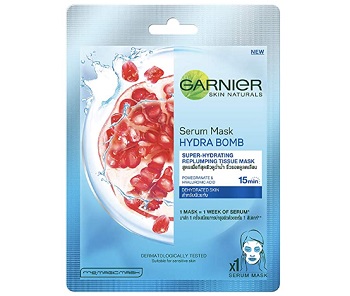 It's the sheet mask, which is hydrating enough to give a glow on your skin. Made with the pomegranate extracts, this also contains Hyaluronic acid. Both of these ingredients helps to make your skin deeply hydrated to remove any signs of roughness or dryness. So it's the best sheet mask for dry skin in India, including the sensitive skin. This face mask works really well to improve skin complexion by lightening sun tanning and redness. Apply this deep hydrating sheet face mask on your clean face and remove it after 15 minutes with the excess serum left on the face and leave it on. It is extremely helpful to get fresh and hydrated skin within just few minutes. It can also be used before going to a wedding or party.
9. StBotanica Vitamin C, E & Hyaluronic Acid Brightening Face Mask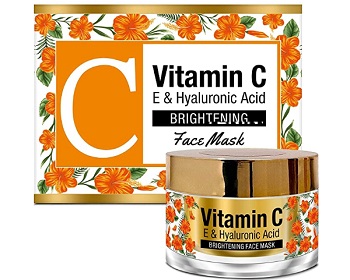 With the effective ingredients like Vitamin E, vitamin C and Hyaluronic acid, this is one of the best brightening face masks for dry skin. It revitalizes the skin and improves the overall dullness and rough dry patches. Vitamin C and Hyaluronic acid deeply hydrates the skin and plump for youthful. It also contains turmeric lemon peel, green tea and Gotu Kola extract. This organic and hydrating face product does not contain any paraben or sulphates. It contains the most stable form of Vitamin C, that is wonderful in brightening the skin naturally without any damage as compared to other beauty products containing vitamin C.
10. Biotique Bio Milk Protein Whitening & Rejuvenating Face Pack

Biotique milk protein face mask is for whitening and rejuvenating purpose. Even though the product is made for all skin types, it works excellently for the dry face. Blended with the pura extracts of wheat germ, almond oil, milk proteins, honey and Seaweed, it rejuvenates the skin. So, if you've tired, dull and stressed skin, because of every day work related stress, lifestyle stress or even because of the aging, this face mask can make your skin lighter and smoother within just few uses. This facial mask can also be tried two times in a week.
11. WOW Sangria Face Mask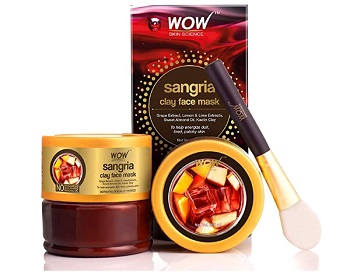 This is the specially made face mask for energizing the dull and tired skin. This face mask contains excellent ingredients like grape extracts, lemon-lime, sweet almond oil, woollen cloth that helps to re energize the dull and dry skin. It is a nutrient rich product which keeps in check the excessive sebum. It also helps in restoring the skin's natural moisture balance and improves the elasticity and smoothness. It also contains hyaluronic acid and vitamin B3 (Niacinamide). You can apply this face mask once in a week and it's one of the best products to get you fresh and supple skin within just few uses.
12. Dot & Key Skin Plumping Moisture Infusion Water Sleeping Mask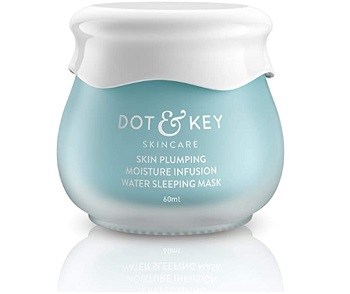 The skin plumping moisturising sleeping mask is excellent for aging and dry skin. The hydrating hyaluronic acid in this facial mask plumps the skin and makes the skin gorgeously beautiful. It has divine Bulgarian Rose that moisturizers the skin effectively. To combat the tiredness and stress on the skin, it contains the anti inflammatory product like camomile and calendula. The antioxidant rich cucumber also reduces the puffiness and wellness of the skin. To reduce the signs of stress and dryness on the dry skin, it's the best face mask.
13. Khadi Herbal Sandal & Almond Face Mask For Dry Skin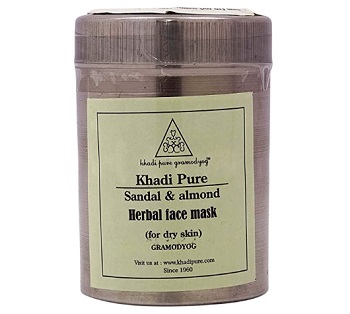 Khadi sandal and almond face mask is for dry and rough skin. It helps to get your skin gorgeous and glowing. So, the product removes the daily build up of toxins and dead skin cells on the skin. It's a product, suitable for all skin types, when your skin is dry, then almond extract works wonderfully in making the skin smooth and softer. It also unblocks the pores and removes the dead skin cells for brighter and soft skin that radiates brilliantly.
14. Khadi Natural Herbal Sandalwood and Mulethi Face Pack Mask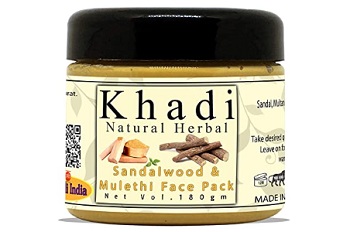 The organic mulethi face mask is also good to cure the pigmentation on the dry skin. It is basically a skin brightening face mask that combats the issues like aging lines, pigmentation, spot and wrinkles. Simply apply this face mask on the face and leave it for 10 to 15 minutes. Then, rinse thoroughly with plain water. It can be used once in a week.
15. Plum Grape Seed and Sea Buckthorn Renaissance Face Mask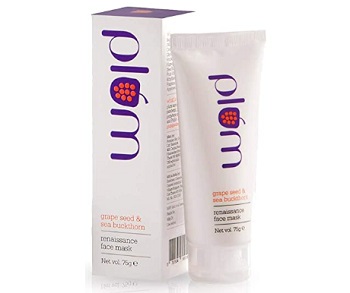 This is a grapeseed and sea buckthorn face mask that is made with organic PETA certified vegan ingredients. It doesn't have parabens or sulphates and is a natural and organic face mask in India. It leaves your skin fresh and brighter after the use. With goodness of grapeseed oil and sea buckthorn oil, it's packed with the nutrients, which are known to give freshness and glow to the lack lustre dehydrated skin.
These are the best hydrating face mask for dry skin, available in the Indian market. You can choose any of these according to your dry skin issue and apply them regularly. Using facial mask regularly helps to boost the skin renewal rate as well as a collagen synthesis. So not just by making the skin soft and smoother. They also work by keeping the skin younger a lot longer, because otherwise dry skin is more prone to get the fine lines and wrinkles, because of the lack of moisturizing oils on the skin.