If you need glow on your skin, the face massage creams are the best possible option that one can try even at home. Using the face massage cream ensures that your dry and dehydrated skin gets enough of the suppleness. This makes the face glowing and radiant soon after the very first session. We have penned down this list of the best face massage creams available in the market. Naturally when your skin is dry, you would use a nourishing face massage cream however, for the oily skin types, a massage cream shall be less sticky.
Face massaging is also very beneficial, when your face is oily and acne prone. The entire process of massaging your face is to stimulate the blood circulation. Additionally, this simple process of massaging the facial skin also acts as a anti aging treatment. It helps accelerate the synthesis of elastin and collagen proteins naturally in the skin layers, as of which the skin stays firm. Doing a mini 5 minute massage everyday helps your face to become super moisturized and to relax your facial muscles and calms the nerves.
Let's have a look at the best face massage creams in India.
Best Face Massage Creams in India (2023)
We've listed down the best massage creams for face which are suitable for dry skin, oily skin and some of these are for all skin types. These are available online at some discount, so you can also check these out. Moreover, these facial creams are suitable to be used at least 2 times in a week. It's good to massage the skin as it stimulates the skin and gets the lymph and blood moving in the face.
1. VLCC Pista Massage Cream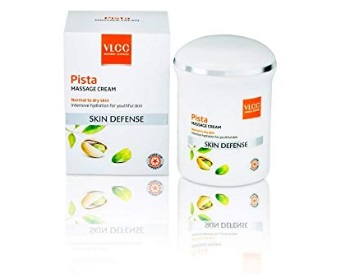 VLCC Pista massage cream is made for dry to normal skin. The VLCC massage cream revises the skin complexion and makes the skin clear. The best part is the cream is very creamy and moisturizing. The thick cream is easy to blend on the face however, you can also use some rosewater to make hands glide softly over the facial contours. Massage creams also act as a protective barrier to keep the moisture intact.
How to use: Massage your face with this cream for 5 to 10 minutes in circular and upward strokes. Wipe off the excess cream with moist cotton. It is the best face massage cream for winter for dry skin in India.
2. Biotique Bio Quince Seed Nourishing Face Massage Cream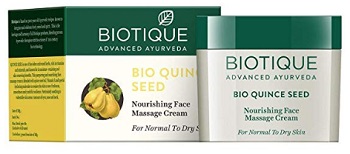 Biotique nourishing face massage cream is the best face massage cream for normal to dry skin. All thanks to its hydrating formula which has quince seed extract and vitamin E. The creamy product helps to soothe the vulnerable dry skin areas. It collides nicely on the skin layers and makes the skin radiant. It also acts as a wonderful anti aging face cream even if your skin is mature. People over 40 years of age too can try this face massage cream to massage their skin.
If you are thinking, how many times should you massage your face? Massaging just 2 minutes in a day can help prevent wrinkles and keep your skin younger for long time.
3. Lotus Herbals Whiteglow Skin Whitening And Brightening Massage Creme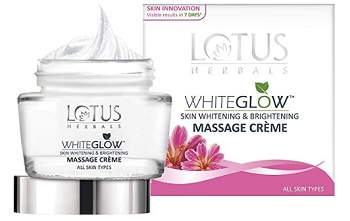 Lotus Herbals whiteglow skin whitening and brightening massage cream is for all skin types. For oily skin, it works just the best. It is the best face massage cream for oily skin and for other skin types to get fairness benefits. It is a part of the Lotus Herbals whiteglow skin care range because of that it contains the ingredients that increase the skin natural fairness. It leaves your skin rejuvenated and luminous. On frequent application, the face massage cream polishes and tightens the pores. This is the best fairness face massage creams in India that stimulates the blood circulation and offers radiant fresh glow on the skin.
4. Jovees Face Massage Cream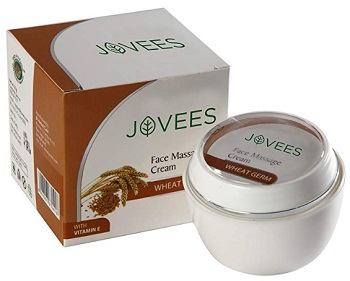 Jovees face massage cream has wheat germ and Vitamin A. These two ingredients are known to revitalize the extra dry skin. With wheatgerm oil it's quite hydrating in nature that it is not for oily skin however for dry to normal skin wheat germ oil is excellent. It also contains almond oil, Vitamin E, avocado oil and beeswax. The cream enhances the collagen and elasticity of the skin. So when the cell renewal process is enhanced, your skin naturally looks firm and luminous. To make your face look younger and glowing creams are the best options. Facial massaging works for wrinkles and lines effectively. In fact, massaging increases the circulation of blood and stimulates cell growth.
How to use this massage cream:
Apply this cream on your face for 15 to 20 minutes using upward motions. Apply it for 5 minutes then remove with moist cotton. Use it 2-3 times in a week to restore smoothness.
5. Lotus Herbals Wheatnourish Massage Cream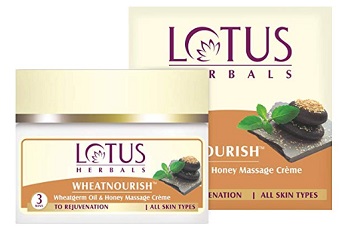 When your skin is dry, here is another option for you. Lotus Herbals wheatnourish massage cream is an excellent massage cream containing the power of wheat germ. This is the best face massage cream for winter for dry to normal skin. Good for aging skin, people over 35 years of age, can try this face massage cream to retain and improve elasticity of the aging skin. This massaging cream can be tried 2-3 times in a week or at least every day for 5 minutes to increase the natural collagen and elastin protein synthesis.
6. O3+ Skin Care Whitening Massage Cream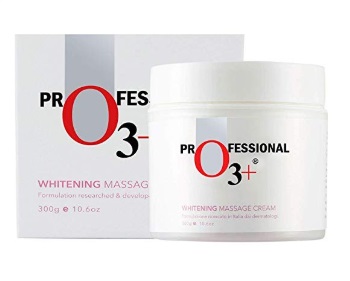 O3 skin care whitening massage cream is for improving skin complexion. Because of Sun tanning, your complexion looks patchy and dull. This whitening massage cream enhances the dull skin complexion while forming the nutrients and proteins to the skin layers. It is also infused with Vitamin C which is widely known to whiten the skin and lighten. Suitable for all skin types, it contains lactic acid from milk, Hyaluronic acid and natural Vitamin C to boost the glow. Formulated in Italy, it's a world class product that is a bit expensive but worth try. Massage it all over the face and neck for 10 to 15 minutes, then wipe off. This cream can be applied at night before going to bed to get a wonderful glow and fairness on the skin.
7. Khadi Natural Gold Herbal Facial Massage Cream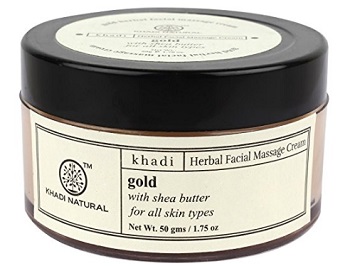 Khadi Natural gold herbal facial massage cream is blended with shea butter. This is the best gold massage creams in India for all skin types however, it's a bit sticky therefore, it is best facial massage cream with gold ash in it for dry to normal skin. Apply it on your face and neck and massage for 15 minutes. Wipe it off with the damp cotton cloth. It gives glow on your skin and before going to a party applying a cream like this would give you an anti aging and fairness benefits. It removes the dead skin cells and layer of your skin. It is the best herbal face massage cream when you are doing a home facial.
8. Oxyglow Fruit Massage Cream With Vitamin E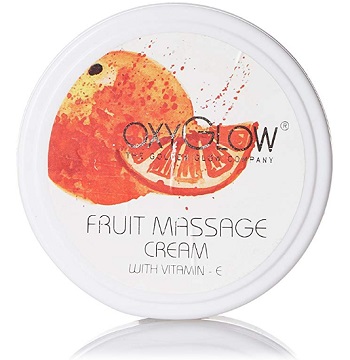 Oxyglow fruit massage cream has Vitamin E and is perfect for all skin types. The nice texture of this cream contains Aloe Vera Gel, Groundnut oil, Vitamin E and glycerine. As sum of the ingredients in this face cream are sticky and therefore it is best for normal to dry skin. Rich in natural fruit extracts, it gives healthy and beautiful glow on the skin. This face massage cream can be tried to retain the skin's freshness and fairness.
9. Luster Papaya Fruit Facial Massage Cream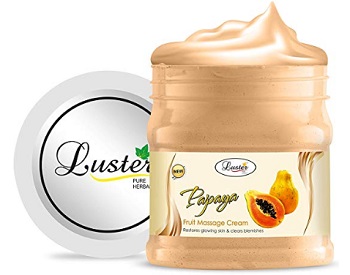 Lustre papaya facial massage cream contains the extracts of papaya and the enzyme papain. Made to remove the dark spots and hydrate the skin, this cream has a nice formula. It can be sticky therefore is best for the dull and dry skin. Even when you are skin is mature, for the anti-aging benefits, you can try this massage cream. So it's just a massage cream that you can try every night during winter season to keep the skin supple.
10. Qraa Men Vitamin ABC Professional Face Massage Cream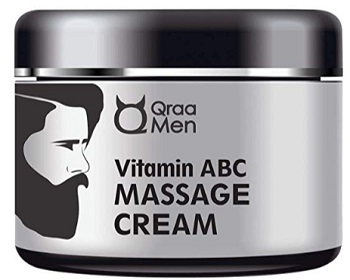 Facial massaging is not just for women, but men too need that. With everyday stress and pollution, men's skin can get dry and dehydrated. This is an ultra hydrating formula that regains skin's natural moisture retention capabilities. The cream restores the skin natural moisture balance. This is an excellent and best face massage cream for men with dry skin. This cream helps to lighten pigmentation and even tone the skin complexion. So it doesn't have any side effects but combats the daily stress and wear and tear of the skin. It is enriched with pearl oxide and sandalwood. Presence of Vitamin E, olive oil, almond oil, coconut oil, cocoa butter, shea butter and aloe vera extract, it's a powerhouse of moisturizing ingredients. Apply it for 10 to 15 minutes, then remove with a damp cotton.
These are the best face massage creams available in India. Make sure that you are using the creams regularly. Other than that, the best thing that you can do is to use these creams for doing a home facial. You can use a cleanser and face Scrub to get rid of the dead skin cells and impurities. Then use any of these face massage creams depending on your skin type for 10 to 15 minutes. This would give you salon like glow on the skin.