Men's face packs are equally important just like the other skin care and grooming essentials for men. Products like face creams, lotions and face washes are an integral part of men's kin care regimen, but, if you're using a good skin cream and face wash, then you must also opt for an effective face pack for your skin type.
Having said that, many men get confused while finding the best face pack for men? To make the work easier guys, we've clubbed together all those best facial packs and mask for men to tackle most of the common skin issues. If that's right, then this article is going to help you in deciding the best face pack for men available in the market. Men should try these face packs depending on their skin type. Trust us, these product will surely address the issues like pigmentation, dryness, oiliness, dullness and pigmentation.
List of the Best Face Packs for Men in India
Here we've listed all these face packs and masks, which are formulated for different skin types, while few of these are also suitable for all skin types. Just a tip guys, if you have oily and acne prone skin, pick the face packs formulated with ingredients like Tea tree, Neem, Turmeric, Basil, Clay or even charcoal. However for men with dry skin, must use the hydrating face packs, especially during winter season. For sensitive skin, using the paraben free and organic face packs would be better. Let's take a look at the best face packs in the market for men's skin. 
1. Ustraa De-Tan Men Face Mask For Oily Skin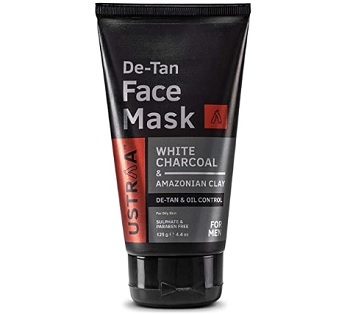 If you have tanned skin in summers, this is a De tanning face mask for oily skin is best for men struggling with oily and acne prone skin. It has skin de-tanning and hydrating properties, because of the ingredients like Kaolin Clay and Olive oil. This men's face pack cleanses the skin thoroughly and balances the excess oils. As the facial product is rich in Charcoal and Volcanic Ash, it helps to exfoliate the skin and brighten it. If your skin has become dull and parched, this anti tan face pack can really help lighten the sun damaged dark skin complexion. It also deeply cleanses the clogged pores with its glycolic acid content. Glycolic acid is known for its skin peeling abilities which also helps to uproot the blockheads. This is the best organic face mask for men and even teenage boys too can try it as it is free of paraben and chemicals.
2. Qraa Men Haldi Chandan Face Pack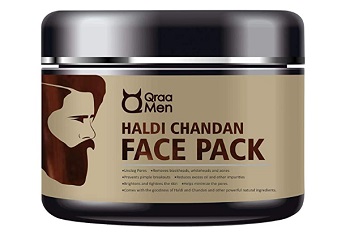 This men's face mask is like a multi-purpose product that not just help with brightening and lightening, but also detans the dark dull skin. The men's face mask is for all skin types, however as it removes the blackheads and whiteheads and also controls the excessive oils, it's best suitable for oily, acne prone and combination skin. The pore tightening feature of this face pack helps to shrink the open pores on the nose, cheeks and chin also. It prevents the pimples and summers breakouts and other common skin blemishes. Being a reasonable product, it does its job pretty well. The availability of this product may not be easy but online it is easily available.
3. Newish De Tan Face Pack for Men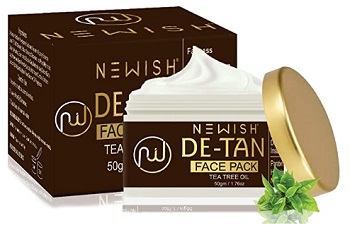 This de-tanning face pack for men can be used by women too. It is rich in tea tree oil that helps to brighten the skin and also prevents the pores from getting clogged with debris, dirt and bacteria. It is n effective face pack to reduce acne and pimples. Apply in a thin layer and wash it after 10 to 15 minutes. It is a suitable facial pack for men with pimple prone skin. Use it three to four times in a week for better results. It does not have any bleaching agents and is best for sun tan removal. Additionally, the men's skin care product also removes the dark spots and patches on the skin.
4. Beardhood Charcoal Peel-Off Mask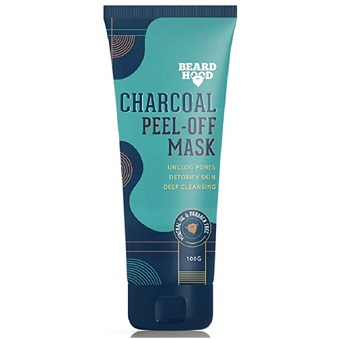 This is the best charcoal peel off face mask for man and if you'll come across the ratings and review of this product, you'll surely get impressed by the benefits of this charcoal pack for men. It uproots the blackheads and properly clarifies the clogged pores. Its powerful bamboo charcoal extract unravels the glowing and bright skin. This is the best weekly use face mask for men with all skin types. It is 100% safe to use even for the sensitive skin. The easy to apply face mask can be used by men with normal to combination skin as well. Apply it on the skin and once it gets fully dried, pel it off and wash the face with plain water.
5. mCaffeine Naked & Rich Choco Face Mask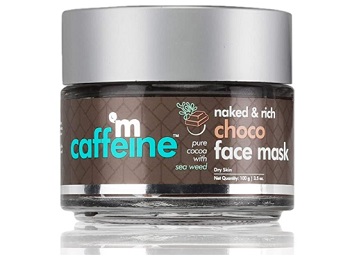 The chocolate face mask is suitable for dry skin. It's not that boys have oily-greasy skin, but there are many men who struggle with dry and irritated skin every day. To combat the roughness, hydration is the key. This is why, this facial mask, blended with your Cocoa and Seaweed helps to invigorate and moisturise the skin deeply. It contains aloe vera as well that adds a soothing touch to irritated de-hydrated skin. It is a facial mask for dry skin for all the season. It does not have any harsh chemicals, rather the product for dry skinned men, is dermatologically approved. For men with dry and sensitive skin, this is safe to use face mask. It helps to get rid of the free radicals and keep the skin fresh and younger.
6. The Man Company Charcoal Peel Off Mask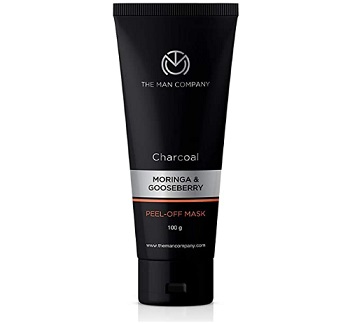 Activated Charcoal peel off mask is especially made for men's skin with extra oiliness. It is blended with Moringa and Gooseberry and is an easy to use peel off mask. It balances the excessive oils on the skin and by soaking up the extra oils, it ensures lesser breakouts and whiteheads. By pulling the skin impurities from the pores, it keeps the skin blemish-free as well, therefore, if you would like to have spotless and clear skin, you must use a charcoal peel off mask once in a week. It is a product that is dermatologically tested and paraben and sulphate free. It's one of the best men's face pack in India.
7. VLCC Ultimo Blends Charcoal Face Pack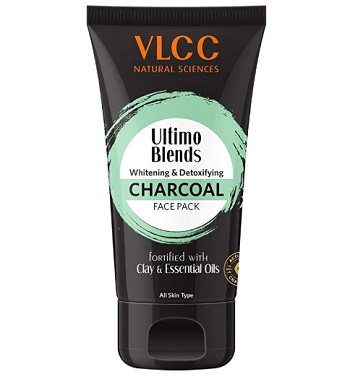 It's a 100% pure activated charcoal product that attracts the dust, pollutants, excessive oil and dirt like a magnet. It draws out the impurities from the skin pores to make them clean. When the pores are free of any impurities, most likely you will experience less skin breakouts. Most importantly, it also contains Green Clay that removes oils and impurities. So even if you wear same amount of makeup or stay in environment that is highly polluted, this face mask is best for you. This is a facial mask that has essential oils and Clay. It even contains Neem Oil to protect the skin from the bacteria and environmental damage.
8. Biotique Bio Myristica Spot Correcting Anti Acne Face Pack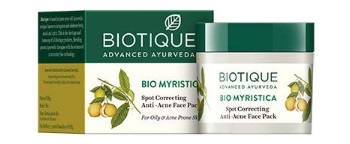 Men with acne prone skin must use a face mask with antibacterial properties. This anti acne face mask from Biotique is the best thing for people with problematic skin. It's not only affordable but effective as well. It is a spot-correcting face mask for oily skin to control the bacteria causing redness and breakouts on the skin. The product for men also reduces the skin irritation as well as pimples. It is the best face mask for oily and acne prone skin for men.
9. Lotus Herbals Frujuvenate Skin Perfecting and Rejuvenating Fruit Pack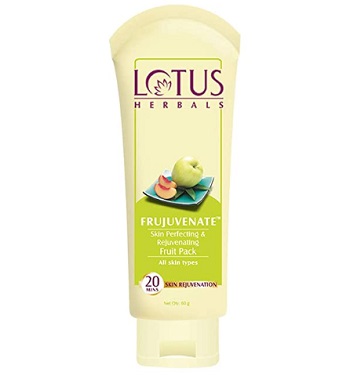 The fruit rejuvenating face pack is for all skin types and even man can try it. It is one of the best products to get younger and smooth skin. So even if you do not have any kind of skin problems, you can still use this face mask. In fact, being very hydrating in nature, it is also suitable for dry skin. It contains the juice of fruits like Grapes, Apple, Pineapple, Peach and Grapes. Being enriched with Alpha Hydroxy Acids, it's a power house of antioxidants. It's also rich in multivitamins and skin rejuvenating properties. Being so effective, this product will help prevent the free radicals and sun damage of your skin. By unclogging the skin pores, it keeps the skin fresh and blemish free. Regular application on a fruit face pack also fades dark spot and fine lines. It can be used 2 times in a week.
10. VLCC Mud Face Pack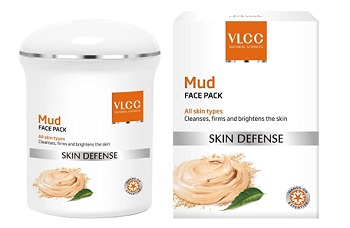 A mud or clay mask is the best product to apply when you have oily and acne prone skin. Men with oily skin can try this product once in a week for better looking skin. It cleanses and tightens the skin to enhance the texture and smoothness. By cleansing the deep seated impurities in the pores, it also improves the micro-blood circulation. Apply the mask in a thick layer and leave it to get dry. Gently wash with clean water.
We hope guys, out of these best face packs for men in India, you will be able to choose the best face product for men's skin. If you have oily and acne prone skin, use charcoal mask at least once in a week. You will be amazed by the wonderful benefits that a charcoal face mask gives. Additionally, also try to use an anti pimple cream, if you have pimples or break out related problem. For dry skin, applying the creams and lotions which are hydrating in nature is also important. Men with extra sensitive skin must also apply hydrating alcohol-free toner for sensitive skin.
Following a good skin care routine daily, boosts the glow and makes the skin better and spotless and it doesn't matter what skin type you have. All you have to do is to use the bright skin care product made for your skin type. Tell you if you have any questions and to ask us in the comments section.