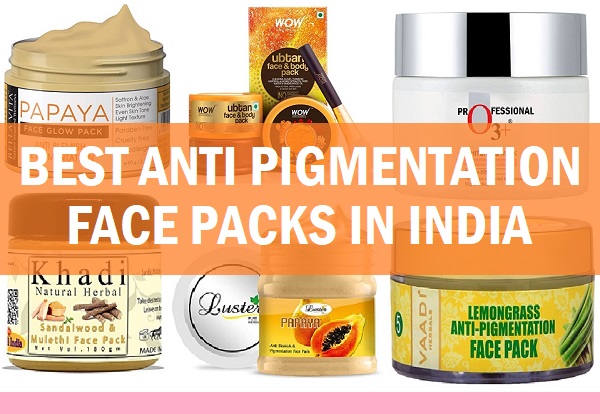 Pigmentation is a condition, where the skin can get patchy and uneven with the change in skin color at certain areas. Melanin is the pigment responsible for this condition. Generally, the hyper-pigmentation is harmless but can definitely lower the self confidence, as some men and women state. Majority of people see pigmentation on the face as a beauty concern or cosmetic issue. One can cure the pigmentation with natural and home remedies and out of that face pack application works the best. Here we've compiled this list of the best face packs for pigmentation in the market.
The common forms of hyperpigmentation can be melasma, sunspots or post-inflammatory hyper-pigmentation. They are curable with proper skin care and preventative measures.
Best Face Packs for Pigmentation in India
Let's take a look at the effective and best anti-pigmentation face packs in Indian market. These pigmentation control products are helpful in reducing the darkening of the skin and also makes skin even toned.
1. Biotique Bio Fruit Whitening and De-pigmentation & Tan Removal Face Pack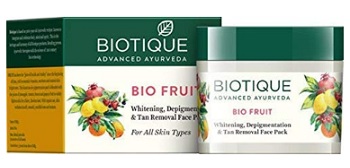 The De-pigmentation and tan removal face pack comes from the house of Biotique. It removes the dark patches from your skin and is one of the best readymade face packs in India. It can be applied daily or at least three times in a week for better and faster results in lightening the pigmentation and tan. Apply it on the clean face and leave it for 15 to 20 minutes. Then, rinse it off with clean water. This facial mask contains fruits like tomato, pineapple, fuller's earth, bhasma and other fruit extract that improves the visible clarity of the skin.
2. Bella Vita Organic Pigmentation Blemish Removal Face Pack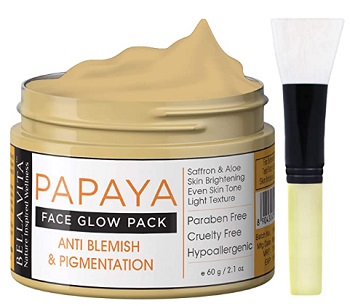 This is a facial glow pack that is made exclusively to lighten the blemishes and pigmentation on the skin. It is mild and natural for all skin types. The product effectively lightens the dark spots, freckles, pimple scars and blackheads. The multani mitti and clay in this face pack helps to uproot the blackheads and clears the pores, which are blocked. It also contains papaya, which is a rich source of the papain enzyme and saffron extract. Along with Aloe Vera Gel, it also contains bentonite clay, beeswax, sandalwood and zinc oxide with vitamin E oil. It is one of the best facial packs for brightening the skin and to make the skin lustrous. It soothes all skin types, including sensitive skin. However, we feel that it's more of a facial pack for people with normal to combination to dry skin. It is cruelty-free, paraben free and is also a hypoallergenic product.
3. Aroma Magic Anti Pigmentation Glossy Pack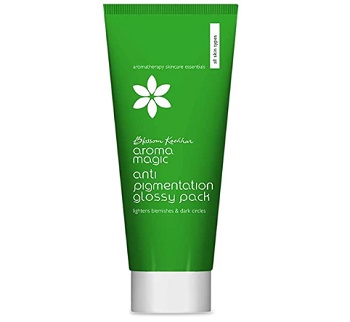 The pigmentation controlling facial pack is from Aroma Magic and is 100% to chemical free and Barb and free facial pack available in the market. It is loaded with natural powerful anti-oxidants rich compounds like manjistha, blackberry, pennywort, and nutmeg with the cloves. It lightens the complexion and reduces the hyper-pigmentation, that is seen on the forehead, cheeks, nose and on the chin as well. At times, the pigmentation is also seen after the pregnancy. So, it basically calms your skin and reduces all those issues that you have with your skin. It can be applied 1-2 times in a week. This is the best pigmentation face pack in India.
4. Khadi Natural Herbal Sandalwood and Mulethi Face Pack Mask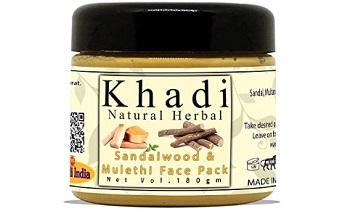 The organic Khadi herbal facial pack contains Sandalwood and Mulethi. It is one of the excellent ingredients to reduce the pigmentation on the skin as well as brightening the skin. This face brightening pack can be applied to 3 times in a week. As it has a very mild and herbal formula, it can be used by people of all skin types that include men and women both. Even, if you have mature and dry skin type, you can try this face pack to cover up the signs of aging like dry skin, lines and wrinkles on your forehead and around the jaw area. It reduces all the skin pigmentation and discoloration that makes your skin look patchy and uneven.
5. Luster Papaya Anti-Blemish & Pigmentation Face Pack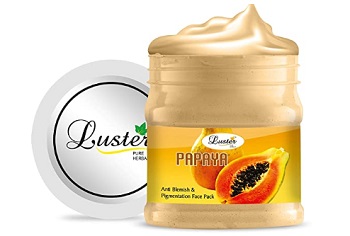 The anti blemish and pigmentation control face pack is loaded with the goodness of papaya. Papaya is one of the best fruits to lighten the marks, scars and pigmentation from the skin. Clearly, the herbal product is made to make your skin bright and clear. It protects the skin's natural moisture and deeply cleanses the skin. So, by giving you a glowing and fresh looking complexion, the product is made with 100% safe for the skin and scientifically tested formula. With the effective herbs, it firms, hydrates and nourishes the skin. This is the best anti pigmentation face pack for glowing skin.
6. Vaadi Herbals Lemongrass Anti Pigmentation Face Pack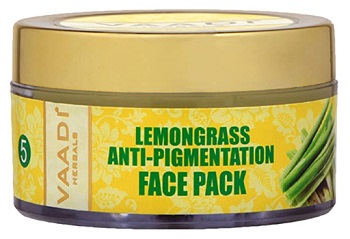 The anti pigmentation facial pack is from Vaadi Herbals. This facial pack is also a part of Vaadi anti pigmentation facial kit. So if you are looking for a good facial to lighten the hyper-pigmentation from your skin, then you may also use that one. It's one of the most used products available from this brand. This facial pack has key ingredients like lemongrass oil, fenugreek and Marigold oil. Additionally, it also has Cedarwood oil. Fenugreek helps revive dullness and with anti-inflammatory properties, it prevents pimples, treats sunburn and also reduces the itching of the skin. Marigold extracts are powerful antioxidant that safeguards the skin from any sort of cell damage. This is one of the best face packs for dry and sensitive skin with hyper pigmentation on the face. Even for Acne prone skin, because of the presence of effective ingredients to unlock the pores and kill the bacteria causing acne on the skin. It can be tried by people with oily skin as well.
7. VLCC De-Pigmentaion Face Mask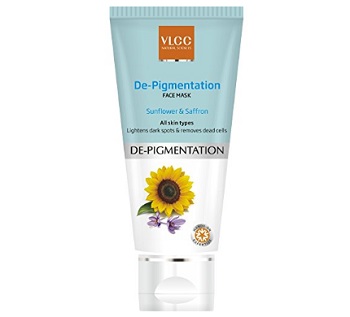 Coming to this VLCC De-pigmentation face mask! This face mask contains sunflower extracts and Saffron. This is one of the most effective and budget friendly product that has Beta carotene and antioxidants. It helps fight against the environmental damage and prevents the premature aging. It also keeps skin safe from scarring and wrinkles. The product also improves your skin complexion by lightening the hyper-pigmentation on the face that can be due to over exposure of the sun, pregnancy and other issues like medication, long term illness etc.
8. O3+ Whitening Mask for Skin Whitening, Tightening and Pigmentation Control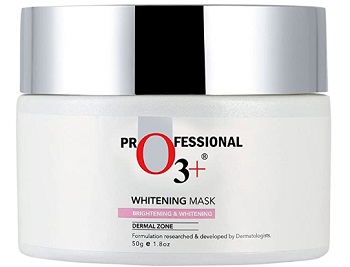 O3+ whitening mask is primarily a skin whitening facial mask that also shrinks the pores on skin and controls the pigmentation. It is infused with the natural goodness of lavender and cucumber extract. Apply the facial mask on the skin and wash it after 15 minutes. It is for normal to dry and mature skin. To give your skin boost of glow, this facial mask can be applied to 2-3 times in a week. It has ingredients which are effective for curing the dark spots, dark circles, from the skin. It is also infused with the goodness of Vitamin C that is known to give your skin whitening and fairness benefits.
9. WOW Ubtan Face & Body Pack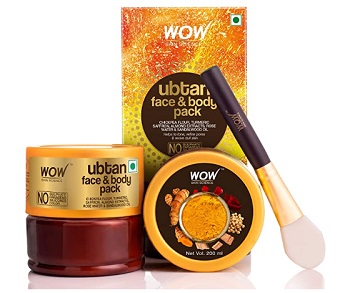 This product is an ubtan face and body pack. Therefore, it can be applied on your face as well as on your body skin. It is a skin refining facial pack containing Chickpea Flour, Almond Shell Powder, Saffron & Turmeric Extracts. By the list of ingredients itself, you can get an idea, how effective this pigmentation removal face pack would be. It helps in drawing out the impurities and deeply seated dust and grime. It is safe and suitable for all the skin types, even when the skin is sensitive and gets red easily. The active ingredients present in this pack gives you glow and hydration from within. It helps to prevent the pollution effects on your skin and to safeguard the skin from the premature UV damage. Regular application also lightens the pigmentation and makes skin glowing.
10. Vegetal Papaya Face Pack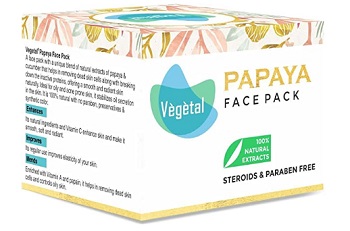 This face pack with papaya is one of the most popular papaya face packs that work on blemishes, tanning and pigmentation on the skin. It is 100% natural and herbal face pack for pigmentation control that contains papaya, cucumber, apple and aloe vera. It is free of paraben and other chemical bleaching agents that can disturb the skin's pH balance and harm the skin in the long-term. So with no possible side effects, this is gentle and 100% natural face pack. This is rich with Vitamin E, C and natural antioxidants that encourage the cell production turn the pigmentation and dark patches on the skin. With the presence of enzyme it reduces the unwanted hair and also mildly ploishes the skin for skin whitening benefits.
These are the best face pack for pigmentation control available in India. Out of these you can choose any of the one that suits your skin type. These are affordable and in budget. Most of these can be used 2 times at least in a week for better results in reducing the pigmentation.