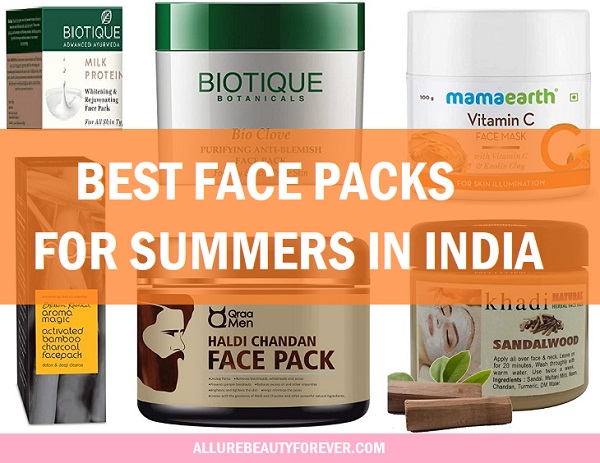 During summer season, many of us experience dullness, darkness and pigmentation of the skin. Even too much of sun exposure can become a reason of permanent tanning or hyper-pigmentation. Have you noticed that even if you have oily and acne prone skin, you would experience more breakouts as compared to the colder weather? There are different types of problems that one experiences during the hot and humid summer season. To combat all these skin problems that bother many of us, the best idea is to apply suitable face pack. If you are confused, which is the best summer face pack, here we've compiled this list of the best summer face packs available in the market currently at affordable prices.
Best  Summer Face Packs in India (2022)
1. Biotique Bio Milk Protein Whitening & Rejuvenating Face Pack 

The whitening and brightening face pack contains the power of milk proteins. Milk protein face packs are known to give fairness by removing the darkness and tanning. This face pack is made with pure extracts of Milk proteins, Almond oil, Honey, Seaweed, Wheat germ Oil and other natural ingredients that help to make your skin fresh and radiant for long time. This can be used 1-2 times in a week. Apply it evenly on your clean face and neck and wash after 15 to 20 minutes. Rinse with water and pat dry the skin. It's the best face pack for hot season to cure sun burning redness and irritated skin.
2. Aroma Magic Activated Bamboo Charcoal Pack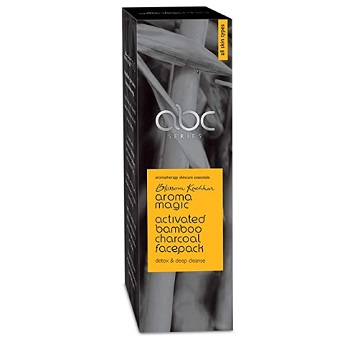 During summer season, when skin is more likely to get blemished and spotted, it's better to use an activated charcoal face pack. This product contains activated charcoal which helps to brighten and lighten the skin by exfoliating the dead skin cells and dust particles.
It clears the pores and also draws out oil and makeup from the skin. So if you are wondering, which is the best summer face pack for oily skin, a charcoal pack would be suitable for you. Coming from a brand that is known for its herbal skin care product this is the best product for summer. It adds brightness and tightens the open pores. For the gorgeous and spotless skin, try it at least once in a week.
3. Qraa Men Haldi Chandan Face Pack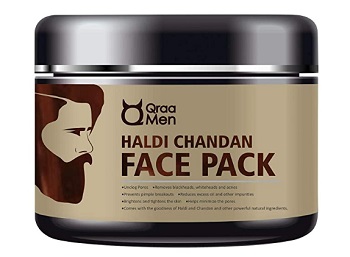 It's a turmeric and Sandalwood face pack is for men. It unlocks the pores and really helps to uproot the blackheads, white heads and acne. While preventing the breakouts on your skin, it also reduces the excessive oils and other impurities like pollutant particles. Protecting your skin from the sun damage this face pack for men also helps to minimise the open pores. This also tightens the skin which is why, it's one of the best men's face pack in India.  Use it twice in a week.
4. VLCC Specifix Skin Brightening De-Tan Pack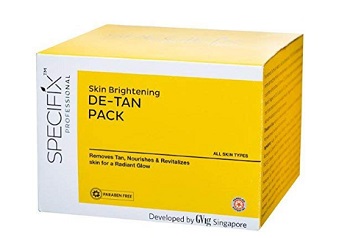 This VLCC skin brightening and whitening face pack is yet another product, quite beneficial for the hot summer season. The best benefit of this face pack is to reduce the sun tanning. Apply liberally on the face and neck and after 15 to 20 minutes wash it off. Applying it frequently like once or twice in a week helps in the sun exposure damage. It is a suitable face pack for men and women to protect your skin from the sun damage and UV rays.
5. Khadi Herbal The EnQ Natural Sandalwood Face Pack
This Khadi herbal face pack is one of the most beneficial face packs, when you have sunburnt and sun damaged skin. This face pack is rich in sandalwood that has cooling properties. This herbal face pack has properties to soothe the red and itching skin. It also fights the acne causing bacteria to keep the skin spotless. While exfoliating the skin, it removes the sun tanning and the signs of skin aging like dry skin and wrinkles. It is an organic and paraben free face pack for summer season for all skin types. Apply it on the face and wash after 10 to 15 minutes.
6. Mamaearth Vitamin C Face Pack
Vitamin C pack is beneficial for all the skin types, especially when your skin is dull and dark. Vitamin C is known to revive the skin complexion and brightness. As a strong antioxidant, Vitamin C not just combats the dark spots and darkness, it helps in preventing too much of melanin production which is the major cause for dark skin. The natural ingredients like turmeric help, this face mask gets you firm and taut facial skin. This face mask shall be applied 2 times in a week for best possible results. It is free from paraben, sulphates, artificial preservatives and colors. The mask is dermatologically tested, which is why, it's suitable for all skin types including the delicate sensitive skin.
7. Biotique Bio Clove Purifying Anti Blemish Face Pack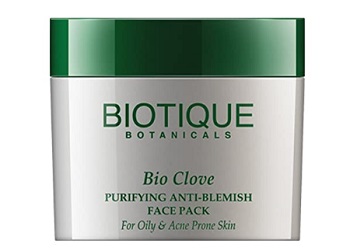 The product is made for oily and acne prone skin. It is an anti blemish back that means that it deeply purifies the skin and absorbs excessive oils. The main benefit of using this face pack, is to clarify the clogged pores. It is also a good face pack for clogged pores in the market at affordable prices. As it is blended with wild turmeric and Clove, it controls the pimples and prevents the frequent future breakouts as well. Using it is very simple. Apply a layer on the clean and dry face. Avoid the lips and mouth areas and leave it for 15 to 20 minutes while washing it with freshwater.
8. Bella Vita Organic Pigmentation Blemish Removal Face Pack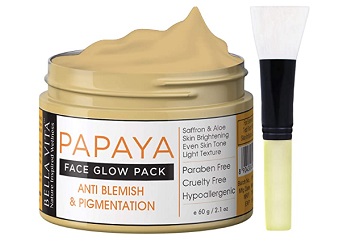 If during summers skin gets pigmented and spotted, this is a natural facial mask for you. This product is rich in the skin brightening ingredients therefore is effective anti blemish and pigmentation removal face pack. It lightens the blemishes, dark spots caused by pimples scars and deeply cleanses the skin. The excellent product is the best pack for hot summer season. It contains Papaya, Saffron, Aloe Vera Gel, Beeswax, Licorice, Bentonite clay and Withania Somnifera extracts along with Manjistha and Sandalwood. Apply it in a thin layer and wash after 10 to 12 minutes. Even for mature skin with pigmentation, this is one of the most effective products to use.
9. Himalaya Herbals Purifying Neem Pack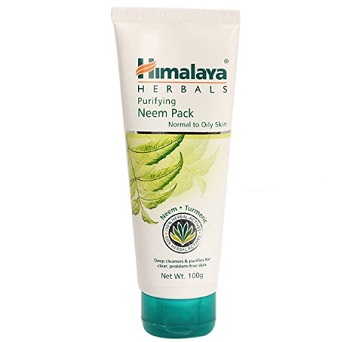 The very affordable Neem pack is suitable even for the teenagers. Teenagers often  struggles with breakouts and oils during hot climate. Applying it regularly helps to get rid of not just the acne and pimples but also blackheads. It deeply clarifies and purifiers the skin with the formula rich in Neem and turmeric. Use it 3 times in a week for breakout-free skin.  This product is available online and offline very easily so availability is also not an issue.
10. Dot & Key Illuminating Glow Detan Clay Mask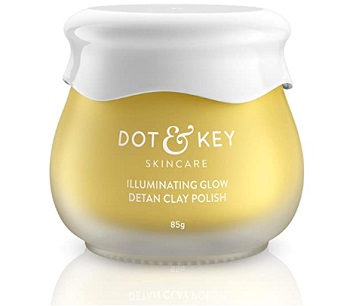 If your skin is dull and tired, during summer than a clay mask that makes skin glow is the best thing that you can use for your skin. It is formulated with Natural clay and Sandalwood powder. The tan removal face pack takes away the dark tan from the skin along with scrubbing off the dead skin cells. It reveals a brighter layer of skin, therefore the complexion looks bright and fresh. It is made with green tea extracts, known to combat the aging and inflammation. Being a chemical free skin care product, it's 100% safe for delicate skin.
11. Lotus Herbals Claywhite Black Clay Skin Whitening Face Pack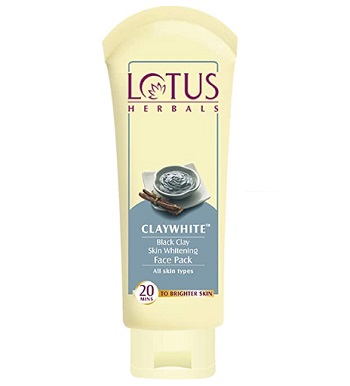 Enriched with black clay, this is a skin whitening face pack. Excessive sun exposure can darken the skin and also causes acne and itchy skin condition. This product protects skin from bacterial infection during the hot and humid season to provide refreshing glow and soothing skin. It's the simplest way to get brighter skin, even during the summer season when the skin gets tanned and burnt by UV rays. Use this two times in a week and it's also suitable for men and women.
12. Vaadi Herbals Chandan Kesar Haldi Fairness Face Pack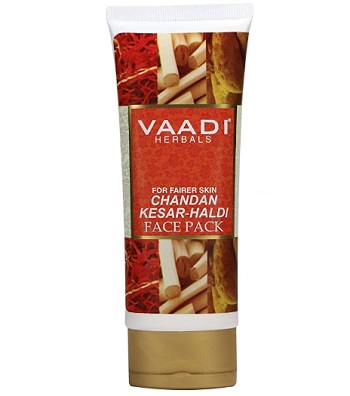 The Kesar Chandan haldi fairness face pack is meant to give you skin lightening and whitening benefits. It also contains Manjistha to improve your complexion and healthy glow on the skin. Enriched with vitamin E, it also safeguards the skin from dryness and harmful UV rays. So this is a product, which all the skin types can try to get good results in lightning the tanning as well as in whitening the facial skin.
13. Plum Green Tea Clear Face Mask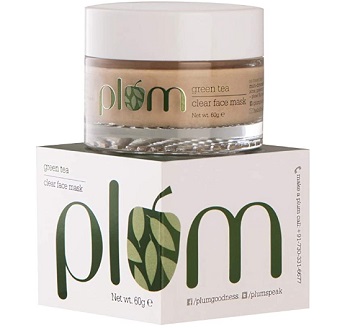 Plum green tea face mask is made for oily and acne prone skin. Green tea has been known to give good results to an acne prone skin because of the richness of antioxidants. The face pack product helps to neutralize the free radical damage and promotes cell regeneration. So it's not just for the acne removal but blackheads are also removed with regular use of this product. Plum products are cruelty-free and PETA certified vegan products. With no paraben, sulphates and other chemicals that can potentially harm from harm your skin, this is a good summer face pack to include in your skin care regimen.
14. UrbanGabru Charcoal Peel Off Mask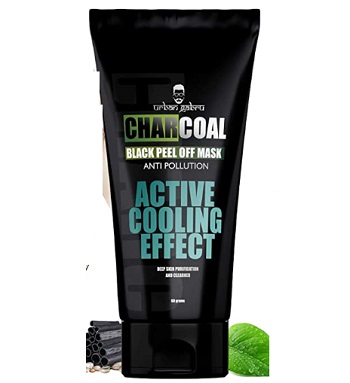 This Charcoal peel off mask is perfect for men with oily and acne prone skin. In fact, even if you have dry and normal skin, you can still try it. The charcoal mask helps to remove the pollution particles on your skin layers and also unblock the pores. By removing the impurities, dust and oils from the skin, it ensures complexion looks matter and bright. A charcoal face mask is a must product during summer season and can be used one to two times in a week.
15. WOW Sangria Face Mask For Tired and Patchy Skin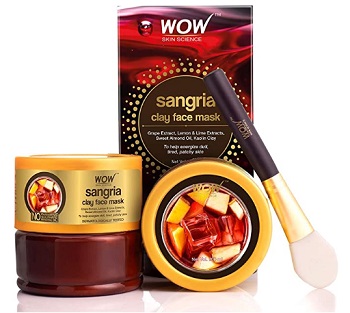 During hot and humid season, when your skin becomes dull and tired an energizing face mask with no paraben and sulphate would be wonderful to use. This summer product helps to keep the excessive sebum production under check and aids in restoring the skin's natural moisture level. As a result, it improves the skin's elasticity and suppleness. This product is made with the effective ingredients like grape extract, lemon and sweet almond oil and is also a dermatologically tested product. It's the best face mask for dull and dark skin.
These are the best face packs for summer season available in the Indian market. Using a summer mask on your face 1-2 twice in a week would give long lasting and better results. So what you can do is to choose the best products from this list and use it regularly by simply including in your skin care routine. Always choose the product according to your skin type.