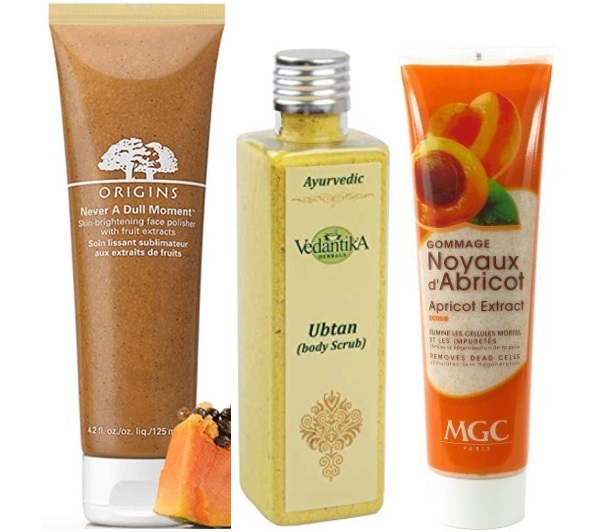 Face polishers are gentle scrubbing or exfoliating products that polishes the skin surface and revives it to look brighter and glowing. In this article, we are going to talk about the best face polishers available so, that you can get rid of the dead tissue, dirt and impurities to reveal healthy skin. You can use them 1-2 times in a week to get beautiful and clear skin tone. During summer season, exfoliating regularly can also help to keep the sun burning, skin darkening away. But also do not forget to use a sunscreen during the daytime, as your skin becomes extra sensitive when the dead skin layer is removed.
List of the Best Face Polishers available in India
1. Vedantika Herbals Ayurvedic Ubton Skin Polishers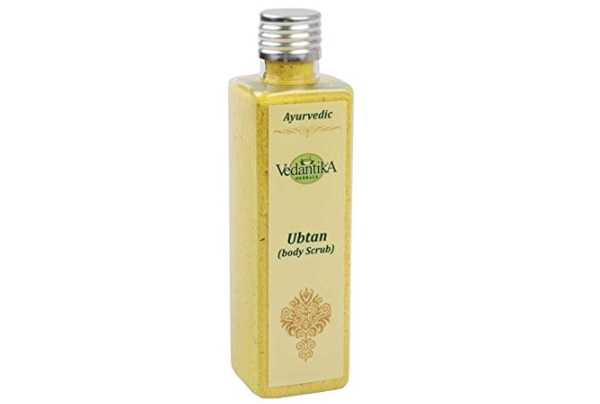 The Ayurvedic Ubtan polisher helps to keep your skin glowing. You have to make a paste of this powder by soaking 2 teaspoonful of ubtan in raw milk. Then, gently rub it on the face and body skin. For 5 to 10 minutes work on your skin, then rinse with normal water. It helps to gently exfoliate your dead skin cells and impurities from the skin uppermost layer. It does not contain any harmful chemicals that can disrupt your natural pH balance. 
Ingredients – Cicer Arietinum, Lens Esculenta (red lentils), Sesamum Indicum, Prunus Amygdalus, Curcuma Aromatica, Azadirachta Indica, Santalum Album, Rosa Centifolia, Citrus Aurantium.
2. Nature's Essence Apple Skin Polisher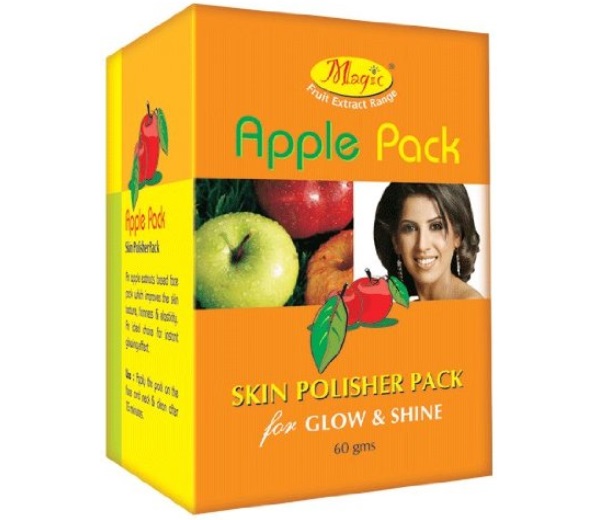 This is one of the best Apple skin polisher in India. The product is a face pack that brightens your skin by eliminating the dead skin cells and acne. It minimizes the blackhead and whitehead on your skin and also lightens the dark spots. With application regularly, this pack also smoothen the skin to whiten it and reduces the dark circles. It is just like a ready-made face pack that you have to apply on your clean skin and wait for 10 to 15 minutes so that it gets dry. Wash off with mild water. It can be applied two times in a week for beautiful glowing skin. The product is suitable for all skin types.
3. Forest Essentials Sandalwood and Turmeric Body Polisher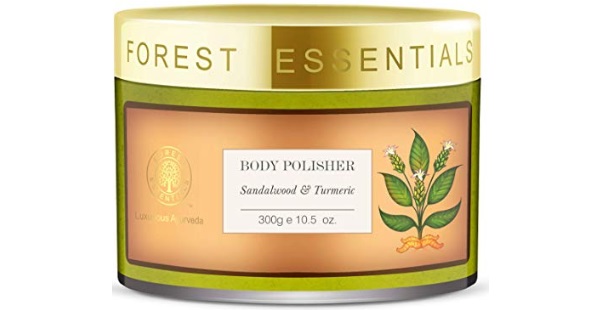 The gentle exfoliating body polisher contains raw cane sugar that polishes your skin and leaves it smooth. It is rich in cold pressed oils like sweet almond oil, Apricot kernel oil, and Sandalwood oil. It gives extra nutrition to your dull and tired skin. It can be applied two times in a week to get smooth skin and improved skin elasticity. Ayurvedic herbs like Ashwagandha is known for anti aging benefits. It cools and purifies your skin. Sandalwood retains moisture levels, tones, purifies, cools and soothes. Turmeric prevents ageing of the skin.
4. Nutriglow Skin Polisher Face Pack 
The skin polishing product has light formula that gives you relief in the darkness. It is enriched with oils that gives you smooth application and gets rid of the dead skin cells. The product is one of the best to smoothen and clarify your skin. You can apply on the face and leave it for 10 to 15 minutes. Then gently massage and remove this product with lukewarm water. It can be used two times in a week.
5. Forest Botanicals Skin Rejuvenating Polisher 
Skin rejuvenating face polisher is a 100% natural product and is safe for all skin types. It is rich in organic ingredients and history of chemicals and parabens. The product can be applied once in a week to maintain a smooth and tight skin. It removes the dead skin cells along with the exercise, hardened sebum in the pores, bump, blackheads and whiteheads. It clarifies your skin pores and kills the bacteria so that skin stays free of problems.
6. Lacto Calamine Oil Balance Face Scrub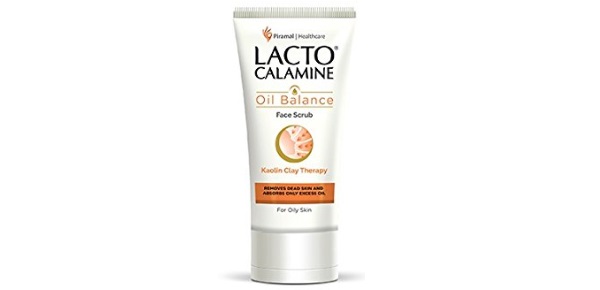 The balancing face Scrub polisher helps to remove the extra oils from your skin. While it retains the natural moisture, it gets rid of the dead skin cells, debris and residues from your skin surface. It prevents the acne and pimples, effectively while giving oil balance benefits. Use of this face scrub not only smoothens your skin but also clarifies it deeply. It can be used twice a week to get beautiful glowing face.
7. Origins Never A Dull Moment Skin Brightening Face Polisher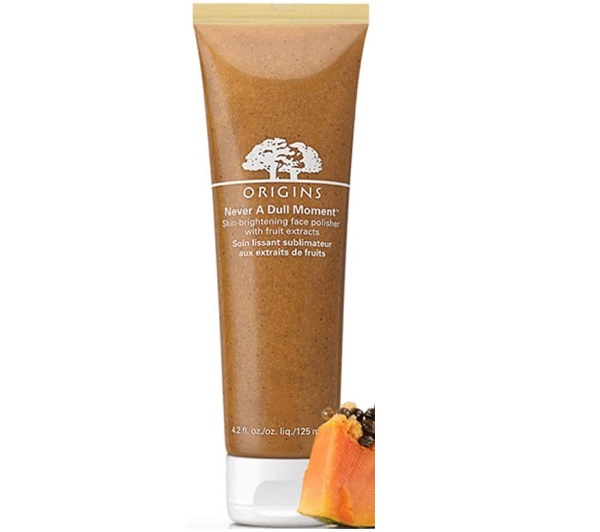 The skin brightening face polisher is an imported product from USA. It is 100% authentic and natural. It contains fruit extract that gives your dull and lackluster skin glow. It polishes the skin by giving a mild buffing on the skin surface that removes the dead tissue. It clarifies the skin pores and shrinks them. It is best for all skin types and can be used two to three times in a week.
8. Sabon Face Polisher
This face polishing product is recommended to get a glowing and energized skin in the morning. It's a very fine scrub in a creamy formula that deeply cleanses your pores and removes the sebum perfectly. It reduces the blemishes and dark spots when used on regular basis. The product is helpful in making the skin free of issues and dead skin cells.
9. MGC Face and Body Polisher Apricot Extract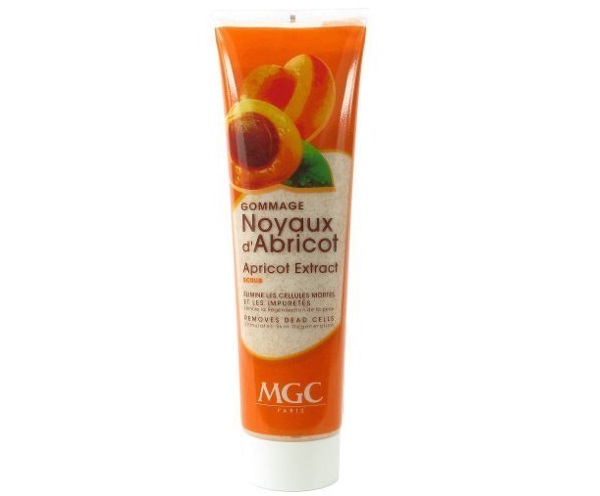 This is a double benefit product as it's a face and body polisher both. It gets rid of your dull and dead skin cells along with the impurities to stimulate the tissue regeneration. The creamy face and body scrub contains Apricot kernel oil that is specially designed to get rid of the dead skin cells and moisturize the skin. It is one of the best face polishes for dry skin. It leaves a soft and clear feeling after the application. It can be used one to two times or as per your requirement.
This is the list of the best face polishers available in India.