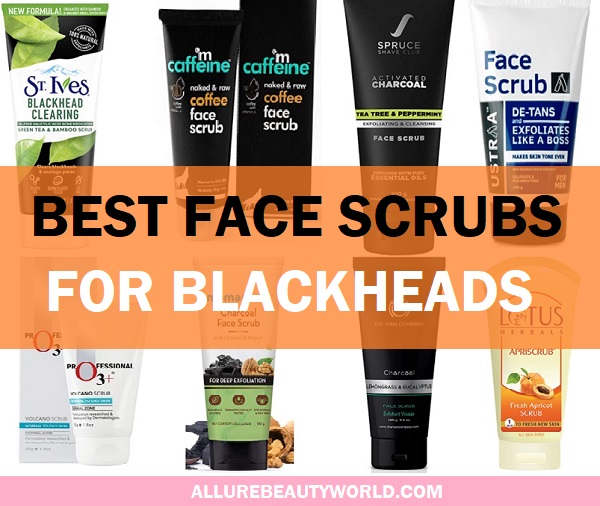 Blackheads are like those small nuisances on the skin that makes skin appear dull and blemished. A good blackhead removal face scrub is wonderful to let them get uprooted. Blackheads are formed when the facial skin pores gets blocked with sebum and dead skin cells. And when they are exposed to oxygen, they get oxidized and turn black. In fact, these blocked pores also acts as excellent place to thrive for the acne causing bacteria. This is why, people who have this problem of blackheads on nose, cheeks and chin would get really irritated finding the suitable blackheads removal products. Here in this article, we have compiled this list of the worth trying and effective blackheads remover face scrubs available in the market. Facial scrubbing and steaming are two important things that you can do in order to remove the blackheads. Scrubs are the handy products that one can use and the results can be seen within few minutes. But you have to be extra careful as it can be damaging to your skin and can leave scarring. Therefore, it is always better to use a face scrub that has the ingredients chemical that can dissolve the blackheads and make them unplugged faster and much easier. So let's go ahead and check out the best blackhead scrubs in India.
Best Face Scrubs For Blackheads In India (2022)
1. Neutrogena Deep Clean Scrub Blackhead Eliminating Daily Scrub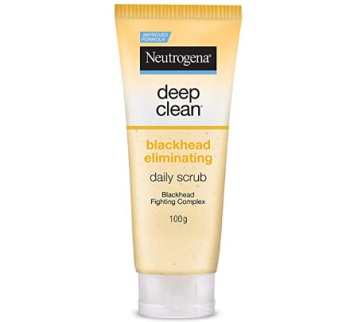 It's one of the best products for blackheads in the Indian market and very reasonably priced for getting rid of blackheads. This daily scrub is a part of everyday skin care routine that one can follow. This facial scrub contains the micro-beads which are not very abrasive but on daily basis when you use them, it helps in uprooting stubborn blackheads from the pores. It also prevents the formation of new ones from forming. As a result, it keeps your skin clear and healthy looking. This product is a non-comedogenic product. Being a dermatologically tested face scrub for blackheads, it's apt for even the sensitive skin, therefore, one can safely apply this face scrubber for blackheads.
2. St. Ives Blackhead Clearing Green Tea Face Scrub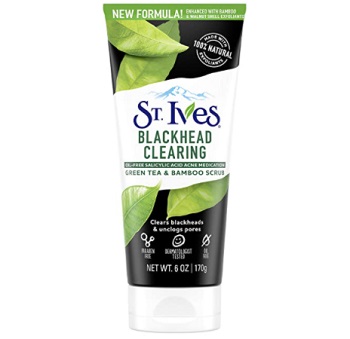 St. Ives blackhead clearing face scrub contains bamboo charcoal and green tea. Being loaded with bamboo plant extract, this also contains salicylic acid. Salicylic acid as we know, helps to loosen the blackheads and prevents bacterial infection. The blackheads clearing product helps in blackheads removal pretty fast. This blackheads face scrub can be tried two to three times in a week for better and long lasting results. If the blackheads are deeply rooted, it will take time to get them unplugged from the pores. This also prevents the new blackheads from forming again on the prominent areas like nose and cheeks. Presence of green tea in this product helps to calm and soothe irritated skin.
3. O3+ Volcano Face Scrub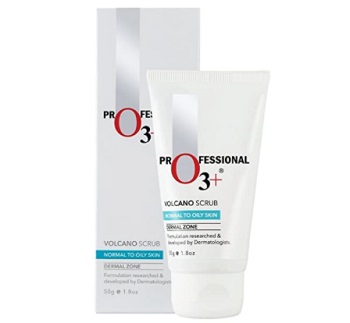 This is a blackheads removal product that is made exclusively for normal to oily skin. It contains the volcanic clay extracts that helps to clear congested skin. The product basically exfoliate your skin and reduces the excessive oiliness. This product is also a dermatologically tested product that causes no harm to the sensitive skin. It relies on the activated carbon to draw out the oils and blackheads from the skin pores. Eventually the product also tightens the pores leaving skin younger and radiant. It is an antibacterial product that gives clean skin.
4. Mamaearth Charcoal Face Scrub For Oily Skin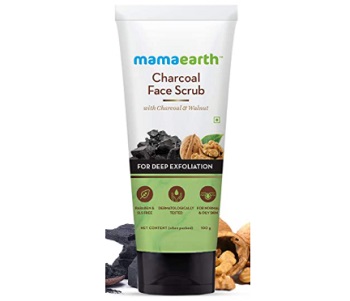 Mamaearth charcoal face Scrub contains the power of activated charcoal with walnut granules. It is a deep exfoliation product that is paraben, chemicals and silicone free formula. It is a dermatologically tested product which is appropriate for sensitive skin. It is made for normal to oily skin and combination skin. Use it two to three times in a week and you will see noticeable results in the blackheads and their lesser formation. Apply this granular product by gently massaging the skin and its granules helps to increase the blood flow. While removing the dead skin cells, it unblocks the pores and is also wonderful in removing the acne forming bacteria that can clog the pores and blackheads. It is free of any Chemicals therefore, is one of the best chemical free blackheads removing face scrubs in India.
5. The Man Company Charcoal Face Scrub For Blackheads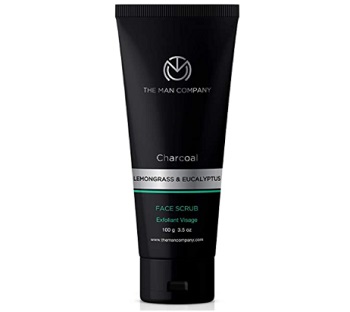 The man Company face scrub is not just for your day-to-day exfoliation but also to get rid of the blackheads. This contains lemongrass and eucalyptus as key ingredients that helps to brighten the skin and treats acne. While you apply this face scrub, it removes the dust and dirt off your skin making it clean and more glowing. It is a lightly greenish coloured scrub with ample amount of walnut granules particles to scrub off the skin. Activated charcoal face scrub is a deeply cleansing product that refreshes and polishes the skin. Therefore, when you include this product in your everyday or bi-weekly skin care routine, it makes your skin feel young and clean. Lemongrass and eucalyptus are essential oils that prevent the damage of the skin cells and cure the acne. The product is easy to apply and is one of the best face scrubs for men for acne and blackheads.
6. Spruce Shave Club Charcoal Face Scrub
This face scrub for men is a deeply cleansing product for blackheads and dead skin cells removal. In fact, it's also a de-tanning face scrub for men. While giving you complete exfoliating experience, it gives you blemish free skin. The activated charcoal face scrub draws out the impurities and pollution particles from the skin making it fresh and illuminated. This face scrub is loaded with walnut particles that exfoliate the skin and remove the blackheads. So while it also helps in tan removal and skin lightening, it makes the skin glowing. The cooling peppermint and the cleansing tea tree extract helps to get you the best looking skin that you ever wanted. Citric acid helps to loosen the plug of the blackheads and resolves the dead skin cells, which gets removed easily by the effective scrubbing effect of the walnut granules. This gives you brighter and blemishes free skin. Additionally, the product for men is a sulphate and paraben and harmful chemicals free product.
7. mCaffeine Naked & Raw Coffee Face Scrub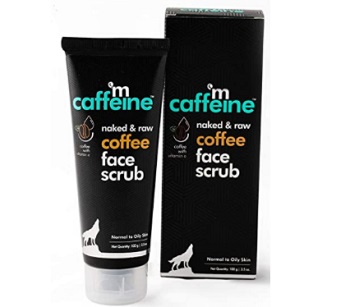 If you are thinking of a good caffeine based face scrub, which could make your skin appear bright and sparkling, then this product is the best. The product is specifically made for the dull lifeless and rough skin. It gets rid of the impurities and day-to-day pollutant particles sticking on the skin surface and the sebum as well. While removing the blackheads, the product also exfoliates the dead skin cells that causes pore blockage. With no dead skin cells and blackheads on your skin, it actually let's you enjoy healthier skin. This blackhead reducing product is loaded with walnut granules and coffee so, eventually, it increases the collagen production and also reduces the cellulite. It also contains caramel, Vitamin E, Argan oil and Hibiscus. It gives you moisturised skin and improved elasticity. Even if you have dry skin, but have blackheads on nose or cheeks, try this product and you will surely love the results. It is an FDA approved product, which is SLS paraben chemical free. The product is for normal to oily skin for both men and women and also is a clinically tested and cruelty free brand which can be used two to three times in a week.
8. Lotus Herbals Apriscrub Fresh Apricot Scrub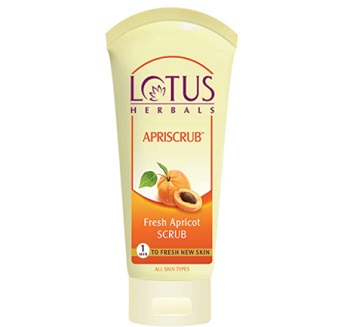 Lotus Herbal Apricot Scrub is for all the skin types especially when you have dry to normal skin. This thoroughly removes the dead skin cells deeply and cleanses the skin. Basically, the product works for combination to dry skin too. Because of the presence of glycerine in it, it retains moisture and calms the itchiness. For dry skin with blackheads, this is one of the most moisturizing and effective products in the market. It is a cream based product which contains Calendula oil, Walnut and Apricot granules.
9. Ustraa Face Scrub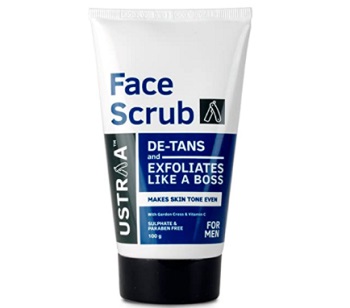 Ustraa face Scrub is a detan and skin polishing men's product that exfoliates thoroughly. So apart from being a sulphate and paraben free product for men, this is one of the best facial scrub for men's rough and dark skin. It has the bigger walnut granules that help to scrub of the dead skin cells and blackheads easily. Natural walnut shell granules exfoliate properly and also remove the blockage of pores by the sebum and dirt. It contains Vitamin C that makes your skin younger and brighter. The product is also rich in glycolic acid, derived from pineapple and beetroot. In short, it's like a gentle chemical peel for your skin that makes the skin brighter but doesn't bring the harms of the chemicals like paraben or sulphates. Do do try this face scrub, which is an amazing product at reasonable price.
10. Good Vibes Charcoal Bamboo Purifying Scrub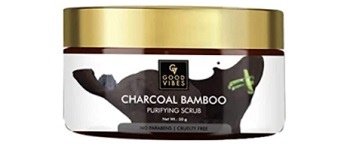 This one is a purifying bamboo charcoal purifying scrub. It deeply cleanses the pores and exfoliates the congested and pore blocked skin for blackheads removal. The paraben, sulphate and cruelty free brand is available at affordable prices. In the exfoliation process, it also gets rid of the unwanted dead skin cells and toxins. With the Olive, Charcoal, Bamboo, Walnut and Aloe vera extracts, it even out the skin texture and keeps skin soft and supple. It can be applied to tired and rough skin.
These are the best face scrubs for blackheads removal available in the market. Apart from that for the blackheads removal, you can also apply gentle and mild fruit face packs bi-weekly that contains the multivitamins and enzymes.
For the stubborn blackheads you can steam your facial skin and then use a blackhead removal face scrub. Steaming would help in loosening up the blackheads and dead skin cells after which scrubbing will remove them effectively and faster.