Face Scrub for oily skin is not just a fancy addition to your skin care routine, however, the simple and easy to use product is one of the most important step to have, when you have oily and acne prone skin. The reason is pretty simple, clogged pores with sebum, oil, dirt and pollutants make your skin breakout every now and then. This is why, the best thing is to use face scrubs timely to keep the skin clear and glowing. Face Scrub for oily skin contains most of the potent antibacterial and antiseptic products that are known to remove the dead skin cells and the acne causing microbes. Activated charcoal face scrubs are considered best for oily skin, even the green tea and neem face scrubs work pretty impressively as an exfoliator for oily skin. When you regularly scrub the face, pores are more likely to stay free of debris and sebum. For women, who wear makeup on daily basis or men who stay outdoors in the polluted environment, must use face scrubs at least two times in a week.
List of the Top Trending Face Scrubs for Oily Skin in Indian Market
Let's take a look at this list of the popular and the best face scrubs for oily skin in the market. Trust us guys, using the best scrub for oily skin in summer can save you from all those common skin problems that you face.
1. WOW Activated Charcoal Face Scrub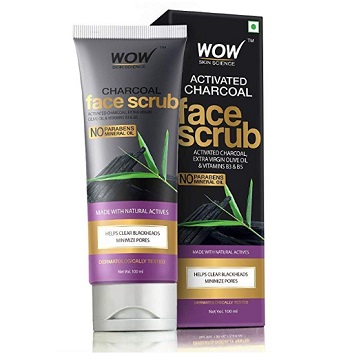 As we mentioned, oily skinned people must focus to avoid clogged pores. This is one of the major things that one should do to keep the skin acne free. Having said that, a charcoal face scrub can certainly help. This activated charcoal facial scrub is rich in cold pressed extra virgin olive oil, vitamin B3 and vitamin B5. It does not have any parabens and minerals which make it yet another best face scrubs in India. It clears the blackheads and minimizes the pores while keeping the skin healthy. So it not just removes the dead skin debris but increases the blood circulation and collagen production.
2. Himalaya Tan Removal Orange Face Scrub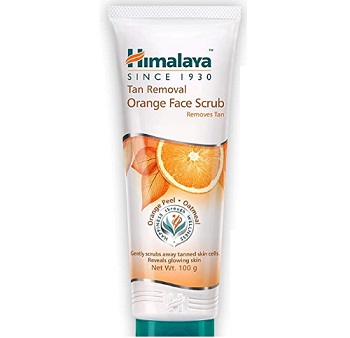 Staying outdoors can possibly cause sun tanning. This tan removal orange face scrub, according to the users, it's pretty helpful in removing not just impurities and dead skin cells but sun tanning as well. It eliminates the excessive face oils and gives smooth and glowing skin. It contains orange peel extracts which are very effective to reduce the sebum and tan darkness. With that it additionally, contains papain and oatmeal to give you fresh and glowing skin. To lighten the tan from the very first day or to keep the skin tan free, this best face scrub for oily skin is a must try.
3. mCaffeine Naked & Raw Coffee Face Scrub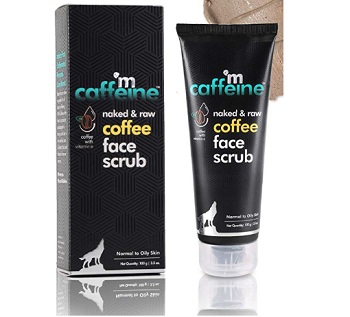 Applying coffee on your face increases the blood circulation and exactly this coffee face scrub does that. It's made with perfectly sized coffee and walnut granules. Scrubbing away the impurities, it's for those who long for healthy and glowing skin. With dead skin cells and blackheads removal, it let your skin breathe. Increasing the blood circulation and collagen production, the organic face scrub further helps in the removal of wrinkles. The coffee scrub for oily skin is SLS free and clinically tested product which happens to be paraben free and cruelty free as well. The best thing is that it's the best face scrub for normal to oily skin at reasonable prices in India.
4. Beardhood Green Tea & Charcoal Gel Face Scrub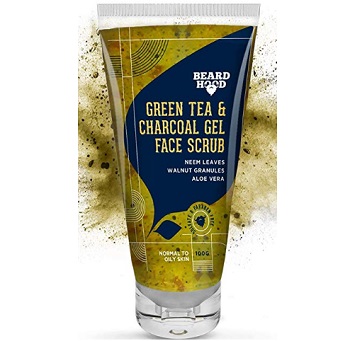 Beardhood skin care products are made with organic formulations. This Beardhood green tea and charcoal face scrub is quite helpful in removing the dead skin cells built up and blackheads on the nose. With paraben and chemical free formula, this is suitable to be used twice in a week. Gently massaging this facial scrub for men helps debris removal and with green tea extracts, it combat free radical damage. Even when you have grime and deep seated blackheads on your face, you can finally say goodbye to all of that. It's the best face scrub for men's oily skin in India.
5. Biotique Papaya Revitalizing Tan Removal Scrub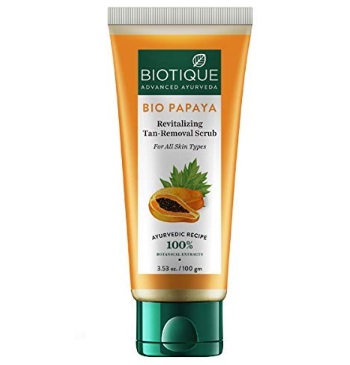 We've got another tan lightening face scrub, made with 100% Ayurvedic formula. The natural skin exfoliator exfoliates the skin and for healthy complexion, it's the best product to use. With pore refining properties, it declogs the pores and let the skin breathe to improve oxygenation. The tan removal face scrub is blended with papaya fruit, known to lighten the skin tone and the pigmentation. For pigmented skin tone, this is Biotique scrub for oily skin is one of the best de-pigmentation scrub.
6. Everyuth Naturals Exfoliating Walnut Scrub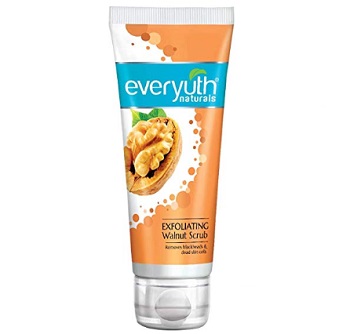 When you skin is oily and combination the face scrubs must be a bit hydrating. Like this one. Talking about Everyuth Naturals Exfoliating Walnut Scrub, that removes the dead skin cells and blackheads effectively. Use it twice in a week to ensure the skin stays blackhead free. To have a velvety and beautiful skin, this Everyuth scrub for oily skin is an amazing and the best face exfoliator product to try. Finely granulated walnut shell particles do not irritate the skin. However, give the just the best scrubbing experience. So the wall net particles are quite granular so it works on oily skin perfectly.
7. Lotus Herbals White Glow Oatmeal And Yogurt Skin Whitening Scrub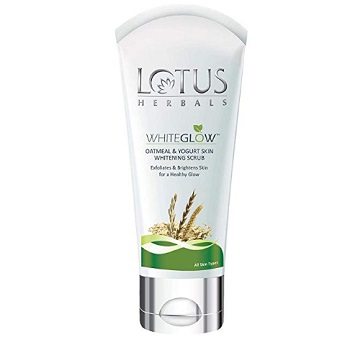 When blackheads on your nose, sun tanning and a dull complexion is making you cringe, this skin whitening face scrub is good to try. This Lotus oatmeal and yoghurt skin whitening Scrub fixes those skin issues and brightens the skin tone. While removing the blackheads and whiteheads, it gives that gentle shine which looks healthy. The natural product has yoghurt and oatmeal extracts which removes the dead skin cells and excessive oils, so that your skin looks even tone and fresh. This is one of the best fairness face scrubs in India for oily skin.
8. Himalaya Herbals Purifying Neem Scrub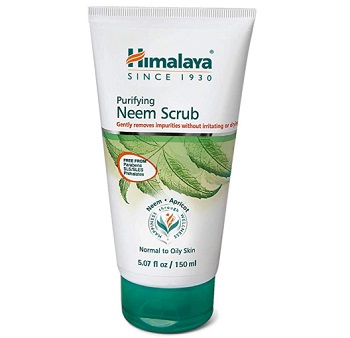 Neem ame is bound to give you irritation free and pimple free skin. This Neem and Apricot face scrub is a paraben and SLS free product that does not have the chemicals which can irritate the skin complexion. It eliminates the pimples and pimple causing bacteria along with the dead skin cells. When you are skin pores are clogged with the skin cells and excess sebum, breakouts are more likely to happen. This is why a Neem Scrub is just so helpful for oily skin. It removes the multiple skin problems such as blackheads, whiteheads, acne and other problems. Pollution and dirt is also a major threat in keeping the skin blemish free, so the product helps to work on that too.
9. Nivea Skin Refining Face Scrub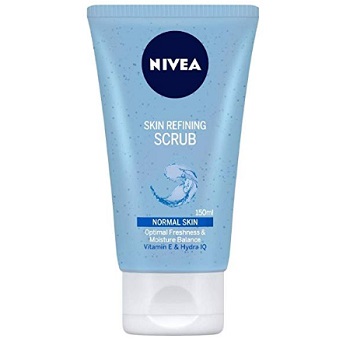 Nivea skin refining face wash is for normal to combination skin. However if you have oily skin you can too. Winter season when your skin becomes a bit dry then only this can be used. This work in removing the blackheads and the dead skin cells even for men it works really nicely. The before shaving exfoliating the skin gives close and smooth shave.
10. Khadi Mauri Herbal Charcoal Face Scrub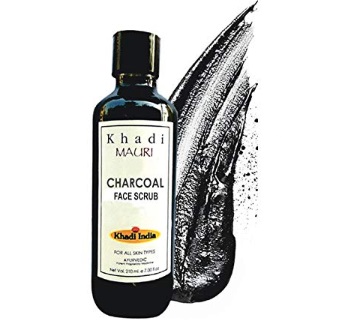 Charcoal face scrubs gives radiant and glowing facial skin within just few uses. The charcoal facial scrubbing product removes dead skin cells and with Apricot granules, it fades the blemishes and pigmentation. It can be applied two three times in a week and you can literally feel that your pores are getting clear. So if you would like to use natural products for your skin, this scrub would definitely impressive.