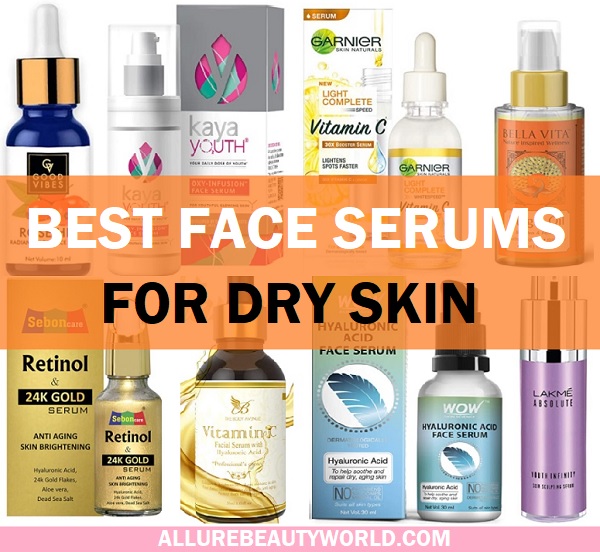 In this article, we are going to share our top picks for the best face serums for dry to normal skin. The serums made for dry too sensitive skin tends to contain more concentrated and dryness healing ingredients along with the other ingredients. This is why, these are the best hydrating face serums developed and formulated for dry face. So if you are thinking of a good face serum for dry dehydrated skin, but don't know which is the right product, this article will surely help you. A lot of people also use Vitamin C serums, which are considered really beneficial for dry skin to maintain the glow and health. In addition, the Vitamin C serums for dry face help in inhibiting the excessive melanin production and dark spots from the skin. Serums are also very rich in hydrating properties which is why they are also used for getting glow and radiance.
A lot of women also use hydrating skin serums before applying their base makeup. Serums are really effective, because they have micro-molecules that get in the skin layers better than the regular skin creams and moisturizers. Which is why, you have to apply your face serums before the application of the face creams and moisturizers for both day and night skin care routine. Serums are also rich with Hyaluronic Acid, which is considered as a wonderful ingredient to look for when your skin is already dry. These Hyaluronic acid serums for dry skin fade wrinkles and fine lines and also help to prevent premature aging of the skin.
Best Hydrating Face Serums for Dry Skin in India (2022)
Let's take a look at the best hydrating face serums for dry skin available in the market.
These are the facial skin serums that kick in the required moisture, when you are already fighting with the dry flaky and tight skin. So in the quest to find the right skin care products for dry face, these serums would be your helpful aid.  You know now, how to choose the best face serum for dry skin, let's see the best serums made for dry skin.
1. L'Oreal Paris Revitalift Crystal Micro-Essence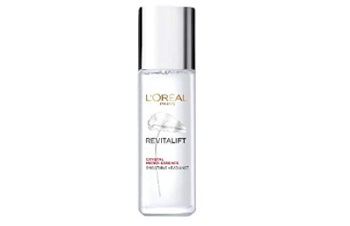 The serum contains the micro essence that helps to boost the skin complexion and softness. This contains the skin hydration boosters that help in reviving the skin. This moisturizer serum helps to seal in the moisture and holds onto it. It is yet another good and affordable product that has anti-aging benefits as well.
2. Good Vibes Radiant Glow Face Serum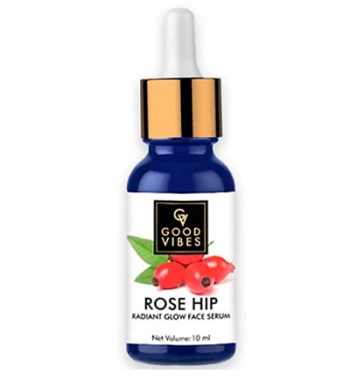 The face serum by Good Vibes is primarily made to give your face glow and smoothness. It is a formula that is very light and easy to absorb in the skin layers. It contains Rosemary oil as the key ingredient. Undoubtedly, it's very light-weight and non-greasy with a non-sticky feel. It's also a brightening face serum for dry skin. So, even when you have dark spots on your dry face, this product is going to help you out. No wonder, you will be amazed by the results. If your skin looks so tight after using this serum, then keep it only for the summers and for the winters try some other Hyaluronic acid based serum.
3. Kaya Youth Oxy-Infusion Face Serum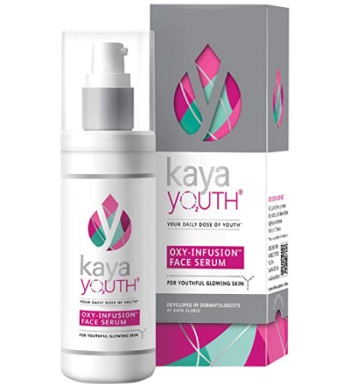 Oxy infusion face serum help to boost the oxygen supply in the skin for a glowing face. This item is suitable for all the skin types, however, we feel that it is better for the dry skin. It can be used as a cream or a stand-alone product during the day or night time. Packaged in a nice pump container, it's an easy-to-use and hygienic product. It blends really nicely in the skin and repairs and strengthens the skin's natural repair system and natural barrier. By boosting the oxygen supply, the serum is going to help your skin bike improving the tone and texture.
4. Garnier Light Complete VITAMIN C Booster Face Serum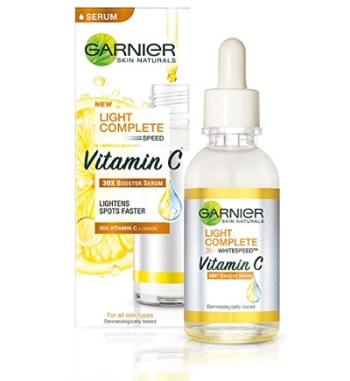 Garnier light complete Vitamin C booster face serum is yet another good product that contains vitamin C for stop as we have mentioned above to cure the dark spots and fine lines from your skin Vitamin C serum can come to your rescue. The best thing about using a Vitamin C loaded serum is its ability to make your skin Radiant and brighter. The is also loaded with powerful antioxidants that reverses the free radical damage on the skin. It is very affordable and can be used on daily basis.
5. SebonCare Retinol Serum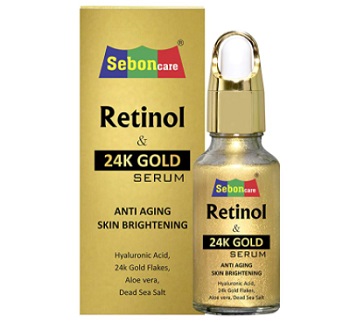 Serum contains retinol along with Hyaluronic acid, Aloe Vera and Vitamin E, to stop coming with a really nice packaging which entices you. The serum is very affordable and has given really good results. It is a lightweight and non-sticky serum. The product is paraben, mineral oil, sulphate free. It is a made in India product which is not tested on animals.
6. Honest Choice Vitamin C Serum with Hyaluronic acid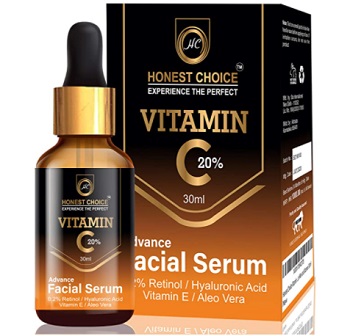 This product comes in a pump dropper packaging which is simple and hygienic to use. 20% Vitamin C, this facial serum for dry skin also contains hyaluronic acid Vitamin E, Aloe vera and 0.2% retinol. So it is a skin brightening coma dark spots reducing and anti aging serum. The serum can be used by everyone but because of the presence of hyaluronic acid and aloe vera, it was really good for the dry and sensitive skin. This can be applied two times in a day however regular use of sunscreen is also required.
7. The Body Avenue Vitamin C Serum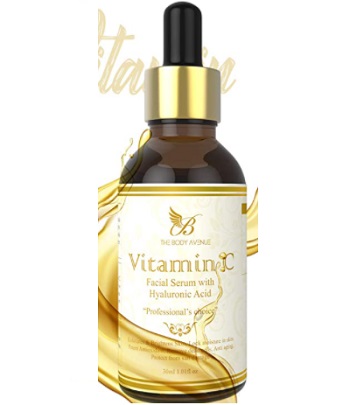 The Body Avenue Vitamin C serum for face containing Vitamin E and hyaluronic acid. Being a skin brightening serum, it also performs other tasks like anti-aging control, dark spot reduction and dark circles cure. It is a serum which is very affordable and reasonably priced. Skin serums shall be applied 2 times in a day. It fights the sun spots acne marks and age spots. It also reduces the overall production of melanin pigment. Vitamin C helps to give you bright and fresh skin. It moisturizes the skin and keeps the skin dewy.
8. Lakmé Youth Infinity Skin Sculpting Serum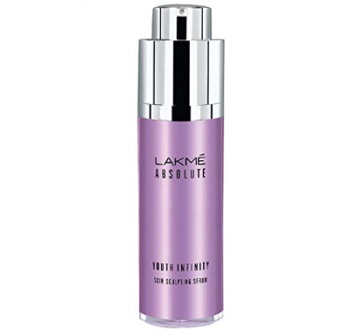 Hyaluronic acid face serum is one of the best products from this brand for dry skin. It is very moisturizing and keeps the skin soft and supple. The serum is nice smelling and does not make the skin sticky. In spite of, it being a dry skin product with hyaluronic acid, it increases the skin glow. This serum is made to suit the dry and aging skin. It does not contain parabens, silicones and mineral oils. It is a purely dermatologically tested product which is safe for sensitive skin as well.
9. WOW Hyaluronic Acid Moisturising Face Serum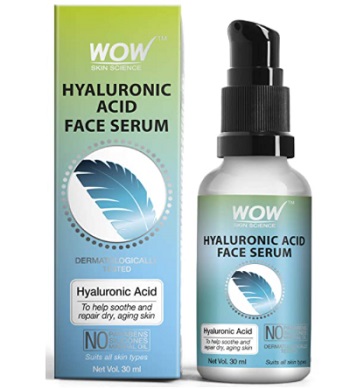 The moisturizing face serum is specially made for dry to normal skin. It helps to hydrate dry, dehydrated and aging skin with the hyaluronic acid. Therefore, it nourishes, moisturizes and provides youthful suppleness. It's an hydrating and repairing face serum to restore lost moisture of the dehydrated skin. It contains hyaluronic acid and silanetriol. The serum helps to soothe skin and gives deep hydration for a plump and supple appearance. Silanetriol added in the serum is a skin-conditioning ingredient to improve the texture. It minimizes the appearance of fine lines and keeps skin smooth and radiant. The serum is dermatologically tested and is suitable for all skin types. It's 100% vegan, gluten-free. It contains no silicones, mineral oil, and paraben.
10. Lakmé Absolute Argan Oil Radiance Overnight Oil-in-Serum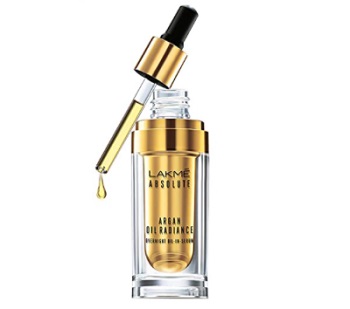 The serum comes from a very popular brand and to give the skin radiant boost and glow, this serum is appropriate. It can be used by all the skin types, with the luxurious and hydrating formula, this is a good face serum for dry sensitive skin. It is available at pretty affordable prices and is easy to prepare from the online shops and nearby local shops. This comes in a pump dispenser and is easy to get into the skin layers.
11. Bella Vita Organic Face Glow Magic Oil Serum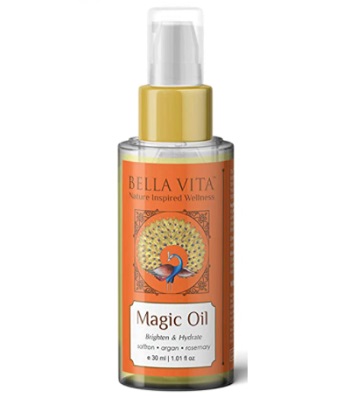 The face glow magic oil serum is specially made keeping in mind the drive to normal skin. It comes with three really effective ingredients like Rosemary oil and Saffron oil. This tree oil makes it very much rising and. The serum is effective in controlling the melasma and the spots that makes the skin patchy and dull. To use this serum, apply 2-3 drops of this oil and apply on the face and neck in circular motions. Avoid direct sun exposure for a minimum of 1 hour after applying this. It is not suitable for day time. Which is why, always use this during the night time. It is basically a night repair oil, that also contains red, sandalwood oil or coconut oil, rose petal, carrot oil or sunflower oil, walnut oil, olive oil and hibiscus. So it also increases the skin's elasticity and fights the aging. It's serum for dry to normal skin with rosehip, saffron & rosemary.
12. The Moms Co. Natural Vitamin C Face Serum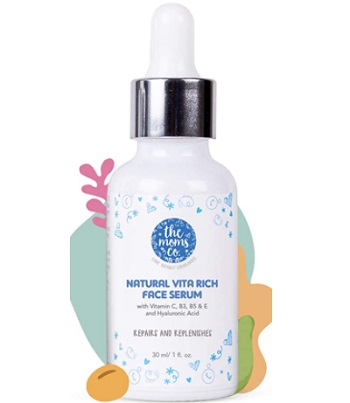 To gain the benefits of Vitamin C, this face serum keeps your skin brighter and free from the spots. But additionally, this product is really powerful for dry skin because it contains hyaluronic acid and other ingredients that keep the moisture in. As a result, your skin glows and becomes really beautiful. By fighting the dryness and dry patches on the skin, this also keeps the wrinkles away. For curing the existing fine lines and wrinkles, this also plays an important role. This serum can be used every night after cleansing your skin with a good cleanser.
13. Dot & Key Collagen Restorative Time Reverse Retinol Serum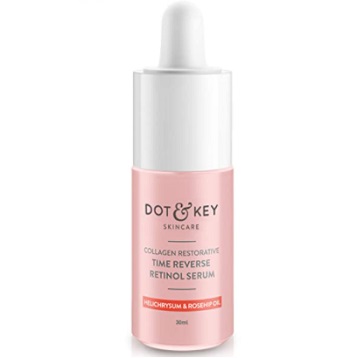 It's a collagen synthesis serum that reverses the age. Basically, it's one of the best retinol serums for dry skin and aging skin. It also contains collagen peptide, comoros and helichrysum. Because of that it helps in slowing down the aging process and the fine lines and wrinkles. This is an antigen product that captures the free radicals and neutralizes them. Therefore, it promotes the collagen synthesis and the regeneration of the new skin cells. It reduces the lines wrinkles, so that your skin looks plump and bouncy. This serum does not contain any bad chemicals and is completely safe and gentle on the skin.
14. WOW Skin Science Retinol Face Serum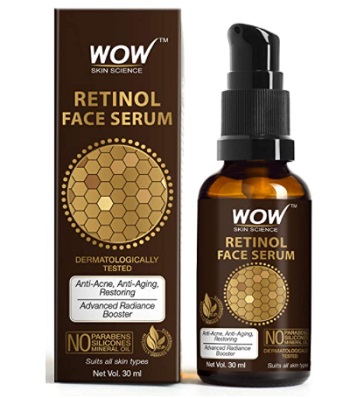 Wow retinol face serum is yet another best face serum for dry and aging skin. A lot of people with dry skin get confused while choosing the best retinol serum for their mature skin. This is also an anti-aging anti acne products because it has advanced radiance boosters. With no paraben, silicone, mineral oil serum comes in a small dark colored bottles. It is basically a skin restoring face serum containing Witch Hazel, Aloe vera Leaf Juice, Vitamin B3, Vitamin E and Retinol. It is 100% Vegan gluten-free and cruelty free product. So, while you use this regularly, it supports and boosts the collagen synthesis and improvising the elasticity and minimizes the pores. To fade the pigmentation, it is the best face serum for dry face.
15. Irem Pure Hyaluronic Acid Serum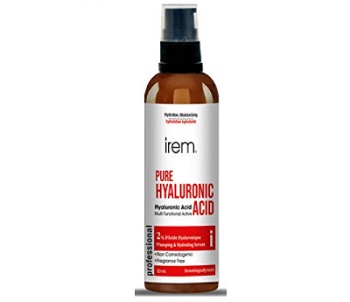 With hyaluronic acid serum, which is very decently priced. To smoothen the lines and wrinkles, it makes your skin look younger. It's the best face serums for dry skin. Even, when you are not fighting aging and you are still in your twenties, you can use this face serum to fight the premature aging and to put a delay on aging process. It increases the moisture content of the skin making it smooth and supple. It shall be applied 1-2 times in a day. It replenishes the moisture level of the skin and keeps the facial skin dewy and soft.
Serums create a protective layer that holds water in the skin better which is why you must add them to your dry skin care routine.
These are the best face serums suitable and formulated for dry skin and sensitive skin. If your skin is getting really dry, then after using these serums, you can put a layer of cream or moisturizer on top of them. This way your skin will become really smooth and moisturized and you will also get the benefits of the ingredients included in the face serums.