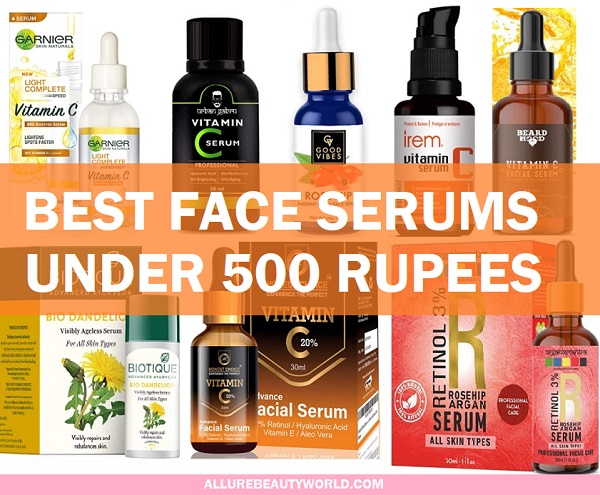 Face serums are lightweight skin care products that get into your skin really easily and this is why, they are considered as really good for acne and oily skin. Most of the times face serums have this tendency to get inside the skin layers and to make the skin hydrated without being sticky or too early on the skin. There are so many different brands of face serums is available in the market made for different skin types common issues and concerns. This is why, we've created this list of the best face serums under 500 rupees available in the market. Therefore, one can try the products, which are less than 500 marks and you can buy these face serums from online at reasonable discounts.
Skin whitening serum are the most popular kind of serums that youngsters would like to use. Other than that serum for curing acne and pimple are also gaining popularity amongst young adults and use because this product helps to get you Spotless skin. Another variety of serum that are currently very popular are Vitamin C serum. We know the benefits of Vitamin C, this is why the serums loaded with Vitamin C are getting high on everyone's skincare essentials. That in that face serums with emollients and hydrating formulas are also searched by a lot of people with dry skin.
Best Face Serums Under 500 Rupees in India (2022)
So, let's go ahead and check the best serum brands under 500 rupees available in India.
1. Garnier Light Complete Vitamin C Booster Face Serum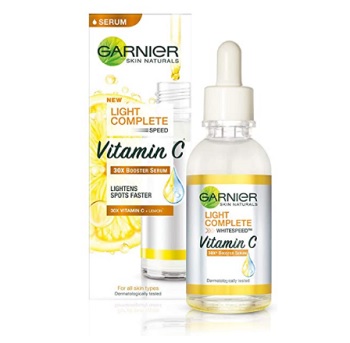 Garnier light complete Vitamin C face serum comes in a dropper cap applicator bottle and is a very easy to use product. This boosts the skin's fairness because it contains 30 times more vitamin C as compared to the regular sources of Vitamin C. It is a concentrated product, that helps to fade away the dark spots, acne marks and blemishes. It is a lightweight product that is non-oily and makes your skin velvety soft after the application. For best results, you can use this Vitamin C serum two times daily morning and evening. It is suitable for oily dry as well as the sensitive skin.
2. Biotique Bio Dandelion Visibly Ageless Serum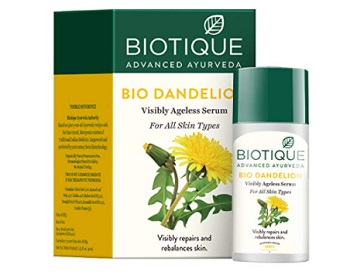 Biotique ageless serum is one of the best products when you have oily and greasy skin. The serum is really lightweight and beautifully blended on the skin that you just want to feel any residue or greasy stickiness afterwards. This is why, this serum is best for all skin types as well. It is lightening serum that contains the rare blend of pure Dandelion, Vitamin A, minerals and nutmeg oil. Regular application helps in rejuvenating the skin and fading the dark spots. The serum also helps to fight wrinkles and fine lines to get you a flawless complexion. It can be applied morning and evening.
3. Good Vibes Radiant Glow Face Serum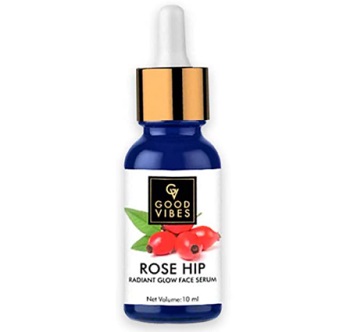 The radiant glow face serum contains rosehip oil. The serum is amazing for dry to normal skin. It helps in eliminating the dark spots and dark circles as well as the fine lines. To get you glowing skin for dry face, this is an effective face product. To get brightened face and even toned skin complexion, this serum will make your skin radiant and youthful. By diminishing the blemishes and fine lines, this is one of the best serums for dry skin under 500 rupees.
4. Honest Choice Vitamin C Serum with Hyaluronic acid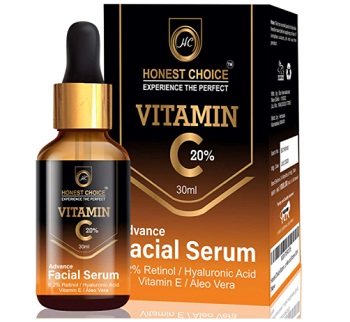 The vitamin C serum from Honest Choice contains hyaluronic acid. It also has Aloe Vera, Vitamin E and other ingredients like 0.2% Retinol. So, it's 20% Vitamin C serum that is suitable for daily use. It is a potential antioxidant that helps your skin become blemish-free and spotless. The serum is light-weight and non-sticky so, after application, it gives your skin beautiful glow with hydrated feel. It is suitable to be used once or twice in a day and also helps in combating the pigmentation and fine lines.
5. Kaya Youth Oxy-Infusion Face Serum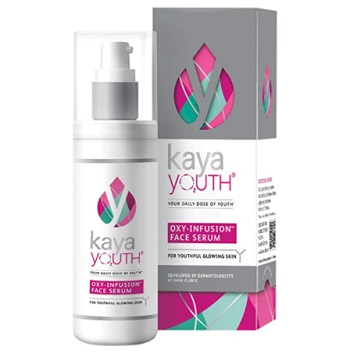 The Kaya Youth face serum comes in a pump dispenser and is a very lightweight lotion like product. It boosts oxygen supply in the skin layers for visibly radiant and healthy glowing skin. It reduces dullness spots and uneven skin tone. By decreasing the dark patches on the skin, it gives youthful glow. It is developed by Dermatologists and is suitable for all skin types. However, after using this we found out that it can be a bit sticky for the oily skin during hot summer weather. This product can be used two times in a day as a standalone product or before applying your face creams.
6. Irem Vitamin C Serum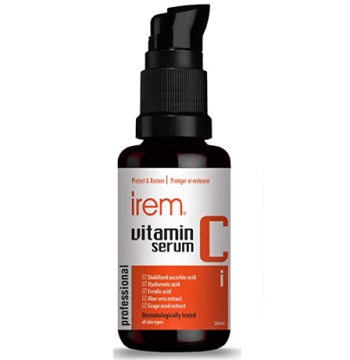 This product is a Vitamin C serum that comes with Hyaluronic acid, Ferulic acid, Aloe vera and Grape seed extract. The product is really light-weight and is one of the finest serums for deeply hydrating the skin. It is suitable for all skin types, especially for the dry and damaged skin. While the product cures the most common signs of aging like fine lines and wrinkles, it also brightens and clarifies. This product is amazing with its age controlling and acne controlling properties. This can be applied 2 times in a day.
7. UrbanGabru Vitamin C Serum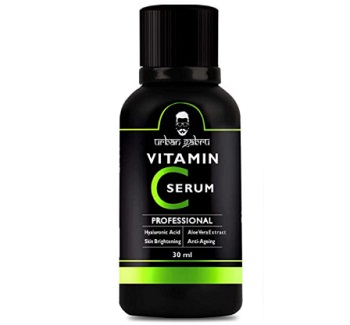 This is yet another best face serum for men and has high stable variant of Vitamin C. It also contains aloe vera, grape seed extract and hyaluronic acid. It's meant for men with all skin types and has age-defying properties. It can be applied 2 times in a day by taking just to 2-3 drops. You can wear this serum as a stand-alone product or apply it before putting on the moisturizer or cream on your daily basis. It also acts as a perfect moisturizer without being oily, sticky or even leaving the heavy residue behind.
8. Organix Mantra Retinol Serum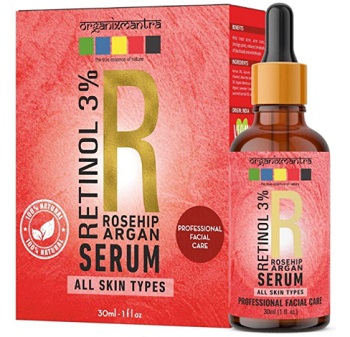 It is retinol serum that contains 3% for face with Vitamin E, Hyaluronic Acid, Moroccan Argan Oil, Rosehip Oil. Being suitable for all skin types, this helps in fighting the acne and their marks. Regular application of this face serum gives supple soft skin. It enhances the natural collagen production and shields the skin from environmental damage. Known to enhance the skin tone and to accelerate the sunburn healing, the ingredients involved are miraculous for dry and damaged skin.
9. Lotus Herbals White Glow Intensive Skin Serum+ Moisturiser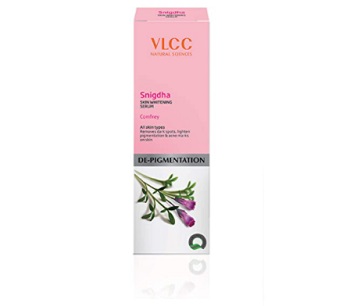 The product is a serum and moisturizer which means it contains the lightweight formula that has Mauli and that helps the normal skin to feel bright and fresh. The serum is under 500 rupees price tag and is very affordable. It lightens brightens and clarifies the skin while reducing the Dallas and making the skin feel refreshed. This serum shall be applied twice daily for better results.
10. VLCC Snigdha Skin Whitening Serum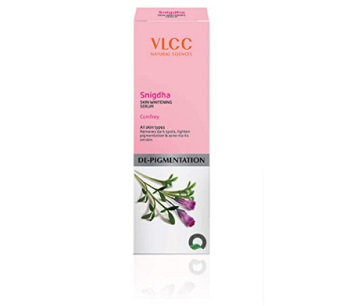 VLCC Skin whitening serum is a de-pigmentation product that contains the natural comfrey extracts. It removes the dark spots and lightens the pigmentation along with the acne scars and marks. Apply it on your clean skin and leave it on. This can be used 2 times in a day. The product is suitable for all skin types and it also contains Mulberry extracts, which are rich in antioxidants that brighten the skin and improves the skin complexion. It has vitamin B3 that heals the acne and reduces hyper pigmentation. The anti-inflammatory properties of the bio Organic products involved in the making of this serum helps to heal the sun damaged skin.
11. Beardhood Vitamin C Serum for Face with Vitamin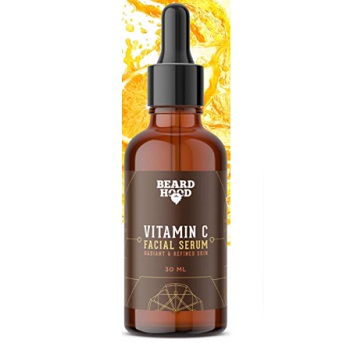 The vitamin C serum comes with 20% vitamin C with Green tea and Hyaluronic acid. It is yet another amazing and quite effective Vitamin C face serum for men. It is very affordable and light on the pocket with results. With regular use, it helps in reduction of fine lines wrinkles and dark circles. By reducing the hyper-pigmentation and age spots, it also leaves the skin clear and spotless. The product gives defence against environmental stress and free radicals. Green tea is a natural antioxidant, included in this product, which helps to fight the damage and inflammation of the skin. Apply it twice a day for better skin.
12. MIXIFY Unloc Skin Glow Face Serum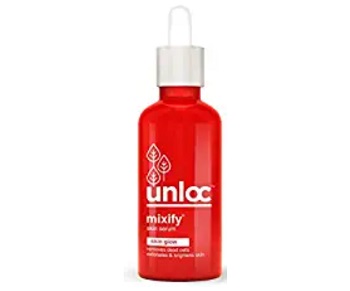 This skin glowing face serum that comes loaded with Alpha Hydroxy acids, Vitamin C and plant extracts of Liquorice and Mulberry. It is a paraben and sulphate free product that is known in reducing dark spots and pigmentation. It is a non-comedogenic and oil-free product that is completely suitable for summers for oily skin as well. It is 100% cruelty free and vegan place product that is perfect for oily and sensitive skin. Apply this face serum before applying your face creams and moisturizers. Using it is also easy because of the dropper cap at the top.
13. Recast Hyaluronic Acid Serum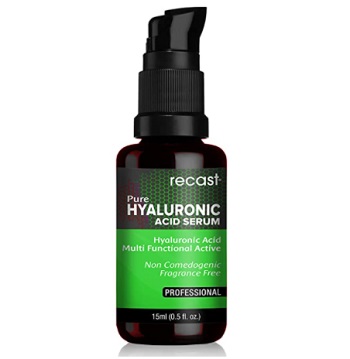 The face serum is rich with hyaluronic acid and comes with the non-comedogenic formula. It is one of the best moisturizer for dry and aging skin. When your skin is getting very dry and you want it to become glowing and plump, and then try this face moisturizer. It makes your skin soft and brighter. This helps in replenishing the water content in your skin and improves the overall hydration. By increasing the elasticity, it also prevents future lines and wrinkles from forming on the skin. It does not contain any chemicals, fragrances and alcohol. It's just the pure hyaluronic acid for your dry skin.
14. Man Arden Skin Boosting Vitamins Shot Face Serum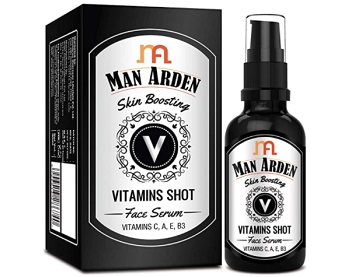 The face serum contains multiple vitamins like Vitamin C, A and B3. For overall skin nourishment, it helps in protecting and detoxifying the skin. It rebuilds and repairs damaged skin and help to restore the radiance. The product helps to defend the skin from the harsh weather conditions and pollution. It gives the essential vitamins and essential oils to get your skin perfectly smooth and glowing.
15. Richfeel Skin Logix Whitening Advance Night Repair Serum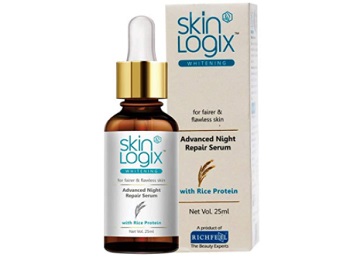 The advanced night repair serum is suitable for rejuvenating your skin. It makes the skin smooth soft and gentle textured. It cleanses the skin and tightens the pores. The very affordable face serum is a night repair serum that is loaded with rice proteins. It gives you fair and flawless looking skin. It is suitable for normal to dry skin.
These are the best face serum under 500 rupees price tag which are not only effective for your skin and skin issues but also gives dewy soft spotless skin. Now coming to how to choose the serums, depends on your skin condition and the skin issues that you are currently dealing with.