Do you feel your skin is getting dull and dark during the hot summer season. If that's yes, then you must try the anti-tan face wash that not just makes your skin glowing but should also get rid of the tanning and other related skin problems, common in hot and humid weather. Getting a glow during summers is not very difficult, if you're using the correct facial skin product.
And to do so one can definitely use an ideal summer face wash. These face cleansers must be there in your daily skincare regimen to clean the skin thoroughly and prep it up for the next step of skin care. Just like we used a good face cream for summer, that does not make our face greasy or sticky, similarly using a facial cleanser with clear skin naturally by taking rid of the dust, grime and the bacteria is ideal. Choosing the best face wash depending on your skin type is not a difficult task, when you have this list around with you. So considering that we've created this list post, where in you will see the best summer face wash in the market for different skin types.
Have you noticed that during the hot season, it's not that the oily skin becomes greasy, try the best organic face wash for oily skin. Even dry skin can become comparatively dry. Therefore, the face wash, you were using during cold winter season will not fare well. So, picking the right cleanser is also important. Look at the best face wash that you can use during summer season.
List of Top Best Face Wash For Summer in India
1. Himalaya Tan Removal Orange Face Wash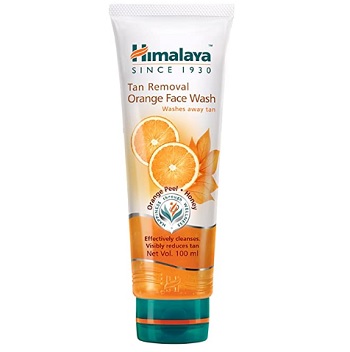 To fight the tan from your skin, this is one of the best tan removal facial cleanser. Containing the orange peel extract and honey, this is a gel face cleanser that is suitable for all skin types. After using this face wash, we really loved its gel formula and the way it washes away the dead skin cells and oiliness. It does not the immediately work but takes some time. As suitable and ideal cleanser, the Himalaya face wash for oily skin in summer is an affordable product.
2. Bella Vita Organic Vitamin C Face Wash For Oily to Normal Skin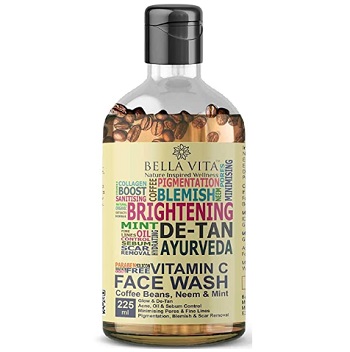 This vitamin C infused face wash is wonderful in lot of different skin issues. This gel textured face wash is an amazing product that has received full ratings from the users who have tried it. We have our self tried it and really like the way its texture helps to bring out the glow. So, it's the best face wash for oily skin in humid weather that increases the cell renewal and boosts the collagen. While brightening the skin, it also revitalizes. With the ingredients like Coffee Bean, Neem and mint, this is one of the best face wash for oily skin, especially during the summer season. Additionally, it's a paraben and sulphate free face wash for all skin types.
3. Nivea Milk Delights Caring Rosewater Face Wash For Sensitive Skin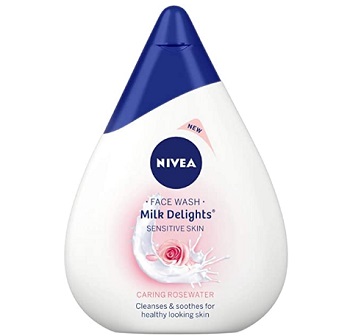 It's not that, only during winters one can experience dry and itchy skin. Even you can have a sensitive and sun burnt skin during hot weather. To combat extra redness and itching, a face wash formulated for sensitive skin should be there in your skin care kit. To deal with the sensitive skin issues, Nivea face wash milk delights with rose water is an ideal choice. It delicately cleanses the skin and because of its soothing properties, it leaves the skin healthy and clean. It's the best face wash for sensitive skin India.
4. Lotus Herbals White Glow Skin Whitening And Oil Control Face Wash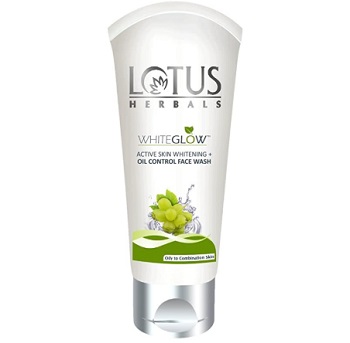 This oil controlling product with skin whitening properties, is appropriate if you are skin becomes darker and dull because of too much of oil secretion. Many teenagers have this issue of their skin getting dark and glow-less less during summers. Therefore, to deal with that, this Lotus whitening oil control face wash would be helpful. It's a foaming face wash, hence it cleanses away the oils and controls it for a long time. It's an affordable product suitable for even the teenagers.
5. Lotus Herbals Berry Scrub Strawberry and Aloe Vera Exfoliating Face Wash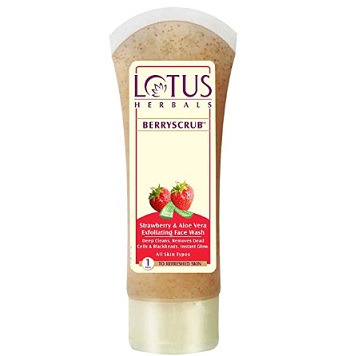 To keep your skin free of blackheads, whiteheads and to make it refreshed and glowing, using an exfoliating face wash for the summers is ideal. This summer face wash is rich in exfoliating tiny particles and strawberry and aloe vera extract. This cleanser provides glowing and clean skin and eliminates the blackheads and dead skin cells. It gently exfoliates the skin everyday, whenever you use this cleanser. It also contains a strawberry seeds, orange peel, lemon and aloe vera. The gel texture of this face wash is really nice when you are using this. It's a face wash that makes your skin glow and a very affordable product.
6. Bombay Shaving Company Charcoal Face Wash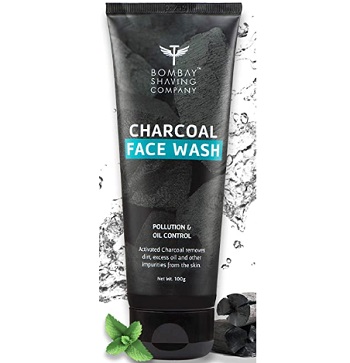 Charcoal facial cleanser is a must have for men with very oily and acne prone skin. Men too experience the acne, blemishes and other skin issues that can make their skin rough and very unhealthy looking. Hence, for pollution damage and oil control, the product can really help with the day today summer skin issues. This product contains activated charcoal that remove the excess oils, impurities, and other particles that stick on the skin whenever you go out. So it's an anti acne face wash that also adds glow on your skin. It's one of the most popular face washes for men in India. Again, this is also an SLS, SLES and paraben free facial cleanser for damage free skin.
7. Ustraa Face Wash Acne Control With Neem & Charcoal Face Wash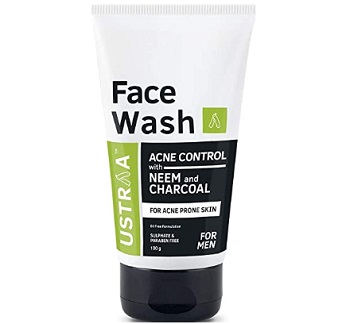 Men with acne and pimples, must use an anti-acne face wash containing Neem and charcoal. Just like this Ustraa face wash. This is a paraben and sulphate free face wash for men with oily and acne prone skin in India, at very affordable prices. The best thing is that, the oil-free formula of this face wash helps to prevent the oils from coming on the skin for long hours. Because of which, your skin does not feel sticky or greasy. Additionally, if oils are making your skin darker, this situation can also be prevented by using this technique. To get healthy skin, this is a must-have chemical free facial cleanser for men.
8. Lakme Blush & Glow Kiwi Freshness Gel Face Wash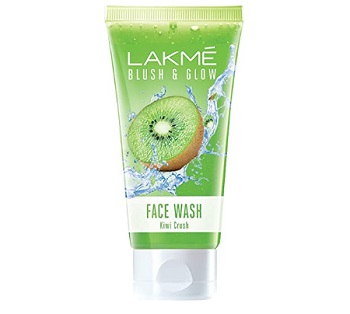 One can get glowing skin, with this kiwi face wash from Lakme, is an ideal choice. Extract this face cleanser and get the glow on your skin. Formulated with the gel texture, this is suitable for even the teenagers and comes at a very pocket friendly price. The best thing is that, this facial cleanser is easily available at a nearby store as well. So, if you are a teenager, who would like to use a simple face wash that just gives you enough of the cleansing and glow then try this.
9. Biotique Bio Neem Purifying Face Wash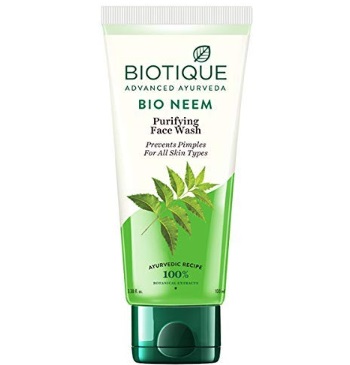 A neem face cleanser is quite beneficial, due to the anti-bacterial properties. It's a soap-free cleanser that works without drying the skin. For normal to oily skin, try this cleanser. One can really get clear and spotless skin. It's the best natural face wash for acne and oily skin in the market at decent prices.
10. Pond's Pure White Anti Pollution Activated Charcoal Face Wash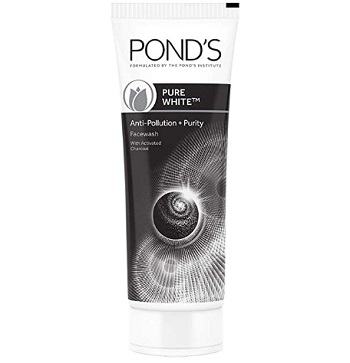 Coming to this amazing activated charcoal face wash, that fights the pollution and the surface level impurities. Activated charcoal is known for its amazing properties to cleanse away everything except for the natural oils from the skin. So, cleanses away the impurities and pollution particles. It reduces the blemishes, acne and clears the pores. It's suitable for normal to oily skin. However, if you've dry skin, then refrain from this face wash as it can be a bit drying, if your skin is already try.
11. Garnier Skin Naturals Light Complete Face Wash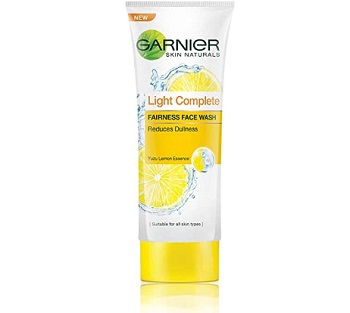 If your skin becomes very dark during summer season, then definitely you need fairness face wash. This face wash is made with lemon extracts that contains multiple times Vitamin C, than the regular face washes. So it reduces the dullness and makes skin fair and glowing. This is a daily use facial cleanser available at very affordable prices and is suitable for all skin types. So, even if you have dry skin, you can still use this face cleanser to brighten up your skin, because of its pretty moisturizing formula.
12. Garnier Men Power White Anti-Pollution Double Action Face Wash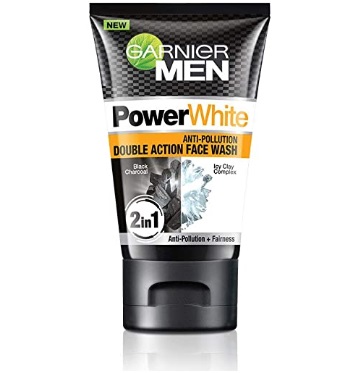 For acne prone skin, one can try this oil and pollution control face wash and to give you one more option, we've this Garnier Men power White face wash. This is also an excellent face wash that is really popular amongst men with oily skin. So, to remove the dust and pollution from your skin, it also cleanses the skin deeply. So even if you have pollutants, impurities and dust sticking on your oily face, this is going to clean everything. Its non-drying formula and is also good for all skin types. However, we feel that it's best for oily acne prone and combination men's skin.
13. WOW Skin Science Apple Cider Vinegar Face Wash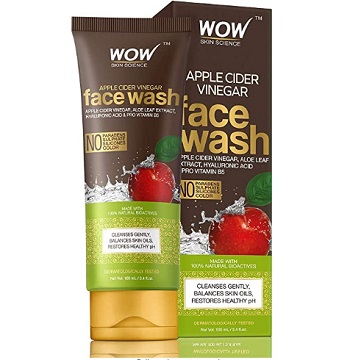 This is one of the best face wash for clogged pores. Apple cider vinegar is known to give multiple benefits. Made with Apple cider vinegar, Aloe leaf extract, Hyaluronic Acid and Provitamin B5, this is an excellent cleanser to clear the pores, it balances the skin oils. It restores the healthy PH and gives glowing skin. It is one of the best affordable face cleansers for getting glowing skin in India. Use it twice in a day and your skin would become really healthy. The best thing is that our products are paraben and sulphate free without the use of the harmful chemicals.
14. Neutrogena Deep Clean Foaming Cleanser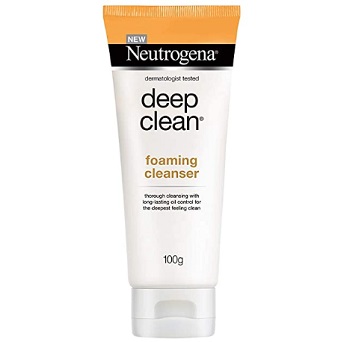 A foaming cleanser is an effective and excellent product, when you have very greasy and oily skin. There are a lot of teenagers and young adults out there who have this extremely oily skin during summers. It gets rid of the oils but also provides the oil-control benefits. This foaming cleanser long lasting oil control benefits. So it takes away 99% of the micro-pollutants from your skin and removes the skin impurities like make up and oils. This is suitable for both men and women and is a perfect face wash for oily to normal skin type. Additionally, the product is dermatologically tested, oil-free and non-comedogenic, hence this is also one of the best foaming and non-comedogenic cleansers in India.
15. Nivea Men Oil Control Face Wash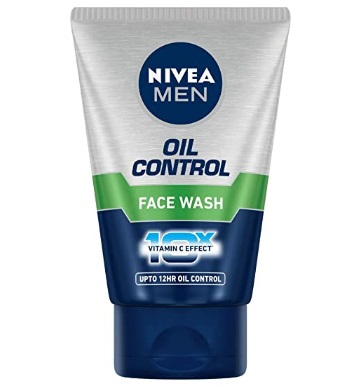 Men who are struggling with too much of oils on their face, shall try an oil control formula face wash. This Nivea oil control face wash has ten times more vitamin C and controls the oils for 12 hours. Even though the 12 hour claim is not downright correct, but yes it does control the oils for at least three to four hours, which is good enough for a decent face wash. After removing the impurities and accumulated dust, this facial cleanser also keeps pores clean. This is one of the best oil control facial cleanser available at affordable prices for men.
These are the best face washes that you can try for summers depending on your skin type. People with dry skin, shall try facing cleansers with hydrating ingredients like aloe vera, honey, oats etc, while boys and girls with oily greasy skin must try facial cleanser, which are foaming and non-comedogenic in nature. Anti-bacterial ingredients will also work well for preventing the acne and breakouts.
Choosing the right face wash is essential, however you must also take a look at your overall skincare regimen. Facial cleanser or face cleansing is just the first step, after that you must also pick the right skin cream. Because, if your skin is oily and you're using a creamy cleanser filled with chemicals and oils, than your skin pores can get clogged. Using a face pack for oily skin in summers, will also benefit you in the long term new.