If you want your face to glow naturally, then the glowing skin facial kit can come to your rescue. The best thing about the home facial kits is that these can be tried at your home and still you can get a Salon or parlour like glow. Such facial kits generally give instant glow and your skin glows and stays hydrated for up to 3 to 5 days. This list includes the best facial kits for glowing skin available in the market. Even for brides, glow facial kit is a must try. These products are made using the ingredients that help to lighten the skin complexion and hydrate it fully. It simply enhances the skin texture and reduces the blemishes. This is what brings a natural glow to our skin.  Let's check some of the best facial kits which are suitable to get the glow before party, event or ceremony.
How to Apply facial kit at home
There are some steps that you can use to apply facial kit.
Apply the cleanser to cleanse your skin. Massage the cleanser for at least one to two minutes to remove the impurities. Wipe it off with cotton ball.
Apply the face Scrub and rub on your face for 2-3 minutes.
Apply the facial massage cream and massage for at least 15 to 20 minutes.
Apply the face mask or pack and apply it on the face and neck. Wash it off with clean water after 15 minutes.
Facials can be done at least once in a month or once in 3 weeks to get brilliantly radiant and glowing skin for long time.
Best Facial Kits For Glowing Skin in India (2021)
Let's check, which are the best facial kits for glowing skin in India? These top facial kits would bring luxurious luminescence on the skin and are also very affordable and budget-friendly.
1. VLCC Party Glow Facial Kit
VLCC party glow facial kit is one of the best facial to get radiant glow on your skin. It is suitable for all skin types and can be applied during all round the year. The best thing is that the kit that it has 6 steps of facial that can be done one after the other and they are very easy and affordable. The kit is easy to apply and gives you salon like glow.
2. Lotus Herbal Radiant Gold Cellular Glow Facial Kit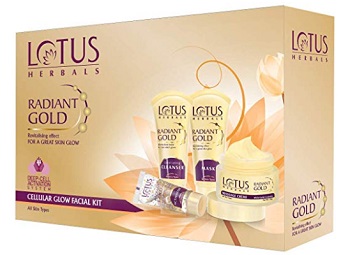 Lotus Herbals glow facial kit is a gold facial kit made with 24 carat gold particles. This kit contains 4 steps that is exfoliating cleanser, activator, massage cream with gold leaves and gold mask. These products are designed to make your skin glow with elasticity of the skin. It is suitable for even the sensitive and dry skin as it deeply cleanses the skin and it provides enough of the hydration. Use this kit twice in a month and your skin would glow long lasting.
3. Aroma Magic Skin Glow Facial Kit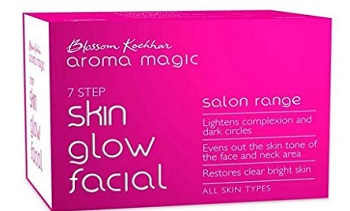 Aroma Aroma magic skin glow facial kit is made to lighten your skin complexion and even out the skin. For men and women, who are suffering from dark circles and pigmentation, shall try this special kit. It is suitable for all skin types and has seven steps of facial. It is very easy to do at home and is also very affordable. The kit would last for at least four to five sessions, therefore is affordable.
4. Luster Fruit Glow Fairness Facial Kit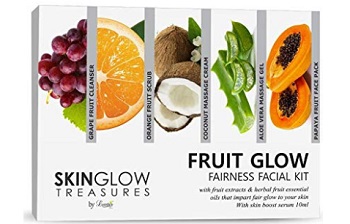 Luster Fruit facial fairness kit is a paraben and Sulfate free facial kit that has received good ratings from the consumers. It makes your skin visibly radiant and bright. While giving a glow on your face before a party or event, it also ensures that the glow last for days. It is a fairness facial kit that contains the power of Alpha hydroxy acids. Grape, oranges, coconut, aloe vera and papaya are used in this facial. It is an amazing facial kit which can be used once in a month.
5. Aroma Magic Diamond Glow Facial Kit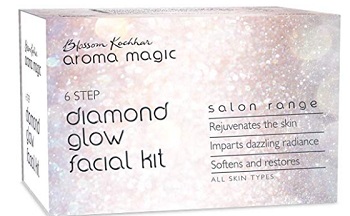 Aroma magic facial kit rejuvenates the skin and makes your skin glowing. It makes kin softer and brighter. Suitable for all skin types, it can be used twice in a month. You can try this kit and there are 6 steps of facial to restore smoothness and radiance.
6. Aroma Magic 7 Step Bridal Glow Facial kit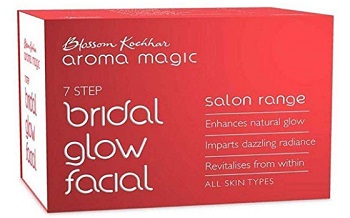 Aroma magic bridal glow facial kit is for women who want the bride like glow. It includes 5 steps of facial like a facial cleanser, Exfo gel, revitalizing skin serum, nourishing cream and face pack. The entire procedure takes around 35 minutes. It gives beautiful glow on your skin that you would surely love to try this kit to remove the blemishes and achieve a flawless complexion. The application of this facial kit would make your skin not just get supple but fair.
7. Jovees Fairness and Glow Facial Kit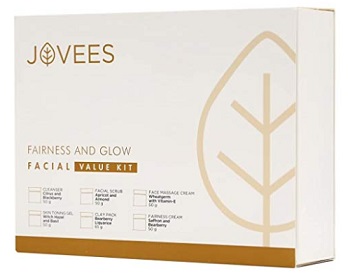 Jovees fairness facial glow kit contains 6 steps. It would include a cleanser, facial Scrub, face massage cream, skin tone gel, clay pack and fairness cream. The facial kit is suitable for all skin types and mostly for the oily and acne prone skin to achieve the glow on your face. It is a good product that is easy to use and takes around 40 to 45 minutes to complete the procedure.
8. Organic Harvest Pearl Skin Whitening Facial Kit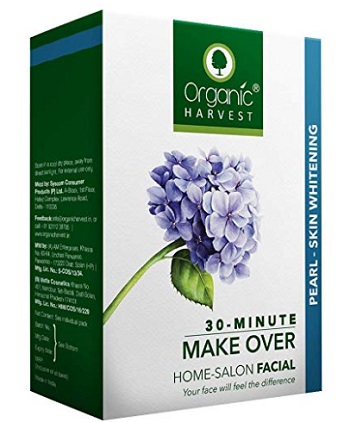 Organic harvest Pearl skin whitening facial kit is not used for fairness but glow. It's 30 minute procedure that ensures that you get to shining skin that glows like pearl. In this kit, you'll receive a cleansing milk, face Scrub, face massage cream and mask. The kit is one of the most affordable and beneficial kit that has proven results. It is 100% organic and plant based facial kit. There are no synthetic chemicals used and is also paraben and sulphate free.
9. Vaadi Herbals Skin Polishing Diamond Facial Kit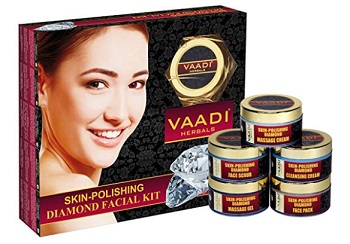 Vaadi Herbals Diamond polishing facial kit polishes your skin and gives you natural Radiance and glow. The kit is a combination of diamond ash along with essential oils that leaves the skin polished for a luminous glow after every session. This is the best facial glowing kit for dry skin. It removes the dead skin cells and impurities which are deeply settled on the skin. It hydrates the skin and gives you luxurious glow. It has Diamond massage cream, Diamond cleansing cream, face Scrub massage gel and a diamond face pack. It also has the fruits like papaya, please, aloe vera, Orange peel powder, almond oil and many other natural extracts. It further reduces the dark spots, wrinkles and lines from the skin.
These are the facial kits for glowing skin which can be tried at your home to get instant natural radiance on the skin. These can be tried at least once in a month to make sure that the glow last longer.