While choosing a good skin lightening or skin whitening cream for oily and greasy skin, one must be aware of the ingredients. The main thing that you have to keep in mind is that the product should be lightweight and non-comedogenic and must not make your skin sticky or oily. Considering this, in this article, we're going to talk about the best non greasy skin whitening creams for oily skin and combination skin available in the Indian market. There is no dearth of good skin care brands in the Indian market and many of them formulate skin care products for oily skin as well. To make the process of selecting a good oily skin fairness cream, we have compiled this article. Here are the best oily skin creams for your skin tone with the ingredients effective enough to give you two to three times lighter skin complexion. Let's go ahead and take a look at the best skin whitening creams for oily face available in the market at pretty reasonable prices.
But you must also be aware that the skin creams can never make your skin complexion light or white miraculously. They can only remove the surface level tanning, which has accumulated over the years because of the sun tanning and environmental damage. Additionally, such lightening skin care products can also bleach the skin, by the use of chemicals bleaching ingredients in them. So the ingredients and the products that we have mentioned in our article are mostly harmless and majorly focusing on removal of tan and dullness. This is the main thing that you have to remember while using any skin lightening product.
Best Fairness Creams for Oily Skin in India
Let's check the best appropriate paraben free and chemical free skin lightening creams in the market for oily skinned people. 
1. Olay Natural White Light Instant Glowing Fairness Cream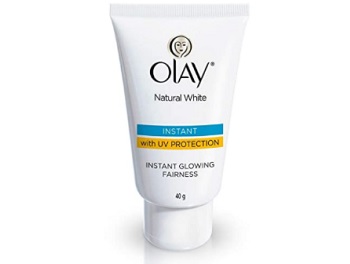 Olay natural white glowing fairness cream has a light and creamy formula that does not make your skin sticky. The formula is really light because of which the product is really suitable for oily and combination skin. It contains the high concentration of Amino Peptide Complex that is infused with intracellular fortifier and a touch of precious marine proteins. It's a micro sculpting product that helps to achieve spotless skin. This product gives you UV protection and bright looking skin.
2. Garnier Skin Natural Light Complete White Speed Fairness Serum Cream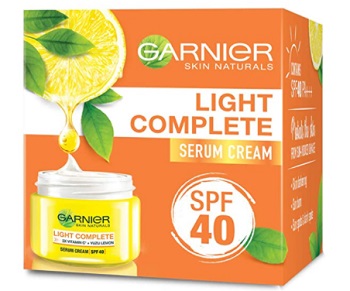 Garnier light complete fairness cream is an ideal product for oily skin. The product has SPF 19 that protect the skin from further darkening from the harmful ultraviolet rays. It provides you long lasting fairness and with regular use the face cream for women gives brighter looking complexion. It is rich with Japanese Yuzu lemon extract which contains multiple times more vitamin C. It is a product that is highly rich and concentrated in vitamin C. This facial moisturizer for oily skin will give you brighter looking skin in just one week. The best thing is that it is suitable for majority of the skin types except for the very dry skin.
3. Pond's White Beauty Anti Spot Fairness SPF 15 Day Cream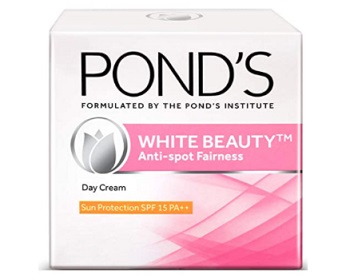 A lot of youngsters like teenagers would pick up a fairness cream that should also solve their problems of dark spots. This cream contains SPF 15 and is a very affordable day cream available in India for people with oily skin. It helps in fading the stubborn dark spots and pigmentation on the skin. Coming with an anti-spot formula, this product is rich with vitamin B3 and lightens the skin. It gives you radiant and healthy glowing skin complexion. The product moisturizes and give the even skin tone. SPF 15 blocks the harmful sun rays which can darken your skin. The product is slightly sticky and gets easily blended on the skin creating a layer that she is the skin. It is yet another good fairness cream for oily skin.
4. Lotus Herbals Whiteglow Skin Whitening And Brightening Gel Cream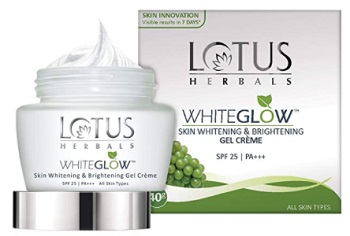 If you will ask us the best fairness cream for oily skin in India at reasonable prices for summers and winters with SPF, Lotus Herbals whiteglow skin whitening and brightening gel cream is the best product. This contains SPF 15 because of which it helps avoid the darkening of the skin. The product is made from multiple fruit and plant extracts helping to impart high concentration of antioxidants and skin brightening in this product. This is skin whitening product can be used by both men and women and has a very light gel cream like texture. This is why, we highly recommend this product for oily combination and even acne prone skin.
5. Himalaya Men Natural Bright Oil Control Face Gel Cream for Men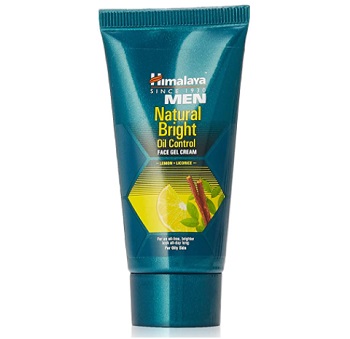 This product comes in a gel cream formula. It gives you an oil-free and brighter looking skin all day long. This is for the men with oily skin wishing brighter skin complexion. The gel based creamy formula is ideal for greasy skin tone and get inside the skin layers pretty quickly. It enhances the skin complexion and is blended with lemon and another plant extracts. It's a decent face cream for men for oily skin and oil control.
6. UrbanGabru Insta Glow Fairness Cream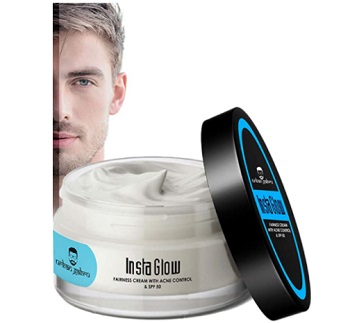 For men, this is one of the best fairness creams with only and acne prone skin. It is a multipurpose product and if you will notice the product works on your skin in multiple ways. It contains SPF 50 that also acts as a good sunscreen for everyday use. It gives you acne control benefits because of its acne healing ingredients rich formula. Furthermore, it contains the effective grade of skin whitening ingredients which gives your skin glow and brightness. It lacks paraben, sulphates and chemicals.
7. Vital Organics Fairness Cream For Skin Whitening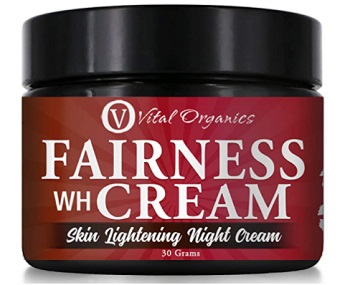 The fairness cream is a lightweight night cream that gives you not just the skin brightening but also ideal for keeping the skin moisture balance. The product contains SPF the product even tones the skin and instantly gives you relief in the dark spots and pigmentation. Regular use of this night cream for skin whitening for oily skin gives you better looking bright skin.
8. WOW Vitamin C Fairness Face Cream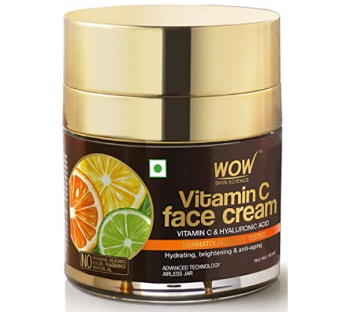 A vitamin C face cream is one of the best things that you can use to not just brighten and lighten your skin but also to ensure youthful skin longer. Vitamin C face cream is suitable for people over 20 years of age and as this also contains hyaluronic acid this cream is safe for all skin types. It also has cocoa butter butter Moroccan argan oil that helps to revive the dull skin. The product is free of colorants, Minerals and Chemicals. Apply it on your face and noticed the skin getting smoother day by day.
9. L'Oreal Paris White Perfect Night Cream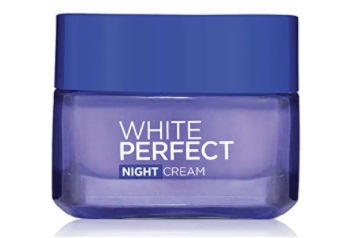 The white perfect night cream is a lightweight product that is thick but on blending it really gets in the skin layers nicely. It contains vitamin E and Tourmaline Gemstone extracts. So by diminishing the existing dark pigments from your skin, it also fights against the skin damage. This product is easy to use and can be applied on daily basis every night. This also contains salicylic acid that is why it is good for oily skin because it does not clog the pores and salicylic acid heals the acne.
10. O3+ SPF 30 Whitening Cream for Skin Brightening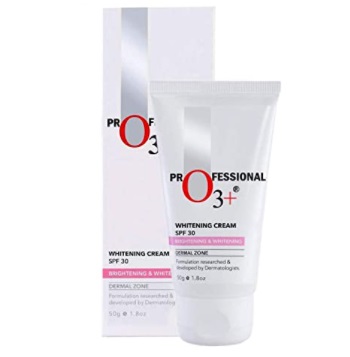 The product is one of the best for oily skin. It has a SPF 30 and is a skin whitening cream that is suitable for lightening and brightening the skin. It helps in decreasing the dark spots from the skin. The effective results of this cream gives you better and spotless looking skin.