Oily skin releases sebum frequently, which is why, it gets oily soon. When the weather gets humid and hot, then too loads of oils can come up on the face. Foaming cleansers are good to cleanse the skin off the dirt, dust and makeup residue. Many people with dry skin too can use hydrating foaming cleansers because they are moisturising. Well, it's not the nature of the cleanser, but ingredients involved. Foam based cleansers when they are free of SLS and paraben are gentle even for the sensitive skin. Here' we've compiled this list of the best foaming cleansers available in India. So, no "tight feeling" after the wash.
List of the Best Foaming Face Washes in India
Let's see the best foam face wash for different skin types. Just to help you pick the right product, make sure you follow some of these pointers. Tea tree, Neem, Turmeric and all are good for the oily-acne prone skin. Glycolic acid helps to remove the dead skin cells and skin over the pores. Hyaluronic acid, on the other hand is suitable for dry to aging skin.
1. WOW Apple Cider Vinegar Foaming Face Wash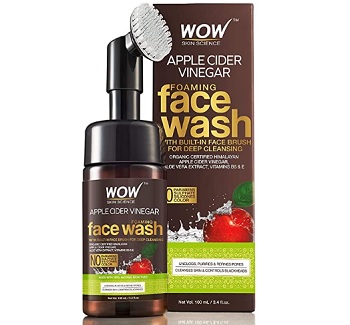 It's a foaming face wash that contains apple cider vinegar. It is one of the best paraben, sulphate and silicone free face wash that comes with an inbuilt face brush for deep cleansing the skin. So it not just removes the dirt, dust and pollution effects, but also refines the pores. It controls the excessive oils and blackheads. It is one of the best for foaming face washes, for all skin types, however best for oily acne prone and combination skin. It's also the best summer face wash for girls and boys.
2. Himalaya Herbals Purifying Neem Foaming Face Wash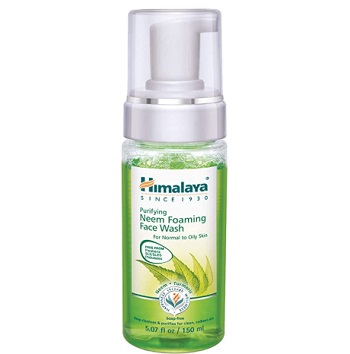 It's a purified neem face wash for normal to oily skin. It is free from paraben, SLS, SLES and pthalates. With goodness of neem and turmeric in this Herbal soap free face wash, it ensures that skin gets free of debris and dust. When your skin gets really oily and prone to acne during summers and humid season this face wash is a must try budget friendly cleanser. It's available really easily at every store in India and is a best face wash for all the skin types. Neem and turmeric are known to control the excessive oil production on the facial skin and also shrinks the large pores size. It combats the bacterial infections like acne and skin infections. So it can also improve your skin tone and complexion.
3. Clean & Clear Foaming Face Wash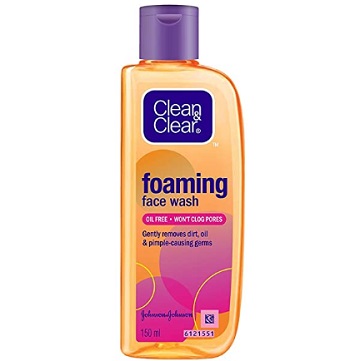 Clean and clear foaming face wash is an oil free and non-comedogenic product and is one of the best foaming face wash for oily skin in India. It removes the pimple causing bacteria and germs while getting rid of the too much oils on the skin. Take this product on your palm and apply on the wet face. It really works amazingly too deeply cleanse the skin. This product has the salicylic acid and other ingredients that are known to remove the excessive oils from the skin. So it is a deep cleansing product that helps to remove the bacterial activities with its non-oily formula.
4. WOW Brightening Vitamin C Foaming Face Wash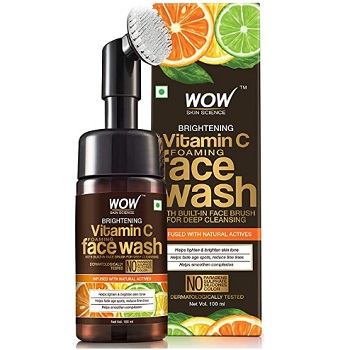 This Wow vitamin C foaming face wash also comes with an inbuilt brush and the best thing about this product is that with loads of Vitamin C in this, it's a dermatologically tested product that is one of the best skin lightening foaming face washes in India. It helps to lighten and brighten your skin tone that becomes dark and shallow during the summer season. It fades the age spots and also reduces the fine lines and wrinkles. So when you use such a product on regular basis, at least two times in a day, it helps to smoothen rough complexion. Vitamin C, in anyways is known to give a boost of antioxidants to your skin and to bring a fresh layer of your skin. This face wash is rich in Mulberry extracts, lemon and orange essential oils as well. With hyaluronic acid as a key ingredient, it safe guards free radicals damage.  It is also one of the best paraben free face washes for skin lightening.
5. Derma Essentia Oil Free Foaming Face Wash for Oily Skin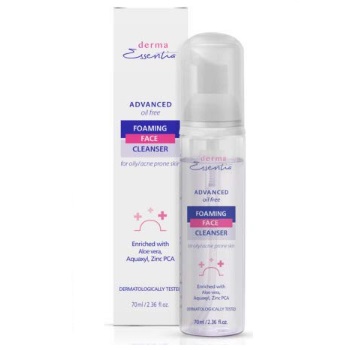 Coming to this wonderful oil-free foaming face wash for oily skin. It is yet another wonderful facial cleanser for acne prone skin and combination skin as well. Because, it contains the glycolic acid derived from sugarcane. Therefore, for the product gently exfoliates skin, while removing the dead skin cells and the bacterial infection. It's rich in zinc PCA and salicylic acid. So if you are looking for a good salicylic acid face wash for acne prone skin, than this is one of the best products to try. It also contains Aloe vera and Hyaluronic acid, this powerful combination helps the skin to maintain its natural moisture and suppleness. Being dermatologically tested, this product is safe even when your skin is sensitive. It's also a chemical free foaming face wash.
6. Cipla Saslic DS Foaming Face Wash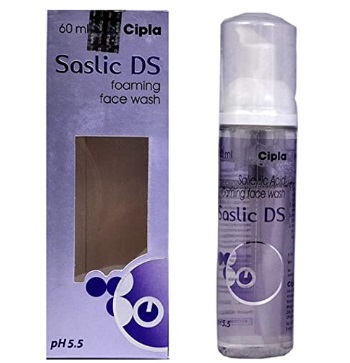 Cipla saslic foaming face wash is an ideal face wash for oily and acne prone skin. It can be used as a daily skin cleansing routine and is ideal to be used two times in a day. It contains 2% salicylic acid and helps to unblock the pores and to remove the acne causing bacteria. Being one of the best salicylic acid face wash in India, it's good for acne prone and oily skin. While uprooting the oils from pores and cleaning them thoroughly, it also reduces the chances of blackheads and acne formation.
7. Olay White Radiance Advanced Whitening Fairness (Brightening) Foaming Face Wash Cleanser
This is a foaming face wash with skin brightening properties. The powerful and best selling product from Olay is a skin brightening vitamin loaded facial cleanser with foaming features. It leaves the skin clean and free from the more than the required oils. You get visibly bright and radiant skin. This product ignites brightness from the cellular level for the luminous fairness. Just take it on your palm and rub on the face, then rinse it with water. This can be applied twice in a day and it is one of the best face washes for getting fresh and fair looking skin, even during the summer season.
8. Greenberry Organics Anti Acne Foaming Face Wash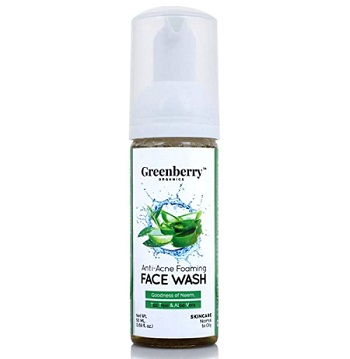 The anti acne foaming face wash is rich with Neem, Tea tree oil, Aloe vera and other natural bioactive extracts. With goodness of so many natural ingredients, this is one of the best and effective facial cleansers for oily and acne prone skin. Tea tree oil in this face wash also helps to lighten the scars and dark spots. This is 100% natural and free of mineral, Petroleum, SLS, paraben and synthetic perfumes. It can also remove the makeup residue and pore-clogging dirt from the face.
9. The Body Shop Tea Tree Skin Clearing Foaming Cleanser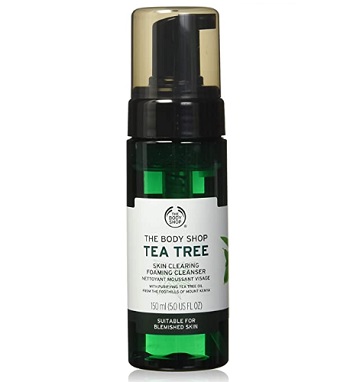 This is one of the most popular foaming face wash with tea tree oil in it. The Body Shop Tea tree face wash is a foaming cleanser that reduces the chances of acne on the oily and acne prone skin. Even for combination skin, this is the best thing that you can try on a regular basis. It is a natural alternate for your blemishes and acne prone skin. The natural antiseptic in the form of tea tree oil, helps to remove the blemishes on the skin. It removes the existing blemishes and prevents the future pimples. So, if you have excessive oily skin, than this can also be a good oil controlling face wash. The Body Shop product are not tested on animals and are free of the chemicals.
10. StBotanica Hyaluronic Acid Hydra Boost Foaming Face Wash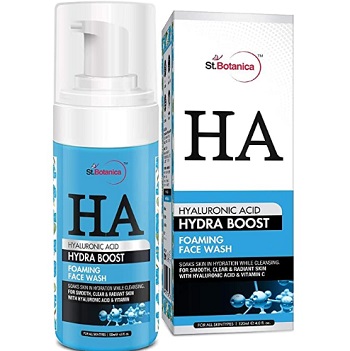 This hydrating foaming face wash contains Hyaluronic acid. It is loaded with hyaluronic acid with multivitamins and Vitamin C, of course. It is basically a face wash for normal to dry skin that gets patchy and rough. As it's lumped with Hyaluronic acid, it is bound to give a boost of moisture and nourishment to the skin. It's foaming rich lathers dissolves the deep seated impurities in the skin pores. For aging skin, this is one of the best products to try, it's rich with botanical extracts and natural oils that give advanced skin care. With no harmful ingredients, it is safe for all skin types.
11. Biotique Bio Pineapple Oil Control Foaming Face Wash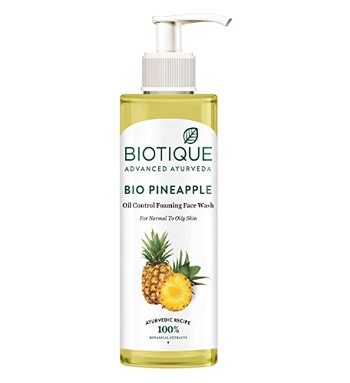 Made with pineapple extracts, this oil control foaming cleansing product is suitable for normal to oily skin. It is a soap-free and 100% Ayurvedic recipe, perfect for all skin types so for oily and acne prone skin, this works the best.  It's also a good face wash and cleansing gel for open pores and oily skin types.
12. SebaMed Clear Face Cleansing Foam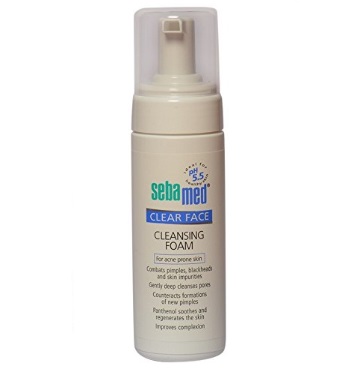 The facial cleansing foam product is for acne prone skin. It clarifies the pores and makes skin visibly improved. This face wash is made with ingredients, which are known to combat pimples, blackheads along with the skin impurities. It can be used twice in a day on morning and in the evening. Apply on your skin and work for 1-2 minutes on the face. Rinse it with clean water. It instantly removes the acne causing bacteria from the skin and makes the skin very soft and smooth.
13. Neutrogena Oil Free Acne Face Wash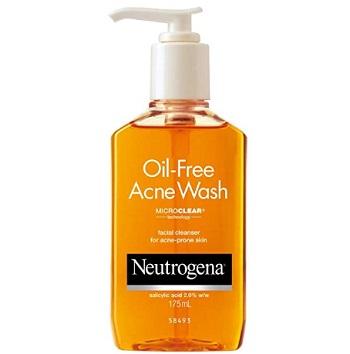 The oil free acne face wash is also a foaming face wash that can be used 2 times in a day. It's a cleansing product that has a residue free and non-oily formula. With Microclear Technology, this is an alcohol free cleanser that does not over dry the skin. For oily acne prone skin, this is a non-comedogenic face wash that clears the clogged pores and reduces the size of open pores as well. It is a safe and gentle formula tested by dermatologist.  People with dry and acne prone skin can also try this product.
14. Glycolite Max Foaming Face Wash With 6% Glycolic Acid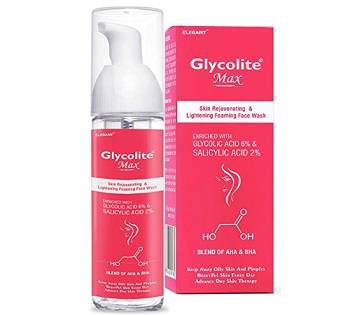 Glycolite foaming face wash contains 6% glycolic acid and 2% salicylic acid. So it is one of the best skin brightening face wash for oily and acne prone skin. While glycolic acid, this helps to remove the sebum and product built up in your pores and prevents the acne and blackheads. Salicylic acid is known to treat the existing blackheads problems on the skin. Salicylic acid opens the clogged pores and releases a new layer of skin, which is why, your skin, looks fresh and young. It is one of the best face wash that contains glycolic acid and salicylic acid both.
15. A-derma Foaming Gel Soap-free Face wash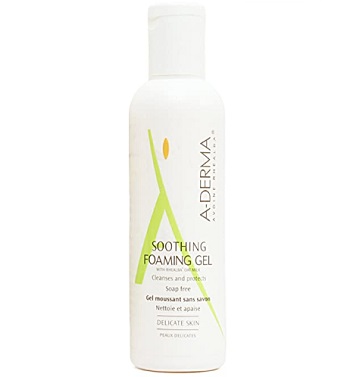 It's a soap three face wash that cleanse and protect your skin from the harmful chemicals, pollutants and every day dust and dirt. It's suitable for sensitive and delicate skin. With soap free formulation, this is a product that cleanses the epidermis without irritating or disturbing the natural pH balance. It contains oat milk and soothes the skin. It creates a hydrolytic film and protects the upper layer of skin from getting dry. This is a foaming gel formula that is suitable for dry too sensitive skin.
16. L'Oreal Paris Men Expert Pure Power Black Charcoal Foaming Gel Wash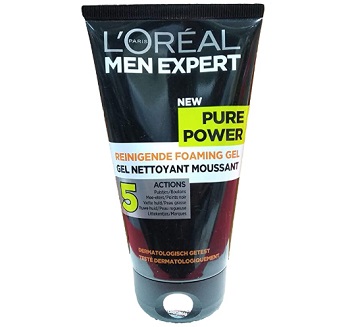 This next product here is a foaming cleanser with charcoal as the main ingredient. This is the best men's face wash for extremely oily skin with charcoal as the main ingredient. With the presence of charcoal, this product is capable enough to fight the acne causing bacteria, dust and even addresses the pollutant related issues. Charcoal is known to absorb pm 2.5 pollutants leaving the skin soft and silky. It is perfect for oily skin and blackheads prone skin. While fighting the imperfections, this make your face clean and clear. This is one of the best men's face wash.
These are the best foaming face washes available in the Indian market. You can choose any of these face washes and include them in your regular skin care routine. The best thing is that these can be tried to 2-3 times and majority of these face washes for everyday use are free of chemicals like parabens, sulphates, SLS, SLES and more of such nasties, this is why they are suitable for even the sensitive and delicate skin.