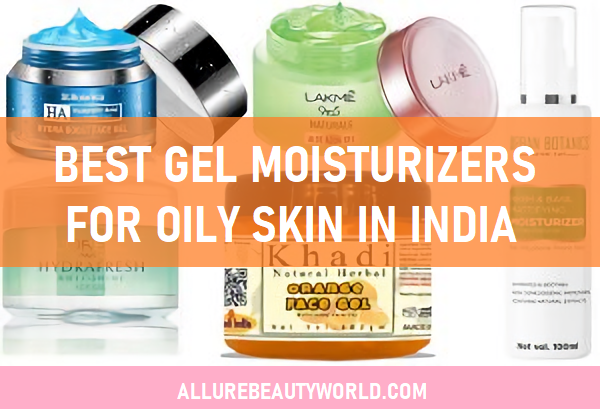 Gel moisturizers are light weight products suitable for all skin types. Though these oil-free and water based moisturizing gel products are apt for acne prone and oily skin. In this article, you'll find the best gel moisturizers available in the market. You need to pick the appropriate product for the skin type and this is why, gel texture is much suitable and soothing for the irritated acne prone and combination skin types.
Best Gel Moisturizers in India For Dry, Oily, Acne Prone & Sensitive Skin
1. Neutrogena Hydro Boost Water Gel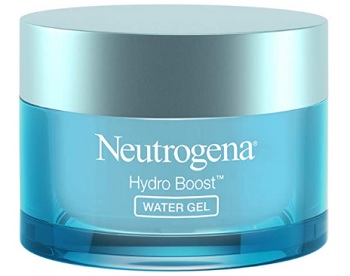 Neutrogena hydro boost water gel is one of the best rated products and you can ask anyone about the goodness of this product as it works like a charm. While, it's a completely oil-free water gel, it's extremely easy to apply and gets inside the skin layers without leaving the heavy or greasy feeling residue. This is what makes it a class apart product. Additionally, the dehydrating product not just moisturizes the skin but also improves the water content of your skin. The gel moisturizer has a 72 hour hydration formula and it's an ultra-light face texture gel give that gives the maximum performance for the skin. It's a gel moisturizer suitable for normal to oily skin.
2. WOW Hyaluronic Acid Water Gel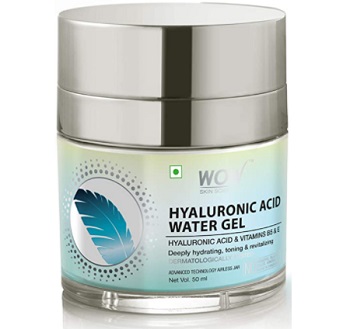 When your skin is very dry and needs that added moisture then the Hyaluronic Acid water gel from Wow is the best product to try. This watery gel product contains vitamin B5 and Vitamin E that deeply hydrates the skin. It restores the lost moisture and keeps the moisture intact. Hyaluronic acid is a natural moisture retainer. This is a dermatologically tested product for all skin types, but we feel, it's not very good for oily skin because at times it gives too much of the moisture.
3. Bella Vita Organic Anti Acne Cream Gel & Pimple Face Gel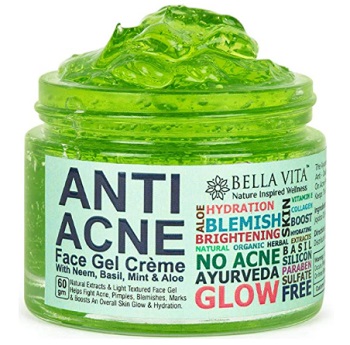 Bella Vita organic anti acne cream gel is a pimple care face gel. So applying the gel would help in healing the existing acne and to cure the new ones. This contains the natural herbal extracts. The natural extracts of this light textured face gel help to fight the acne marks and boosts the skin glow and texture. It also contains calendula oil and is a paraben, sulphate and SLS free product. This is one of the best face care gels for oily and acne prone skin.
4. Mamaearth Aloe Vera Gel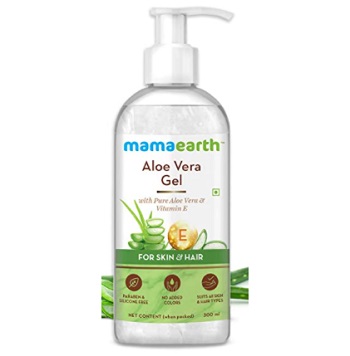 Mamaearth Aloe Vera Gel is a pure and genuine Aloe Vera Gel with Vitamin E. It's a facial gel moisturizing product that is not contains the added colors, parabens and sulphate. It's the hydrating product that gives the moisture to the skin and makes the skin dewy and soft. The best thing about this product, is it's very affordable price. It blends really nicely on the skin and gives the natural glow.
5. Lakmé Absolute Skin Gloss Gel Creme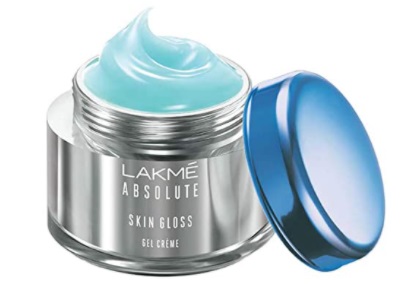 Lakme Absolute skin gloss gel cream has a super light gel formula that moisturizes your skin and gives a shiny gloss. That shine should not be confused with the oiliness but the dewy glow. The product hydrates the skin gently and makes it look lustrous and luminous. The gel cream is appropriate for harsh and dry winter season, when the skin gets dry and dull, but also for the summers, when the skin needs the moisture without looking like oil coated layer. It's suitable for all skin types, however we feel that it works really well for normal to oily skin.
6. StBotanica Hyaluronic Acid Hydra Boost Face Gel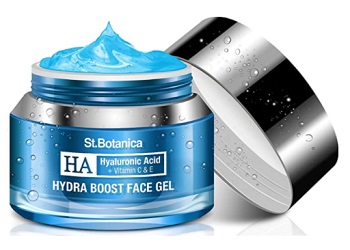 StBotanica Hyaluronic Acid and Vitamin C and E hydro boost face gel is the best rated product in this category. Water gel helps to increase the hydration and leaves the skin non dry and velvety. As the product is non-comedogenic and free from the toxic elements and chemicals, it's suitable for all skin types and even the sensitive skin. It's rich in the plant extract that enhances the skin texture and tone. The StBotanica face care product is rich in multivitamins that increases the cell renewal of the skin. So to get a dewy appearance, this is a really nice face gel cream. It also contains hydrolyzed milk proteins and it can be used before applying your makeup. The product is suitable for both men and women.
7. L'Oreal Paris Hydrafresh Anti-Shine Gel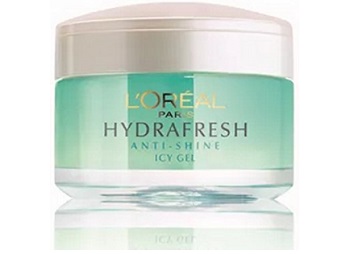 This L'Oreal product that is made for normal to oily skin types. The product is in a gel formula, it has the micro sponges blended in its effective formula that helps to absorb excessive sebum. It contains the Tourmaline, detoxifying minerals, and gemstone and ocean rich mineral water. This regulates the sebum production and it's a reasonably priced and pretty affordable product.
8. Lakmé 9 to 5 Naturale Aloe Aquagel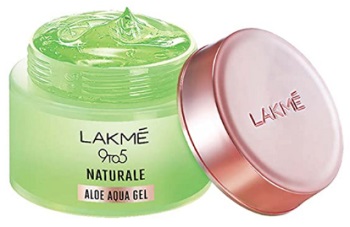 Lakme 9 to 5 Aqua is an equally affordable product. This product is rich with 100% natural aloe vera gel and comes with a light and non-sticky texture. It suits and hydrates the stressed skin. It makes the skin naturally bright looking and is suitable for all the skin types.
9. Khadi Natural Herbal Refreshing Orange Face Gel Moisturiser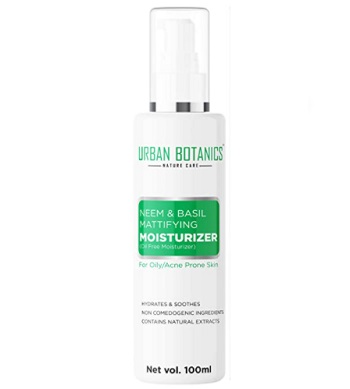 Khadi herbal refreshing orange face gel moisturizer is a light gel, which is also suitable to be used as a facial massage gel. With the goodness of orange extracts, aloe vera and turmeric, which is light and non-greasy. So, while it excellently nourish hydrates and replenishes the skin and it also gets rid of the oils on the skin. The product is 100% organic and does not contain paraben and sulphates, it's suitable for all the skin types, however we feel that it's better for dry to normal skin.
10. UrbanBotanics Oil Free Mattifying Moisturiser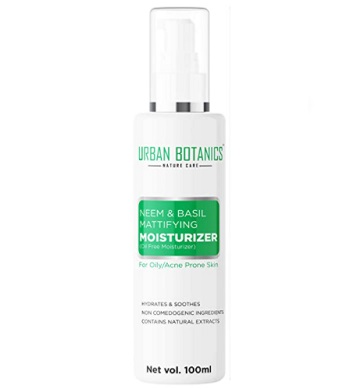 The oil free moisturizer is a mattifying product which is suitable for oily, normal and acne prone skin. Being blended with the Neem and Basil extract, this is a product which is non-comedogenic and contains only the natural ingredients. It's one of the best water-based face moisturizers for oily skin and suitable for both men and women. Though, when you have very sensitive skin, this face wash would really help you. The product gets blended on the skin and gives the lightweight and non-greasy moisturization. It combats the fine wrinkles and keeps the skin plump and you. It's also a dermatologist recommended product.
11. Plum Green Tea Mattifying Moisturizer Gel
The Plum mattifying moisturizer is also the best product for oily and acne prone skin. Being a lightweight moisturizer, it gets into the skin layers really nicely. So, the multi-purpose product helps to control the excessive hydration. Even when your skin is acne prone and has lots of pimples and breakouts on regular basis, this product is really helpful. It's 100% silicone-free and non-comedogenic product. It repairs the skin and revives radiant glow. It also contains green tea extract and glycolic acid, which helps to prevent the debris build up. The product is 100% vegetarian and paraben, sulphate and chemical-free. The best thing about Plum as a brand is that it's not tested on animals.
12. Sebamed Clear Face Care Gel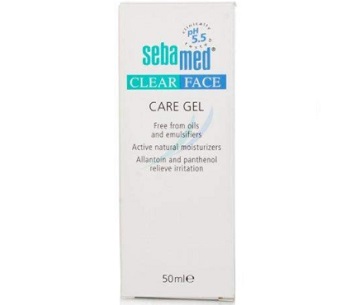 The Sebamed face care gel is free from the oils and emulsifiers that can clog the pores. It contains elements that relieve the irritation. So, the product is pH balanced, therefore, doesn't disrupt the skin or cause any sort of irritation. It also contains Hyaluronic acid that is suitable for maintaining the moisture in the skin layers.
13. Good Vibes Rosehip Maximum Hydration Gel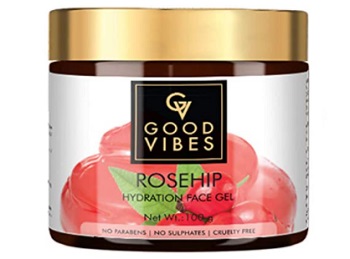 Good Vibes Rosehip maximum hydration gel is a skin softening product that is moisturizing and is ideal for dry skin. It helps in even toning the skin and removes the patches. Moreovre, the gel product is also a good wrinkle and acne preventing treatment free of paraben and sulphate. The best part about this product is that it not only adds glow on the skin, but also diminishes the dark spot and age spots. The product is non-greasy and light-weight and non sticky, yet it's better for normal, combination and dry skin. So, you can just clean your skin and apply this product and massage gently. It's best for using 2 times in a day.
14. Bio-Oil Dry Skin Gel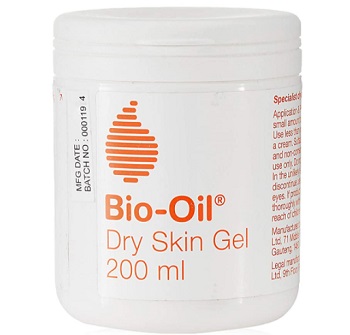 The moisturising gel formula boosts the hydration of the skin and it adds a layer on the skin which helps in moisturizing the dry and patchy skin.  It has glycerine and skin soothing ingredients like Vitamin D. So, this Bio oil for dry skin is a gel product which is non comedogenic and is safe for the sensitive skin as well.
15. POND'S Men Ice Burst Non-Oily Soothing Face Gel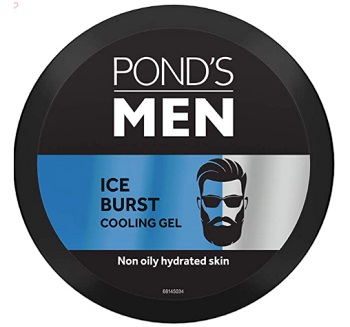 Pond's Ice burst cooling gel is suitable for normal to oily skin. And light weight formula of this product helps in soothing and hydrating the skin. It gives you cooling sensation and fresh feel on the skin. With the goodness of Vitamin E and menthol, this is a suitable face care gel for men during the summer season. It's a product that is a specially made for men. The product does not have anything extra apart from being a good gel moisturizer for summer season. It can be applied twice in a day every morning and evening.
16. Plum Green Tea Renewed Clarity Night Gel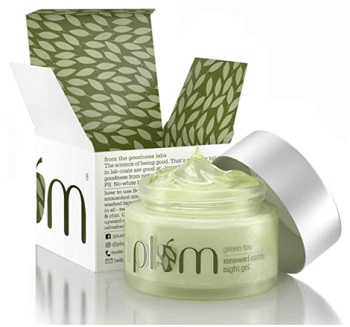 Plum green tea renewed clarity night gel is the best gel moisturizer for night time for oily and acne prone skin. Finding good face products for oily and acne prone skin is really tricky. This is why, this product suits acne prone skin the best. It has a breakthrough and innovative light gel texture which is non-comedogenic and even all the ingredients included in this product do not clog your pores. The key ingredients are Argan oil, Green tea and glycolic acid. Apart from retaining the moisture all through the night, it also combats the blemishes and balances hydration. In the morning your skin looks fresh and bright. This product is packaged in a 100% recyclable packaging. It also contains willow bark, liquorice and aloe. The paraben free face moisturizer is best for oily skin in Indian market.
17. mCaffeine Naked Detox Green Tea Night Gel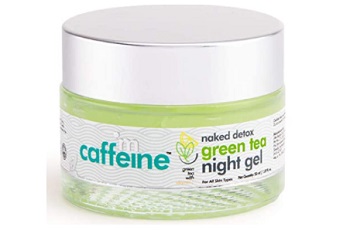 The green tea night gel is rich in vitamin C and hyaluronic acid. As it's made for all skin types but because of its light oil free formula, it's a product that also suits the oily and acne prone skin. Made with the natural ingredients, this is a product free of parabens, sulphate, mineral oils and Chemicals. This brand is also a cruelty-free brand and a product for both men and women. Just clean your face and apply it daily at night. Richness of green tea in this product, makes it a powerhouse of antioxidants that reverses the damage because of air pollution to give you a natural detox. It's suitable for oily from a combination of a normal as well as dry. It has Vitamin C, Caffeine and Hyaluronic acid. It also fades the dark spots and pigmentation from the skin.
18. Mamaearth Oil-Free Moisturizer Apple Cider Vinegar Gel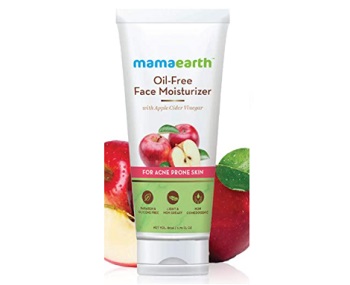 Mamaearth oil free moisturizer is rich with apple cider vinegar and is made for oily and acne prone skin. The non comedogenic face gel moisturizer is lightweight and very affordable product which is easily available on online shopping sites. The specialised product does not clog the pores and reduces the occurrence of acne pimples and breakouts. It also helps in the removal of excessive oil.
19. Mamaearth Aloe Turmeric Gel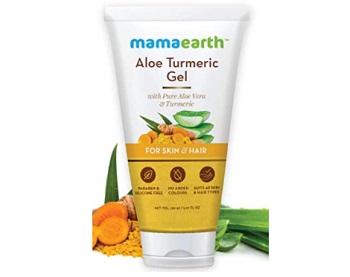 Mamaearth Aloe turmeric gel is made with pure aloe vera gel and turmeric. As the product does not contain paraben, added colours and silicone, it's suitable for all skin types. The gel is safe to cure the rashes burns and containing. It can be applied on the acne and pimples overnight to reduce the breakouts. It's rich with antibacterial properties because of which it helps to reduce acne and pimples. The product can be applied 2 times in a day or whenever required.
20. Aroma Magic Vitamin C Skin Lightening Gel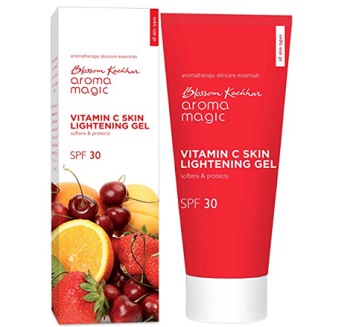 Aroma Magic Vitamin C lightening gel is the best selling product, which contain the vitamins C extracts along with fruit extracts and SPF 30. It's the best day care face gel for all the skin types, especially for the oily skin. This is a revolutionary blend of essential oils, Neroli oil, Lemon and grape juice. The product helps in the pigmentation removal and skin cell regeneration. With the natural pH balanced formula, it promotes the skin elasticity and makes your skin beautiful and glowing. Apply it on your skin after thoroughly cleansing the face.
These are the best face care gel available for different skin types in India. Then you can choose the gel moisturizer depending on that however, for the oily skin the gel moisturizer should be water based and free from the rich emollients.