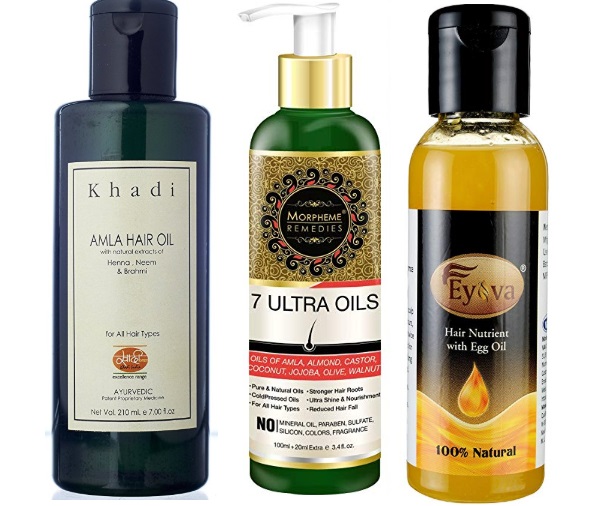 Thick and shiny hair is a sign of good health. Your hair is of course precious for you but problem like hair fall can take a toll on the beauty of your hair. Natural treatments to fight this problem would be a good idea. Hair oils rich in herbal ingredients are capable enough to give you growth and minimize the loss of hair. Such oils also give relief in dandruff and itching. Here is the list of the best hair oil suitable to get fast hair growth. The brands are easily available in the market.
Oiling is good for all hair types and treats most of the hair issues that we face in our day to day life.  In this list, the oils mentioned are effective to stimulate hair growth and liven up the hair follicles. These can be used 2-3 times in a week and gives you faster results in getting good growth.
List of best hair oils for growth in India for thick hair
1. Khadi Mauri Herbal Amla Hair Oil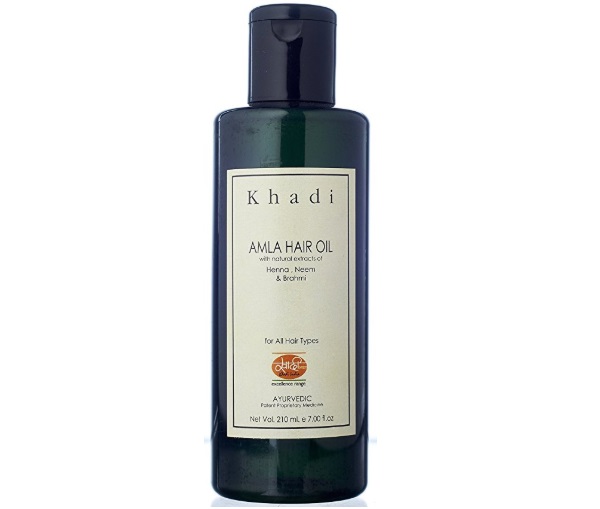 Rich in the natural extracts of Amla, Brahmi and Neem, this nourishing therapy oil helps to make hair thicker. It is an Ayurvedic formula that gives benefits to all hair types. The oil is slightly greasy, therefore it is better for massaging only at night.  Getting rid of this oil while shampooing is not that problem it's just that when you apply, it feels sticky.      
2. Morpheme Remedies 7 Ultra Hair Oil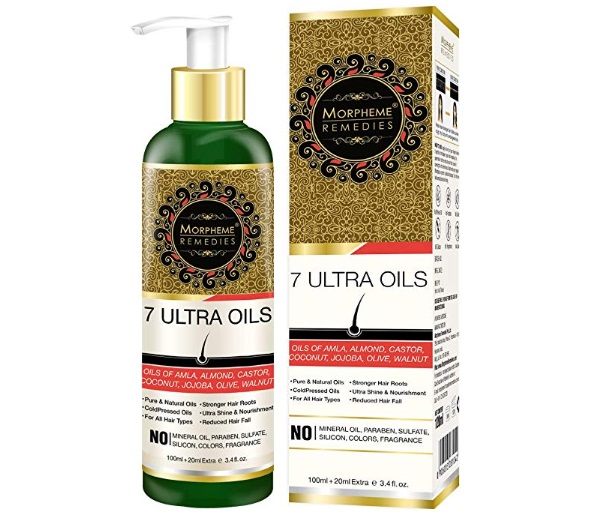 The hair oil is packaged in a pump dispenser that is easy to use but it can make the bottle oily. It is an organic formula made using the seven essential oils. Blend of oils like Amla, castor, almond coconut, Jojoba oil, Olive and walnut, this is a pure nourishing oil that gives strength to the weak hair roots. It prevents the hair thinning and fights hair loss effectively while giving extreme nourishment to the dry hair. It is a paraben, silicon, Mineral oil, and preservatives free hair oil.
3. Eyova Egg Oil for Hair Growth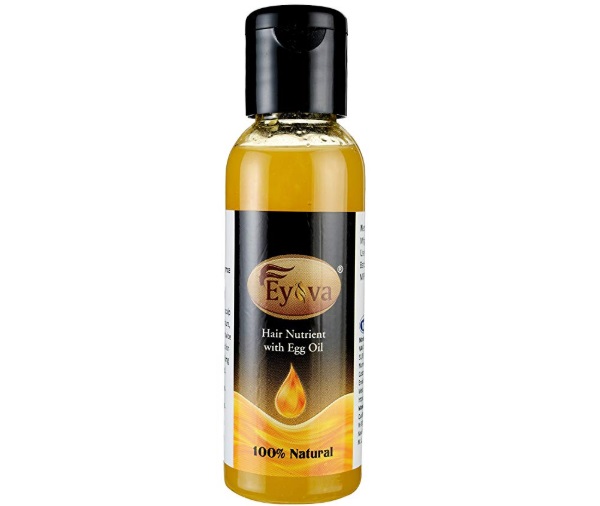 For those who do not mind egg nutrients in their hair oils can definitely go for this. It's rich in egg proteins, known for the growth of hair. It helps improve the cell renewal and stimulates the blood circulation of your scalp. This leads to the regeneration of new hair follicles. Regular massage with this  Egg hair oil can help you minimize the damage of the cuticle and hair loss.
4. Parachute Advansed Ayurvedic Hot Oil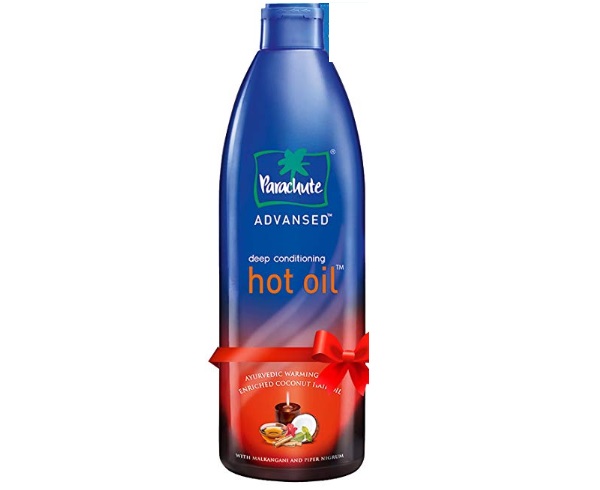 The Ayurvedic hot oil is rich in natural herbs. Upon application consistently, this can help you reduce the loss of hair strands prematurely up to 90%. It makes hair smoother which reduces the hair breakage while you comb your hair. It makes your hair thicker with in just 1 month of using it. Warming it up before the use also helps and ensures better penetration.
5. Luxura Sciences Natural Cold Pressed Kalonji Black Seed Hair Oil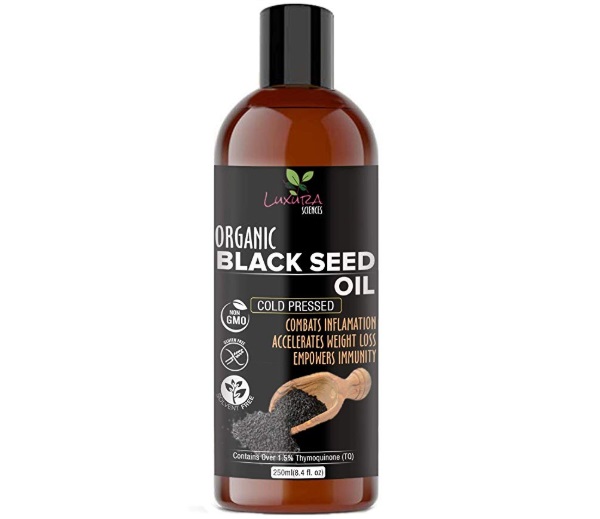 Kalonji or black Seed hair oil is wonderful in stimulating hair growth faster. The oil accelerates the growth of follicles and can also be used for the skin care. It has powerful anti-oxidant benefits that fight premature hair-fall. Compounds like Nigellone, Anti-histamine, Thymoquinone, and other anti-inflammatory elements are in ample amount in this product.  It helps the emergence of new hair strands while stopping the hair loss.
6. Dabur Vatika Enriched Coconut Hair Oil with Hibiscus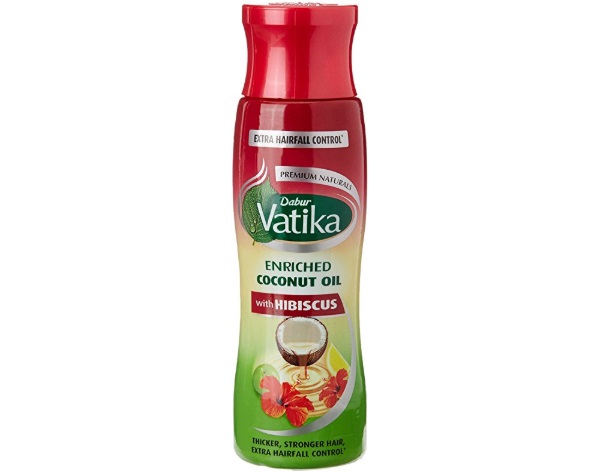 Hibiscus is known to curb the hair loss and increase the density of the hair. The hair growth hair oil target the thinning and dryness. When your hair is dry during winters a lot of hair strand are shed due to breakage and roughness. It minimizes that hair problem and retains a natural hair colour. It is one of the best hair oil for getting thick hair strands.
7. Richfeel Brahmi Jaborandi Hair Oil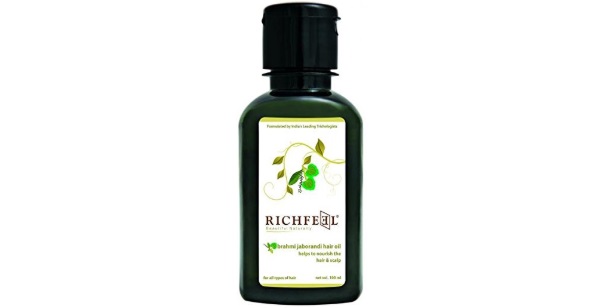 When you think of getting deeply condition with hair strand then from me and jaborandi is one of the best combination. The oil includes both of these Herbs that is super effective for increasing the growth of hair and to fight the scalp dryness. It also conditions and vitalizes for super glossy hair.
8. Grandeur Onion Hair Oil For Hair Fall Treatment And Hair Growth
The Exclusive hair fall treatment is made using red onion extract along with Sandalwood and Rose. It also consists of argan oil, Hibiscus oil, Europe oil, Vitamin E and Bhringraj. These ingredients are bound to give you good growth of the hair follicles and maintain healthy looking hair. It fights five different types of hair problems like hair fall, dandruff, thinning of hair and most importantly premature greying of hair.
9. Nuzen Herbal Gold Hair Oil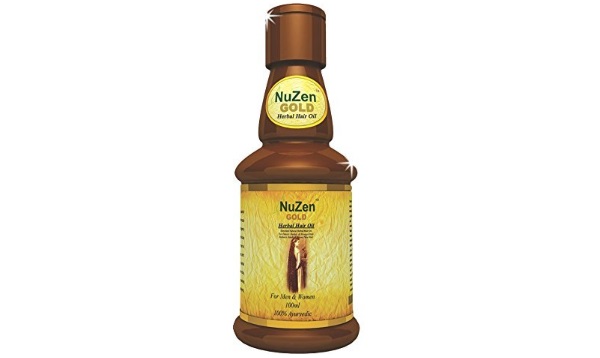 The Ayurvedic Hair Oil stimulates the growth of hair and aids in getting them thicker. The herbal product is rich in ingredients that encourage the growth of healthy hair. It promotes the length And protect the hair from free radicals. The active ingredients also combat the environmental damage.
10. Indulekha Bhringa Hair Oil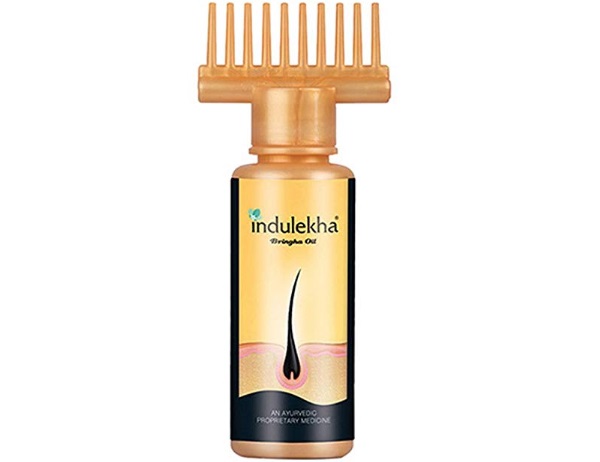 Indulekha bringha oil one of the most popular oil which comes with a selfie like bottle. It is very easy to use and contains the power of the bringha plant.  Oil is a non sticky oil which is rich in  Bringha extracts boost the circulation and eventually growth of new hair follicles. It is one of the best hair growth oil that makes your scalp filled with new hair within 2 to 3 months. But apart from that you also need to take protein rich diet.
11. StBotanica Moroccan Argan Hair Growth Oil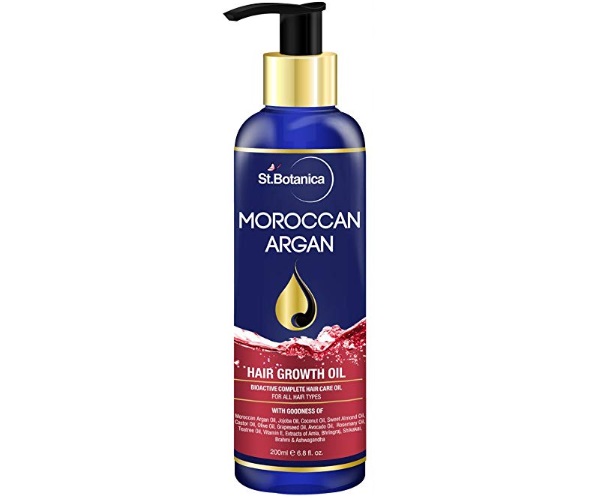 The Ayurvedic hair growth oil is rich in the goodness of multiple essential oils and herbs. It is a lightweight formula that gets absorbed in the scalp pretty quick. Enriched with natural and pure oils like- coconut, jojoba, almond, castor, olive, moroccan argan, avocado, rosemary, tea tree, tulsi oil, vitamin E and extracts of bhringraj, brahmi, amla, shikaki, methi and others. The oil gives you beautiful silky hair in no time. It is also a paraben, sulphate and Mineral oil-free hair oil, recommended for both men and women.
12. Luxura Sciences Onion Hair Oil for Hair Growth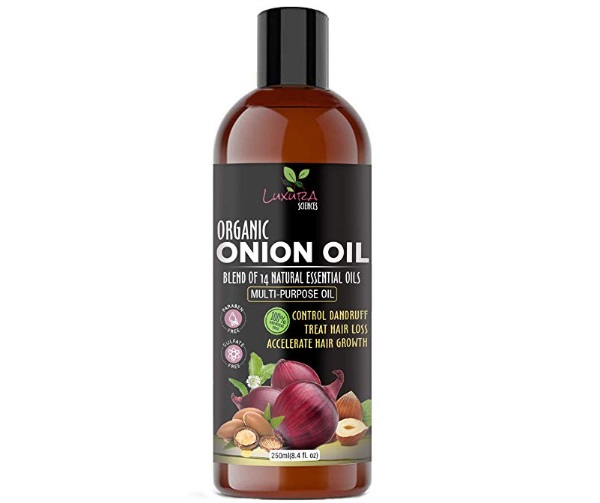 We have got another option of onion oil for you which is made to boost the growth. The oil is rich in red onion extracts along with other herbs. It's a multipurpose product that targets most of the hair issues that we experience due to pollution, stress etc. Light and non-sticky texture gets inside the scalp with gentle pressure massage. It can also be applied as a hot oil treatment at night, three times in a week.
13. Biotique Bio Bhringraj Fresh Growth Therapeutic Oil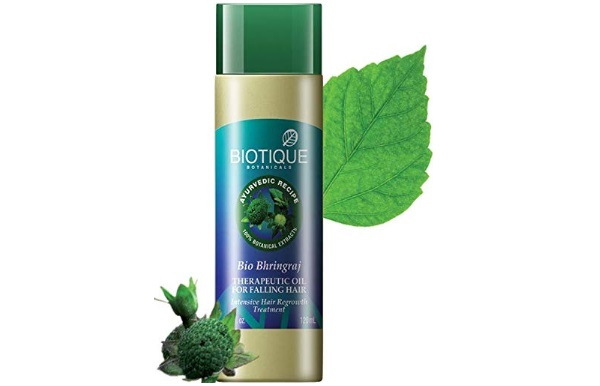 It's an intensive hair growth treatment for falling hair. It nourishes your scalp and encourages the growth of the hair follicles. Regular application of this bhringraj with hair oil aids in eruption of new follicles. It can be used two times in a week. Its non sticky texture allows to keep it for the entire night.
14. Beardhood Onion Hair Oil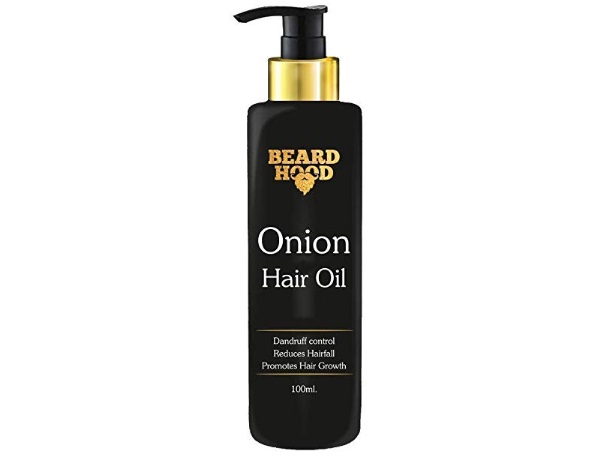 The hair treatment therapy is designed to give life to the damaged hair and to make them grow Faster. It is an excellent anti dandruff solution that repairs and smoothens the hair. It also gets rid of the dryness during winter season. Onions are good source of Sulphur and enzymes that can fight the thinning and loss of strands. The pump packaging is beautiful and makes it easy to apply.
15. Maka Mahabhringaraj Oil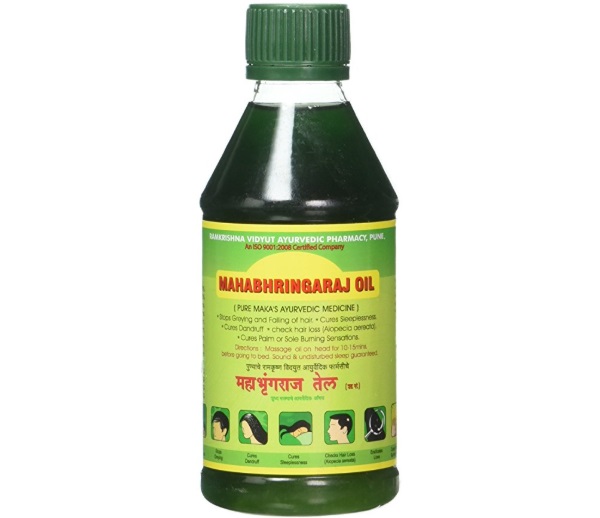 This Hair oil is an Ayurvedic medicinal product that stops growing and falling of hair. It also cause anxiety and sleeplessness. It gives you like to your weak hair roots and that initiates growth of new hair follicles. It maintains dark looking hair and prevent premature greying. The hair oil also check alopecia areata. 
We hope that this list have helped you out in deciding the best hair growth oils for yourself. Oil are mostly affordable and can be used a minimum of two times in a week to achieve good results in getting long and thick hair strands. Other than that, you should take protein rich diet and enough water. Supplements of biotin also works for maintaining thick and voluminous hair.