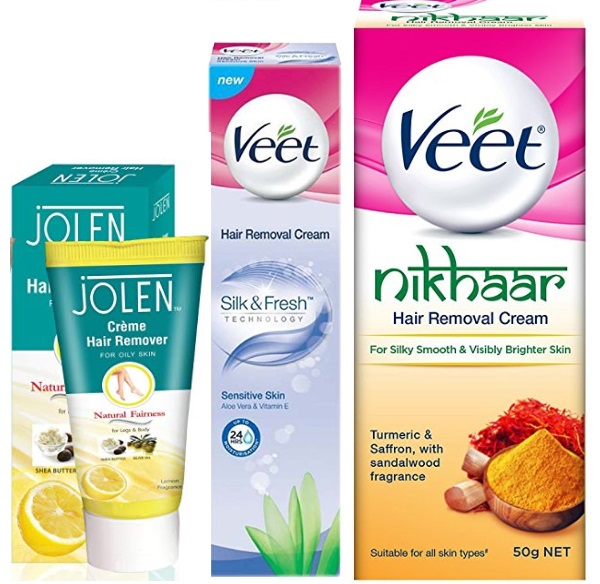 To keep your skin beautiful and smooth, hair removal is a necessary procedure. To remove the unwanted hair from your body, you can use products, like hair removal creams, hair removal wax and even with the Laser hair removal methods. While the laser method is expensive, Hair Removal Cream method is inexpensive and pain-free unlike waxing. We have put together this list of the best hair removal creams available in India. Definitely, these creams can give you smooth unwanted hair free skin.
Best Rated Hair Removal Creams in India (Men and Women)
1. Veet Silk and Fresh Hair Removal Cream for Sensitive Skin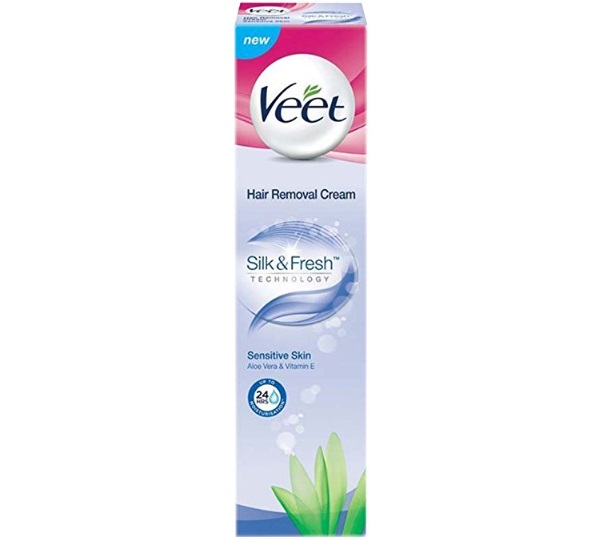 Hair Removal Cream is suitable for all skin types including the sensitive skin. As it contains aloe vera and Vitamin E, it nourishes the dry skin, while it gets rid of the unwanted hair. It gives you up to 24 hours of moisturization. It removes the close to the roots and even on the shortest hair. It gives you smoothness up to twice as long as shaving does. The sensitive skin formula is suitable and does not give you irritation after the use. There are two other variants available; one is for dry skin and then normal skin.
2. Anne French Sensual Sandal Hair Remover with Moisturizer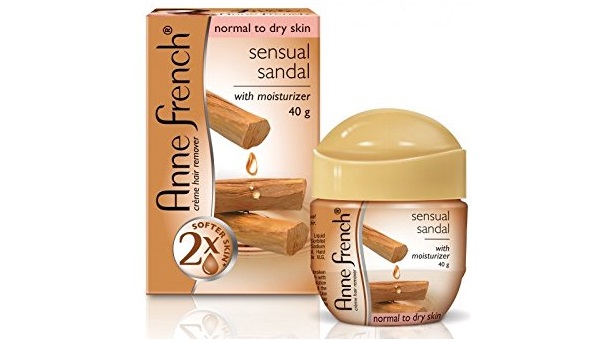 The moisturizing hair removal cream contains Sandalwood extracts which makes your skin softer. It comes in a plastic packaging that is easy to use. It can be used to remove unwanted hair from your arms, legs, underarms and even from the stomach, thighs and bikini area. The general formula is safe for dry, normal and sensitive skin. You can wait for 7 minutes and then get rid of the cream with the spatula or wipe it off.
3. Veet Nikhaar Hair Removal Cream for All Skin Types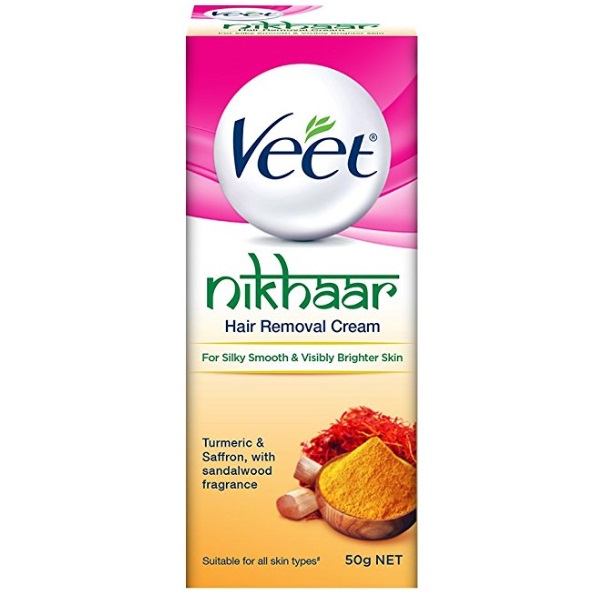 The hair removal cream is for all skin types. It gives you silky, smooth and visibily brighter skin as it contains turmeric, saffron and sandalwood. With the presence of these herbal ingredients, it brightens the skin other than removing the unwanted hair. It gives you effective hair removal in just 3-6 minutes. The product also removes short hair from legs, underarms, arms and bikini line.
4. Fem Anti Darkening Gentle Hair Removal Cream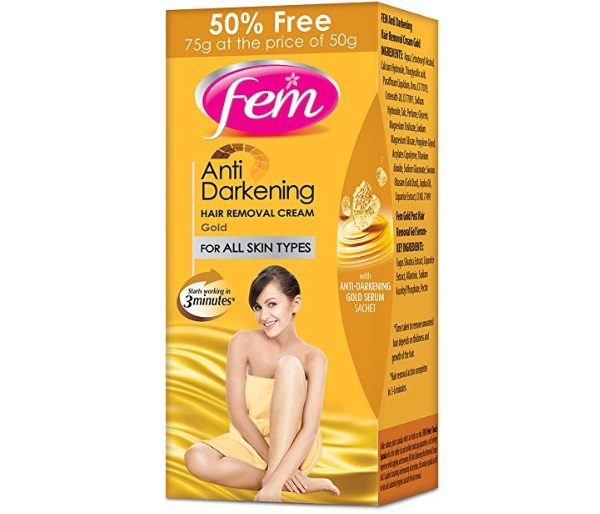 The gental Hair Removal Cream gives you brightening and has anti darkening properties. The natural gold extracts in this product, gives your skin radiance and glow. While the jojoba oil, makes your skin soft and moisturized, it makes it a suitable product for normal to sensitive skin. You can apply it evenly on the skin and remove after 3 to 7 minutes.
5. Everteen Bikini Line Hair Remover Crème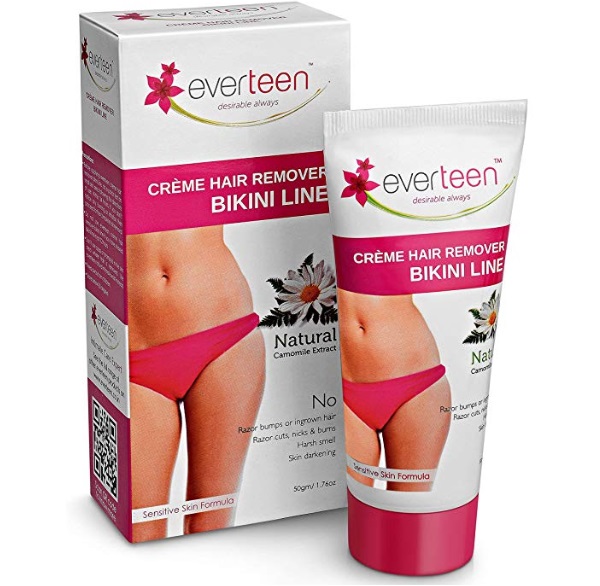 The product is exclusively made to remove the unwanted hair from your bikini line. It gives you smooth came down there and does not contain any harmful products that can irritate the delicate skin. The chamomile extract in this product makes its super sensitive skin friendly. After using this you do not get anything, rashes vegetation. You just have to apply it on the bikini line and wipe it off after 5 minutes.
6. Jolen Hair Removal Cream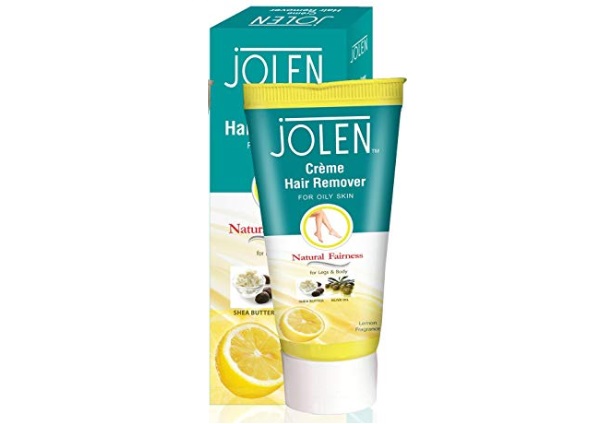 Removal Cream is from Jolen this brand is known for its bleach, Hair Removal Creams and other beauty products. It gives you visibly hair-free skin within just few minutes. It is suitable for all the skin types and is available for oily, dry skin and sensitive skin. You can choose the variant that you feel would suit your skin type.
7. Nature'S Essence Soft Touch Diamond Hair Removal Cream

This is one of the best hair removal creams, which is affordable to just like other variant. It is safe to be applied on your bikini line and arms. It is rich in the Diamond extract that gives the brightness and Shine on your skin. You can just apply it evenly on the desired area and remove after 5 to 7 minutes.
8. VI-JOHN Feather Touch Hair Removal Cream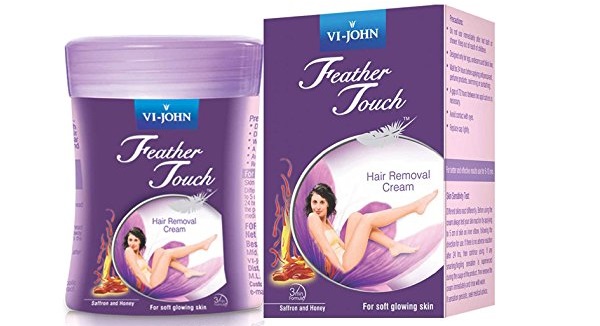 The Feather Touch Hair Removal Cream is a gentle formula which gives you unwanted hair-free and beautiful skin within few minutes. You can use it to get rid of the unwanted hair from your arms, legs, thighs and even the pubic hair.
9. Nair Lemon Hair Removal Cream

Nair hair removal cream is enriched with the moisturizing properties and natural ingredients that leave the skin feeling soft and velvety. It gives you longer lasting results than shaving. It is for all skin types and has Calcium thioglycolate.
10. Roots & Herbs Neem and Fennel Depilatory Ubtan for Hair Removal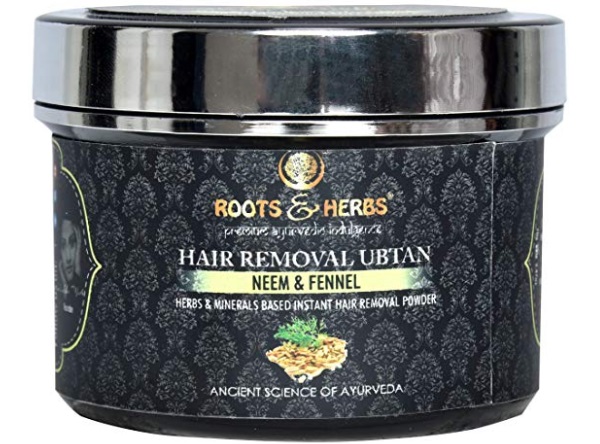 This hair removal ubtan is a unique product with patented formula for a smooth flawless skin without any pain or redness. This hair remover is 100 % free of paraben. It is made with Ayurvedic ingredients and with an ideal blend of herbs, minerals, and clay. This natural hair remover is made to remove the hair instantly and naturally removes dark patches too.
How to apply: Just mix this hair removal powder with water to make a paste. Apply on desired area for maximum 14 minutes. Wipe with a damp cloth upward with bit firm hands.
11. Nad's Hair Removal Creme For Men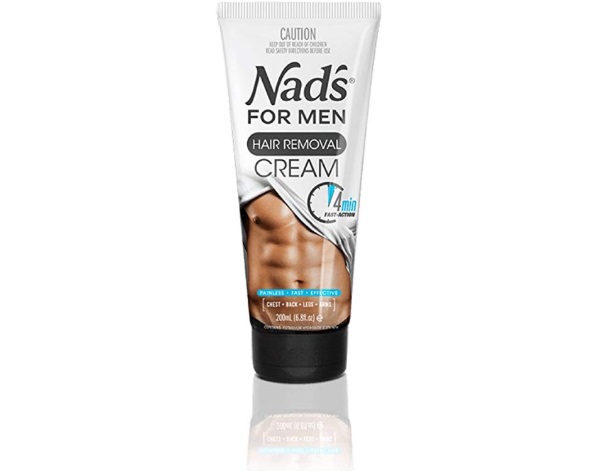 This painless hair removal results that last longer than shaving. It's extra strength cream is formulated for coarse body hair. It works in as little as 4 minutes but when you've thick hair then keep it few minutes longer. It's suitable for all skin types and is ideal for body, chest, arms and legs.
How to apply Hair remover creams
Application of these creams is pretty easy. You just have to apply the cream evenly on the skin from where you would like to get rid of the unwanted hair. Keep it untouched for 3 to 5 minutes or even 7 to 8 minutes if your hair is thick.  Then wipe off, using a sponge, cotton pad or even or wash cloth. Wash your skin with clear water and this is a simple technique, that you use to remove the unwanted hair using hair removal creams.