Moisturizer is the first thing that comes to your mind, whenever your skin feels dehydrated or even for the everyday use. It's not that people with dry skin would use a moisturizer but if you have oily skin, then a moisturizer is a beneficial product for you. There are different moisturizers available in the market some of them have chemical loaded formulas, while some are organic in nature. Here we've put together this list of the best herbal moisturizers in the market. These moisturising products are really beneficial in hydrating the skin. So, if you have oily skin, then go for the oil-free and lightweight moisturizing lotion, while for the dry skin types, with hydrating ingredients the product is effective. In fact, for oily skin the face cream can be a bit greasy, therefore moisturisers are better at keeping the skin hydrated and creating the shield to combat all those harmful effects that skin goes through on every day basis. A good moisturizer also protects the skin from an environmental damage.
List of the Best Herbal Face Moisturizers in India (2023)
1. Mamaearth Oil-Free Moisturizer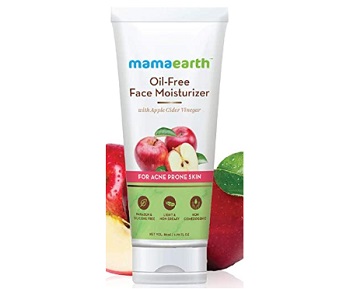 Made with the key ingredient like apple cider vinegar this is especially made for the acne prone skin to keep it hydrated but to the extent that it does not clog the pores or create any crazy look. So it feels light on the face and is a non greasy product which is also non comedogenic. In fact this is the best oil free product for oily skin that is free of paraben and sulfate.  This is one of the best face moisturizer for men and women at affordable price range available in the Indian market.
2. Biotique Morning Nectar Flawless Skin Lotion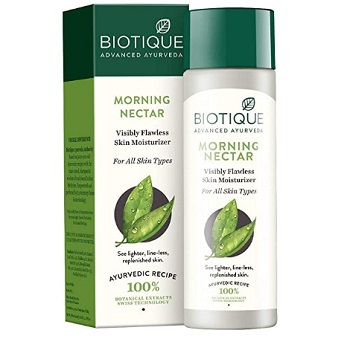 This Ayurvedic moisturizer is suitable for all skin types, that suits normal to dry skin more. After using this product, it does improve the skin texture. With 100% Ayurvedic recipe extract, this is a really helpful herbal moisturizer for people with dry irritated skin.  One can even try this face moisturizing lotion in the winter season as it has essential oils.
3. UrbanBotanics Oil-Free Moisturizer For Face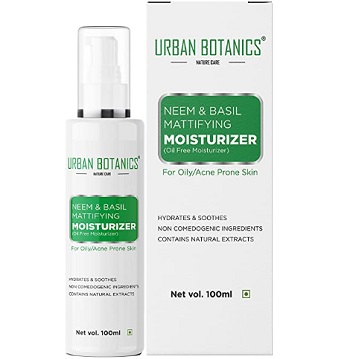 When you have oily skin, an oil free moisturizer with Neem and Basil is ideal for everyday use. This is the best oil-free moisturizer in the market. The best thing is that, it has natural extracts and does not clog the pores. It is 100% vegan, cruelty free and safe product for daily use. The product is paraben free because of which, in short time, it has gained really good reviews. It gets you glowing skin and because of its non-oily nature, it doesn't clog the pores breakouts later on. It's the best natural moisturizer for summer.
4. WOW Organic Apple Cider Vinegar Face Moisturizer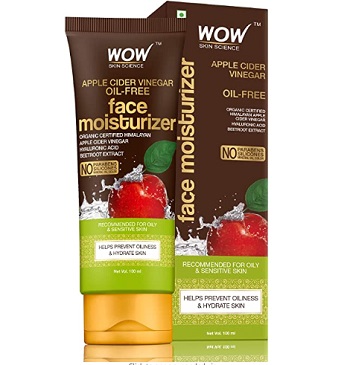 Wow Apple Cider Vinegar face moisturizer is best for dry to normal skin. Even apple cider vinegar products help to exfoliate skin layer because of which the oils, sebum, debris and breakouts are healed. It's an organic certified Himalayan apple cider vinegar product. It has hyaluronic acid along with beetroot. The best thing is that is it is a silicone and sulphate free product. It prevents the excessive oils and sebum. It is yet another face moisturizer available in very affordable prices.
5. mCaffeine Naked Detox Green Tea Face Serum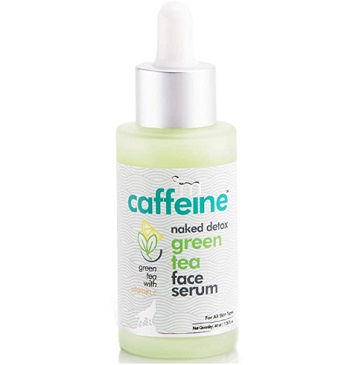 Suitable for all skin types, this green tea face serum is very lightweight product which moisturises the skin without the shiny and sticky layer. During summers using certain products can make the skin sticky but, that is not the case with this Green tea rich face moisturizer. Texture of this product is suitable for oily and acne prone types, including the normal types. It is a unisex product, which means both men and women can try it. The serum is easy to apply and cruelty-free and vegan product, what is paraben and chemical free because of which it can be safely applied for sensitive skin.
6. Lotus Herbals Cocomoist Cocoa Butter Moisturising Lotion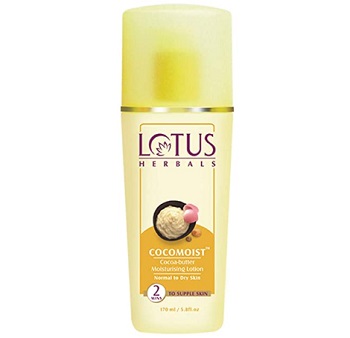 Rich with cocoa butter and shea butter, this product is hydrating and very moisturizing for dry to normal skin. Available at very affordable price, this can also be procured from the nearby shops. The product is easy to apply and blend really nicely on the skin. For winters, this is a good hydrating herbal face moisturiser for dry skin in India.
7. Khadi Natural Sandalwood And Kesar Moisturizer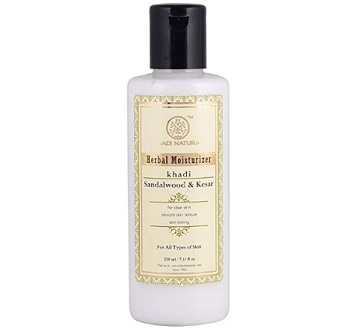 To get clear and smooth skin texture, sandalwood and kesar face moisturizer works well. It has skin toning benefits and is suitable for all the skin types. But we feel this Sandalwood and Kesar herbal face moisturizer is better suitable for dry to normal skin.
8. The Face Shop Rice & Ceramide Moisturizing Emulsion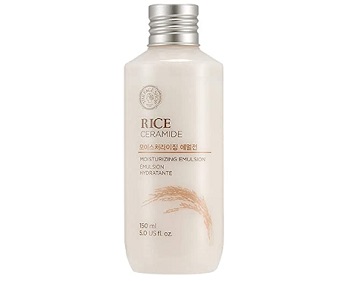 This extremely moisturizing emulsion product is rich in rice extracts and ceramides. It is a face brightening moisturizing skin care product which is an amazing with rice bran oil and ceramides. It replenishes the moisture with its lightweight non-greasy texture. Therefore, it's must try for oily and acne prone skin that wants the skin brightening benefits. The quick to get absorbed in the skin moisturizer gives the natural glow from within.
9. Simple Kind To Skin Protecting Light Moisturiser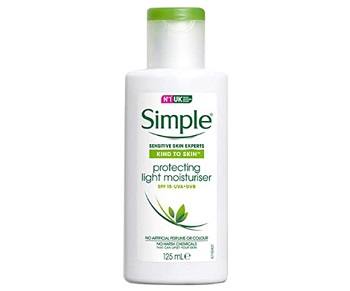 This light face moisturizer is herbal in nature and comes with SPF 15. The day moisturizer does not contain artificial perfumes, colorant and harsh chemicals. It provides 12 hour moisturization and is rich with Provitamin B5, Allantoin, and Vitamin E. It doesn't have the ingredients, which can disrupt the pH balance, even for the sensitive skin types. SPF 15 is ideal for everyday wear to keep the skin shielded from the UV damage. It's a good organic face moisturiser for SPF for dry skin.
10. Plum Hello Aloe Caring Day Moisturizer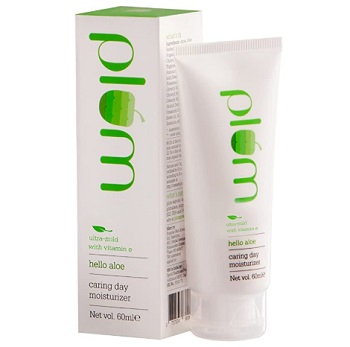 The daily moisturizing lotion has aloe vera extract. Suitable for all skin types, it is a paraben free face moisturizer with herbal ingredients. The rich textured formula gives an instant glow to your face by providing enough of the hydration. It's not recommended for oily and acne prone skin, because it is quite hydrating. So, it does not cause any allergies even for the sensitive skin. You get the visibly radiant and glowing skin. Some people claim that it also works for oily skin. However, we feel that the product is not formulated for Acne prone skin, therefore try it during winters, if you really want to use it for the oily and acne prone skin type.
11. Khadi Pure Herbal Almond & Saffron Moisturizer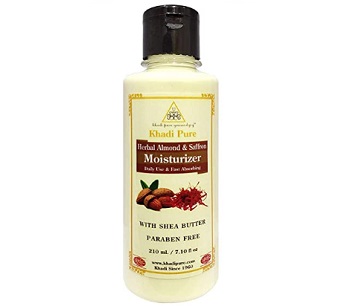 The goodness of shea butter, almond and Saffron, this Khadi moisturizer for summer is completely free of paraben. The easy to blend formula is an amazing herbal face moisturizer for dry to normal skin type. Even man can try it. It contains multiple skin benefits with almond and saffron. The herbal botanical ingredients get absorbed in the layers nicely and give a glow from within. If hydration is your sole motive from your face moisturizer, then this is the best thing to try for dry skin of course.
12. Jovees White Water Lily Moisturising Lotion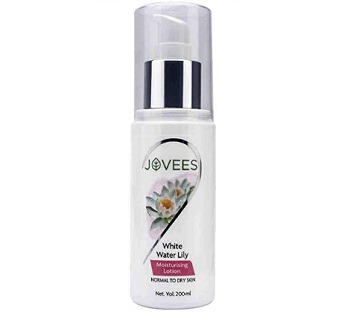 The white lily moisturising lotion is made for normal to dry skin. When your face is dry, then trying a moisturizer can be heavy enough to combat the dryness and flakiness on your skin. It's must have in any skin care routine. This is the best herbal moisturizer for extremely dry skin. With the winter Lily extract it increases the skin cell renewal and makes the complexion better.
13. NutriGlow Kashmiri Saffron Moisturizer with SPF 20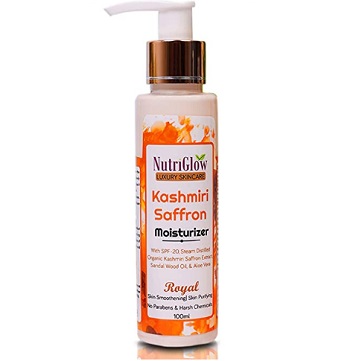 Rich with Kashmiri Saffron, this moisturising lotion has SPF 20.  It's lightweight and is a good face moisturizer for anti aging. Without the harmful Chemicals, the skin care lotion is 100% free of chemical products which can irritate the dry skin. The product is best suitable for normal, combination and dry skin. It has organic Kashmiri Saffron extract, sandalwood oil and aloe vera. Pump packaging also makes it easy to use.
14. L'Occitane Almond Milk Concentrate Moisturizer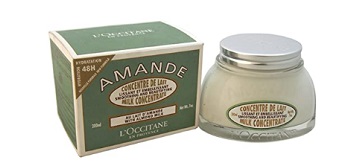 The almond milk concentrate comes from the house of L'Occitane. It is a wonderful product in giving the essential vitamins and nutrients to your skin. It feels like as if you are applying the almond milk concentrate directly on your skin. It is as real and as effective for dry and aging skin. To remove the signs of aging, this soft moisturizing product really works. It comes with strong antioxidant properties to firm and tighten the skin, when applied on regular basis twice a day. It can also be applied on your other body parts other than the face.
15. StBotanica Nutritivo Pomegranate Radiant Glow Moisturiser SPF 30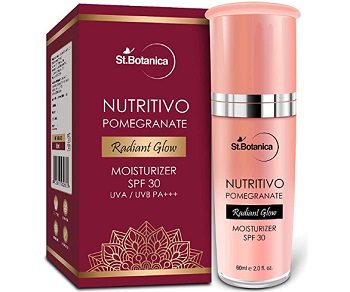 Made with the pomegranate extract, this lightweight moisturizer has SPF 30. To get you a clear complexion, it shields your skin from UV rays. While protecting the sunburn, photo aging, tanning and hyper-pigmentation this product maintains the natural fair complexion. Enriched with pomegranate and antioxidants, it repairs the free radical damage. Being rich in natural oils and plant extracts, it's safe for all the skin types, but not for the acne prone skin to be honest. The product is rich in botanical that gives clarity and luminosity to your skin.
16. Aroma Magic Juniper Berry Oil Free Moisturiser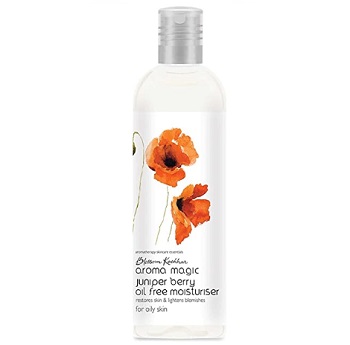 The Juniper Berry helps to restore the moisture and lightens the blemishes. So, if you're seeking a face moisturizer with blemish control and oil control features, then this product is a multitasker. With the extracts of Juniper berry and cucumber, it acts as an effective anti inflammatory, anti blemish and anti-aging products. It also contains patchouli and lemon essential oil that helps to regulate the oils. And aloe vera juice makes it a non-greasy gel formula that heals the acne, lightens the blemishes, but does not add a greasy layer. Its especially, made for oily and acne prone skin, this product is lightweight and free of the chemicals.
17. Himalaya Herbals Nourishing Face Moisturizing Lotion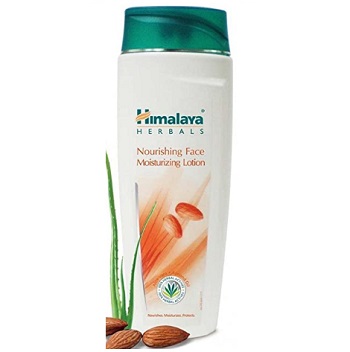 The highly hydrating face moisturizing lotion is perfect for normal to dry skin, people who are looking for a good and affordable face moisturizer for their dry face in budget. It can be used during winter season and because of that it's very hydrating and moisturizing formula, you would surely love the way, it moisturises the face.
18. The Face Shop Chia Seed Hydro Lotion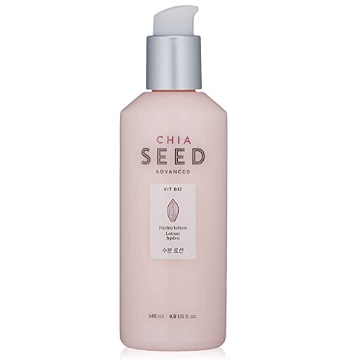 With the goodness of Chia seeds, this is an ultimate hydrating lotion, which is blended with Vitamin B12. It moisturises the dry and flaky skin. It can be applied all year round, however not for oily skin, but only for the people who've very dehydrated and flaky skin. It gives a healthy glow and it is the best herbal face moisturizer for glowing skin.
19. SoulTree Apricot Moisturizer With Honey & Kokum Butter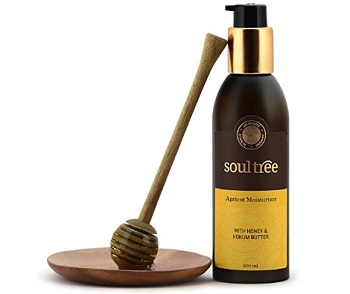 Made with honey and coconut butter, this is extremely moisturizing for dry skin. It heals the damage, dry skin and promotes the cell regeneration, which also keeps the skin aging away. For the existing lines and wrinkles around your face, this product is quite creamy and hydrating. Kokum butter is known to act as an effective anti aging ingredient. It is 100% natural product with certified ingredients and it does not contain paraben, sulphates, SLS and mineral oils. This is yet another good herbal and organic face moisturizer for dry to normal skin.
20. Mom & World Radiant Boost Whitening & Illuminating Day Lotion Moisturizer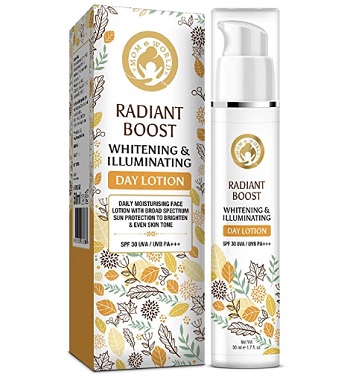 The moisturizing lotion is rich in vitamin C and this daily face moisturizer is blended with the effective ingredient that does the skin brightening. On top of that, it contains SPF 30 that protects the skin from any more damage and tanning. While moisturising the skin, it also fights excess oil. It contains the hydrolysed proteins, sweet almond oil, coconut oil, geranium oil and to strengthen the moisture barrier of your skin. It also has lemon, orange peel, patchouli and wheat germ extract. It has zinc oxide and titanium oxide that works as a physical sunscreen for your skin. Even though, it claims to be a product for all skin types, it can be a bit greasy for oily skin, mostly during the summer season. This is why, for the winter season you can try it.
These are the best herbal face moisturizers for different skin types in India.