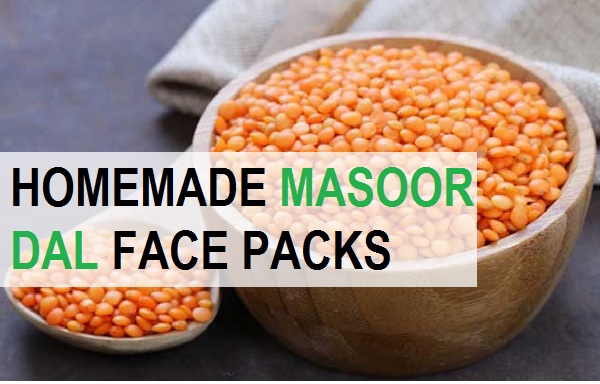 Masoor dal also known as Red lentil is effective to improve the skin complexion and the skin texture. It can be used in multiple ways to get flawless skin. In fact, masoor dal is also used to remove the unwanted hair from face and body skin. A lot of people use this for getting rid of the pimples and their scars. This articles will help you with the recipes of best homemade masoor dal face packs.
When masoor dal is mixed with Neem powder, it makes an excellent face pack to treat acne on the face. I will be sharing homemade masoor dal face packs which you can make to treat different skin issues, like pigmentation, dark spots, acne scars and dark circles. Applying masoor dal (Red lentil) regularly on your skin, gives you benefit like skin whitening and smoothening your skin.
For questions, feel free to let me know in the comments.
Homemade Masoor Dal Face Packs
Preparing Masoor Dal Powder:
I'll be telling you, how you can prepare the masoor dal powder at home. It'll help you a lot as you can make that powder once and use later try the various remedies given below. Take 250 grams of Masoor dal, put it in the grinder and grind this. Grind dal, until you achieve a fine powder. Store it in an airtight container.
To prepare the masoor dal paste, you can soak 50 grams of masoor dal in some milk. Keep it overnight. Next morning, you can take this mixture and grind it using a food processor. Take out the paste and use it for different home remedies like hair removal, skin lightening and smoothening. This paste also works as an excellent body scrub.
1. Masoor Dal Face Pack for Skin Lightening
Ingredients:
Masoor dal or Red lentil Powder

2 Spoons of Lemon Juice
How to make:
Take handful of masoor dal and soak in 2 cups of water. Leave it for overnight to get soft. Next day, strain the remaining water. Grind it and achieve a smooth paste. Add two spoons of lemon juice in it. Mix it thoroughly using a clean spoon. Apply this on your face evenly and some on the neck. Keep it for at least 20 minutes. Rinse this face pack of your skin by using gentle circular movements. Use lukewarm water to remove this pack. Do this twice a week for getting fair skin complexion.
2. Masoor Dal Pack for Eliminating Dark Spots
Ingredients:
2 Spoons of Masoor dal

1 spoon of tomato Juice
How to prepare:
Taking two spoons of masoor dal, add one spoon of tomato juice. Blend it and apply on your face over the dark spots. Get it dry for 30 minutes. Rinse your face with cold water. Apply this everyday to reduce the spots. This is one of the best masoor dal packs for getting rid of dark spots and blemishes. In order to do this daily, you can prepare the masoor dal powder and keep it in an air tight container so, that every day you don't have to make the powder all over again. 
3. Masoor Dal for Acne Scars
Ingredients:
Masoor dal

Multani mitti

Lemon juice

Curd
Directions:
For lightening acne scars, take one spoon of masoor dal paste in a container. Add one spoon of multani mitti with two spoons of lemon juice. Add one spoon of curd or yoghurt in eighth. Using a spoon, mix everything well. Apply it evenly on your face and neck or wherever you have scars. Keep it untouched for 30 minutes. Remove it with circular movements. Don't forget to be gentle on your face. Use normal water to wash it. Use this masoor dal face pack for acne scars, twice in a week for best possible results.
4. Masoor Dal for Pigmentation
Ingredients:
2 spoons of Masoor dal

2 spoons of Sandalwood powder

3 spoons of Tomato juice
How to make:
Pigmented skin looks patchy and dull.

When you have a patches on your face, this masoor dal face pack is best to try.

Take masoor dal powder.

Add two spoons of Sandalwood powder and add 4 spoons of tomato juice.

To make smooth paste, you can also add some water, if needed.

Apply this pack on the face and neck.

Keep it for 15 to 20 minutes.

Once it gets dry, wash your skin using normal water.

It can be removed by circular gentle movements.

Use it twice a week for lightening the dark patches from the skin.
5. Masoor Dal pack for unwanted hair
Ingredients:
100g Masoor dal

Milk

3 spoons of Lemon Juice
How to make:
Soak 50-60 grams of masoor dal powder in 2 cups of water. At some more water when needed. Keep it overnight undisturbed. Next day, Strain the excess water. Grind this soaked masoor dal using some milk. Add 3 spoons of lemon juice.

Mix well and apply on your face hands legs or whenever you would like to get rid of the unwanted hair.

Apply the face pack and keep it until it gets fully dried.

Remove the Dal pack from the skin using firm yet gentle circular movements. Wash it with lukewarm water. Repeat at least thrice in a week for thinning out the unwanted hair and getting the hair removal results faster.
So, this is how you can use masoor dal for skin whitening, lightening the dark spots and pigmentation. You can also get help from these face packs to remove the hair from your face and body skin. Make sure that every recipe that you follow, you try to do it regularly.
You can also know about the best tulsi face packs at home.