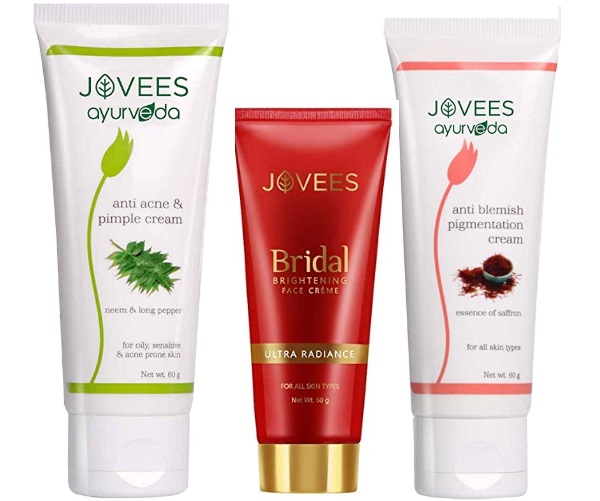 A good face cream can do wonders for your skin.  We have penned down the best Jovees creams for different skin types. Jovees is a very well known brand that utilizes herbal and organic ingredients in their products. While their products are not entirely free of chemicals but they are still natural and herbal than most of the other leading brands. Let's get started, and check out which are those best Jovees face creams that you can try for your skin type.
Best Jovees Face Creams in India
1. Jovees Anti Blemish Pigmentation Cream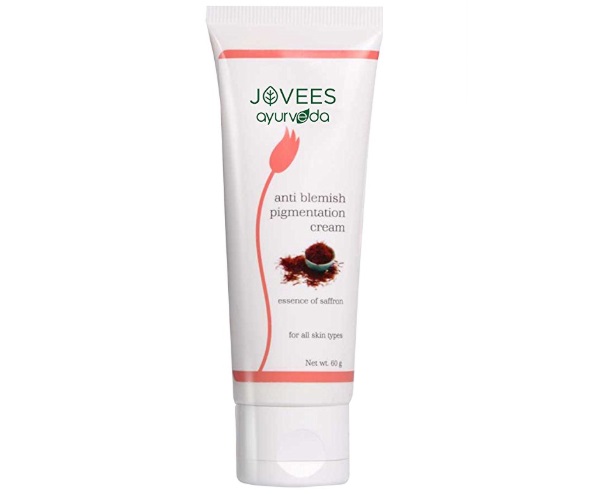 When it comes to affordable blemish control creams, this Saffron rich anti pigmentation cream from Jovees is the best. It minimizes the pigmentation, marks and clarifies the blemishes on your skin. It improves the overall skin clarity and reduces the appearance of discoloration. You can apply it to two three times in a day, to make your skin more even toned and free of all those marks and scars. Regular use of this cream rich and botanical extracts like sandal and saffron helps to get you beautiful skin.
Price: 240 rupees for 60 grams
2. Jovees Bridal Face Cream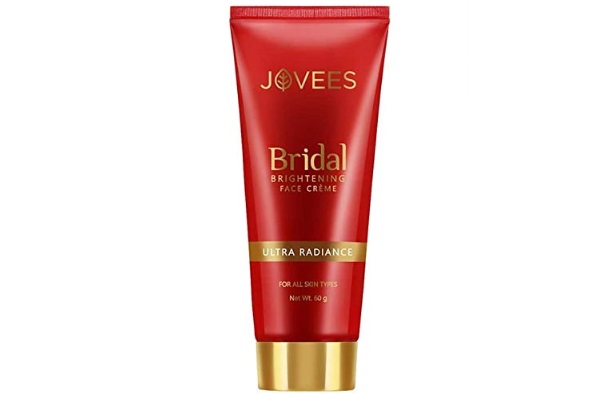 This bridal face cream basically a brightening face cream that gives u Ultra Radiance. It repairs skin with the natural repair process and works during the night to give you beautiful glowing skin. This cream is made with the potential turmeric extracts and other Botanical extracts that helps to revive stressed and dull skin. You can use it two times in a day.
Price: 365 rupees for 60 grams
3. Jovees 30 + Youth Face Cream SPF-16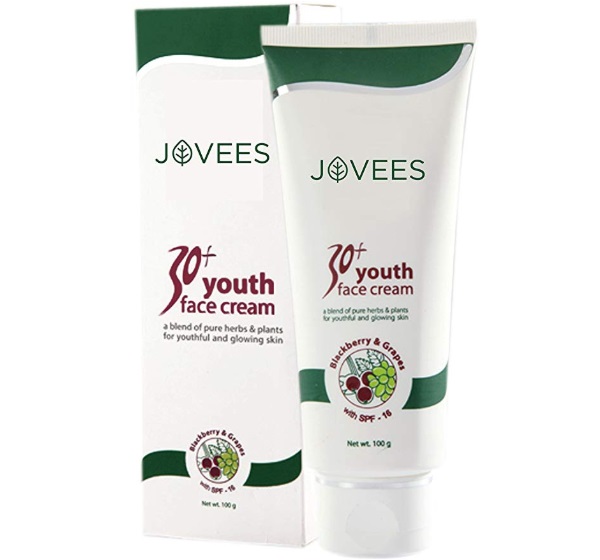 If you are looking for a face day cream for when you are in your 30s then this cream would fit the bill. Written Blackberry and grapes extract this comes with SPF 16. Blended with pure herbs and plants ingredients it gives me youthful on glowing skin. Apart from that, the cream also ensures that your skin is free of fine lines and wrinkles for a longer time. It works on the skin's repair system and increases the collagen production. This anti-aging face cream is suitable for normal to dry skin.
Price: 320 rupees for 100ml
4. Jovees Sandalwood Protection Day Cream SPF-20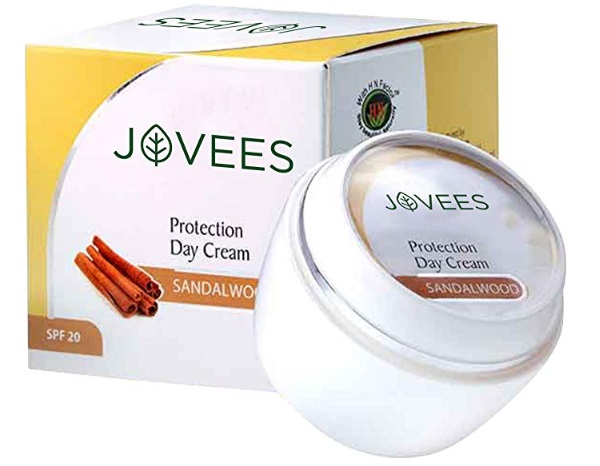 The SPF 20 cream helps to make your skin retain its moisture. It has the moisture retaining and protecting formula that keep the skin hydrated for a long time. It can also be used as a makeup base during the winter season when your skin gets extremely dry and irritated. It is recommended for normal to dry skin. It's hydrating formula that soothes the dry patches on the skin.
Price: 230 rupees for 50 g
5. Jovees Pearl Whitening Face cream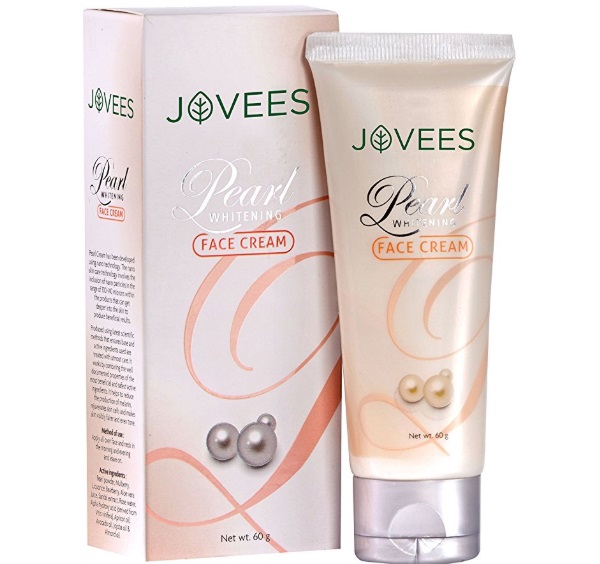 Pearl extracts are known to revive your dark skin. Not just that, Pearl also aids in skin whitening and minimization of the melanin on the uppermost skin layers. This Jovees Pearl whitening face cream does exactly that. It helps your skin to minimize, the production of melanin and revise the dark skin cells, so that the skin visible looks fair and even toned. It can be applied morning and evening. It is suitable for all skin types. It is not mentioned whether it contains SPF or not. The ingredients are Pearl powder, bearberry, aloe vera, liquorice, Sandalwood extracts and rose water.
Price: 265 for 60 gram
6. Jovees Saffron Bearberry Fairness Cream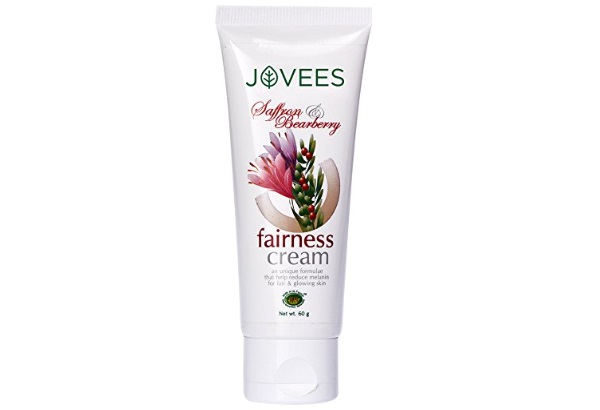 The fairness cream is a unique formula that reduces melanin and increases the glow. The slightly greasy texture of this cream is not suitable for oily and acne prone skin but it is very good for normal to dry skin. It also has UV filters that protect your skin from the harmful effects of UV rays. You can apply it all over your face and neck twice in a day.
Price: 155 rupees for 60 grams
7. Jovees Ayurveda Neem & Long Pepper Anti Acne and Pimple Cream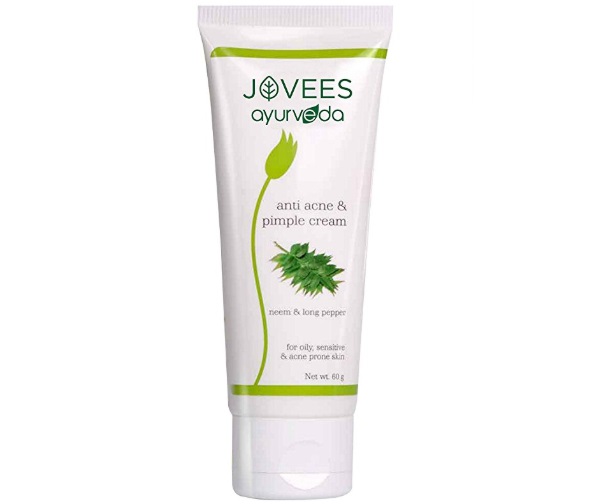 Made to combat the acne and pimples from your skin, this cream contains the extracts of neem and long pepper. It is a specially formulated for oily acne prone and sensitive skin type. The light and non -greasy texture disrupts the bacterial growth and kills the bacteria causing acne on your face. It can be applied on the face and neck. Regular use of this cream ensures that your skin stays clear of acne and minimizes the chances of acne and breakouts. Application of this cream during the bed time gives you best results.
Price: 210 rupees for 60 gram
8. Jovees Face Massage Cream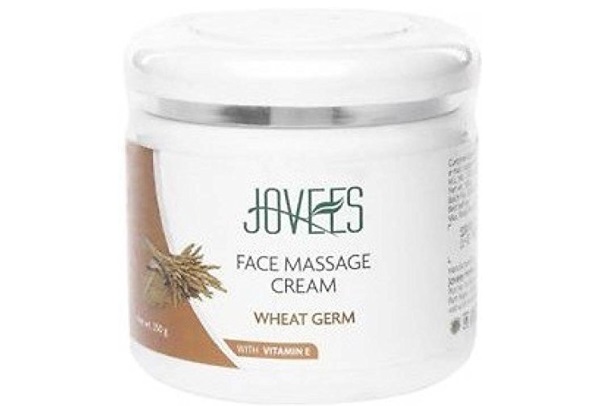 Looking for a good face massage cream? The wheat germ rich face massage cream ensures that your skin gets all the nutrients along with Vitamin E and stays glowing and during. The massage cream is rich in wheat germ and therefore, is not for oily and acne prone skin. It is best suitable when your skin is normal to dry. It is the best massage creams to have from a good brand.
Price: 735 rupees for 350 grams
9. Jovees Almond and Ginseng Wrinkle Lift Cream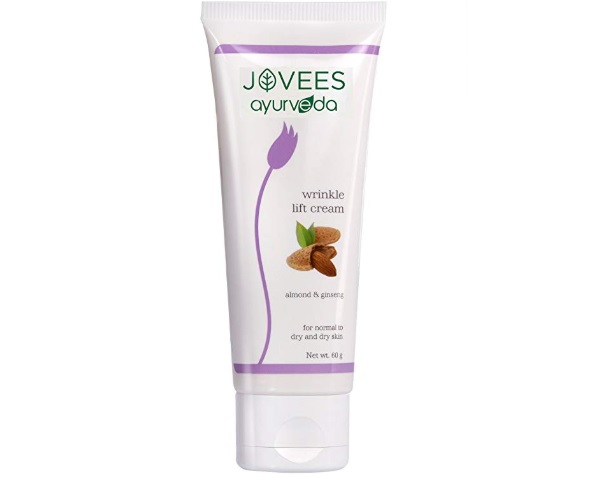 Jovees also has this anti wrinkle face cream which is very affordable in its price. Formulated for normal to dry and very dry skin, this cream contains almond and ginseng. It's known as a miracle anti-aging product that accelerates the cell renewal process and minimizes the appearance of lines and wrinkles on your skin. Overall, the product helps to improve your skin elasticity to make it clear and younger looking. You can apply this two times in a day to get beautiful skin. It does not have any UV filters, SPF, therefore you can apply sunscreen, when you go out in the sun during the day.
Price: 210 rupees for 60 grams
10. Jovees Avocado Revitalising Night Cream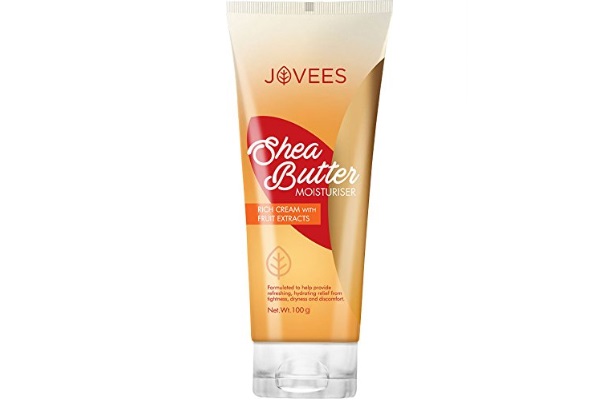 the goodness of avocados, this night cream is suitable for all skin types. It is not have any specific targeting thing but it is a decent everyday use night cream that can give you good skin the next day. It has a herbal formula that gives your skin hydration and redefines the skin clarity. If you are looking for a decent and affordable night cream for all skin types then this is suitable.
Price: 230 rupees for 50 gram
11. Jovees Shea Butter Moisturizer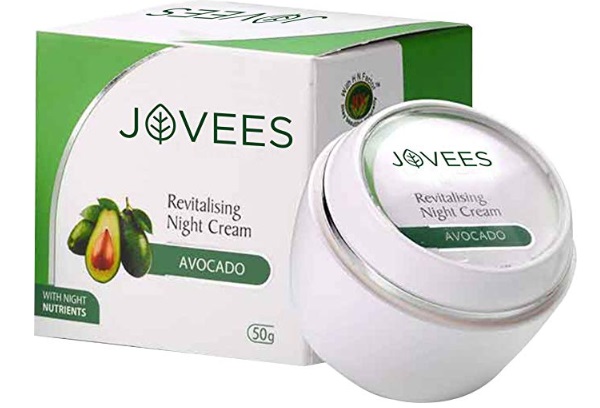 With shea butter and fruit extracts, it is formulated to help provide refreshing, hydrating relief from the tightness and flakiness and dryness that we experience during the winter season. It helps to revitalize and restore the balance of your dry and stressed skin. It's an excellent face cream for normal to dry and extremely dry skin during the winter season.
Price: 210 rupees for 100 grams
Depending on your requirements and your skin types as mentioned here you can choose the best Jovees face cream for yourself.