Khadi Herbals is an Indian brand that is known for its natural and Ayurvedic skin care and hair care products.  When the market is filled with the chemical laden face washes, Khadi face washes are also popular amongst many people because of their herbal ingredients. There are different types of khadi face washes available in the market and out of that we have hand picked up the best Khadi products for you. These facial cleansers from Khadi Herbals are rich with organic ingredients with no paraben and sulphates. So, if you are looking for the best herbal face wash for your skin, then these face washes can help you in picking up the best products for you. Let's take a look at the best Khadi face cleansers in the market.
Best Khadi Herbal Face Wash in India
1. Khadi Mauri Herbals Rose Herbal Face Wash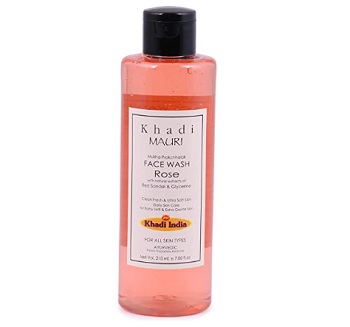 The rose face wash contains the goodness of a red sandal with rose extract and glycerine. It's a suitable face wash for extra gentle and sensitive skin. It can be applied to 3 times in a day and is also suitable for all skin types, however as we mentioned, it's best for the delicate skin. Glycerine and Sandalwood extracts properly cleanse the skin and does not make it dry or stretchy after the wash. It cleanses the pores and softens the skin. With no chemicals, it's also one of the best rated chemical free face washes in India.
2. Khadi Global Vitamin C Face Cleanser with Vitamin C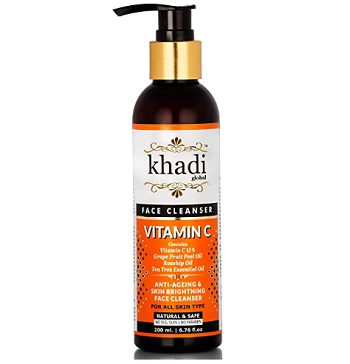 Khadi Vitamin C face cleanser is one of the best rated products, because of the vitamin C in 15% along with grape fruit peel oil, Rose oil and tea tree essential oil. It's basically an anti-aging skin brightening and skin rejuvenating face cleanser that is made for all skin types. It's a natural and safe chemical free face wash with no SLS, SLES and paraben. The cruelty-free product is from herbal skin care brand which is chemical-free and organic in nature. It increases the skin's collagen synthesis therefore, helps to acts as an anti wrinkle product. Package with the antioxidants, this is a herbal cleanser for getting healthy and smooth skin. Vitamin C in 15% is known to make the skin brighter and lighter. It's also a good tan removal face wash.
3. Khadi Natural Ayurvedic Neem and Tulsi Face Wash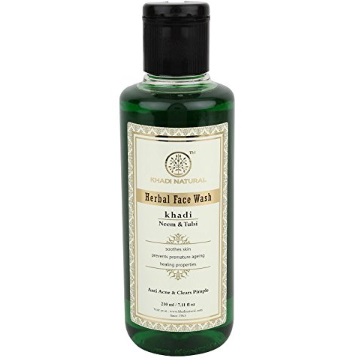 The goodness of neem and Tulsi this herbal face wash is an anti acne face wash from Khadi Herbals. The face wash is made for oily and acne prone skin and also for the combination skin. Applying a small amount of this facial cleanser on your skin two times in a day and shows that the skin becomes clear day by day and acne and pimples are also prevented. Use it on the face and wash after 1-2 minutes of gentle massaging. This can be tried by men and women both. Even for teenagers, a face wash with Neem and Tulsi is best to cure the existing zits and pimples on the skin.
4. Khadi Natural Aloe Vera Face Wash with Scrub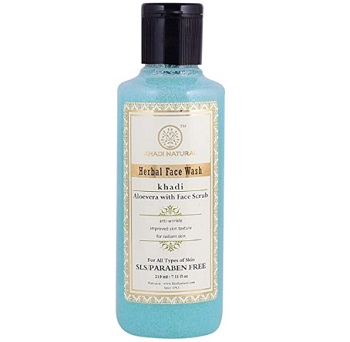 Khadi aloe vera face wash comes with scrub particles and because of that, it not only cleanses your skin but also declogs the blocked pores because of the scrubbing particles. It's a face wash that is made to improve the skin texture and also to give you radiant skin. It anti-wrinkle face wash made for all skin types. Free of parabens and Sodium Lauryl Sulphates, this is one of the best herbal face wash is available in India at very affordable and reasonable prices. According to the reviews and ratings of the users, this is one of the best daily use cleansers for all skin types. In fact, with goodness of aloe vera, it also decreases the environmental stress related skin conditions.
5. Khadi Global Nimbadi Ayurvedic Face Wash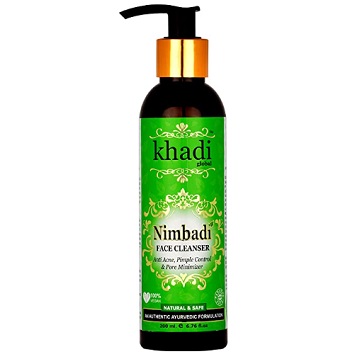 This organic face wash has neem extracts. It's for Acne control and pore minimisation product. So it's one of the best anti acne and pore minimising facial cleansers with the goodness of natural and vegan ingredient. Being 100% vegetarian, this is a paraben free kin care product which is safe for all skin types as well. The authentic Ayurvedic formula of this face wash is specifically made to overcome acne and pimples.  It refines the pores and eventually, one can enjoy smooth and flawless skin. It heals the cystic acne brilliantly due to the excellent medicinal properties of neem.
6. Khadi Herbal Natural Skin Brightening Haldi and Chandan Face Wash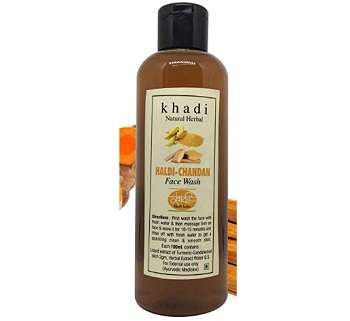 This skin brightening face wash with ingredients like Haldi and Chandan is best for all age groups. Sandalwood and turmeric are known to make skin colour fair by removing the tan, dead skin cells and by refreshing the skin. In fact, it also works for all skin types. Being an SLS and paraben-free formula, it's safe for even the sensitive skin. It doesn't have any chemicals, artificial colorants or preservatives, this is why, this face wash is one of the best skin fairness or skin whitening facial cleansers in India. People who have used it, have really good things to say about this.
7. Khadi Natural Ayurvedic Sandalwood and Honey Face Wash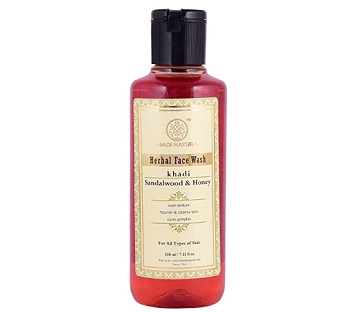 Honey and Sandalwood are two ingredients which work for all skin types, even the Eczema prone skin type. It makes the rough and patchy skin texture even with continuous usage. In fact, Sandalwood and honey are also known to cure the pimples on the oily face. So, with the natural toning and aromatic properties, it firms and tightens the skin and improves the elasticity. This natural facial cleanser reduces the bacterial activity and keep the skin beautifully and naturally growing. This face wash is a chemical-free facial cleanser. With affordable price range, it's a best seller organic facial product in this category.
8. Khadi Mauri Herbal and Ayurvedic Orange Face Wash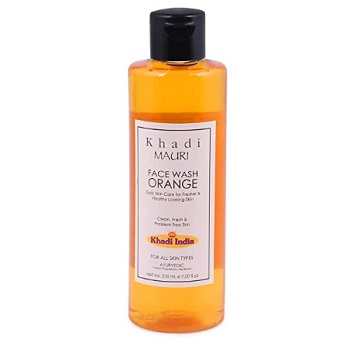 To get the fair and problem-free skin, an orange face wash can help you for sure. Made for all the skin types, this product unblocks the skin pores and makes the skin refreshing and rejuvenated. It contains the extracts of orange along with other natural ingredients that are known to make your skin beautifully glowing and revived. After a tiring day or to start your day, a cleanser with gel formulation and orange extracts like this can be really good to add in the skin care routine.
9. Khadi Mauri Herbal Apple Cider Vinegar Face Wash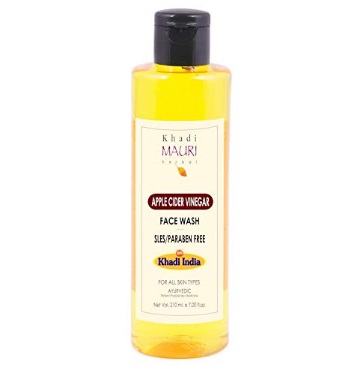 Apple cider vinegar is an ingredient that is known to shrink the open pores and to get rid of the impurities and deep seated in the open pores. Apple cider vinegar, is also an effective and excellent way to clean the skin of debris and bacterial infection. This oily skin appropriate face wash has a pH balanced formula that does not disturb the oil regulation. Rather it decreases the too much of oil/sebum secretion to prevent the skin from getting too oily or dry. It's SLS, paraben or harmful chemical free facial cleanser available in the Indian market at very reasonable prices.
10. Khadi Natural Herbal Activated Charcoal Face Wash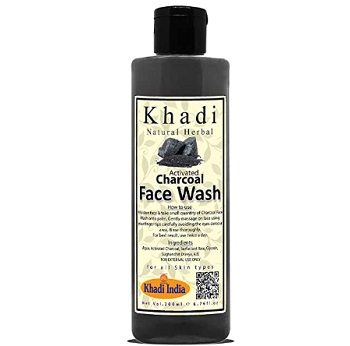 Coming to this activated charcoal face wash for men and women from Khadi Herbals.  This Ayurvedic facial cleanser with activated charcoal deeply cleanses and removes sebum, dirt and bacteria from the face. Suitable for all skin types, it's a face wash that was really fares well for oily and acne prone skin. To get rid of the seasonal and occasional skin problems, like zits, blemishes, boils etc this product is a great addition in your morning skin care regimen. It can be used 2 times in a day and it's also an excellent cleanser to take off the makeup residue from the skin.
These are the best Khadi face cleansers and washes that are suitable for men and women and even for the teenagers' skin. Majority of these products also works on mature skin like for men and women over 40 years of age. Ensure that you pick the best Khadi face wash for you, depending on your skin type as we have mentioned above.  You can also buy Khadi face cleansers online and they are available at good discounts.