Khadi products are paraben and sulphate-free, this is why the brand is highly popular amongst beauty product lovers. The most important thing is, Khadi products are herbal and organic in nature, which is why, they suit majority of the skin and hair type. Even when you have sensitive skin, you can use a Khadi products and it would suit you. Here are the popular and best beauty product brands in India. The organic skin and hair care brand offers different products. Some of our readers ask us about the best Khadi products available in the market so we have created this list featuring the best Khadi products in India.
Best Khadi Herbal Products in India For Skin and Hair Care (2022)
1. Khadi Natural Ayurvedic Green Tea Aloe Vera Hair Conditioner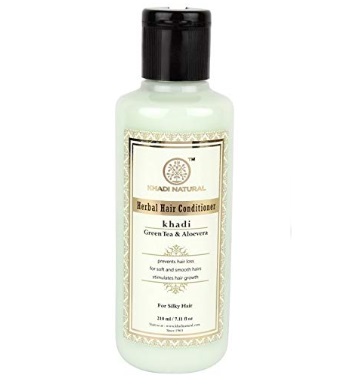 Khadi aloe vera and green tea hair conditioner is an immensely moisturizing product. Men and women, who struggle to keep their dry and frizzy hair moisturized can try this hair conditioner. The best thing about this product is that being paraben and sulphate free, it is rich in organic ingredients like Green Tea, Wheat germ Oil, Aloe Vera extract, Almond oil, Lemon, Apple extracts, Honey and more. By the impressive list of ingredients, you can think about, how effective the product is for the dry and damaged hair strands. It's the best Khadi hair conditioner.
2. Khadi Natural Ayurvedic Sandalwood and Honey Face Wash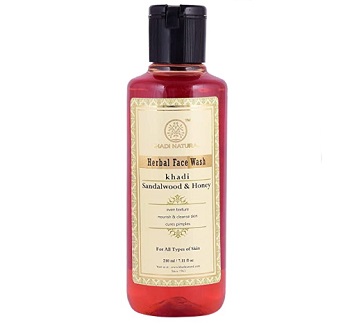 The deep cleansing face wash is enriched with Sandalwood and Honey. Honey is naturally moisturizing and moisture retainer substance with essential vitamins and minerals. While Sandalwood has natural toning and aromatic properties, it firms and tightens the skin. This face wash has gel and no-oily texture and is suitable for all the skin types. It is ideal to be used for all skin types for oily acne prone skin. The product really cleanses well to wash away dirt and make the skin soft and hydrated. It does not dry out your skin after wash and is a natural chemical free facial cleanser which is chemical free. The affordable face wash it is available online easily.
3. Khadi Mauri Herbal Fenugreek (Methi) Face Wash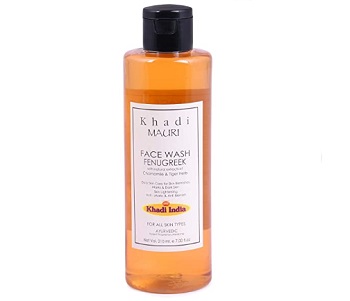 To combat the pigmentation and dark patches on your skin, this daily use face wash is the best product to try. It comes with the natural extracts of Tiger herb and chamomile. The daily face cleansing product helps with the skin blemishes, dark skin tone and marks. By lightening your skin that looks shallow, it's also an anti marks product. Perfect for all skin types, its light orange gel product has a natural fragrance and is free of harmful chemicals. The Ayurvedic facial cleanser purifies the skin and fights the premature age spots and uneven skin tone. It's the best Khadi face wash for blemishes and pigmentation.
4. Khadi Mauri Herbal Amla Heena Tulsi Shampoo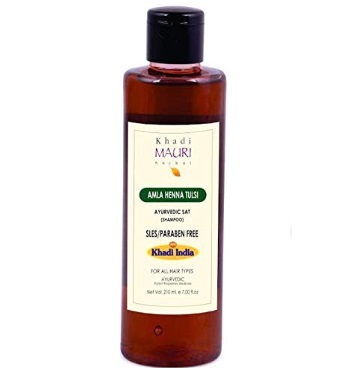 Khadi Amla, Tulsi with Henna product is a complete nourishing shampoo, which repair the damaged hair and hair fall.  Whether the damage on your hair is because of the UV exposure pollution and hai use of chemical treatments on your hair it can heal everything. However the shampoo can be a bit drying as compared to the other shampoos. It heals the dandruff and repairs the damage. With Amla and Tulsi as the key ingredients, this herbal shampoo strengthens the brittle hair and weak hair roots.
5. Khadi Mauri Herbal Skin Lightening Face Serum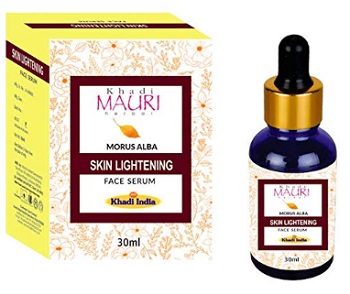 This is a skin lightening face serum that comes in a small bottle with a dropper at the top part. It improves the face complexion over the time and its Vitamin C component helps to prevent the fine lines and acne spots. Overall, the product boosts the collagen synthesis and insures skin's better texture and wellness. You can try using this serum even when you are in your early twenties. The herbal skin lightening face serum is a combination of high quality herbs and botanical extracts which makes it one of the best herbal skin lightening serums is in the market. Available at decent prices, this product does not contain parabens, artificial perfumes, silicon and other chemicals.
6. Khadi Natural Herbal Red Onion Hair Oil For Hair Growth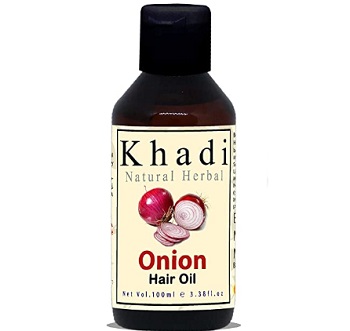 Onion oil is said to strengthen the hair and put a stop on the excessive hair loss. This onion hair oil is made with other effective herbal ingredients known to curb down the hair loss, like castor oil, coconut oil, sesame seed oil, Jatamasi, Nagarmotha, bhingraj and brahmi. So this prevents the hair fall and thinning of the hair. It doesn't matter what your hair type is, you can try this onion oil twice a week to control a majority of the hair issues such as loss of hair strands, damage, dandruff and frizzy hair.  It's the best Khadi hair oil for hair growth.
7. Khadi Mauri Herbal Apple Cider Vinegar Shampoo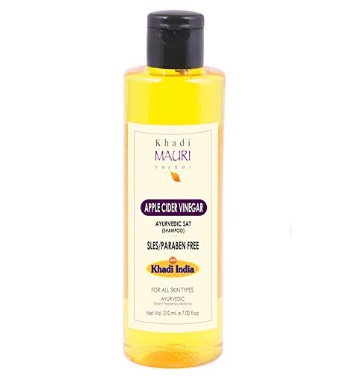 The shampoos are considered excellent for thin and oily hair fall stop regular use of this shampoo revitalizes the hair leaving them volume anus and full. Cancel phase this is a cleansing product that the product Residue and cross the dandruff as well. As you know apple cider vinegar is highly beneficial and potential product to use in the case of dandruff and scalp stop it make the hair silky and smooth because of its ingredients. The product is very reasonably priced and is available online as well. It's the best Khadi shampoo for all hair types.
8. Khadi Natural Ayurvedic Bhringraj Hair Oil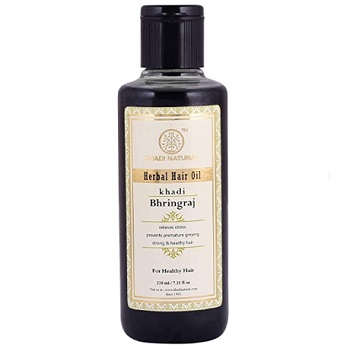 Applying hair oils regularly like two to three times in a week, calm and cool the scalp and also reduces hair fall. By fighting the main cause of your hair loss and premature greying of your hair, the bhringraj hair oil is the best thing to try. Massage the scalp gently by taking this hair oil and leave it for an hour or overnight. This product is safe to be used for men and women of all age groups and hair types. It also contains almond oil which is loaded with essential fatty acids, Omega 3, 6 and 9 fatty acids and vitamins and minerals. Loaded with Vitamin E, which is a natural antioxidant to strengthens the hair roots. It also negates the effects of free radicals.
9. Khadi Natural Herbal Hair Serum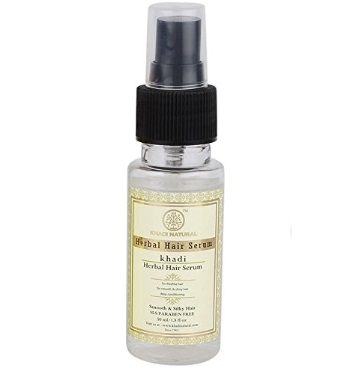 The hair serum from the Khadi herbals rejuvenate the chemically treated and dry hair and hair fall. It's one of the best ayurvedic hair serums that all the hair types can try. This hair serum nourishes the hair and eases the tangles and induces sheen and lustre. The wonderful cure for split ends comes with the light-weight formula with the extracts of Amla Brahmi and Bhringraj with shikakai. Apply it on your dry or semi dried or towel dried hair for best results.
10. Khadi Natural Herbal Aloevera Shampoo for Men Women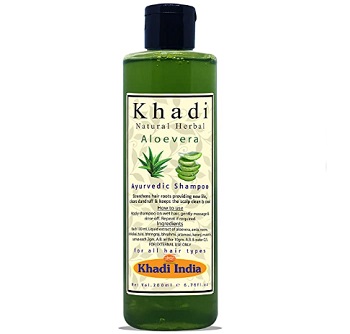 Aloe vera rich Ayurvedic shampoo from Khadi herbal strengthen hair roots and gives new life to the lack luster and dry hair types. Aloe vera is beneficial in curing the dandruff and highly itching skin. It keeps the scalp clean and cool with its effective formula. It also contains Amla commerce Tulsi mulethi, Brahmi and Reetha. The product is paraben and sulphate free yet it is one of the best shampoos in India.
11. Khadi Natural Sandalwood Herbal Face Pack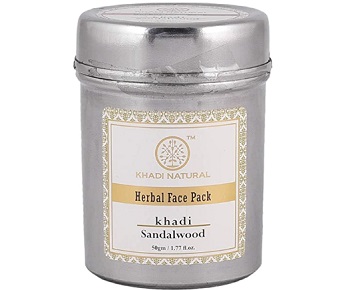 When acne is your major beauty concern that a lot of teenagers and young adults would like to eradicate and never want to see them again. Acne and pimples makes your skin blemished and uneven. There are also very painful when get red and inflamed. This is why, using an anti acne face mask will be ideal for you. This Khadi herbal face pack is rich with Neem, Mint and Basil. Use this one or two times in a week for inflamed skin and to keep the acne and pimples away.
12. Khadi Natural Neem, Basil and Mint Anti Acne Face Mask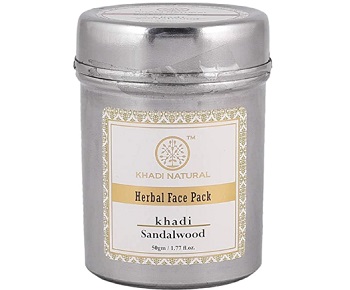 The Sandalwood face pack comes in a powder form that you can mix with multiple types of mixing medium. You can apply this Sandalwood herbal face pack with rose water, if your skin is oily. For dry and rough skin mixing it with some water or milk would give you better effects in making the skin glowing and radiant. It's applied the face pack in a thin layer all over the face and neck. Leave it for 15 minutes. Wash it off with regular water.
13. Khadi Global Retinol Deep Wrinkle Repair Serum With Vitamin C Serum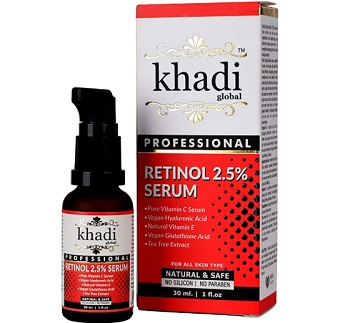 This is one of the best and affordable retinol serums available in the market. This retinol wrinkle repair face serum is rich with Vitamin C, Glutathione, 
Vitamin E and Tea tree extract. With the effective ingredients as we have mentioned, you can imagine, it would be extremely beneficial for oily and acne prone skin as well because of the presence of tea tree it in it. It contains retinol in 2.5%, which is the ideal amount of retinol that helps to slow down the aging and even out the fine lines. It speeds up the cell turnover and improves the skin discoloration. As a result, when you apply this smoothing serum regularly, it benefits you by making skin youthful.
14. Khadi Global Royale Kumkumadi Tailam Treatment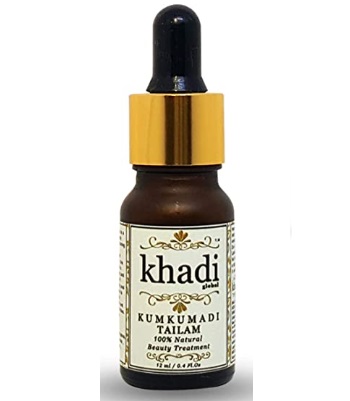 Kumkumadi tailam has been known to make the skin extremely glowing and fair. This oil is also used since olden times as an anti-aging treatment for a majority of the skin types. This oil is suitable for everyone except for the acne prone skin. It is unique and 100% Ayurvedic ingredient that hydrates and eliminates the skin issues within just a few weeks of usage. While fighting the signs of skin aging, it ensures skin gets better and a lot youthful and radiant. Apply at night by taking few drops on the palms. Apply on the face and massage gently using the fingertips.
15. Khadi Natural Lavender and Ylang Ylang Herbal Body Wash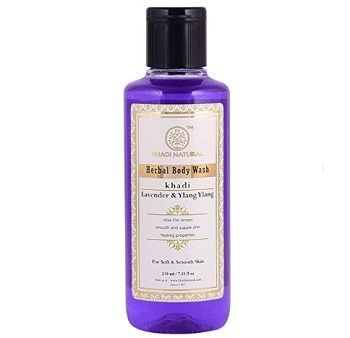 Lavender and Ylang Ylang are two very cooling and anti-inflammatory products. Free of the harmful additives and parabens, this body wash has a nice smell. Packaged in a sturdy packaging, this is a proper gel rather decent wash. It gives for cleansing and also gives relief in the itching and prickly heat.
16. Khadi Anti Acne & Pimple Cream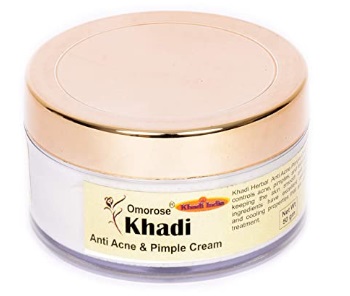 Khadi anti acne and pimple healing cream is made with Neem extracts, Basil and tea tree. Try this anti pimple cream along with the anti acne face pack from the same brand. As it contains the natural extract, it evenly reduces the skin and removes the marks. So by lightening the black spots, it also makes the skin fair and glowing.
These are the best Khadi herbal beauty products which are available at pretty decent and affordable prices. You can try any of these products that suit your requirement and budget. For best possible results, always make sure that you are choosing the product based on your current skin or Hair problem and the particular type of skin and hair type, then only the product works really best.
To buy Khadi products, you can always check online because, majority of the products are always available at some decent discounts online.