Lakme is a really affordable and popular brand in India and clearly it does not need any formal introduction. It's amongst the top beauty and cosmetic brands in India. In fact, Lakme products are very easily available at nearby shops in India and online as well. The best thing about this brand is that while maintaining the quality, they can be bought at reasonable and pocket friendly prices. Lakme as a brand offers skin care and makeup products for skin skin types and issues.
Best Lakme Beauty Products in India
If you would want to know about the best Lakme beauty care products available in the market, then in this article, we are going to talk about the best Lakme  skin care products in India. These products belong to the category like face wash, face cream, sunscreens, anti-aging skin care products and even the serums.
1. Lakmé Absolute Perfect Radiance Skin Lightening Face Wash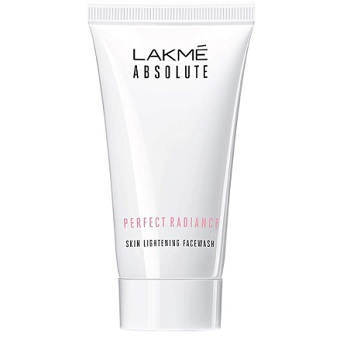 The skin lightening face wash is very affordable and is made with a complex of vitamins and skin whitening ingredients. It gives you visibly radiant skin with luminous glow. While the product does not miraculously whiten your skin complexion, which in any ways is not possible but it still takes care of the sun tanning, dark spots, acne marks, blemishes and uneven skin tone. While working on the tanning and oiliness, this skin brightening facial product from Lakme helps to revive your skin so that it naturally appears glowing and free of the impurities.
2. Lakme Absolute Perfect Radiance Skin Brightening Day Creme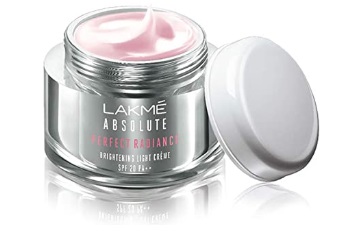 Day cream comes in a nice tub packaging which looks really pretty. The product is light pink in color, which is lightweight and non-greasy. It has a powdery matte and easy to blend texture. The product repair is the skin and makes it glowing. While lightening your skin tone by a couple of shades, it actually removes the surface level tan. The product gives you even tone skin and is one of the best fairness creams available in India at very affordable price. This cream is ideal for all skin types, and oily and acne prone skin, the product works really good. The best thing about this product is that it has SPF 20, which prevents the everyday sun damage that your skin goes through.
3. Lakmé Absolute Skin Gloss Gel Creme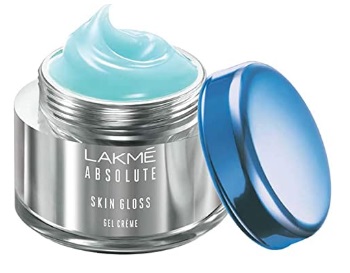 To get lustrous and glossy skin, this gel cream is infused with mineral laden Glacier water. Giving a cooling effect and moisture on your skin, this cream actually Titans your skin and makes it rejuvenated. The best thing about this Lakme product for glowing skin is its extremely hydrating but non sticky in nature. Therefore, people with all skin types can try this Lakme skin cream. The best part is the Lakme product is its texture, hence, is suitable for oily, normal and combination skin. However, people with very dry skin may not find it useful, because it's non-sticky and exclusively moisturizing in nature.
4. Lakme Peach Milk SPF 24 PA Sunscreen Moisturiser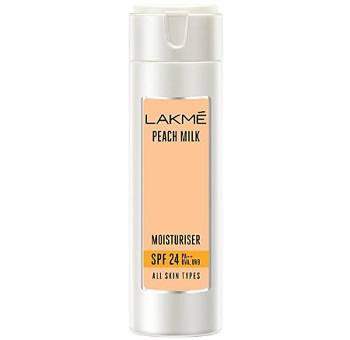 The peach milk sunscreen moisturizer is one of the most popular and highest selling product from Lakme. The product comes with SPF 24 and is a moisturizer that also works like a sunscreen for your everyday use. The moisturizer has a soothing fragrance and witch hazel, as one of the ingredients; it helps to make the skin tone free and glowing. The product can be used on your face, as well as on the body. With the goodness of milk, it also makes the skin soft and smoother. With the pleasant fragrance, the skin care product is beneficial for everyone. But if you have extremely dry skin, this product may not be very helpful, though for normal to combination skin it can work pretty well.
5. Lakme Absolute Hydra Pro Gel Day Crème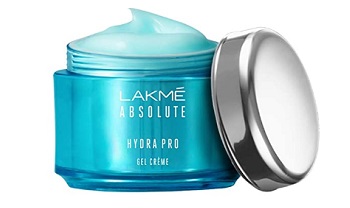 Lakme Absolute hydra pro gel cream is designed keeping in mind the long time hydration for the very dry skin. Lakme Gloss Gel cream that we have shared above is majorly for the oily-acne prone and normal skin. While this particular variant has the extreme moisturizing properties, therefore it reduces the moisture loss from your skin to keep it dewy and hydrated. For dull and dry skin, that lacks the glow and appears shallow, it can be applied as a day and night product. It's the best Lakme product for face.
6. Lakmé Sun Expert Ultra Matte Lotion SPF 50 PA+++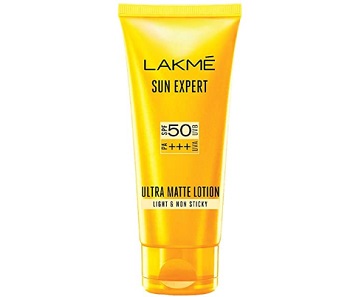 Lakme Sun Expert Ultra Matte lotion with SPF 50 is the most popular sunscreens in India. It is available in 50ml and 100 ml packaging. The smaller packaging is suitable to keep in your bag. It is one of the best face sunscreen with SPF 50 in India. The best thing about this product is its non-greasy light and MAT formula. So even if you have oily skin that tends to get sticky and greasy during the daytime, applying this sunscreen will not make the situation worse. There is a bit of problem with the sunscreen. When applied on your face, it can get a bit whitish. This calls for blending the product really nicely as its matte texture is not that quick to get blended.
7. Lakmé 9 to 5 Naturale Aloe Aquagel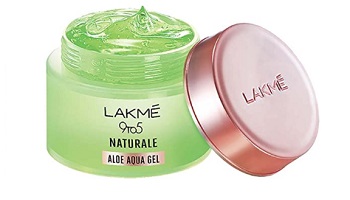 The natural Aloe Aqua gel is understood with 100% natural aloe vera. It's a part of the Lakme Naturale range of products. The non-sticky and lightweight product with its cooling gel formula soothes and hydrates the stressed skin. It gives the goodness of natural aloe vera and protects the skin from dusty city pollution. This product also works as a soothing skin primer. Apply before using the base makeup or foundation. The product protects the skin from the everyday wear and tear, pollution and toxins, its texture is pretty easy to blend. A lot of people with extra sensitive skin can feel that it causes burning sensation on the skin. So, guys, it's suitable for the normal skin and not for the sensitive skin. Please keep in mind, before purchasing this product.
8. Lakmé Absolute Pore Fix Toner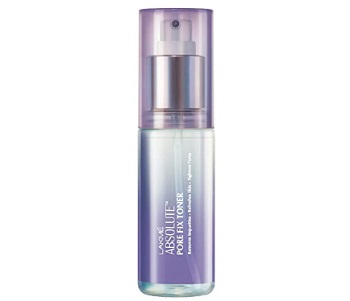 Lakme Absolute pore fix toner is yet another highly affordable pore minimising product in India. While giving a fresh look to your skin, this alcohol-free products shrinks the pores so that the skin appears better and smoother. It closes the enlarged pores and remove the excess oil too. Using the toner is extremely easy. Just cleanse your face with a good face wash, then take this toner on a cotton pad. Dab the toner all over your face and wait for few seconds to get dry. It is an essential part in every skin care regimen, especially when your skin is oily and acne prone.
9. Lakme Peach Milk Soft Creme Moisturizer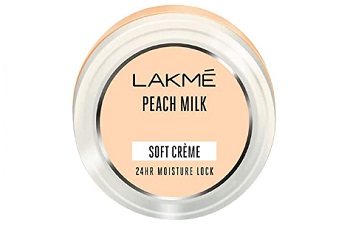 Lakme Soft cream moisturizer comes with peach milk. The product is very moisturizing and light weight that you are going to love its soothing fragrance. With the peaches and milk extracts, it is easily absorbed in the skin to lock the moisture for 24 hours. It gives you soft and glowing skin for long time. As the texture is lightweight and non-greasy even people with oily and acne prone skin can try it but only during the winter season, when skin gets a bit less oily. If you have normal to combination skin, it's the best Lakme moisturizer for you.
10. Lakmé Gentle and Soft Deep Pore Cleanser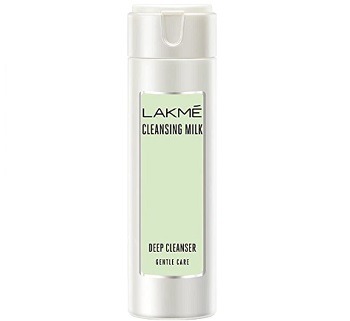 A deep pore cleansing milk is must for everyone. Even before applying makeup, you would like to use a cleanser. It is a cleansing milk that can be applied on the face directly. Take some on a cotton pad, then using the Cotton ball, wipe the face and you don't need water to cleanse your skin. This product is non-comedogenic, however for some people it can be little sticky. Therefore, it's suitable for normal to combination and dry skin. It also contains vitamin E, that moisturizers and conditions the skin. While removing the dirt, oils, grease and impurities from skin, it is a good makeup cleansing product too.
11. Lakme Blush & Glow Strawberry Extracts Freshness Gel Face Wash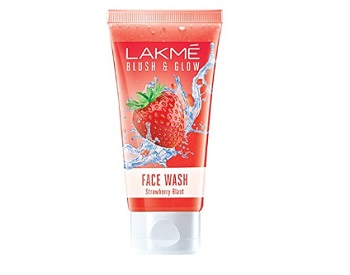 The strawberry gel face wash is made with 100% percent real strawberry. Infused with the soft cleansing beads, it has a delicious fruity fragrance. It's a face wash for all the skin types. Strawberry, rich in antioxidants and enzymes improves the skin texture and makes skin glowing. While decreasing the fine lines and appearance of dark spots, this is a daily use product which is must have,  if you like strawberry products.
12. Lakmé Absolute Argan Oil Radiance Overnight Oil-in-Serum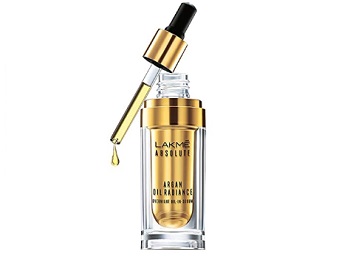 Made with argan oil, this is an overnight oil-in-serum product. The basic concept of this product is that it has Argan oil in a serum like formula. The lightweight concentrated product does not make the skin sticky or oily rather it soaks the skin with the goodness of Argan oil. This can be applied at night to get the benefits.  of stop it makes the skin rejuvenated and also lines, dark spots and age spots. The product is really affordably priced and easily available online and in shops.
13. Lakme Blush & Glow Kiwi Freshness Gel Face Wash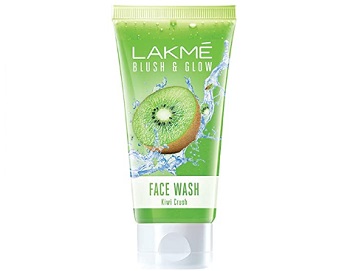 With the goodness of real kiwi extracts, this product has of cleansing beads. It lifts away the impurities and gives the ultimate freshness and glow. It's also rich in antioxidants that help to smoothen the texturet and make the face radiant and glowing. So, with the delightful Kiwi fruit extract, this is one of the best affordable face washes in India.
14. Lakme Blush & Glow Lemon Fresh Face Wash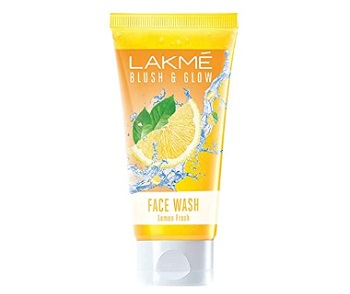 The blush and glow face wash in lemon is yet another product, which is highly rated for oily and acne prone skin. It contains antioxidants and lemon extractw. The best thing about this cleanser is its formula. It helps to get rid of the dullness, dust, oils and pollutants sticking on the skin surface and in the pores. It is yet another good face wash for oily skin from Lakme.
15. Lakme Absolute Skin Gloss Reflection Serum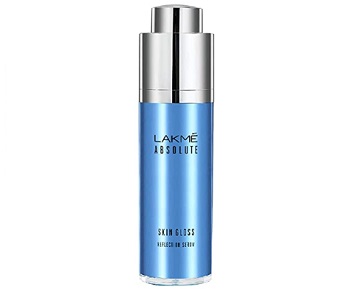 Lakme Super Gloss reflecting serum comes in a pump dispenser packaging. The product hydrates the skin to make it ultimately glossy. It moisturises the skin and adds a coating so that the skin does not look dull and dry. The best thing about this product is that, it's not only great for winter, when the skin is dry but also for the summer when your skin needs some gloss without the stickiness.
These are the best Lakme products available in India. You can also tell us which is the one that you like the most? If you have any other product in mind that is really good, then please share with us.